2009 was my first year of doing an Oma and Opa Camp (Grandma and Grandpa Camp) so I started quite simple.  With ages 4-6 (all 5 kids) the crafts and activities had to be easily done with little help from me.
"Rules": The first thing to do is set up expectations and routines. Explain that this is not their "house", but it is a camp. Explain directions and expectations before each activity, meal and field trip. Even bedtime routines were set-up so they didn't feel bad if it wasn't exactly like what mom and dad did at home. Think everything through because it can get out of hand with 5 kids trying to brush their teeth at the same time (just one example).
Organization of Things:To keep some order of their shoes, clothes, crafts, pj's, etc., I set up an area where each has a chair with their name on it. Under their chair go their shoes. On the chair, they keep their crafts. Over the back of the chair go their clothes, pj's so they know where to find them. This way, I'm not running around trying to find their things.Another idea would be to use a laundry basket for each one.
Field Trip:The theme for the first camp was "Fish".  We went to the Underwater Aquarium at the Mall of America to see all the different fish. They loved it and always ask when we are going to do it again.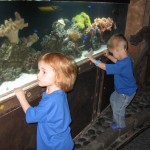 T-Shirts: I get T-shirts printed with "Oma and Opa Camp" . It makes it easy to see where they are in a crowd. Many people comment on them at the different places we go. Hint: Order them a little big so they can wear them for 2 years.
Games and Activities:  We did a fish toss
with the spiny fish balls. Magnet fishing was another game. We live on a small lake so each child had a net and tried to catch as many minnows as they could. During their baths they fished with a plastic rod in the tub.
Crafts: We made ocean scenes by painting a blue background with watercolor paints and then used foam fish to stick in the ocean picture.  A simple cutout of a fish shape was given to each child and they glued tissue paper overlapping to make a colorful fish.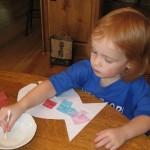 Story:  Everyone got in their PJ's and put their clothes on their marked chair and gathered together in a circle on the floor. There we talked about the day, sang, told the Bible story and prayed before they went off to bed. The Bible story was of Jesus and his disciples. We talked about how he called them (they were fishermen) to follow Him. We also talked about how Jesus wants us to follow Him as well.
Toys: Keep toys catagorized in tubs. When they want to play with something, it is easy to take out a tub and then put it back when something else is requested. Some of the tubs I have are: princess, legos, pirates, farm, cars, robots, action figures, barbies, playhouse etc. I can change them easily as they grow older. Garage sales are great for finding new things.
Songs: This is a great way to fill the time while riding in a car. I made up words for an Oma and Opa Camp song sung to the tune of "London Bridge". It goes….We take trips and learn new things, Play in sand, Lake and sun, With our cousins we have fun, At Oma and Opa Camp! I also have CD's of kid's Christian music and they love to sing it out!
PhotoBook Memories: A few weeks after camp, each child gets their own photobook of everything that we did together. I make sure that photos of each child is on every page. These are cherished books and are looked through many times throughout the year.
Here are some of the sites I use for Photobooks….
www.snapfish.com ,  www.winkflash.com , www.picaboo.com , www.shutterfly.com , www.artscow.com
Whatever is planned for your grandkids they will love. It doesn't have to be elaborate just give them the gift of your time!
Happy Memories!
Read More