This summer, I've shared a few pasta salads with you. Chicken Penne Pasta Salad is another favorite of mine.  It has lots of grilled chicken in it, so it is hearty and filling  when using for a meal! I know you'll love it as much as I do.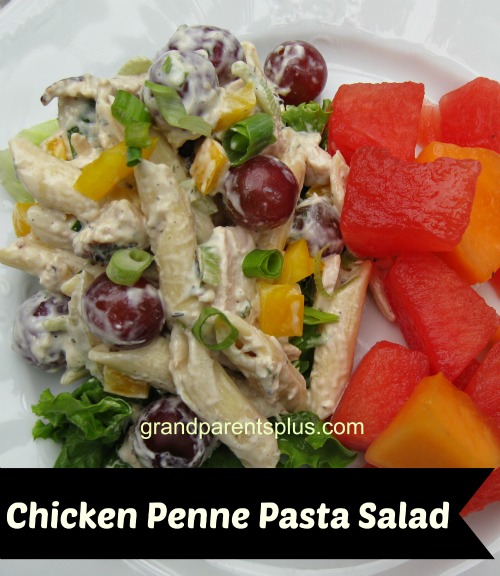 Ingredients:
1 ( approx 3 lb.) pkg. boneless, skinless chicken breast filets
1 – 16 oz. pkg. penne  pasta
1/2 cup thinly sliced celery
1/2 cup sliced green onion.
4 cups red seedless grapes, sliced or left whole

1 cup coarsely chopped walnuts, toasted (optional)

1/2 cup Italian Salad dressing ( for chicken breasts)
1/4 vegetable oil
1 – 1/4 tsp  crushed thyme
1/2 cup (or more) chopped yellow or orange pepper (optional) I prefer this to the walnuts! I add this for more color!

Dressing for Salad:

2  1/2 cups Mayonnaise
3 Tbsp. milk
3 tbsp. honey
1   1/2 tsp salt
1 Tbsp. Dijon mustard
3 tsp. crushed thyme
Directions:
If grilling chicken, use the following directions. (Another option is to use store-bought rotisserie chickens – not as good as the pieces are not thick and uniform,  but quick and easy!)

For grilling the chicken: Pierce chicken on both sides with a fork and brush with Italian salad dressing. Spray grill with a non-stick cooking spray. Grill chicken for 5 minutes on one side. Turn, brush with salad dressing and grill until juices run clear. Cool and cut into thin strips.
Cook pasta and rinse with cold water and drain.
In large bowl, combine oil and 1  1/4 tsp thyme. Toss into grilled chicken mixture. In another small bowl, combine mayo, milk, honey, 3 tsp. thyme, mustard and salt. Refrigerate salad and dressing separately overnight. Several hours before serving, fold dressing into salad. Refrigerate covered. Before serving, fold grapes and walnuts (optional) into salad   Before serving, garnish with thinly sliced green onions.

Makes 20 (1 cup) luncheon servings.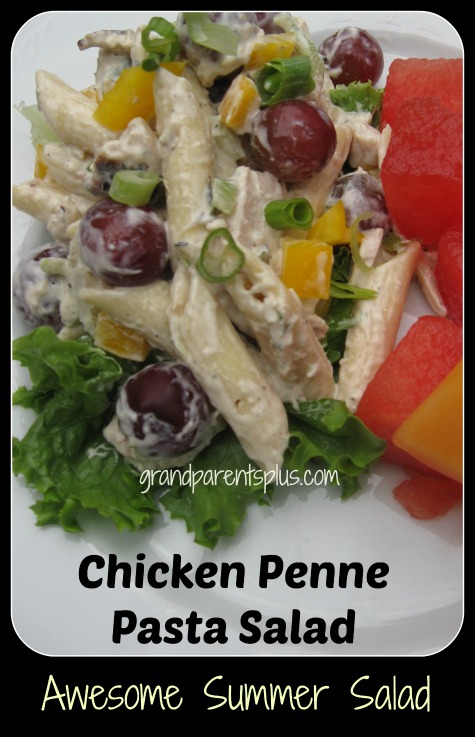 I hope you enjoy this Chicken Penne Pasta Salad! I know it will become one of your favorites, too!
Enjoy!
Phyllis (Oma)
I invite you to subscribe to this blog or follow on Pinterest or Bloglovin so you don't miss future posts!
Questions? I answer each one! Thanks for your comments!
This post is linked to the following Linky Party sites:
Pin It
Read More