Dried Hydrangea Ideas: Using dried hydrangeas is an inexpensive and easy way to decorate for fall. If you have hydrangea bushes in your landscape, you have access to wonderful dried material to use in so many ways. Let me show you a couple dried hydrangea ideas to use in your decor for this upcoming season.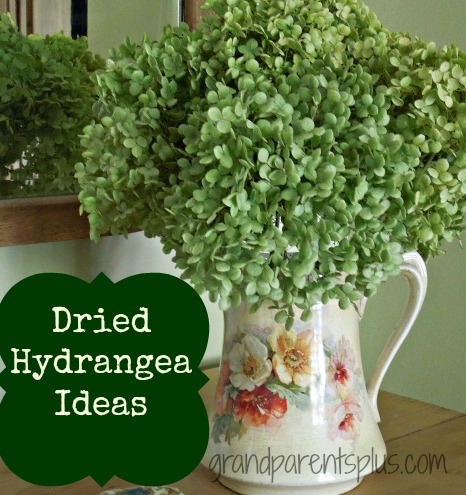 First, (in case you don't know), let me show you how to dry these beautiful blooms. I have both Annabelle and PeeGee Hydrangeas. The Annabelle hydrangea turns a light shade of green when it's ready to be dried. Don't try to dry them when they are white as it doesn't work. They just wilt.
The PeeGee's turn from white to a combination of pink and green. It is at the pink and green stage when you dry them. In our climate, we don't have the beautiful blues, pinks or purple hydrangeas so I don't know if those dry well or not!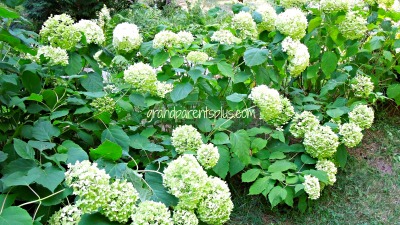 Annabelle Hydrangeas
Cut them after they have turned green leaving a stem. Strip all the leaves off.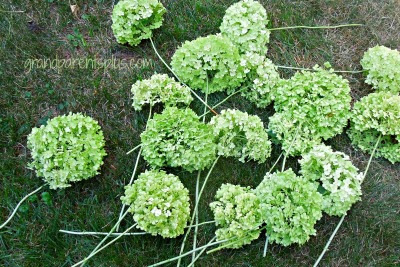 I use rubber bands to group and hang my hydrangeas. Group about 4-6 together.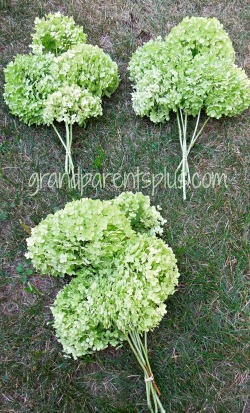 Now, hang upside down (very important) in a dark area of your basement or garage. I pound a nail in and use the rubber bands to hang them over the nail.
After about a week or so, they are ready to use in your arrangements. They will feel very much like paper and the stems break easily. Now the fun part starts…..
Use as a dried hydrangea bouquet……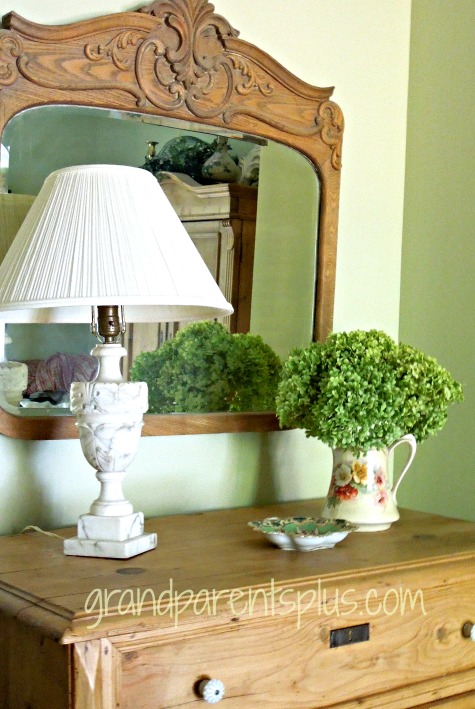 Or….
This next dried hydrangea idea I saw in a very upscale, designer floral store. I had the hydrangeas and tall glass container so I purchased the little dried pumpkins. Any dried contrasting colored material works, too! (pinecones?)

I recommend doing the assembly outside as the dried hydrangea blooms make a bit of a mess when you're working with them!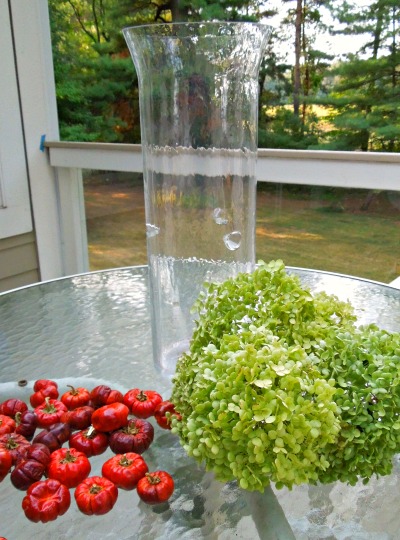 Fill 1/3 of the glass container with the dried hydrangeas and place 1/2 of the artificial pumpkins toward the outside of the glass container. Don't waste putting them in the middle as they don't show there.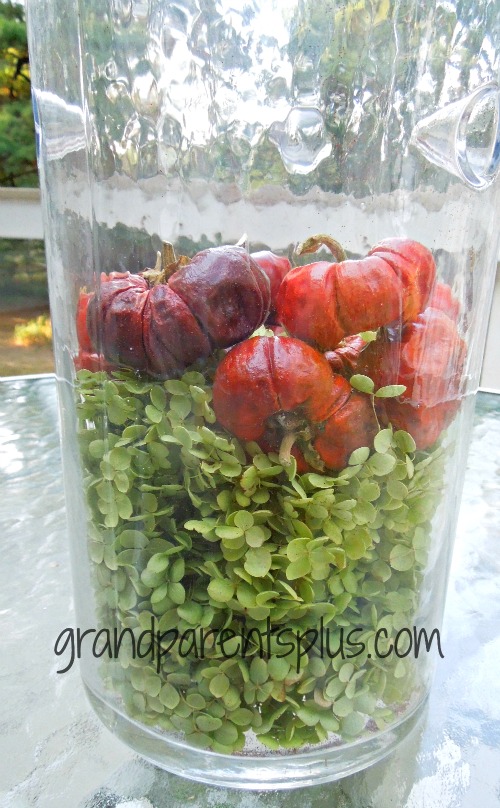 Repeat the pattern and end with the dried hydrangeas on the top!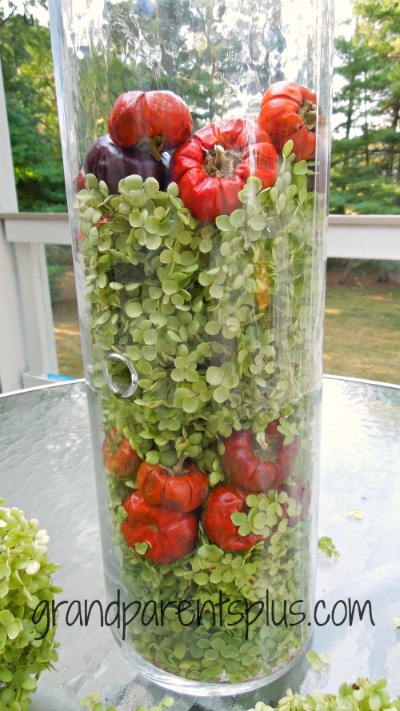 And the final product!!!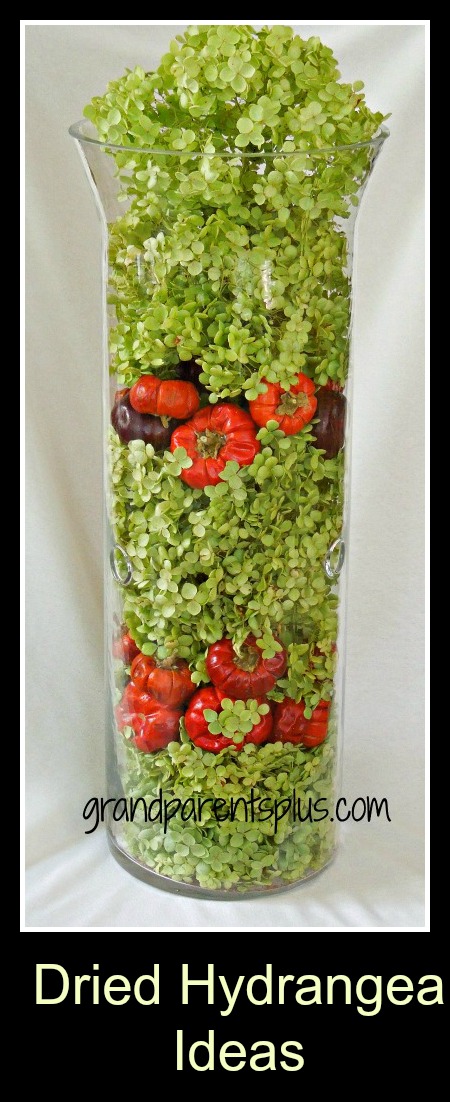 And a smaller version……..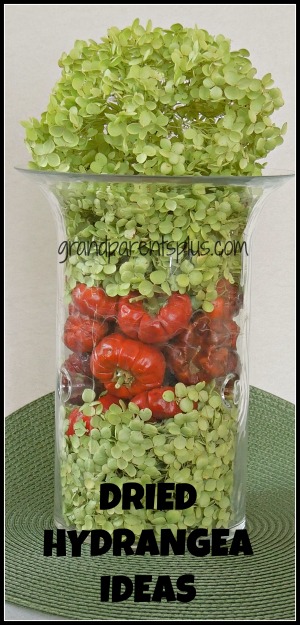 Now, go and find some hydrangeas before it's too late! If you don't have any, drive around, find a bush, and ask a neighbor if you can cut some! They don't last outside through the winter anyway!! You are not hurting the bushes by cutting them!

Toss them out when they are faded! You'll have more next year!
I also use them on my Christmas tree as a filler between branches. It gives the tree a great look. I'll post that later!
Thanks for stopping by…..
Have fun with your fall decorating!
Phyllis (Oma)
Follow me on Pinterest, Bloglovin' or subscribe to future posts on the sidebar!
This post is linked to the following parties……
Pin It
Read More