The Spring Idea House 2016 Part 4 is the last post for this season on fun ways to merge both new and vintage pieces in usual ways. Remember, this house is done by a team of creative decorators that try new trends and ideas to inspire you!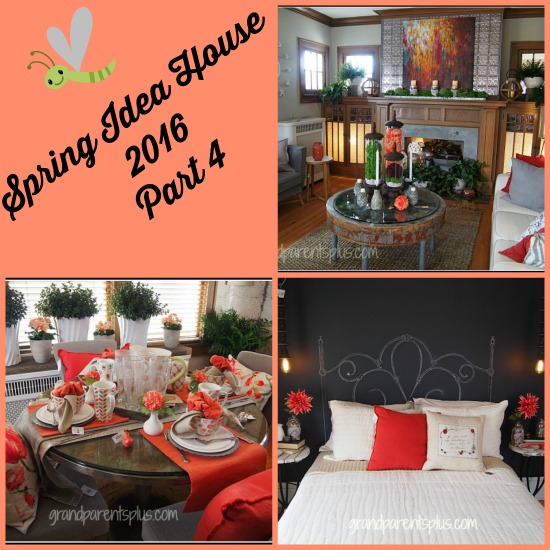 There is something in each room and will spur your own creativity on how to use these ideas in your own home. Come along and be inspired…..
The first room is a garden themed room.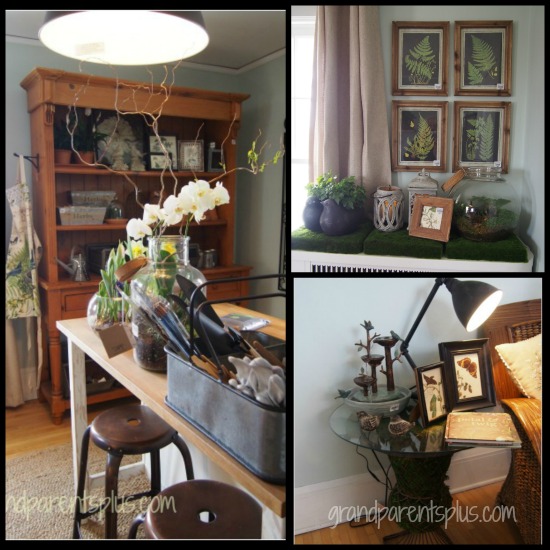 Notice the side table. They used a planter and placed a glass top on it. Makes an easy table, right?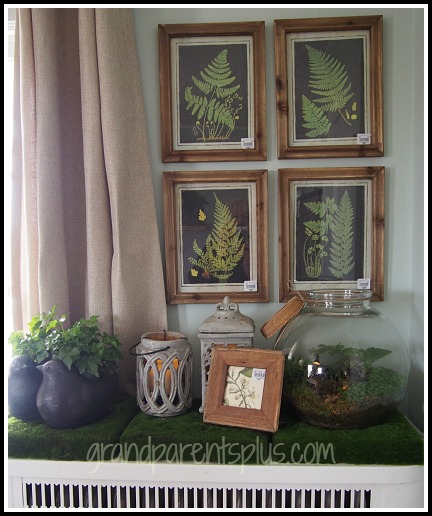 The pressed fern artwork on the wall is a great project to do. Press fronds between black paper backing and the glass for easy-to-do DIY wall art.
The next room uses the colors of black, white, and coral. Don't have a headboard? No problem! Use white paint or even chalk to outline one on the wall.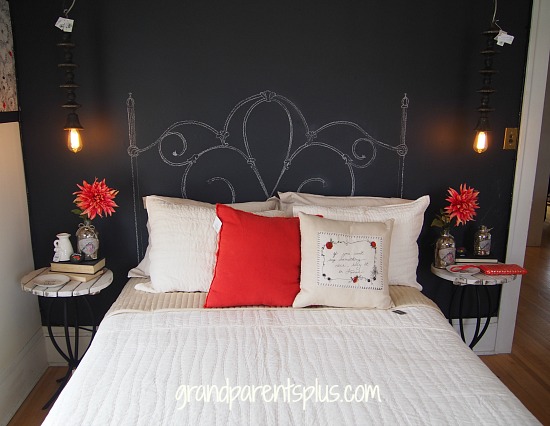 Black and white wallpaper is framed at 3/4 height on the walls. The unique part of this paper is that you can color the flowers the accent color of the room. Here, they have used coral.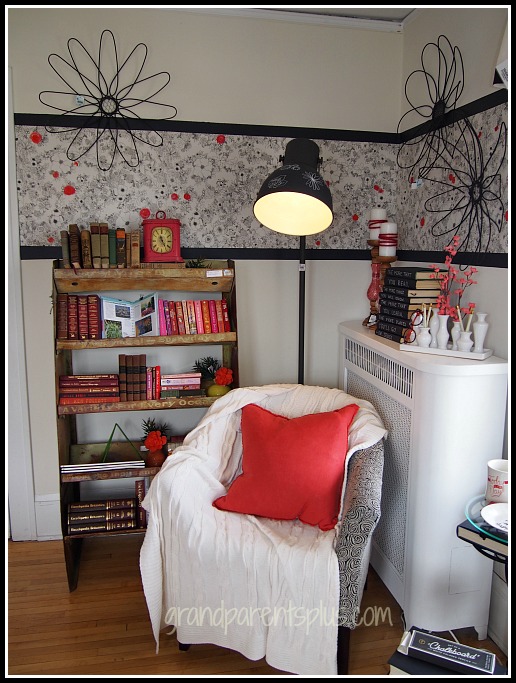 Would you think of using an upside down basket as a light? It's accented with coral artificial stems.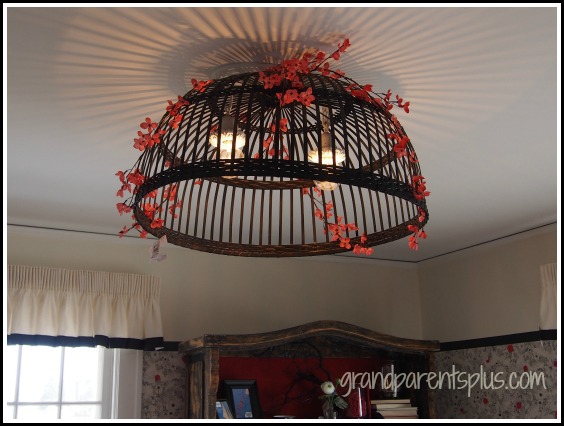 The master bedroom looks restful with the color scheme of gray, white and fresh green accents. The vintage chest is missing the doors but the baskets are perfect for out of sight storage. So don't throw out an old chest if the doors are missing!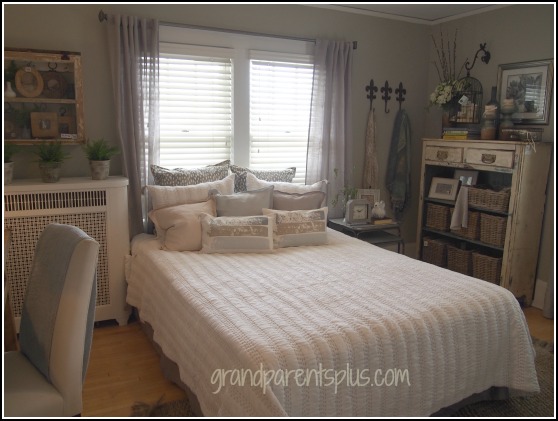 The bedside table is unique using metal trays.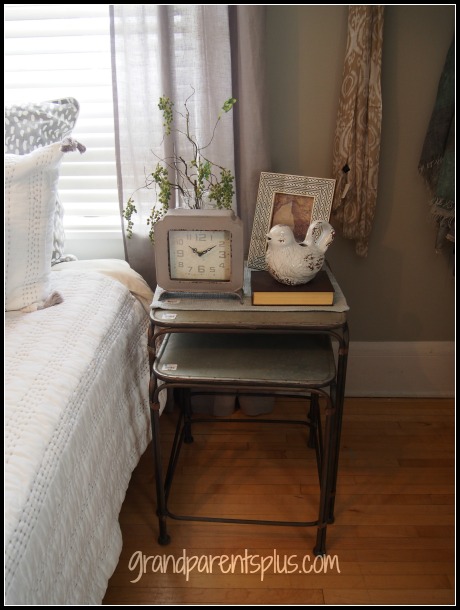 In the corner of the bedroom, a large green fern accents the grey and white color scheme. The side table is actually a bird bath with glass added on the top!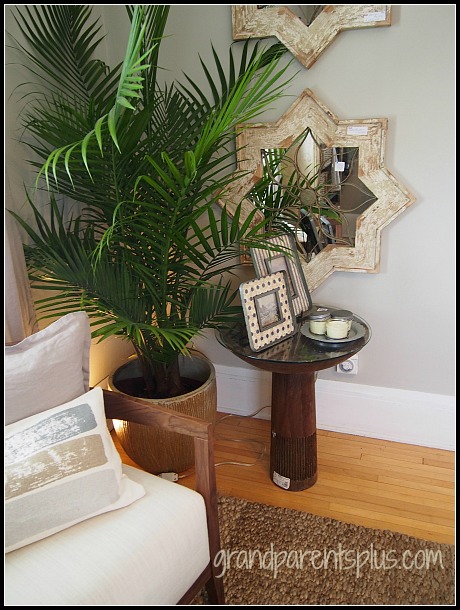 The upstairs vintage bathroom uses a metal feeding trough as a container for green foliage. Flowers and butterflies bring a spring accent to the top of the shower curtain. Do you decorate your shower curtain for the season?
Two more ideas for the bathroom are using a ladder with added towel bars and an entrance grate used as wall art!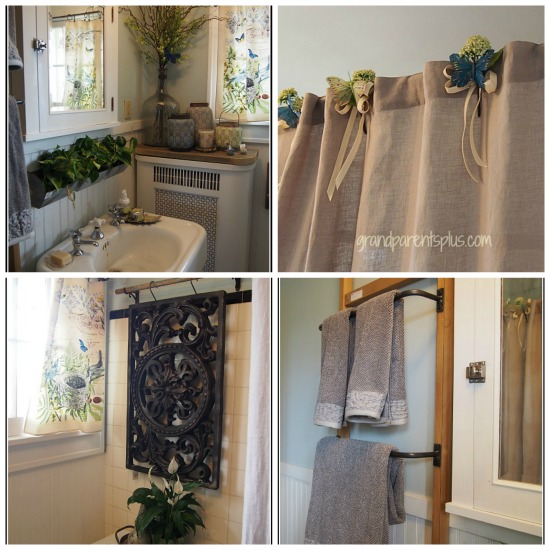 The main living room of the Spring Idea House highlights another use for the metal looking "Fasade" used above the fireplace. This is the third idea for using that product. If you missed the other two ideas, you might want to click on Spring Idea House 2016 Part 3.  It has so many more possibilities. The product was created for a back-splash, but now it's limitless in uses.
Check out the clock on the left. It's made from a ceiling medallion with clock works added to it.  The numbers are white ceramic birds flying around the medallion.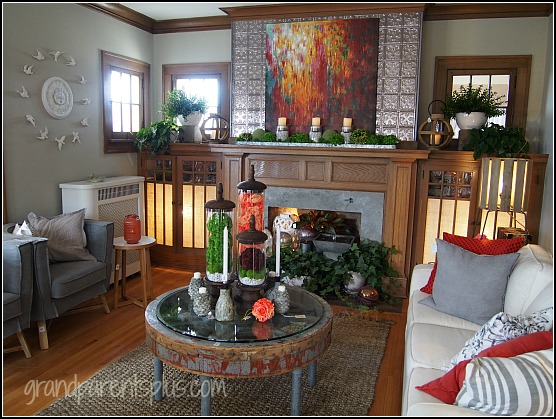 The coffee table is a vintage, round industrial fan piece from a factory. A glass top and metal legs turn it into a functional table.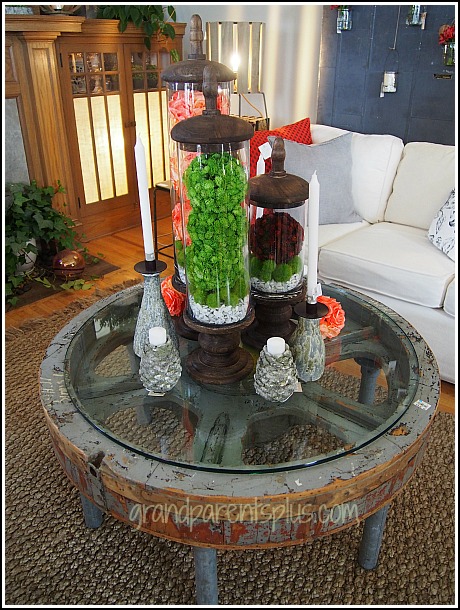 The non-working fireplace filled with a fountain, lanterns, and greenery make it a focal point for the room.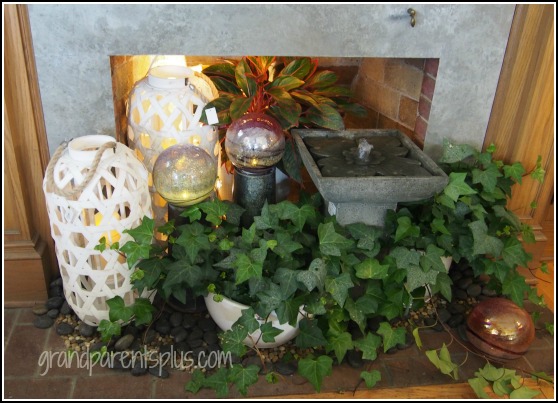 A barn door is permanently hung behind the sofa as wall art with two floral pictures to balance it out.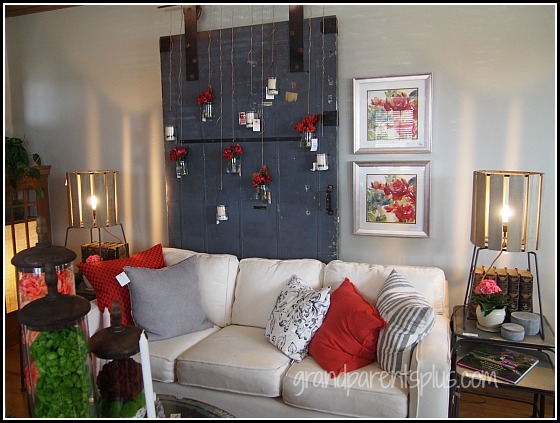 Here's a closer look at how they filled three different sized glass columns. I like the different variations.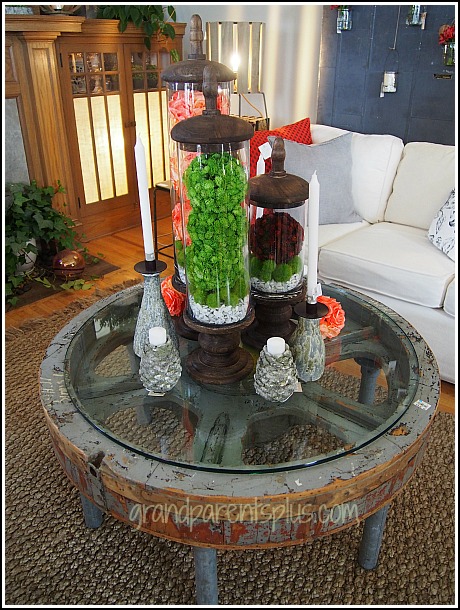 In the sunroom, a table is ready for a luncheon. Lots of coral accents here in the pillows, dishes, placemats, flowers, and napkins!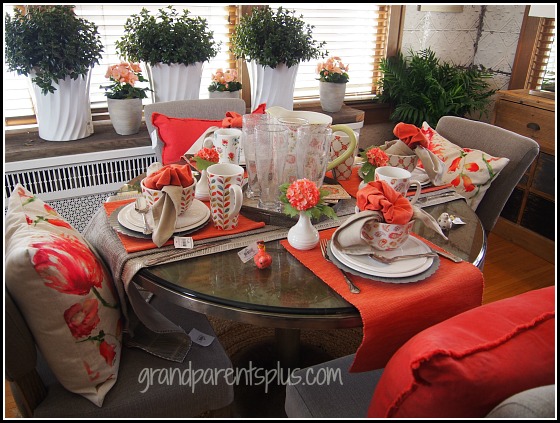 Remember the vintage ceiling tile wallpaper used as an accent in the dining room? If you missed it, go to Spring Idea House 2016 Part 2 to see it. In the sunroom,it is used again.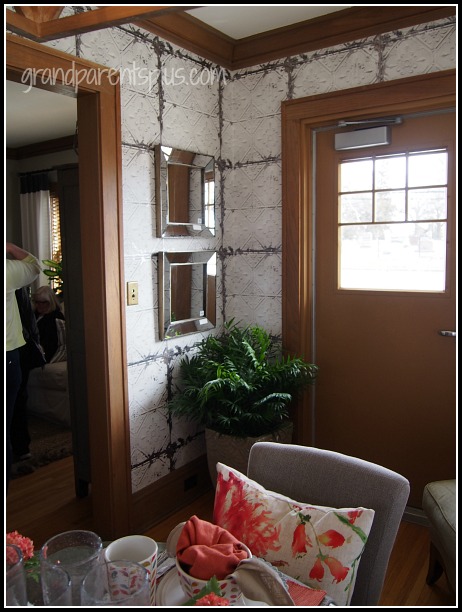 What idea did you like the best? Some of the vintage items are "one-of-a-kind" finds, but at least it opens your mind to what you can do with something similar!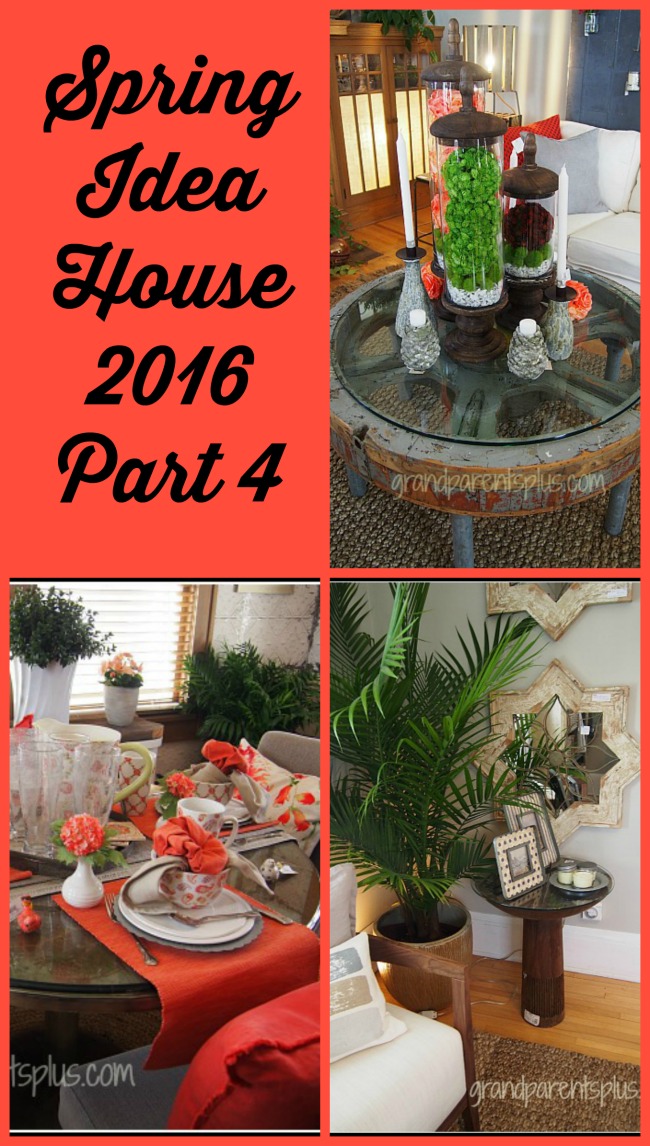 I hope you enjoyed the new ideas found in these four posts. I'm always open for unique ways to decorate. Are you?
Thanks for pinning and spreading these ideas around. 
While I have so many upcoming ideas to share with you, I need to take a blogging break this summer. Life has changed as I've lost my husband to Multiple Myeloma. There's a huge void in my life and I feel it best to not be constrained to a time line and take some time for myself and family. I plan on being back in the fall. 
Visit my blog once in a while and look up past posts as I have lots of great recipes and ideas for your summer, too! Hope you understand.
Thanks for stopping by. I know God is in control. While I have peace in knowing  that my husband, who knew the Jesus as his Lord and Savior, is in a better place, it still is hard.
Thanks, 
Phyllis
Follow on Pinterest.
Post linked to these parties….
Pin It
Read More