This meal of Italian Pork with Balsamic Potatoes tastes delicious. It is low in calories, yet very filling. Now, doesn't that sound appealing? When you're looking for an easy dinner, try this recipe! A few basic ingredients and you have a complete meal in one dish! Use an aged Balsamic Vinegar which you can find at an Olive Oil store or check with Love That Olive.
Italian Pork with Balsamic Potatoes
Ingredients
12 oz. (about 10) small new red potatoes, cut in half
1 T. olive oil
1/2 lb. pork tenderloin, cut into 1" pieces (use 1 1/4 lb. pork tenderloin)
1 tsp. Italian seasoning
4 medium Roma tomatoes, seeded and chopped
2-3 T. chopped fresh basil leaves
4 tsp. balsamic vinegar
Salt and Pepper to taste
Instructions
In a 2-quart saucepan combine potatoes and enough water to cover. Cover with a lid and cook over medium heat until fork tender (approx. 10-12 minutes) Drain
Meanwhile, in a nonstick pan, heat oil, add pork, and Italian seasoning. Cook over medium high heat, stirring occasionally until pork is lightly browned )6-10 min.)
Toss together potatoes, pork, tomatoes, basil, and vinegar.
Season with salt & pepper
Add additional balsamic vinegar, if desired.
Serve with a green vegetable to add more color!
http://grandparentsplus.com/italian-pork-balsamic-potatoes/
If you can chop, you can make this!  Cut pork up into 1 " pieces, chop and seed the tomatoes, and chop the basil into small pieces. Not hard, right?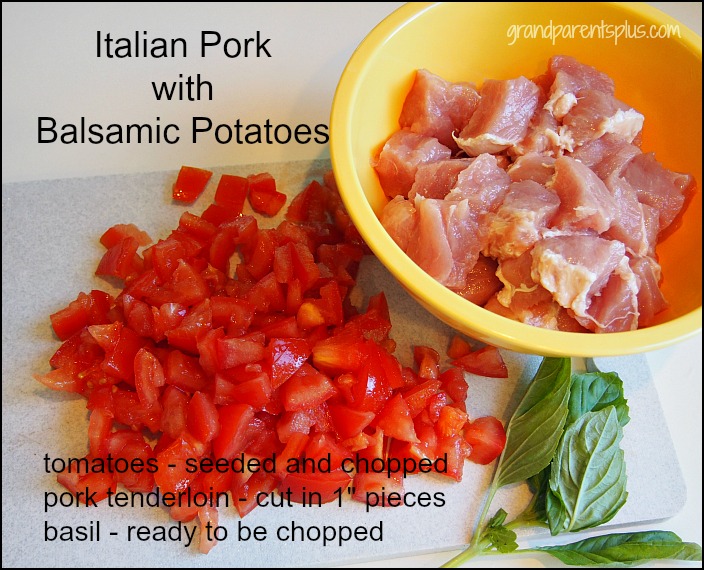 Add a green vegetable and you have a complete meal! I love flavorful and colorful food.  This recipe certainly fits that description. I, also, love easy!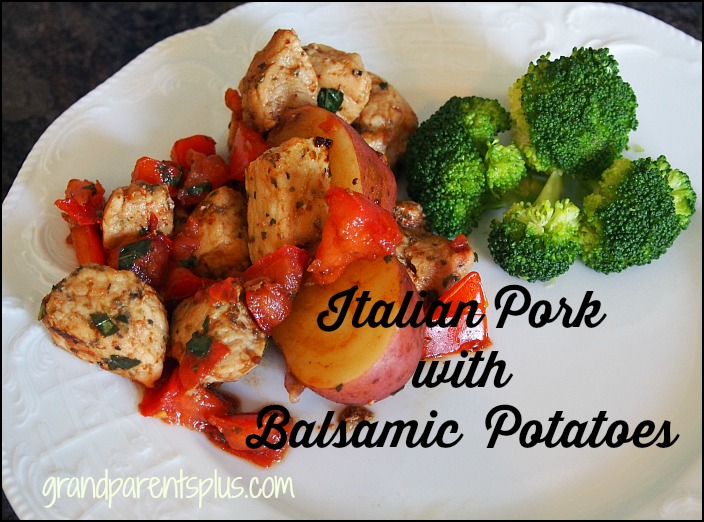 This recipe is also delicious with chicken or beef. Don't just limit to pork!
Enjoy this tasty recipe! It's great eating with quick preparation!
Phyllis
Subscribe on the sidebar so you don't miss a post!
Follow on Pinterest, too!
You'll find this post at many of the following link-parties…
Pin It
Read More