#3 Fall Idea House Tour
Here's more inspiration and ideas from the Fall Idea House 2014!  Some ideas are simple and quick to do to perk up your decor for fall. Others are more involved so that you'll want to save them for future inspiration and use.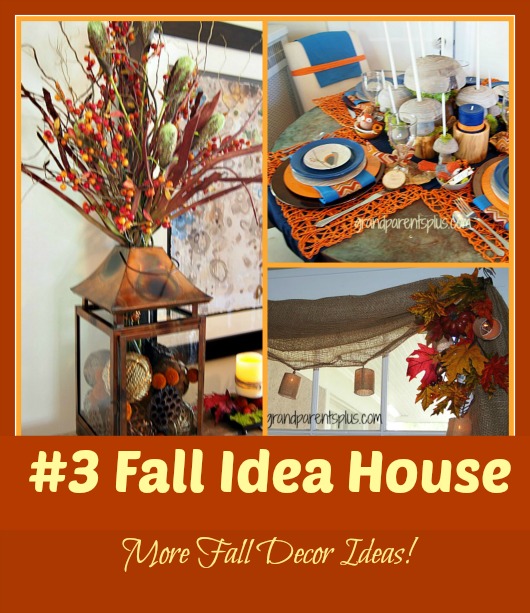 Let's start in the kitchen with some inexpensive ideas for curtains.
I see burlap used for just about everything these days. In the other two posts, burlap was used on the tables in several different ways. In the kitchen, burlap is draped as a window treatment. Artificial stemmed leaves and lights are used as an accents. With a change of season, simply change the corner accents to update the look!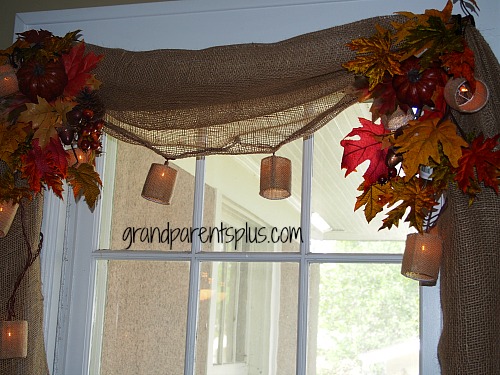 Another burlap curtain was used in an outdoor building. It is simply looped over a metal rod and accented on the sides with a bow.

Back to the kitchen….
The open shelving coordinates with the color scheme and makes a big impact!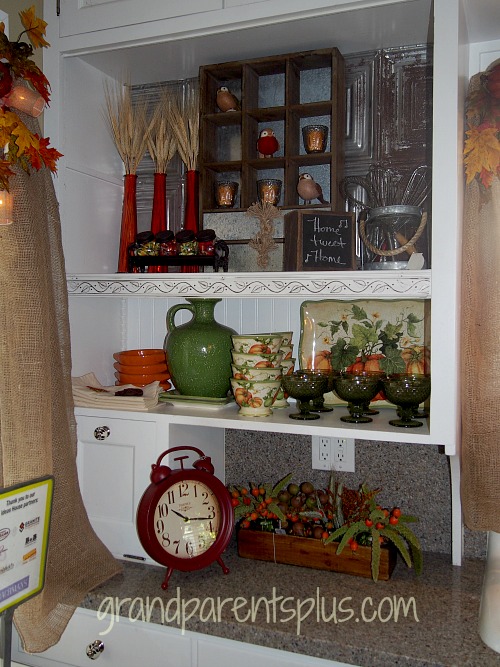 Did you see the simple bouquets of wheat in the red vases?
Here's my version using Dollar Tree vases and wheat…..   Use in a group, as a centerpiece, or as repetition on a long table with other fall items. This is a quick and easy idea!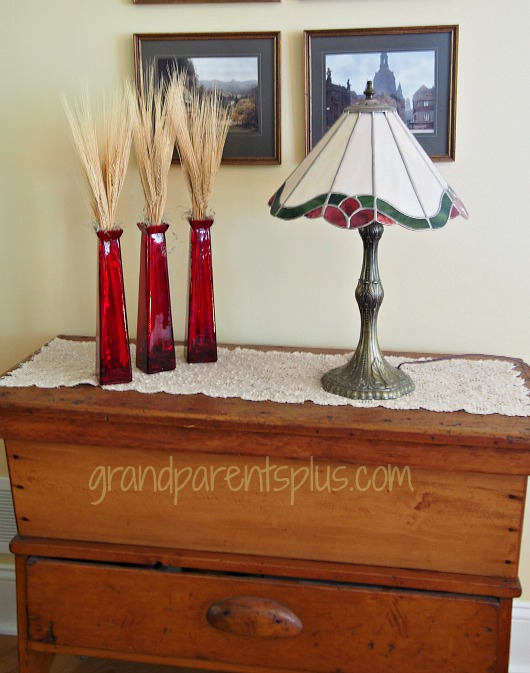 On the butcher block in the kitchen there's a casual place-setting idea. The unique part is that the plate is clear glass, but they used a patterned paper plate underneath. Under the place-setting is a rustic colored, small woven rug. The texture and warmth of the fall colors blend with the color scheme. Who says rugs are just for the floor?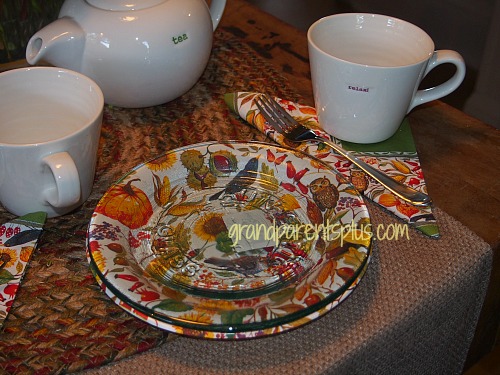 I love the idea of using an old bookshelf and lining the back with vintage ceiling tile! It certainly makes this piece a show stopper! Don't you agree?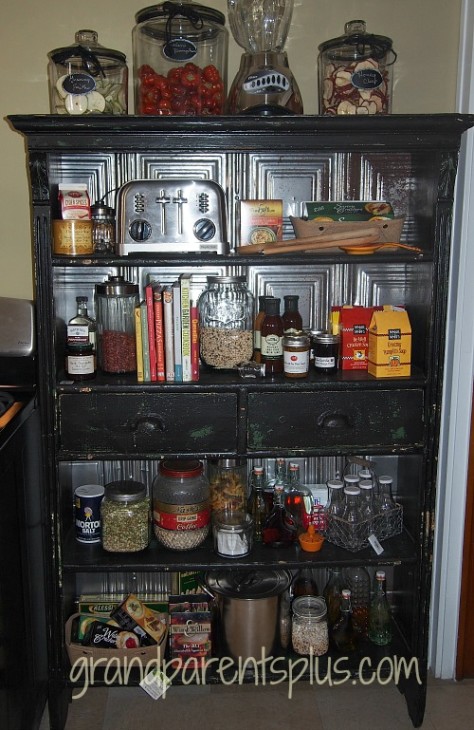 Into the Dining Room…..
The dining room table has an "over-the-top" display! I don't think one more thing would fit! On a practical note, no one would see another person at the table! HA!  Notice the beautiful fall sunflower patterned tablecloth!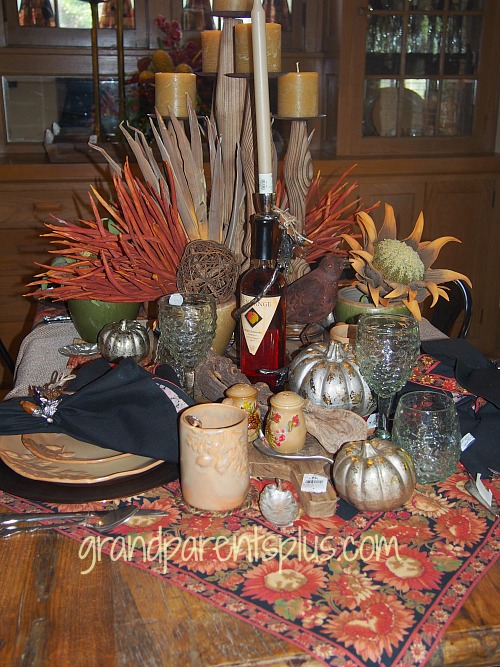 Table runners, in the same pattern, are hung as wall art on either side of the shelf unit.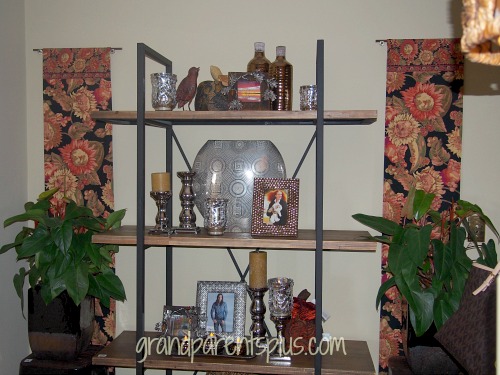 …..A beautiful arrangement on the buffet!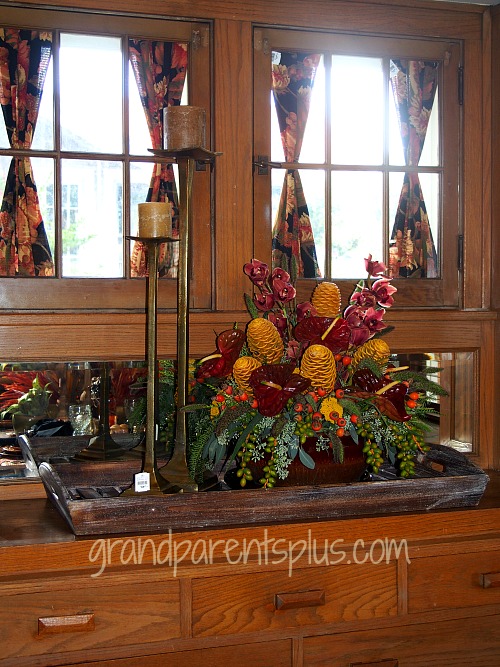 One of the bedrooms in the Idea House was set up as a tablescape idea room.  The first tablescape was for a Book Club dinner.
Instead of placemats, open books are used to hold the plates. Silverware is wrapped in book pages along with a decorative napkin ring. Candle holders are on different levels of stacked books. Both candle holders and vases have twine wrapped around them.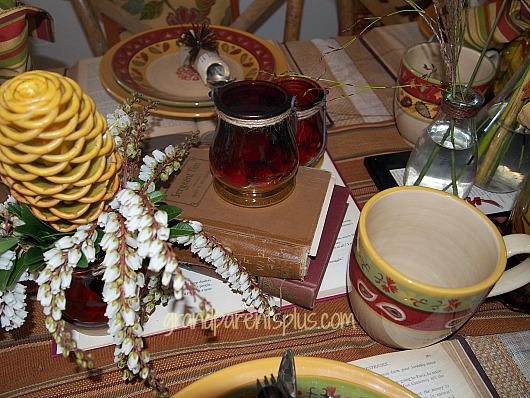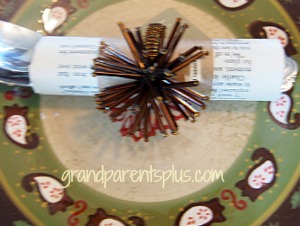 Don't have a tablecloth to fit? Try this idea….. Use a curtain and simply layer with burlap and a decorative runner.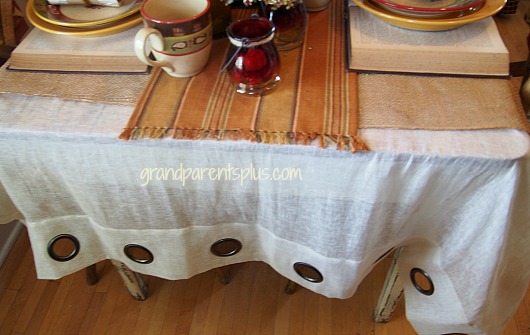 A second tablescape uses bright orange and blue! Wooden mushrooms are used as candleholders.  A small bird sitting in a dish at each place is used as a place card holder. Bright blue napkins are placed on the back of each chair and held by colored twine.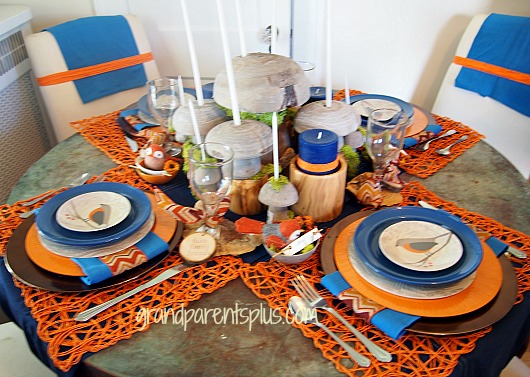 Also, in the room….
a lantern filled with many fall accents.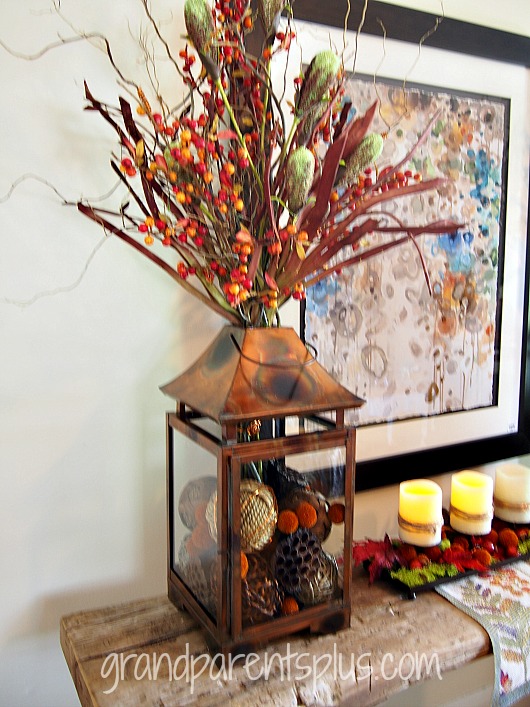 In the hallway…..
This artwork has all the right colors, but not the right size. By painting a large graphic square that highlights the artwork, it makes it appear larger and fills the space with color and added interest.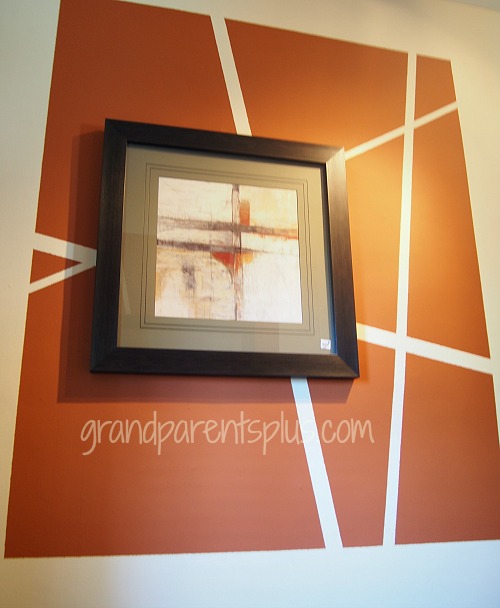 Another pallet idea! This is one I could do myself!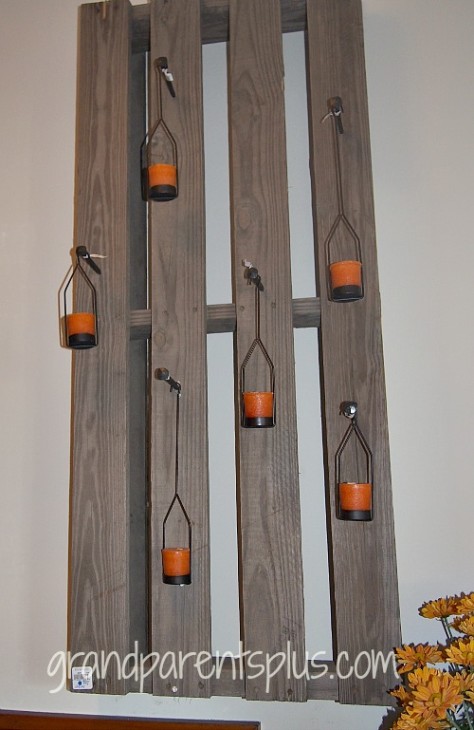 So many great ideas! I'll bet you found something that would work in your own home! There's just one post left to share for the Fall Idea House.
Be sure to subscribe so you don't miss it!
Thanks for stopping by,
Phyllis
Follow on Pinterest and Bloglovin, too.
This post is linked to many of the following parties……
Pin It