Asian Rice Salad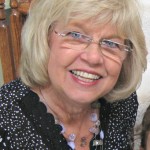 Hi!  I am thrilled to be the guest host at Cheerios&Lattes.com ! Being somewhat of a  "freshman" to blogging, I consider this not only a new challenge, but a great opportunity. I am grateful to Mackenzie for being so gracious in offering her expertise while guiding me through this venture. Thanks for stopping by and visit Mackenzie's blog for great ideas, too!

Asian Rice Salad
At our house, during the summer,we love cold salads. They also make a hit at family or neighborhood outdoor gatherings. Take this Asian Rice Salad to a picnic or potluck gathering and you won't go home with leftovers! Every bit of this salad goes. This salad makes a great alternative to a pasta salad. Use this Asian Rice Salad as a side salad dish or add chicken or shrimp for a summer entrée.
Besides the wonderful blend of flavors, the colors make it so appealing, too!  My husband likes colorful food and always comments when something doesn't have enough color.
Well, no problem with lack of color in this Asian Rice Salad!
Ingredients: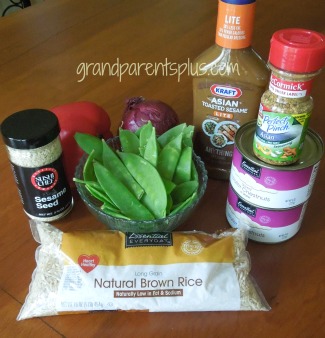 1 and 1/2 cup fresh snow peas – blanched (I cut these in half at a slant)
3 cups cooked and cooled brown rice ( I used a tablespoon of the Asian Sesame Accents in with the rice while cooking)
2/3 cup red onion, minced
1 – 10 ounce can water chestnuts, drained and chopped (more if you prefer)
1 cup sliced fresh mushrooms (optional)
1 medium red bell pepper, sliced and chopped
2 tbsp. (or more) sesame seeds, toasted or use McCormick's Asian Sesame Salad Topper Accents
Directions:
1. Chop all ingredients. Blend cooled rice in with chopped ingredients. Moisten the Asian Rice Salad with dressing (I used about half of the bottle) and let the tastes meld for several hours. When ready to serve, remix, add additional dressing if necessary and serve cold!
2. If serving the Asian Rice Salad as a main entree, add shrimp or chicken. Now you have a great summer evening meal!
3. While this salad is not gluten free because of the wheat in the Asian dressing, I am suggesting a homemade Asian dressing to make it gluten free! This will have a sweeter flavor due to the honey. If you have another Asian salad dressing recipe, use it!

Home made Asian Dressing Ingredients: 
3 cloves of garlic
2 Tbsp. minced fresh ginger root
3/4 cup olive oil
1/3 cup rice vinegar
1/2 cup soy sauce (gluten-free)
3 Tbsp. honey
1/4 cup water
Directions:
1. Put ingredients in a jar with lid and shake to combine ingredients. Remove the lid and microwave for 1 minute to dissolve the honey. Cool and store in refrigerator. Shake well prior to using.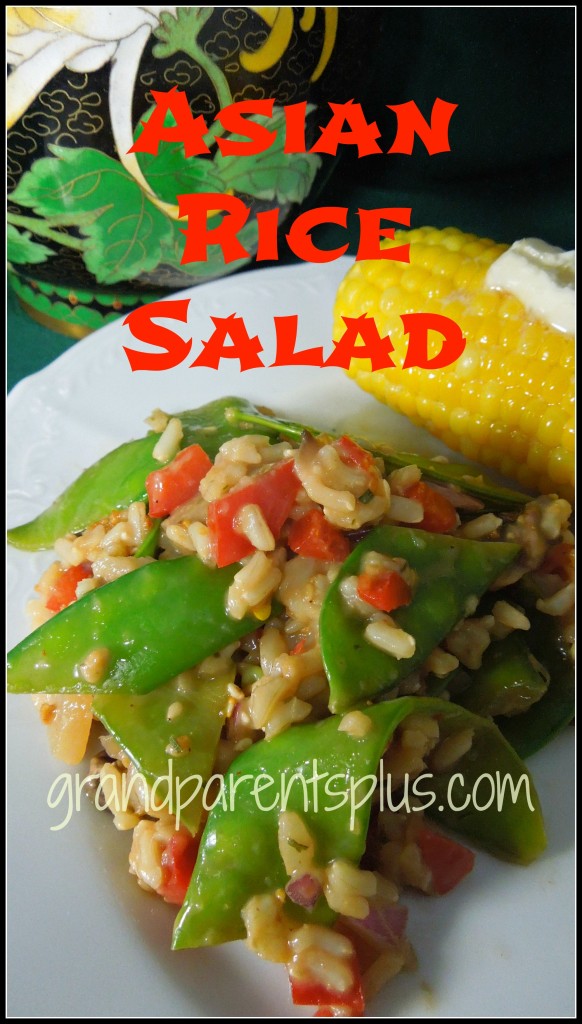 Enjoy!
I'd be honored to have you subscribe to future posts and follow me on Pinterest & Bloglovin'
Thanks for stopping by!
Hope you're having a great summer!
 Phyllis (Oma)
Pin It