Awesome Christmas Table Settings Part 3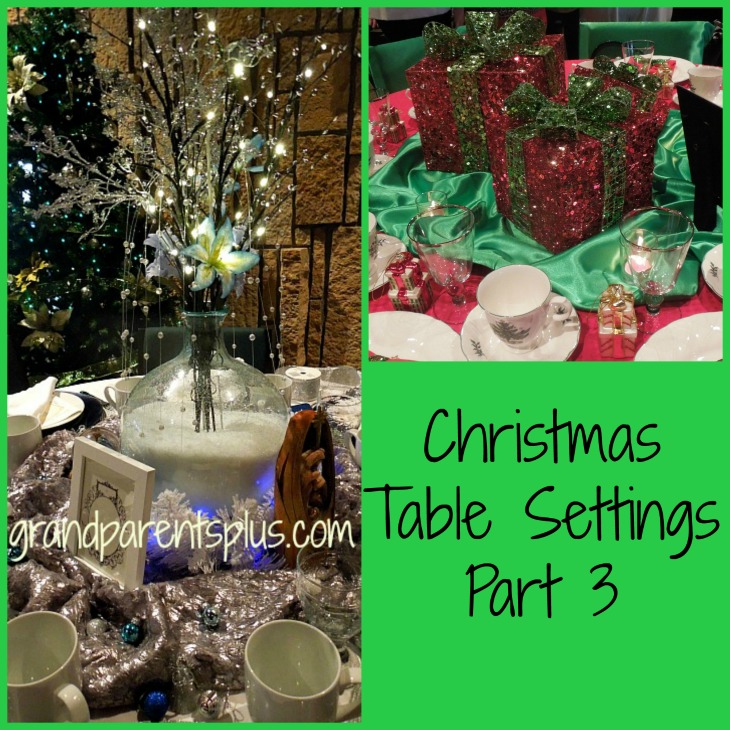 I've loved sharing these three posts on table settings done by women from our church. In this post, I've included table settings from another church that hosts a similar event.  Each Christmas table setting shows amazing creativity! There are so many different ideas from casual to elaborate.! Because it is a yearly event, I keep thinking they can't do better the next year, but they do! If you missed the first two posts, you'll want to check them out, too! Part 1, Part 2
The first two table settings used centerpieces that they owned, but they embellished them with cranberries, berries, holly and evergreens! You can't go wrong with those items in various combinations!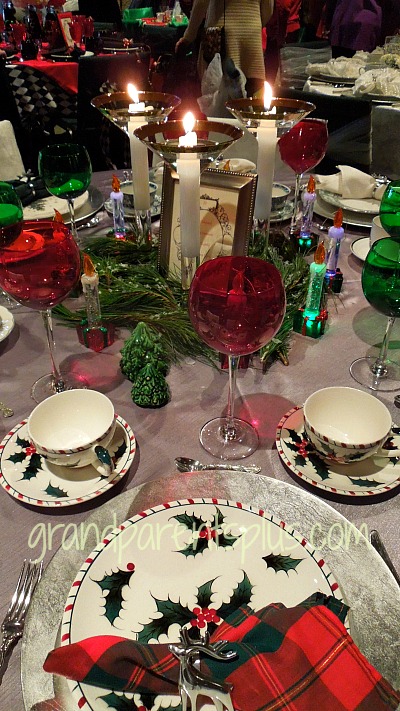 Use a centerpiece you may already have, but change out the color of the votives to coordinate with your table!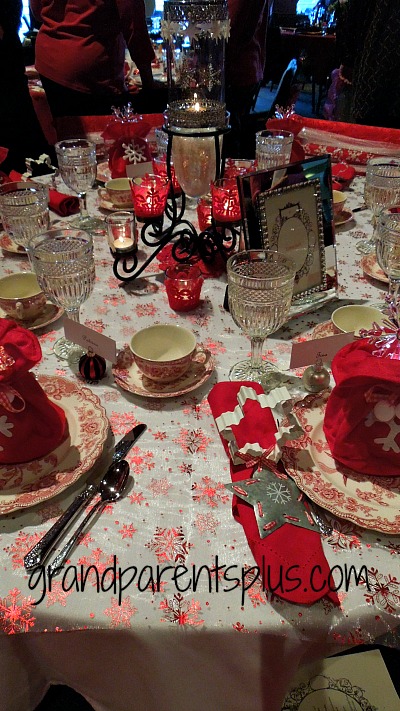 Here's a tree of white roses! Wow! This makes a great wedding centerpiece, too!  The creator's daughter of this table setting is newly engaged so it was done as a surprise for her! Notice the "diamond" napkin rings!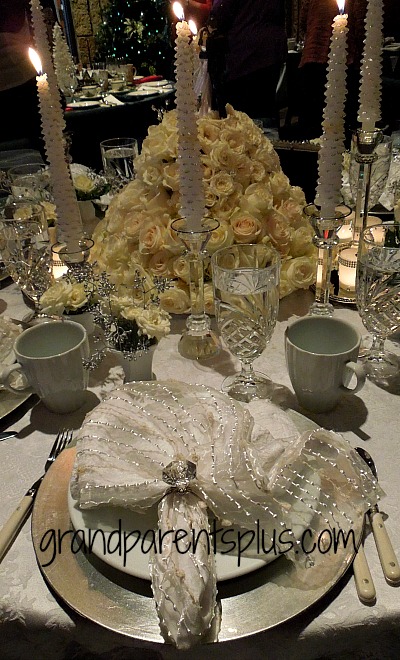 Make a huge statement with this arrangement of roses! Love the matching color of the tablecloth!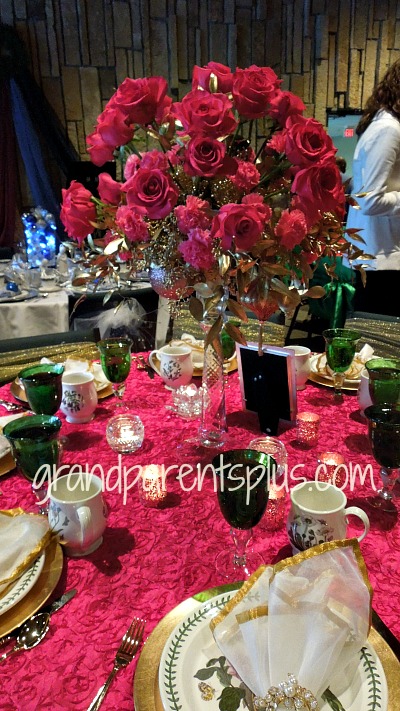 These next pictures are of a table setting with the theme of the " Queen of Hearts"! Notice the tablecloth!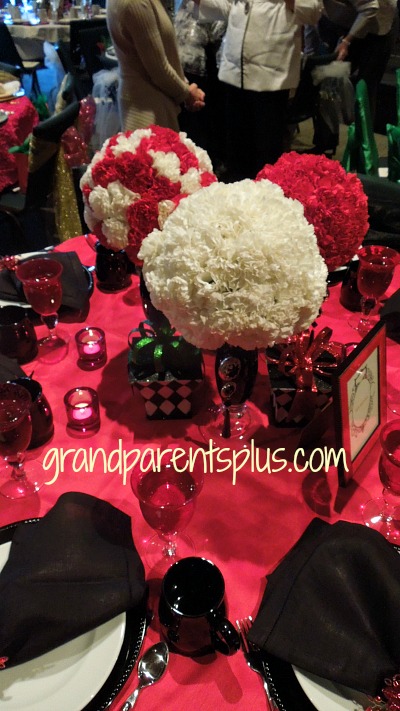 This would work for Valentine's Day, too!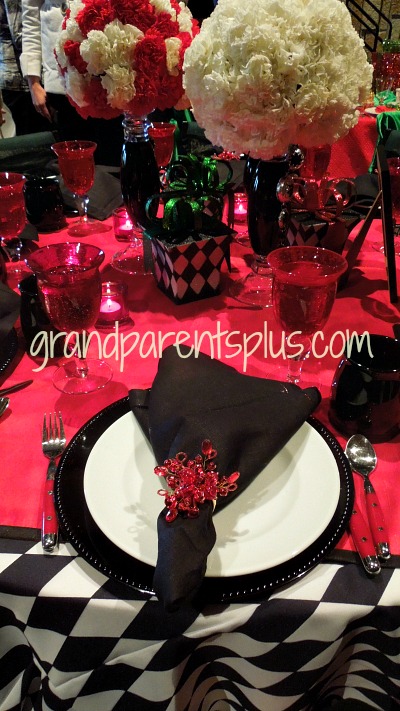 I love how this arrangement is highlighted by the painted antique frame!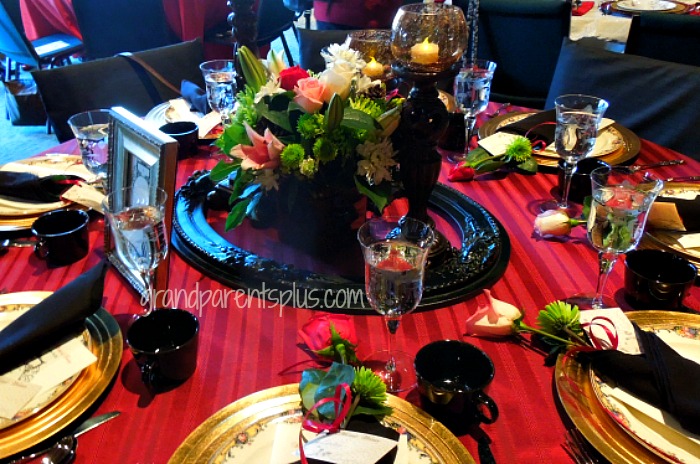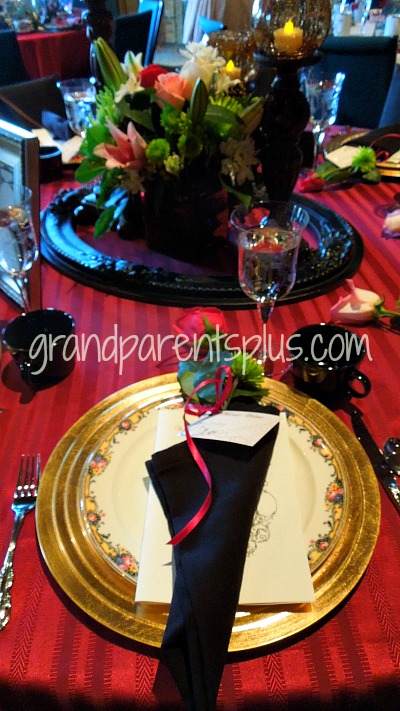 At this table, the hostess had a friend make these unusual plates. They were beautiful!
The centerpiece doesn't show up very well in this picture, but it was a collection of brass angels hung on a brass tree.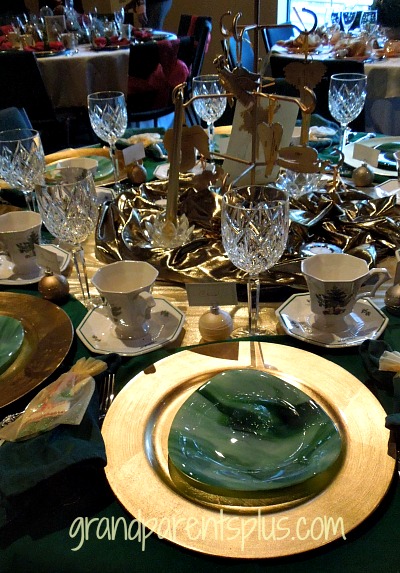 This centerpiece was purchased, but notice how the napkins repeat the "package" theme! The green cloth sets off the centerpiece so well!

Also, the cute favors are package ornaments!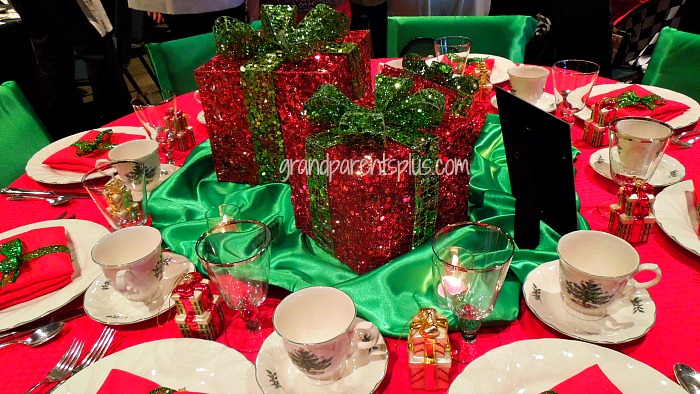 Beautiful blue and silver ornaments are lit up with a string of lights all in a large glass vase! Very easy to do, but gives a huge "wow" factor!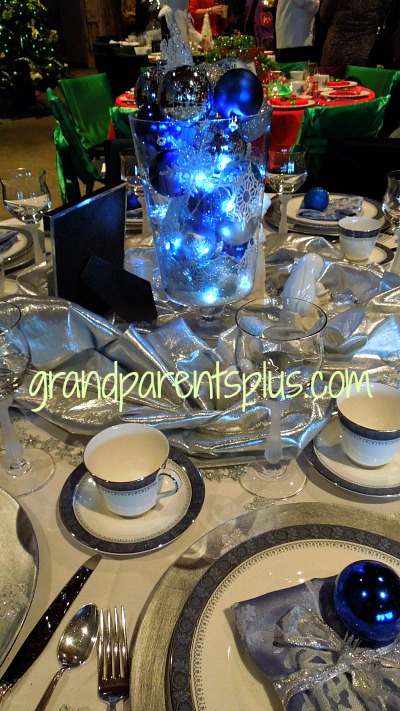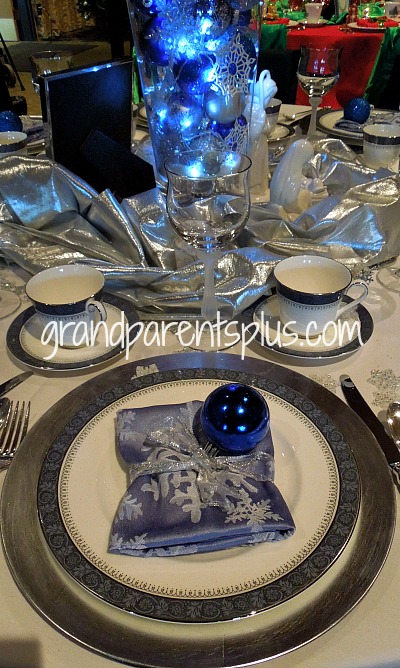 The pre-lit branches along with silver twigs and icy branches make a spectacular centerpiece. The large glass vase is filled with artificial snow. Along with the delicate touch of white lilies, this centerpiece makes this table come alive! Beautiful!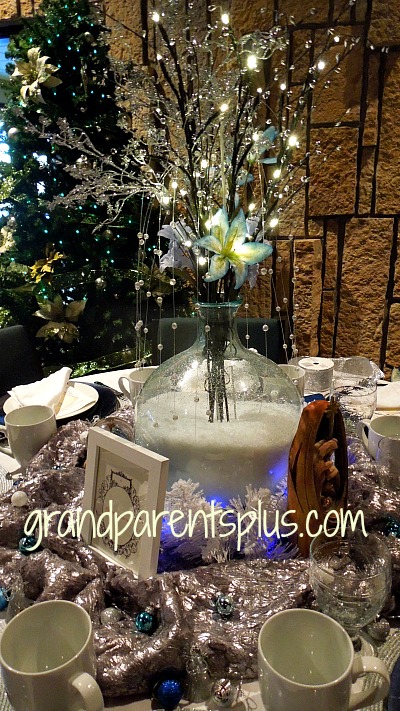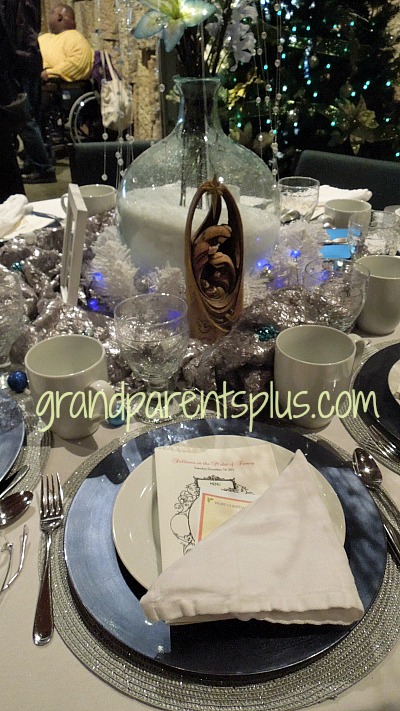 Use a favorite collection of houses as your centerpiece!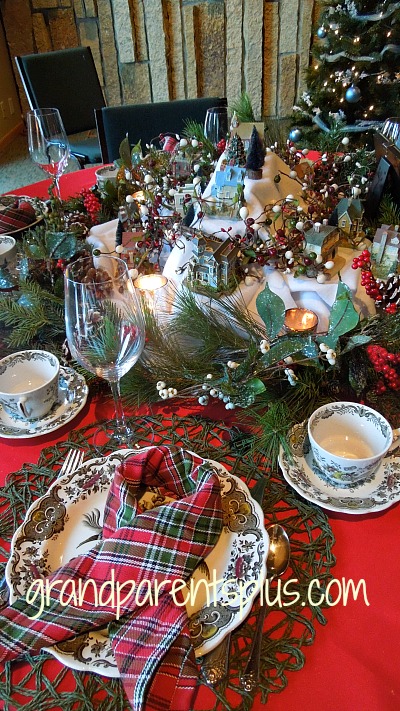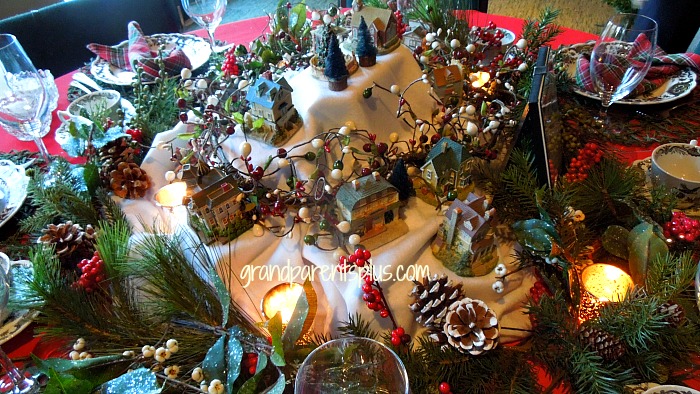 This next Christmas table setting takes a little description. It is hard to see the little lonely "Charlie Brown" tree in the middle. The whole table is a Charlie Brown Christmas theme!  Cute details are added around the tree with small Charlie Brown ceramic pieces.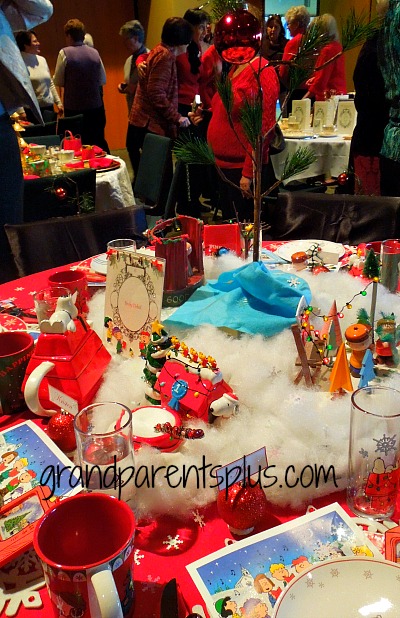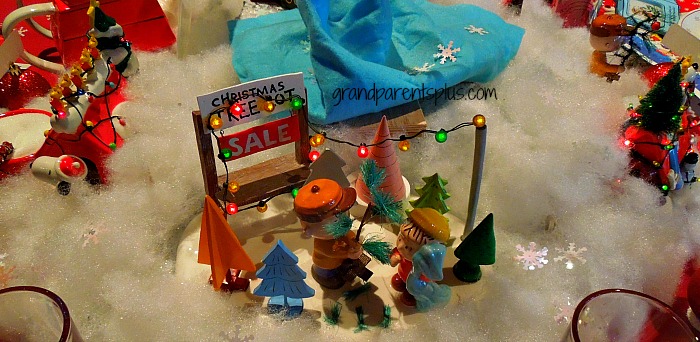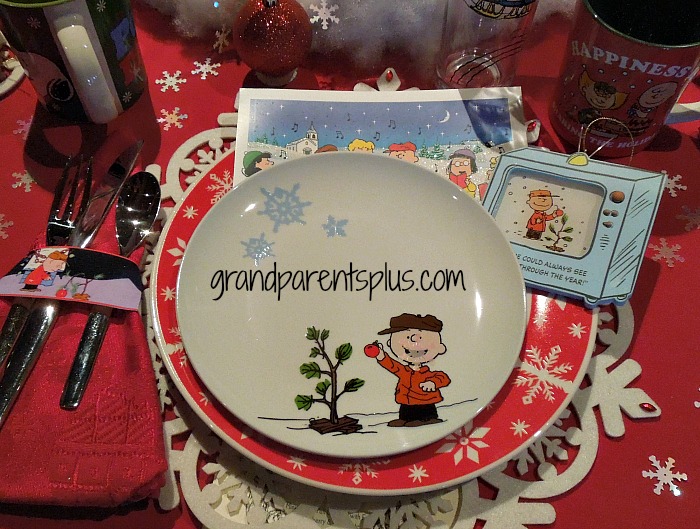 Hope you have found lots of creative ideas and inspiration for your own table setting for Christmas and the New Year!
Remember the real reason for the season….. the birth of our Savior!
Merry Christmas!
Phyllis
Remember to subscribe so you don't miss future posts… or follow on Pinterest or Bloglovin!
This post is linked to the following parties….
Pin It