Beef Breakfast Burrito
Switch up breakfast a bit with a Mexican menu. A lot of the fast-food restaurants now have breakfast burritos on the menu. You can do it even better with this tasty Beef Breakfast Burrito recipe. Your family will love it.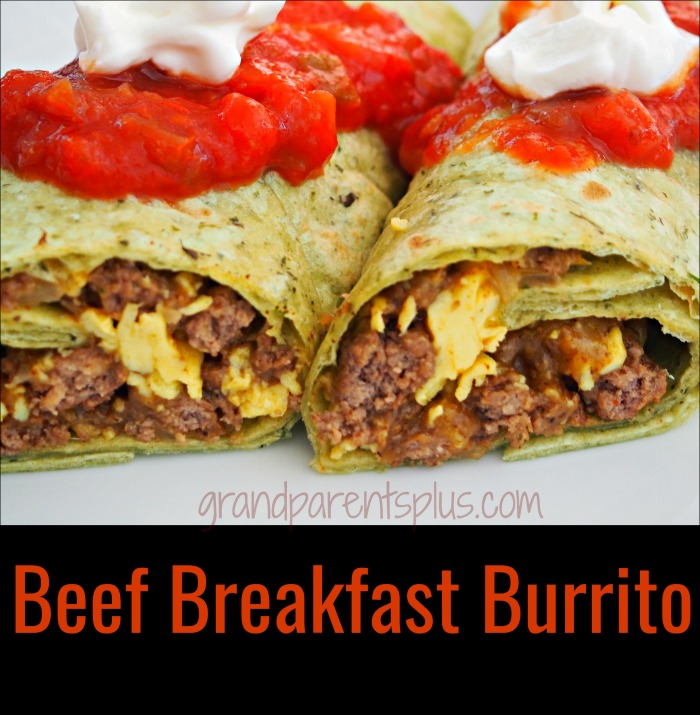 Ingredients
12 oz. ground beef
1 med. red bell pepper, chopped
1 small onion, finely chopped
2 t. chili powder
1/2 t ground cumin
4 eggs beaten
2 T. water
1 Tbsp. finely chopped fresh cilantro
1/4 tsp. salt
1/3 c. shredded Mexican or Cheddar cheese
4 medium spinach or plain flour tortillas. (10 in.)
Salsa
Ingredients for Lime-Cilantro Cream
1/2 c. sour cream
1 T fresh lime juice
1 Tbsp. finely chopped cilantro
Instructions
Brown ground beef, onions, and red pepper. Add chili powder and cumin. Break into small crumbles.
(At this point, you can freeze this for future burritos)
Combine eggs, water and 1 tbsp. cilantro in med. bowl.
Spray skillet with cooking spray.
Pour eggs into skilled and scramble them, stirring occasionally. Season with salt.
Add to beef mixture, add cheese and cook 1 minute to heat through.
Spoon beef mixture across center of each tortilla, leaving a 1 inch border on right and left sides Fold right and left sides of tortilla over filling. Turn over and cut in half diagonally. Serve with Lime Cilantro Cream and salsa, as desired.
Serves 4
http://grandparentsplus.com/beef-breakfast-burrito/
This Beef Breakfast Burrito recipe is so easy to freeze the meat mixture for future use or refrigerate the beef, onion, bell pepper for the next morning ready to add the eggs.
Then, all you need to do in the morning is warm the beef mixture up, scramble the eggs, and mix together. It makes breakfast quick and easy.
During the summer around our area, many people head north to a the lake for the weekend. What an easy and yummy breakfast for family and guests at the cabin.
Step 1  Browning the beef, onion, and bell pepper mixture.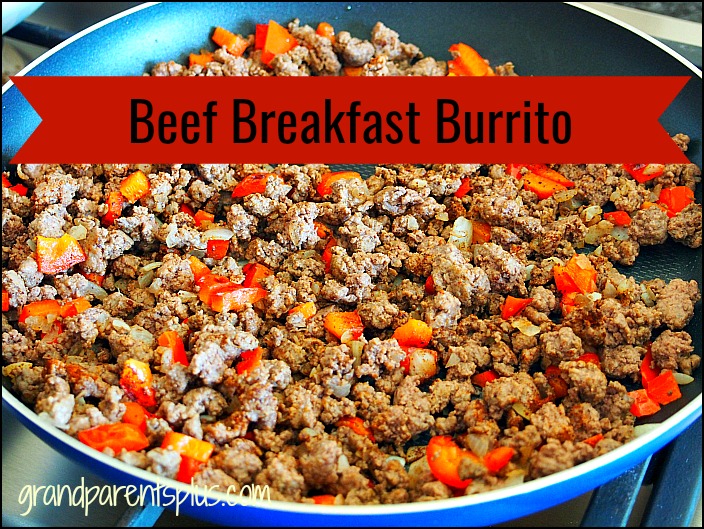 Step 2
Scramble eggs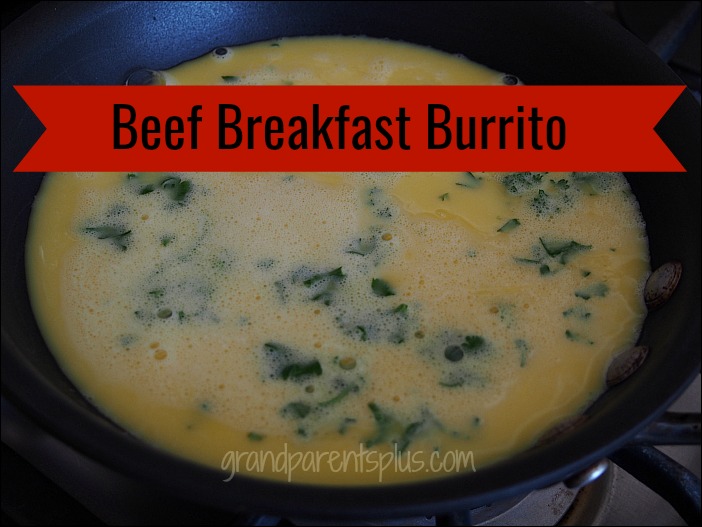 Step 3
Combine scrambled eggs with beef mixture and add cheese.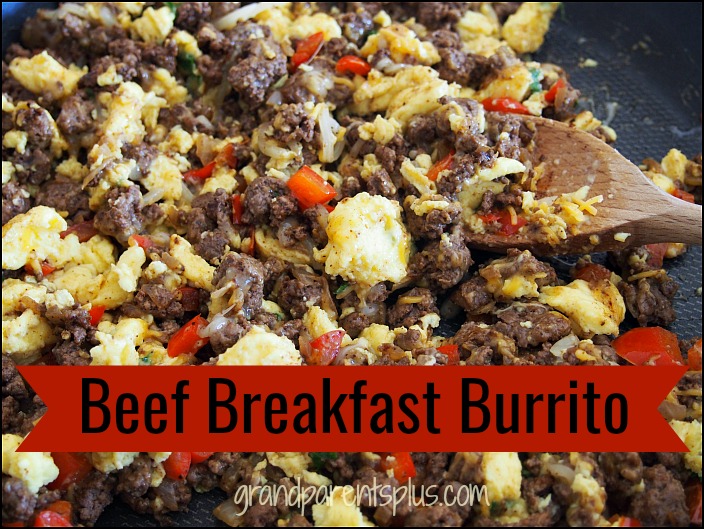 Step 4
Wrap in tortilla.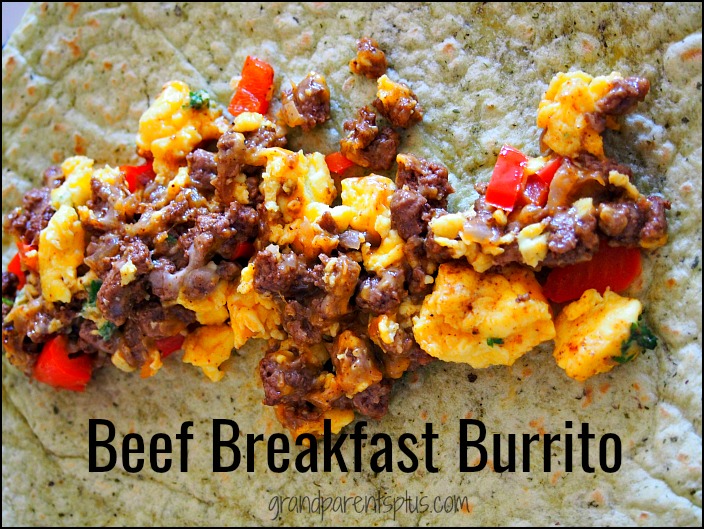 Step 5
Fold it like a burrito or roll it long like a taco!  Either way, it's a wonderful start to the day. Use ground turkey in place of beef for fewer calories!
Step 6
Serve and eat! Serve with salsa and sour cream.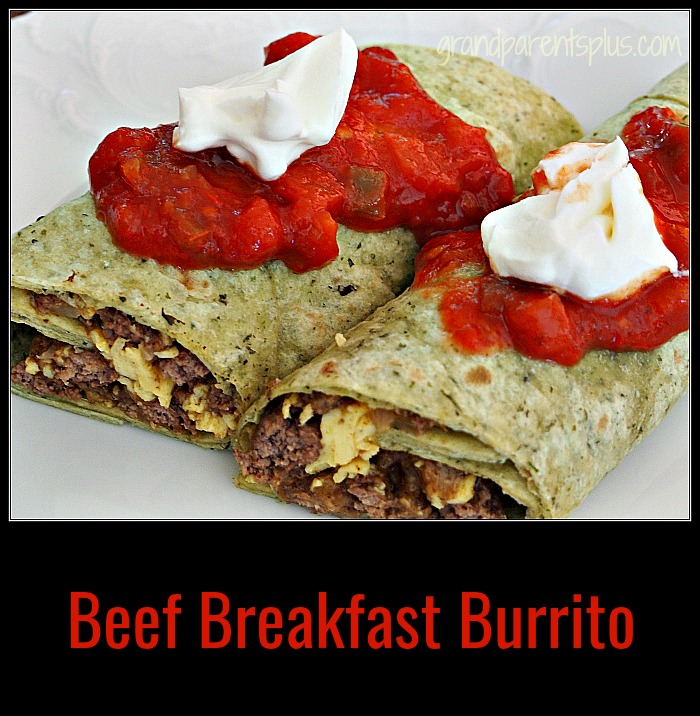 I'm all for doing things the night before to make mornings easy. This recipe is perfect to do ahead. You don't need to get up early to fix this hearty breakfast!
Enjoy!
Phyllis
Subscribe on the sidebar so you won't miss a future post! Your email is never shared or sold.
Follow on Pinterest, too.
This post is linked to many of the following parties…
Pin It