Bridal Shower Ideas
Planning a Bridal Shower is always a special time for honoring the Bride-to-Be! Our family tradition is to have a family bridal shower for the nieces and niece-in-laws. That amounts to 12 showers so far! Giving a Bridal Shower involves a lot of preparation and planning. There's food, games, gifts, and we always include a devotional (encouragement and challenge from God's Word).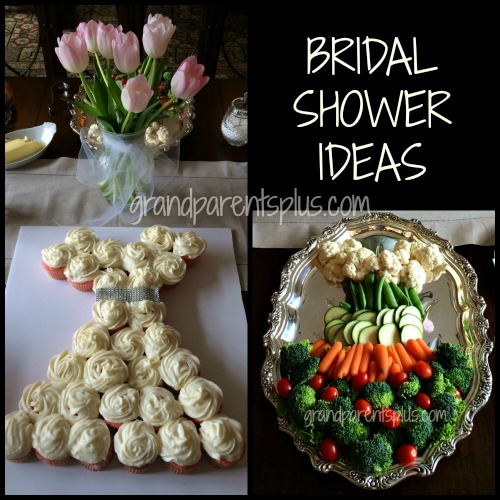 For each Bridal Shower we do a color theme  or a theme that especially fits the new bride. The shower I just did had a "fashion" theme. The bride worked in a major department store chain and was in charge of the women's departments in several stores.  Knowing this, we decided to tie into the  "fashion" theme and carry it through the game, food and devotional.
The wedding was in Washington State during the tulip season. This shower was scheduled after the wedding due to the bride's work schedule and traveling to the Midwest. We used a similar theme for the center of the table as they had for the reception tables at the wedding. She used a beige linen runner and pink and white tulips and candles in cylinder vases for the long reception tables. They were very simple, but elegant!
Here's our copy version….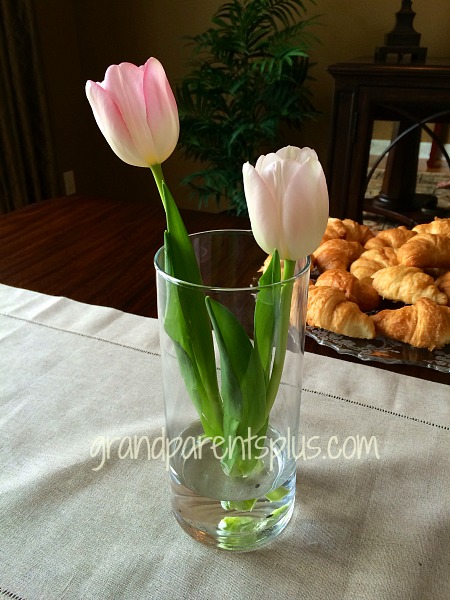 A look at the entire Bridal Shower table setting…..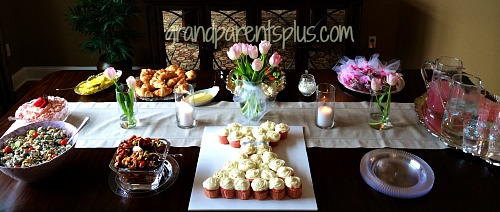 These are the tables at the wedding reception…..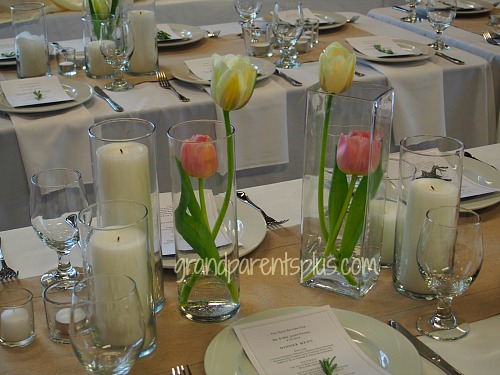 Along with the bridal gown cake, I decided to do a bridal gown veggie plate! It turned out pretty well! Perhaps it is a "bridesmaid dress"! It all fit with the "fashion" them for the Bridal Shower!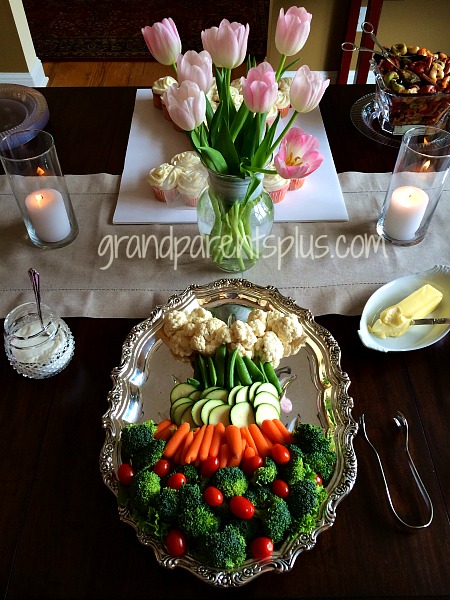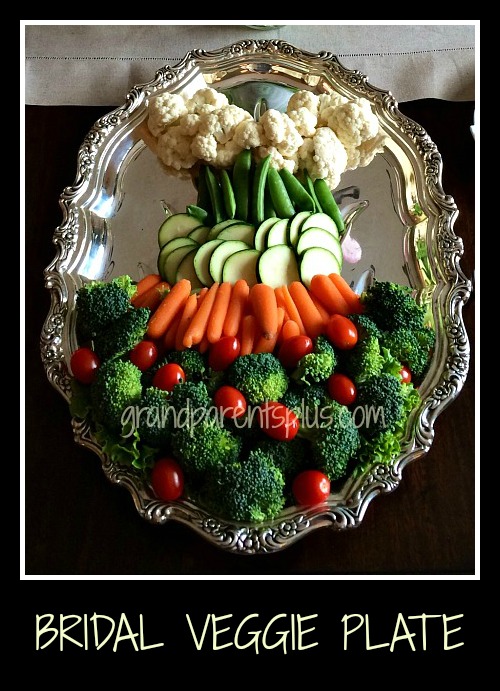 Another view of the table….
The menu included Wild Rice Chicken Salad, Tortellini Salad, Fruit Fling, Croissants, Pickles, Veggie Plate & Dip,  and Pink Lemonade. I made the Fruit Fling pink by adding just a drop of red food coloring.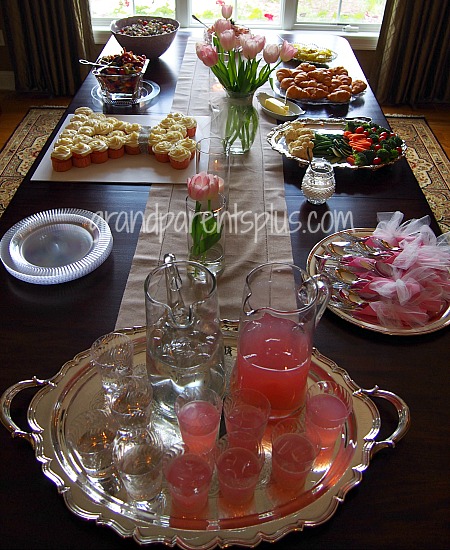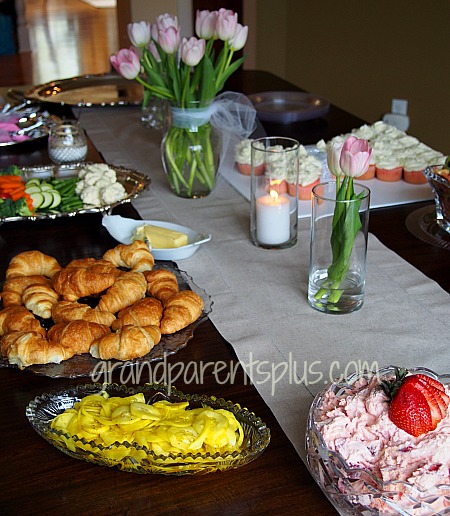 The bridal gown cake…..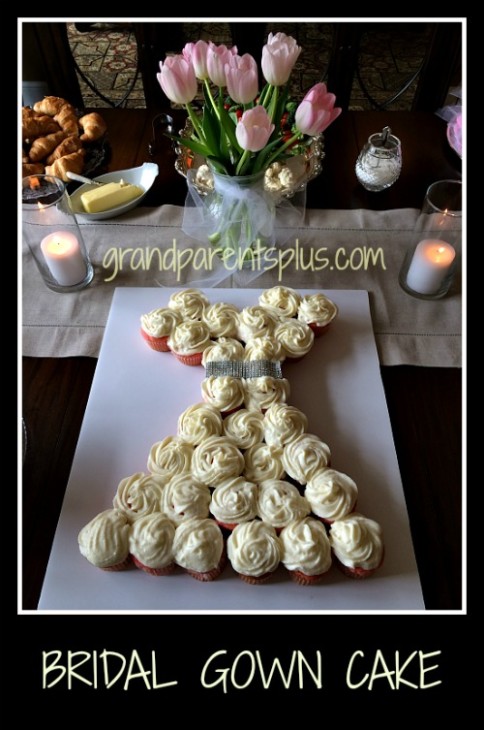 For the game, I downloaded pictures of bridal gowns from each decade 1900's – 2000. Guests wrote  the decade they guessed under each picture.  I tried to get ones that looked particularly like that era.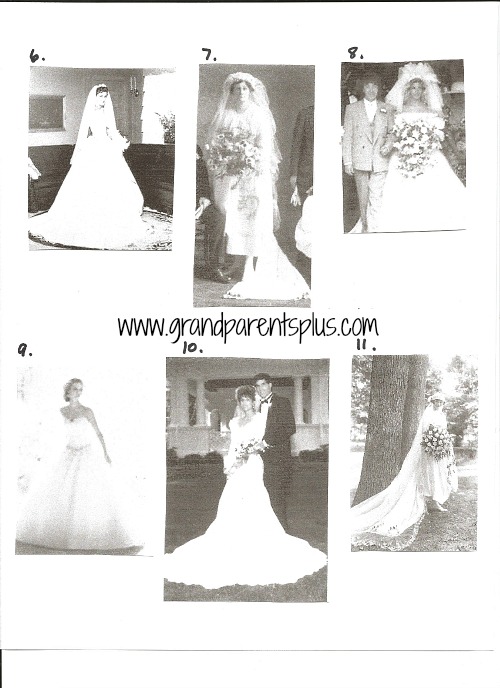 How many can you get correct?
The answers are at the bottom……
The devotional was on the theme of "What we wear as a Christian" . It included thoughts on the fruits of the spirit from Galatians 5:22.
Each shower is special! This one was no exception. Everyone had a great time together!
Hope you enjoyed these ideas!
Phyllis
To keep up with this post, please subscribe on the sidebar!
Follow on Pinterest and Bloglovin, too!
This post is linked to many of the following parties…..
Answers: 1.1940, 2. 1950, 3. 2000, 4. 1900, 5. 1930, 6.1960, 7. 1910, 8. 1980, 9. 1970, 10.1990, 11. 1920
Pin It