Canadian Bacon Quiche Recipe
You may think of this Canadian Bacon Quiche Recipe as a breakfast entree, but this is delicious as a brunch or lunch, too. In fact, a breakfast quiche works for a light dinner! Anytime is good for this quiche. This recipe is served at A Spot for Tea in Oklahoma City, OK, where it is a favorite.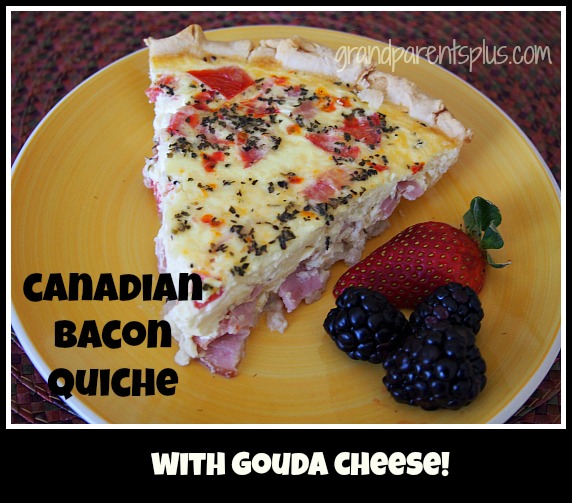 You may have noticed that I'm on a "Gouda Cheese kick" as I have included it in a few of the last recipes posted. It has a wonderful flavor and it's a nice change from cheddar. In my grocery store, it is included with the regular cheeses and you can buy it already shredded. If you can't find it there, look in the specialty cheese section of your grocery store. 
To save this recipe in your Yummly box, just click on the YUM button.
Ingredients
4 eggs
2 cups half and half
1 tomato, seeded and chopped
1 cup diced Canadian Bacon
1/2 cup shredded Gouda cheese
1 tsp garlic salt
1 tsp pepper
1 tsp dried basil
1 9" unbaked pie crust
Instructions
In a large bowl, combine eggs, half n' half, chopped tomatoes,diced Canadian Bacon, Gouda cheese, garlic salt, pepper, and dried basil.
Mix well and pour mixture into unbaked pie crust.
Bake for 50-60 minutes.
Knife inserted should come out clean when done.
Let quiche rest for 10 minutes.
Cut and serve with fruit.
http://grandparentsplus.com/canadian-bacon-quiche-recipe/
The Canadian Bacon Quiche is ready for the oven.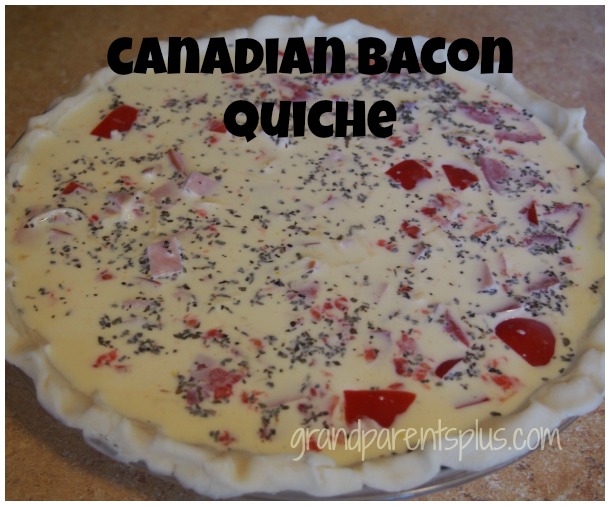 Done when a knife inserted in the center comes out clean.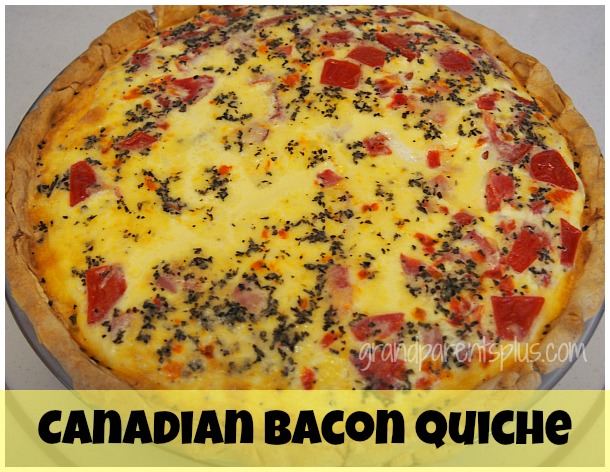 What makes this Canadian Bacon Quiche so easy is there is no frying of bacon ahead of time and all the ingredients go together quickly. Canadian bacon is a nice change from bacon and the Gouda cheese is delicious in this quiche!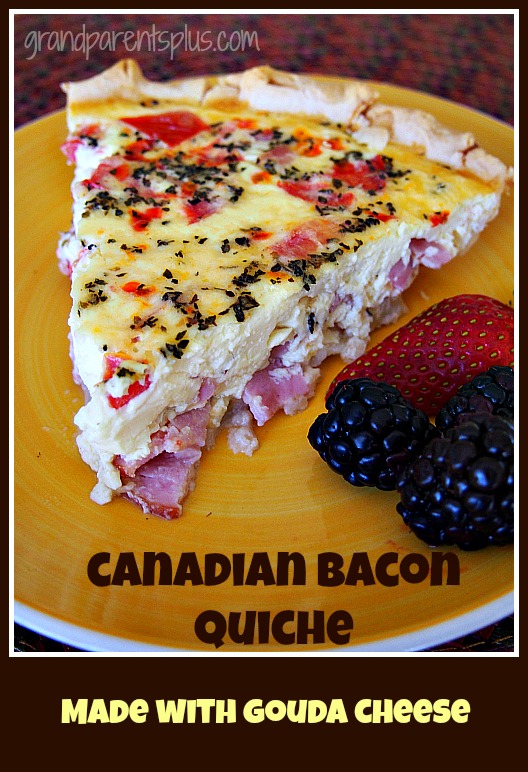 Try it and I know you'll like it!
Enjoy! 
Phyllis
I hope you subscribe so you don't miss a future post. Your email is never sold or shared.
Follow on Pinterest, too.
linked to these parties…
Pin It