This was the third year of Oma and Opa Camp (grandma & grandpa) so the kids knew what to expect so were very excited to come! One grandson said, "I've been waiting all year for this!"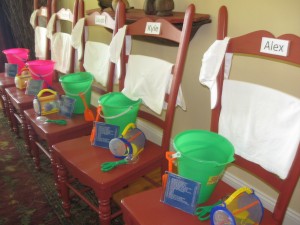 Each child has a chair on which to put their crafts, etc. Under the chair goes their shoes and on the chair is their outfit for the next day.
Once again we went over what was going to happen and how they could keep their crafts, clothes, etc. all together in their assigned place. (hopeful thinking)
The theme this year was "critters" (bugs and butterflies). Each chair had a bug cage and tongs for catching them. They spent lots of time finding interesting bugs and butterflies!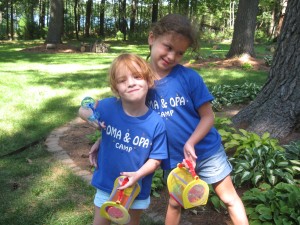 No one was afraid to pick up the bugs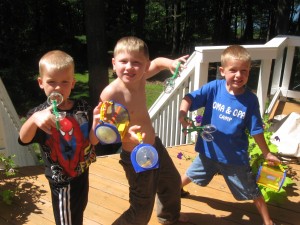 with their handy dandy bug catchers!
One of our friends has a massive collection of bugs and butterflies from all over the world. It worked perfectly with the theme to schedule a time where we could see his collection.  They spent a lot of time asking questions about  where you would find these bugs!
The butterflies were stunning with all the colors. Each child tried to pick out their favorite, but there were so many you couldn't pick just one!
Along with all the real butterflies and bugs, they made bug puppets. I found a print out for the heads, antennae, etc. on www.Orkin.com. They had fun creating them.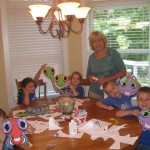 BUGS!
Mealtime can be challenging when you're busy directing all the activities. Having kids involved in the preparation has helped a lot. Not all meal items go with the theme, but I called the pizzas that they made, "Bug-Eyed" Pizza! Lightly toast an english muffin half. Have the kids spread the pizza sauce on top. Add their choice of pepperoni or sausage. Top with mozzarella cheese and then top with a "bug-eyed" face! They used red pepper for the smile and pepperoni with olives for the bug eyes. The nose was a little carrot. I put them on tin foil so I could easily transfer them to the oven and bake until the cheese melts. It was a meal-time hit!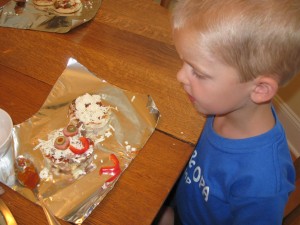 Bug-eyed Pizza!
Banana Boats were also a hit for dessert!
Peal back the top of the banana ( do not remove) and scoop out a small amount of banana. Fill with chocolate chips (or any flavored chips). Put miniature marshmallows on top and replace the banana peel. Wrap in foil and put in oven or lay on grill for about 15 minutes. YUM!
Hobo dinners can be made with cooked hamburger or chicken (their choice), slightly cooked potato slices or cubes, onions, butter or oil, teaspoon of creamed soup, vegetable of choice and cheese on top. Spray the foil and add ingredients that they choose. Enclose foil and place on baking sheet on grill for about 15 minutes. Because they choose the ingredients, they like to eat it! It is a meal all in one! Another hit!
One of the favorite things to do is use the water shooters. The ones I found at Dollar Tree are the easiest to fill and shoot. They are so cheap ($1.00) so each year I stock up on some. I put water in a big plastic bin and throw in some warm water so that it takes the chill off when they shoot each other. They have loads of fun with these both in the lake and in the yard.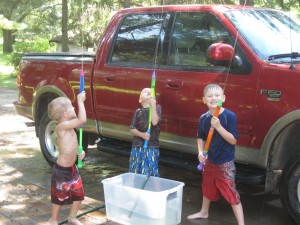 Tie-Dye was another one of the crafts. I used already mixed dye which I found at JoAnne Fabrics. You just poured the color on wherever you wanted. We did this outside over a bucket. I had plastic gloves for the kids and myself. It was easy to have one at a time doing this while the others played together or hunted for bugs. They did both the hat and the shirt for a complete look! They loved the results!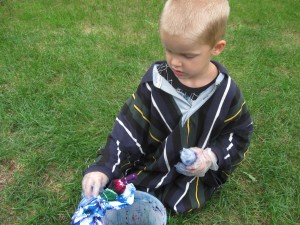 Don't forget the paint shirts!
The Bible lesson centered on the verse in Proverbs 6: 6 that talks about the ant. "Go to the ant, consider its ways and be wise! It has no commander, no overseer or ruler, yet it stores its provisions in summer and gathers its food at harvest."  Since "critters" was the theme, it seemed that learning about the ant  fit. We talked about how the ant gets along with the other ants. It doesn't wait for someone else to do the work, but pitches in willingly. It carries more than its own body weight and is busy helping others. It became a science/Bible lesson as we read all about the ant. God wants us to get long with each other, help one another, and work willingly. The verse they learned was I Thessalonians 5:15. "Make sure nobody pays back wrong for wrong, but always try to be kind to each other."
The kids made ants out of polymer clay and baked them. Other critters were also made.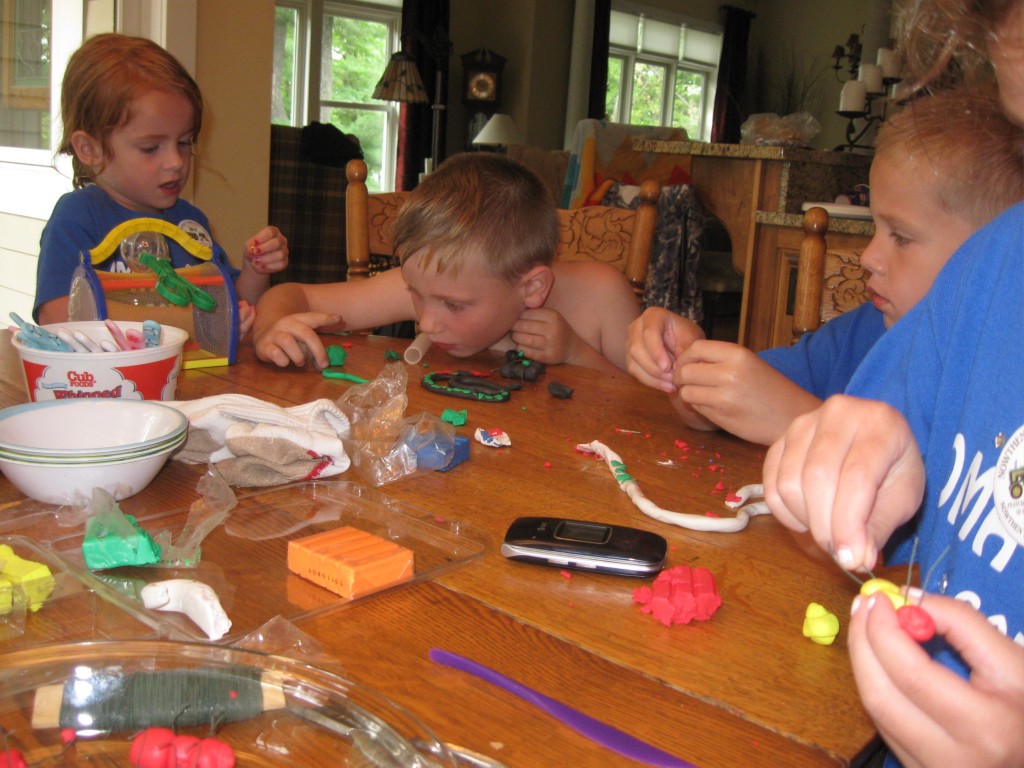 We also took part of a day and went to a Threshing Show. They had lots of great things for kids to do and see.  At the end of the time together, it is always hard to say good-bye. Now we wait for Oma and Opa Camp 2012!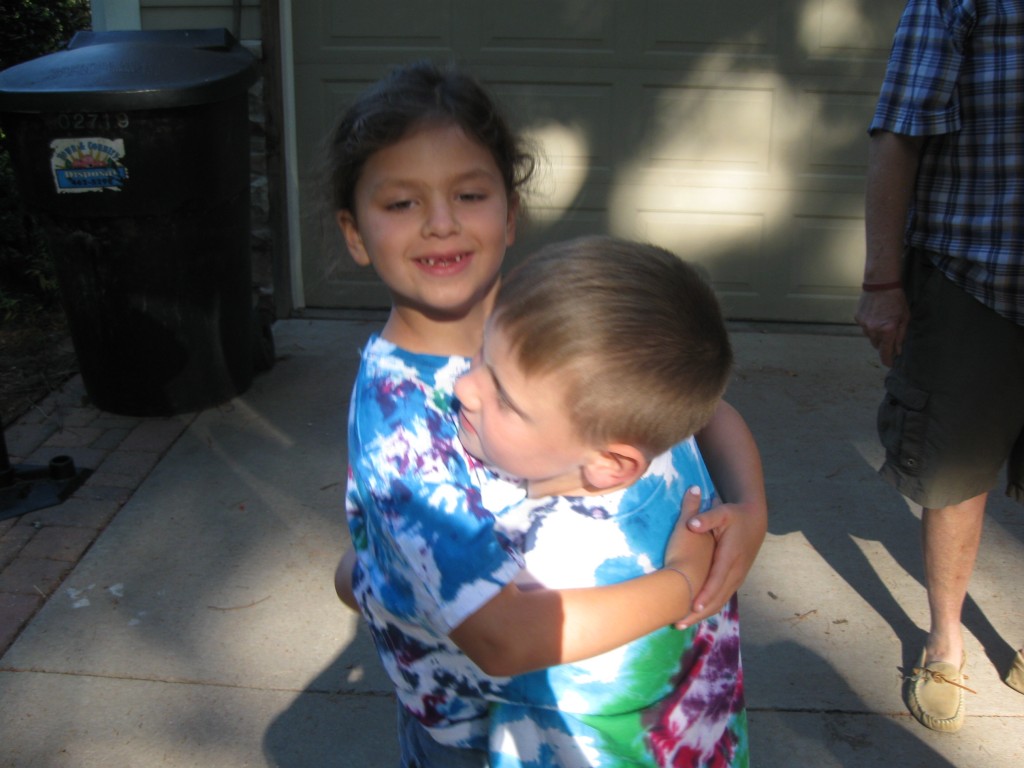 Read More