Oma and Opa Camp 2013
Another successful Oma and Opa Camp this year with 7 grandchildren ages 4-9! We were wondering how the two new 4 yr. olds would do, but they had a great time and were very excited about coming! The theme was a "Western Round-Up"! I planned games, crafts and food around this theme.
By the way, Oma and Opa are the Dutch and German words for "grandma and grandpa"!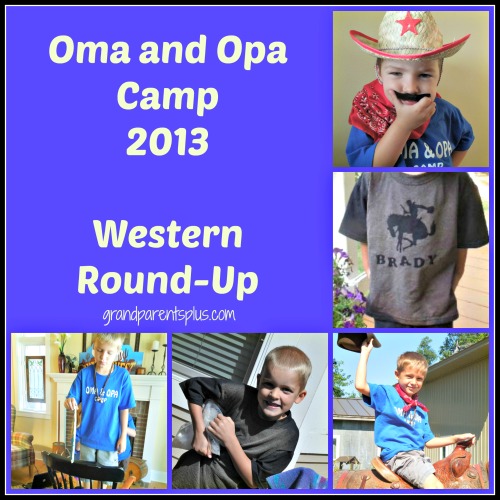 When they first arrived, I took "Wanted" pictures of them dressed in a cowboy hat, stick-on mustaches for the boys and a red bandana. They chose what they were to be "wanted" for and the amount of ransom money. The next morning, I had the wanted posters displayed on the sliding glass door! Here are a couple of examples! For complete instructions on how to make these, go to the post on Western Crafts below.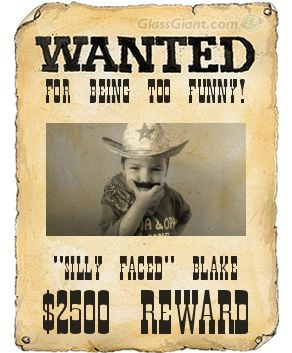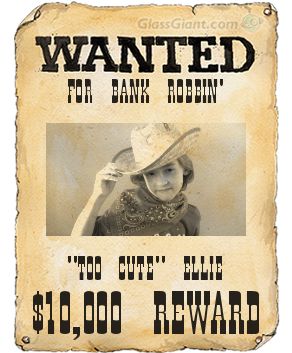 Field Trips:
The first of the two field trips was a visit to a horse farm. A friend of ours was "Cowboy Gene" and he took the kids on horseback rides, showed them around his farm and even sang a cowboy song for them. I took pictures of each one on the horse and used those pictures for the Western Frame craft.
The second field trip didn't have much of a Western Theme as we went to the Mall of America's Aquarium. It did have "sea horses", though! HA!  Not every field trip is around the theme. We just want the kids to have fun! They loved both places that we went for Oma and Opa Camp!
The rest of the time is spent around our place with Western games, food, and crafts along with swimming and lots of "cousin fun"!
Games:
I had a bunch of Western Games ready, but used only a few. The weather was absolutely wonderful so the kids spend a lot of time down at the beach! I go into detail about each game idea here. They included:  Snake Tic-Tac-Toe, Snake in a Boot, Yee Haw Slide, Rattle-Ski-Daddle,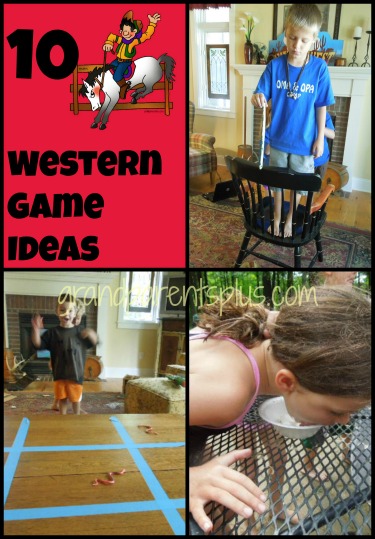 Crafts:
The Western craft ideas were: Western Bleached Shirts, Western Frames, Rope Coasters and Snakes. I always overplan in case of bad weather, so I had other ideas to do, too! Check out all the craft ideas on the link below.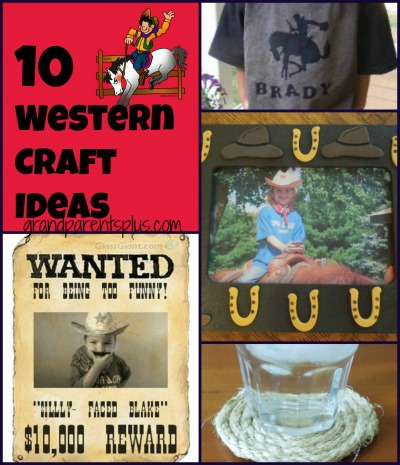 Western Food Ideas:
I like to have food ideas that go with the theme and some that the kids can help put together and make. There was Cactus Juice, Nuggets, Armpit Ice Cream, Cowboy Pizza Pockets, Cowboy Bedrolls, Little Doggie Roll-ups, Cowpies, Western Omelets and Wagon Wheels!
I posted all the food ideas on my site here….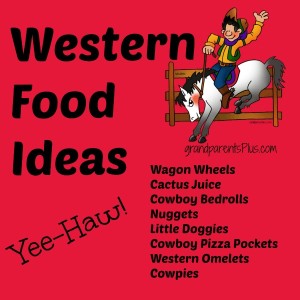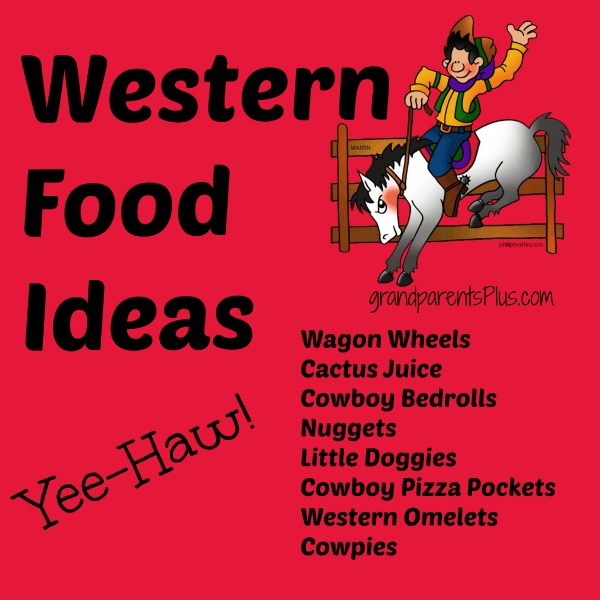 Songs:
This year,  Gospel Light had a VBS curriculum called SonWest Round-Up. I found a church that was done with their VBS and they loaned me many things that I could use. They had some great songs that the kids loved so I used them during the week as well. They particularly liked: "SonWest Round-Up Theme Song", "He Will Provide", "Stronger Than Anything" and I ordered their reproducible CD and made copies for each grandchild to take home.
Bible Story:
We had a "Round-Up" time right after dinner for a Bible Story.
I followed the Gospel Light Curriculum and told the story of Moses and how God told him to go to Egypt and "round-up" the Israelites and lead them to the Promise Land. Just as Moses saved the Israelites from slavery in Egypt, God sent his son, Jesus to save us from sin. Jesus, God's Son, is the only one that has the power to save!
Each child received a horseshoe nail cross to remind them of our Western Round-Up and how Jesus died on the cross to pay for our sins. By accepting Jesus, we can have Eternal Life!
I found the horseshoe crosses here.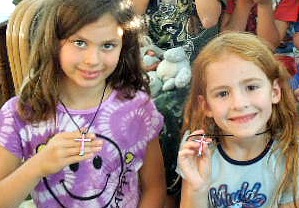 It was a fun-filled, busy time, but so worth the effort. The connections with the other cousins were  great to see along with just spending time with them ourselves. Needless to say, we were very tired, but we survived and revived.
Another blessing is talking about the Bible with the kids and learning how they are understanding God's plan for salvation! The memories are sweet, too! Of course, I make an online photo book for each child and send it a couple weeks later with all the pictures and memories of our time together. Go here for a free book.

Whatever you do or plan with grandchildren, you make great memories and lovingly give a wonderful positive influence on their lives that they will remember!

Hope this gives you some ideas to do with your grandchildren!
Phyllis (Oma)
This post is linked to the following link parties…..
Pin It
Read More