Oma and Opa Camp ( Grandma and Grandpa Camp or Cousin Camp) was held late in the summer last year. In fact, it was the week before school started. We always try to find a date where the three families' kids can come, but so much was going on that we were lucky to get a time that worked. That is why this post never got done before the summer ended.
The kids were excited about the theme. When I announced the theme, "Having a Blast with Science", I asked the kids to come ready to do an experiment of their choice, bring what they needed, and be able to explain what happened and why.  I gave the parents several sites to check out. When someone decided on an experiment, no one else could do the same one. These are some of the sites I suggested…
I was able to find a lab coat (a little big) and put the label on the pocket "Kid Scientist". On the other side I put the theme, "Having a Blast". They, also, wore goggles. 
The first morning, I asked the 3 youngest to do their experiments. They took it very seriously. Carefully, they did their experiment and then explained what happened and why. After the first grandchild did theirs, the rest broke out in clapping and shouting "good job" spontaneously. When the three youngest had finished, they all wanted to continue, so we spent that morning with each one doing theirs. It was so much fun and they did an excellent job.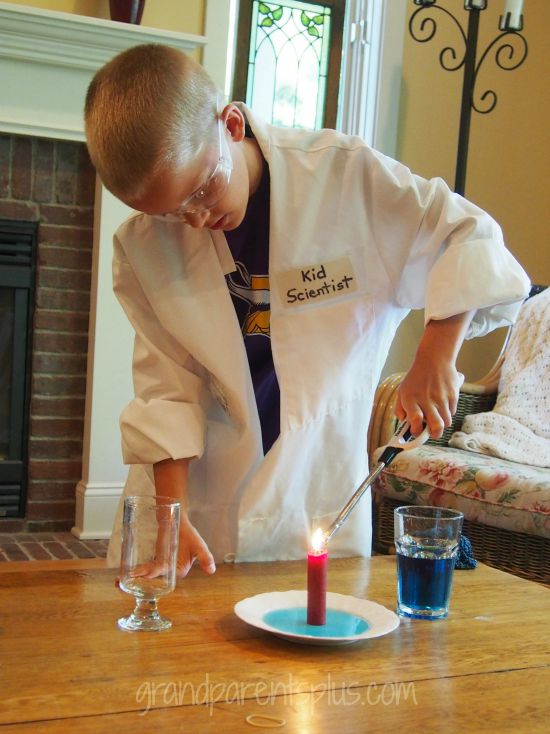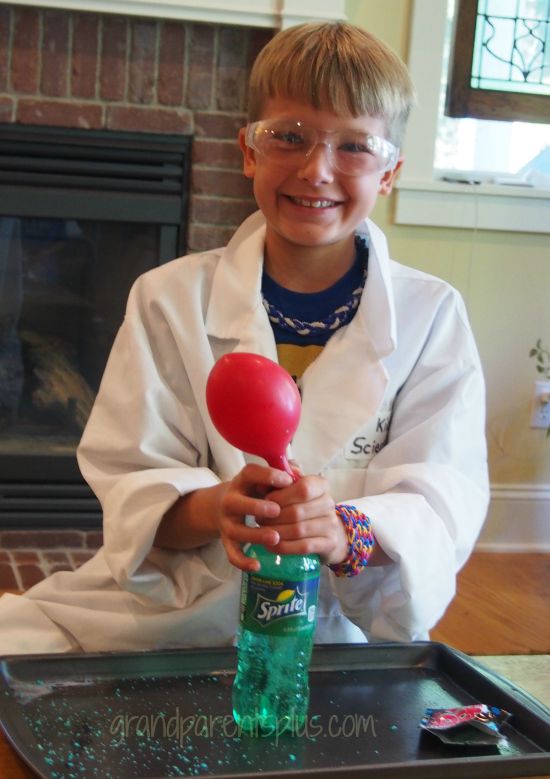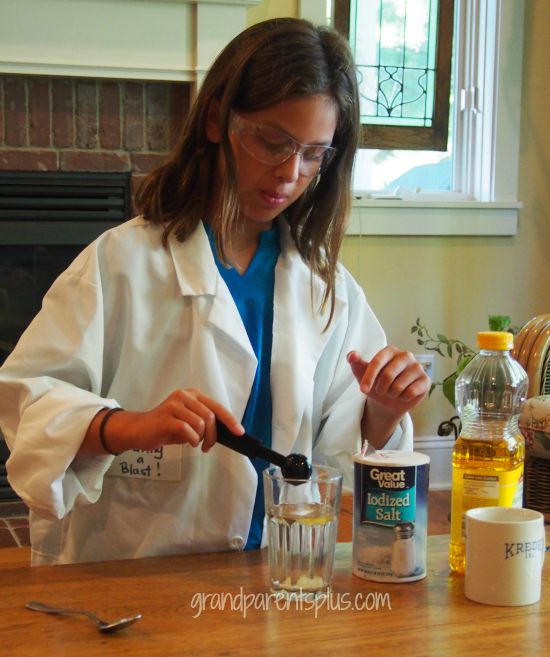 I took a picture of each one holding their experiment and framed them for a take home surprise.
Oma and Opa Camp Crafts:
The crafts had to do with experiments, too.
1. Art Experiment:
This showed what happens when water and oil are mixed.
Before they came, I outlined their name in bubble letters with a glue gun on a plain piece of water-color paper. They were to use water colors and paint their name. On the background around their name, they used a variety of water colors and then dropped cooking oil on the wet water-color paints and watched the reaction on their paper. The paints need to be very wet when you drop the oil for it to work. they all liked watching how the paint colors reacted. For complete directions, go to Watercolor and Oil Art.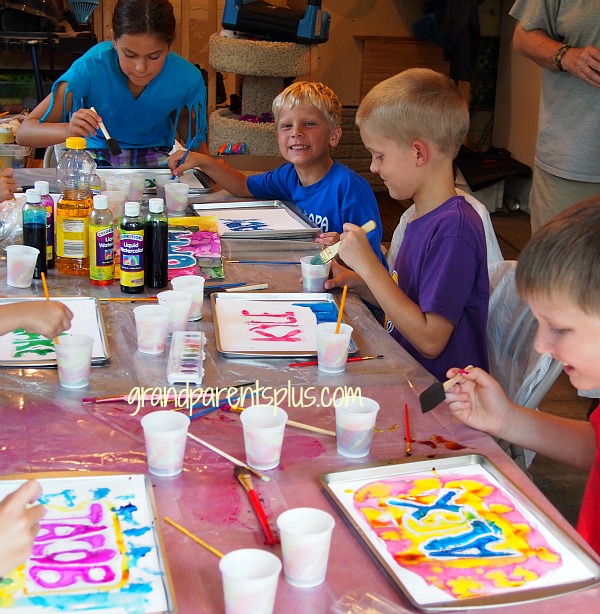 2. Catapult:
This  device is a simple machine. By pushing down on a flexed piece of wood, the energy is transferred to the object when released sends it flying off.
I must say, I tried several styles of catapults. All were too difficult for kids to actually put together and they threw the object into the ground and not in the air. (like the Kleenex box ones) I finally found one design that was simple to do and worked for a game, too. Go to How to make an Easy Catapult.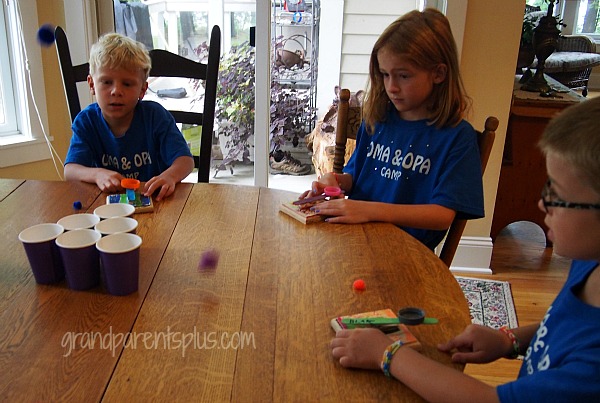 3. Tie-Dye Shirts:
The experiment on shirts was two-fold. First, we soaked the shirts in soda ash. Each year, the tie-dye shirts would fade after each wash. The soda ash is supposed to keep the bright colors so we'll see if the experiment works. Secondly, we folded the shirts accordion way and added rubber bands at different places to see if it would result in stripes. It did! The soda ash worked, too! The shirts retained their color much better!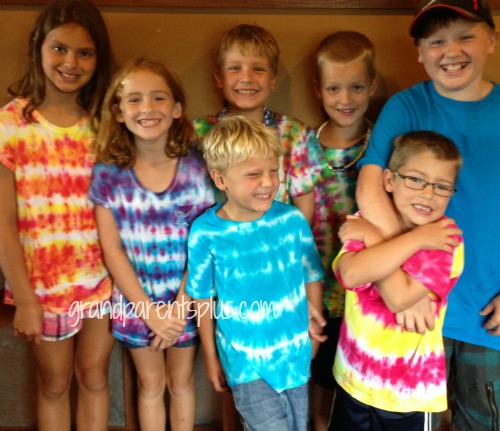 4. Making Plastic:
We made plastic from milk and vinegar! Crazy, but it worked. You could mold it, too. After a couple days of drying, it was hard plastic! Go to: Valentine Heart made with Milk and Vinegar
5. Balloon Launch:
At the Dollar Tree, I found long rocket balloons. We pumped air into them and let them go from the upper deck and watched how far they would fly. It was an experiment in jet propulsion! They had a blast watching them shoot up and all around.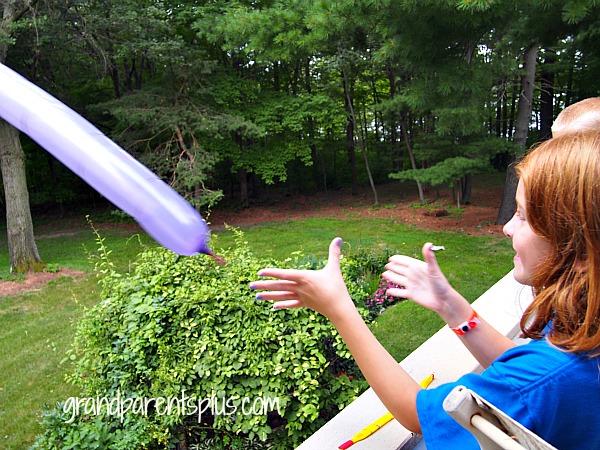 Field Trips:
Science Museum:
With the science theme for our camp, this was a natural field trip. The museum, also, had different programs going on that kids participated in. They loved it.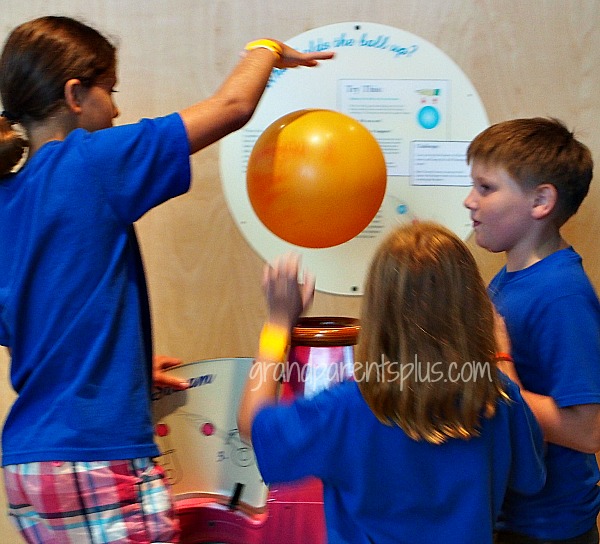 Circus Juventas:
There is a program in our area where young people are trained in the circus arts and put on a fantastic show in the summer. It might have been a stretch with a science theme, but they used catapults and jumped through the air in all sorts of ways. The grandchildren absolutely loved it!
Water Park:
It was so hot last year for our Oma and Opa camp so we spent an afternoon at a water park pool. It was a nice way to cool off and have lots of fun! It fit with science as the slides were a simple machine called an incline plane. So were the stairs! HA! 
Devotions:
The verse for the week was James 1:17  Every good action and every perfect gift is from God.   At God-time together we talked about different ways that we know God is real. In the Old Testament, Elisha conducted an experiment to prove God was the one true God. Also, through nature we can see God's handiwork. God's gift to us, Jesus, is really the perfect gift in that we all can receive forgiveness for our sins through Him! We don't have to experiment to know that Jesus died for us so that we could have eternal life in heaven with Him!
At the end, it was hard to say good-bye, but Oma and Opa needed a rest! HA! We had a BLAST!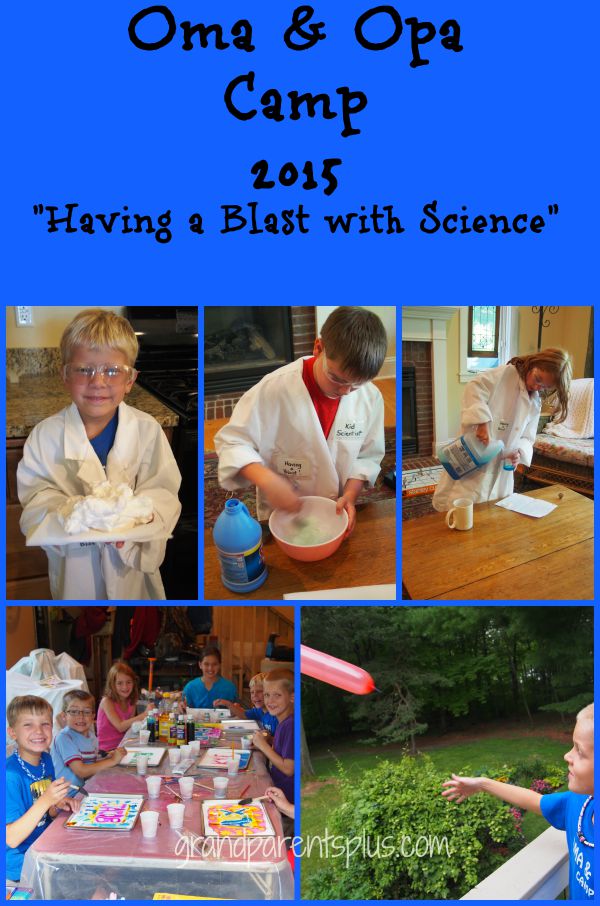 I took lots of pictures of the fun times and made a photo book for each child at ArtsCow. If you register with them, they often send coupons for free books and other photo items.
Hope this gives you some ideas of things to do with your grandchildren or children during the upcoming summer.
Have fun and make memories!
Phyllis
Subscribe so you don't miss new posts. Your email is never sold or shared!
Follow on Pinterest and Facebook.
Pin It
Read More