I do love blueberries, but can't eat a whole pie by myself. When you want the taste of a blueberry pie, but not the work of rolling the crust, these Easy Blueberry Pie Bars will satisfy your craving. You can store them in the refrigerator for a few days or freeze for future indulgence.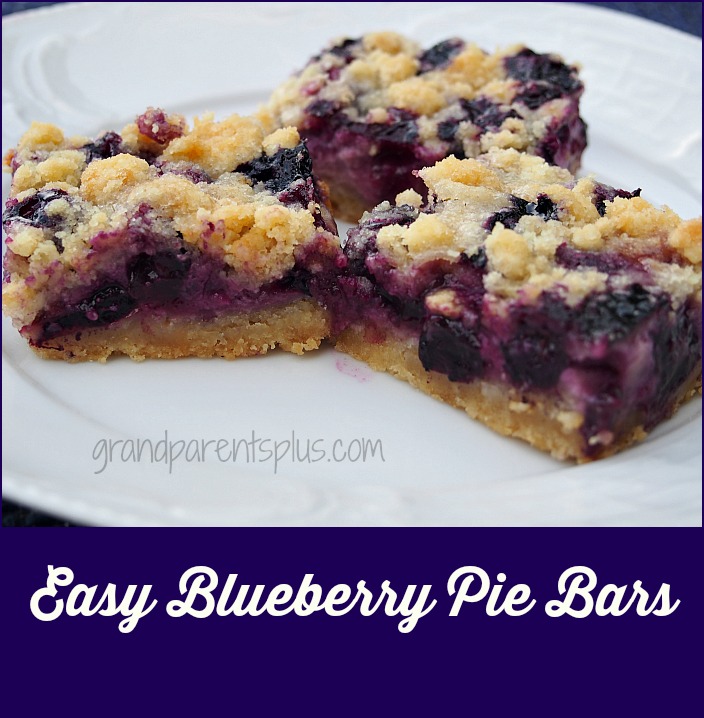 I used fresh blueberries, but frozen berries work, too. If you use fresh, rinse the berries and let them dry on a paper towel so you don't add extra moisture. For frozen, do not thaw; just use them frozen.
Ingredients
3 Parts....
CRUST AND CRUMBLE TOPPING
1/2 cup butter, melted
1/2 cup granulated sugar
1/4 cup light brown sugar, packed tight
1 1/2 cups all-purpose flour
pinch of salt
FILLING
1 large egg
1/2 heaping cup of Greek Yogurt or Sour Cream
1/3 cup granulated sugar
2 tsp.vanilla extract
1 tablespoon flour
BLUEBERRY LAYER
12 oz. (2 cups) blueberries (fresh or frozen;( I used fresh) If you use frozen, don't thaw!
1/3 cup granulated sugar
2 tablespoons lemon juice (fresh or bottled)
2 tsp. cornstarch
Instructions
CRUST AND CRUMBLE TOPPING
Preheat oven to 350F. Line an 8 inch pan with foil and spray the foil ( I use the spray with flour) Set aside. If you line the pan, the clean-up is a snap and the bars lift up easier.!
Melt butter, add the white and brown sugars, and whisk together. .
And the flour, salt, and stir together. Mixture will be somewhat dry and form some clumps
Take a heaping 3/4 cup crumble mixture out and set aside for topping.
Put remaining mixture in the 8 inch pan and pack it down to form a smooth and flat crust. Set aside.
FILLING
Add the yogurt, egg, sugar, vanilla and whisk to combine. Combine the flour into the filling mixture Pour filling over the crust and jiggle pan to help even it out over the crust. Set aside.
BLUEBERRY LAYER
In a separate medium mixing bowl, add the filling ingredients combine. Sugar will not completely dissolve, but that's OK!
Place the blueberry mixture evenly over the filling.
Now, sprinkle evenly with the reserved crust mixture over the filling.
Bake for about 60 minutes, or until edges are bubbling and there's a little bubbling in the center. Crumble topping should appear set with a pale golden brown color. Important....Cool at least 1 to 2 hours or overnight before slicing and serving otherwise they will fall apart. Keep in refrigerator in air-tight container for up to 10 days or freeze (up to 6 months). Cut into bar size or cut a larger serving and serve with whip cream for a dessert. (or ice cream)
http://grandparentsplus.com/easy-blueberry-pie-bars/
Ready to bake…….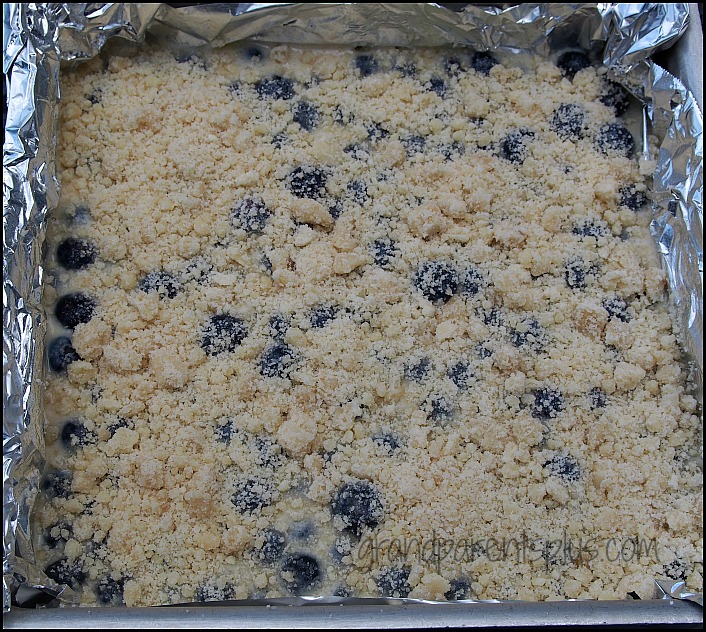 Bake @ 350 for 60 minutes.
Done! Light brown and bubbly.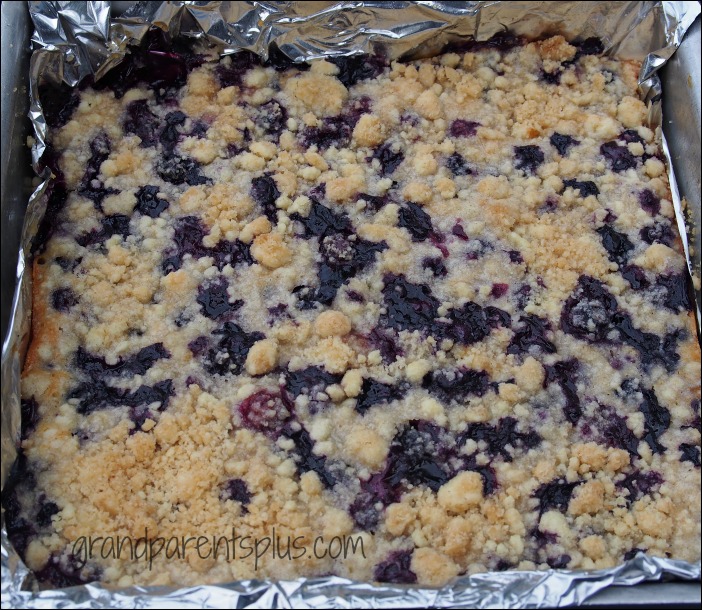 Be sure to let cool for at least 2-3 hours. When set, remove by lifting foil from the pan. Cut and store in an air-tight container in your refrigerator or freeze.
Enjoy!
Phyllis
Subscribe on the sidebar so you don't miss a post!
Follow on Pinterest, too.
This post is linked to many of the following parties….
Pin It
Read More