Watermelon is so good in the summer, but this Watermelon Salad even makes it better and sweeter! It's a bit unusual, but absolutely delicious!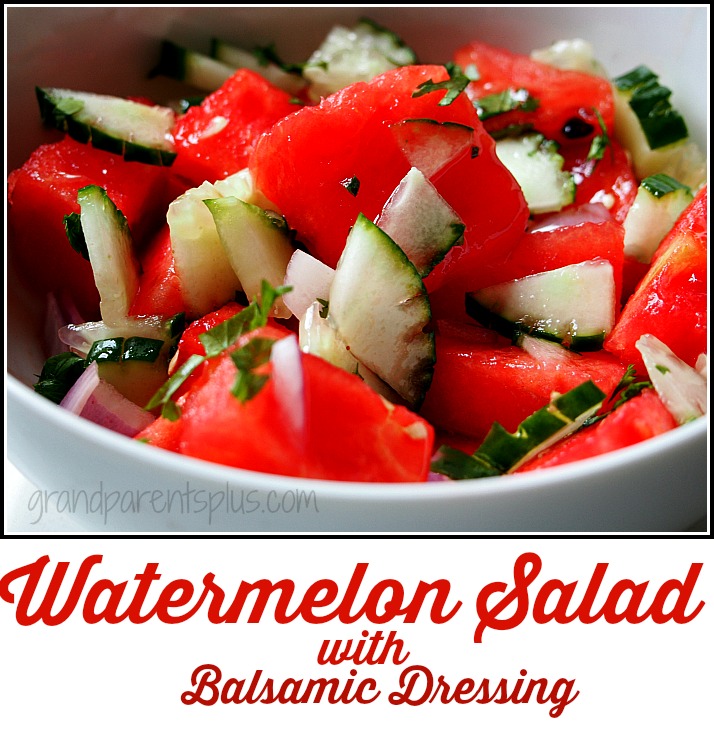 This Watermelon Salad is a summer winner! When you want something different, delicious and quick to make, this is IT! It's wonderful to take to a potluck or a picnic! The Strawberry Balsamic vinegar actually makes the watermelon taste like candy!
Watermelon Salad with Balsamic Dressing
Ingredients
Watermelon - 2 cups or more
Cucumber - diced 1/4 cup
Red Onion-diced 1/8 cup
Cilantro - diced 2 Tbsp.
Strawberry Balsamic Vinegar
Instructions
Cut watermelon into 1- 1 1/2 inch pieces
Run fork down the outside of the cucumber to make the green part look pretty. Slice and cut sliced into sixths.
Dice red onion and add
Drizzle Strawberry Balsamic Vinegar all over the mixture. Stir to cover all of it. Don't skimp!
Sprinkle Cilantro over the top.(if desired) or substitute parsley.
Place in refrigerator until ready to serve.
Serves 6
http://grandparentsplus.com/watermelon-salad-with-balsamic-dressing/
Make your cucumber look fancy, by running the tines of the fork down the side of the cucumber. Then, cut slices and divide into sixths. The green and red look so colorful together mixed in this salad.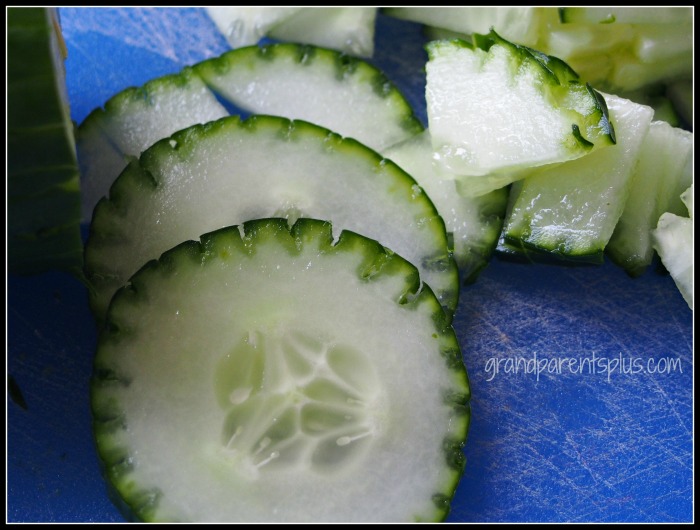 Still in doubt? Well, make a small amount to try and you'll be amazed how good it is! People can't figure out what is in it!
Purchase the Strawberry Balsamic Vinegar from an olive oil store.
Check out lovethatolive if you don't have a source for the strawberry balsamic near you. (You won't find it in the grocery store.) I use this strawberry balsamic as a salad dressing, too. There are so many ways to use it besides this Watermelon Salad. The bottle will not go to waste, I promise. It might just be your new favorite dressing!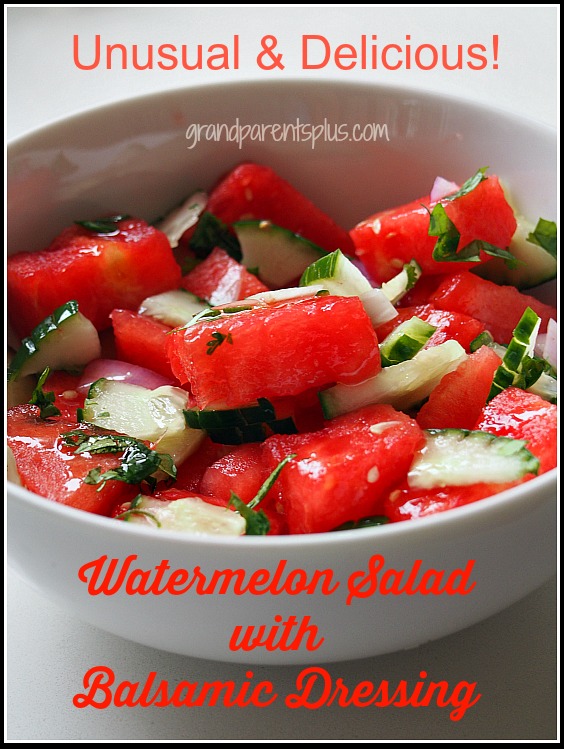 Did I entice you to try it? Hope so!
Enjoy!
Phyllis
This post linked to many of the following parties….
Follow on Pinterest, too!
Subscribe on the sidebar so you don't miss a post.  Your email is never shared or sold!
Pin It
Read More