Chicken-Pear Salad with Pear Dressing
What a refreshing, delicious, lo-cal salad to serve! The Chicken-Pear Salad with Pear Dressing is a wonderful tasting combination of flavors with an easy homemade pear dressing. It looks delightful and tastes the amazing!
This is a close-up of the ingredients before adding the dressing. It's such a pretty combination, don't you think?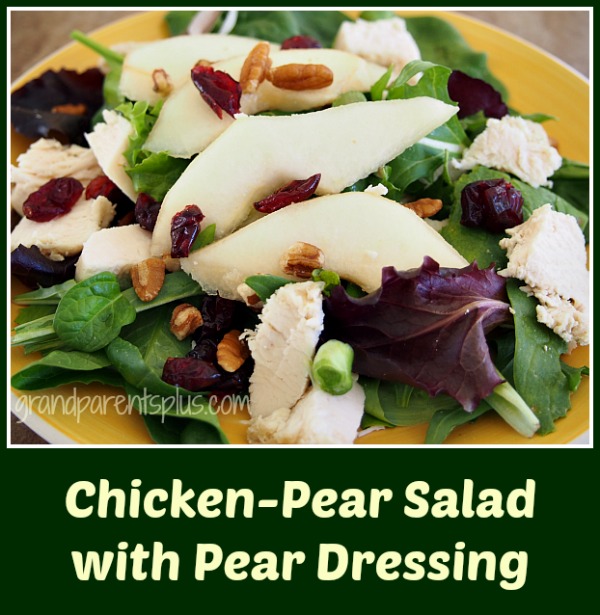 You can save this recipe to your Yummly account by just clicking on the "YUM" button! So easy!
Chicken-Pear Salad with Pear Dressing

Ingredients
Chicken-Pear Salad with Pear Dressing
Recipe Type: Salad
Cuisine: American
Author: Nancy Heishman in Country Woman Magazine with my variations
Prep time: 15 mins
Total time: 15 mins
Serves: 4
A delicious, low-cal, colorful salad.
Ingredients
DRESSING
3 Tbsp. light olive oil
2 Tbsp. lemon juice
1 Tbsp. honey
1/4 tsp. salt
1/4 tsp. ground ginger
2 medium ripe pears, divided
SALAD
8 cups fresh arugula or Spring Mix with Spinach greens
2 cups cubed cooked chicken or turkey
1/4 cup chopped pecans,
1/4 cup dried cranberries
2 green onions, sliced
Salt and pepper to taste
I
Instructions
For dressing combine the first five ingredients in a blender or bullet. Take one pear and peel, halve, and core. Add to blender and process until smooth.
Divide greens among four plates and top with chicken or turkey. Add dried cranberries, onions, pecans. Top with sliced pears (peeled or not) and sprinkle with pear dressing.
Serve immediately.
http://grandparentsplus.com/chicken-pear-salad-with-pear-dressing/
Another picture without dressing…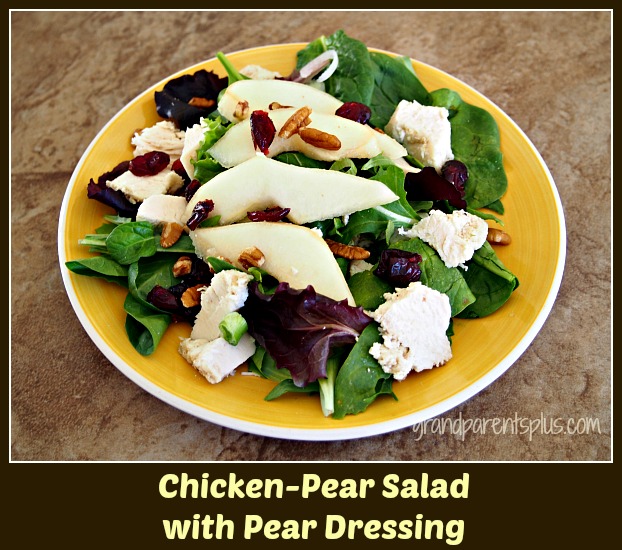 The ingredients for the dressing made a little more than 1 cup.  Since I made only two salads, I had leftover dressing. I used the dressing over fresh fruit and it was delicious!
Salad with pear dressing drizzled over it……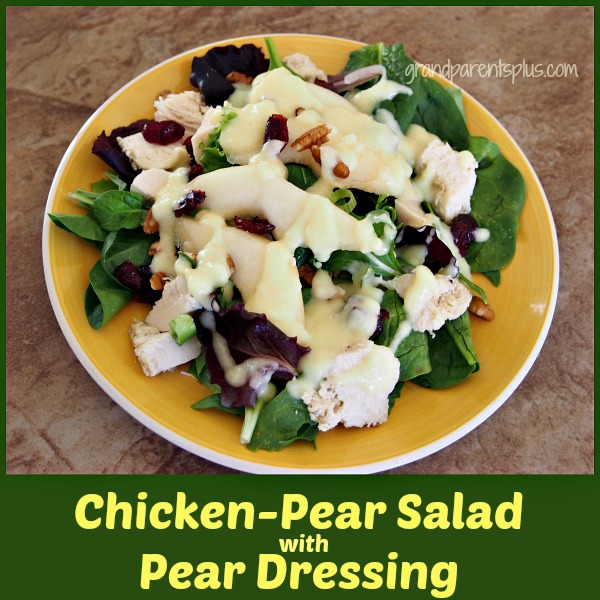 Put this recipe on your list of awesome salads.  Besides being colorful and delicious, it is low-cal, too! The salad is around 360 calories. 
Enjoy!
Phyllis
You're invited to subscribe on the sidebar! Know that your email is never sold or shared.
Follow on Pinterest, too.
linked to these parties…..
Pin It