Chicken Spirals with Creamed Spinach Sauce
Chicken Spirals look absolutely amazing ! This recipe certainly has that "wow" factor of a beautiful and delicious company dish. Your guests will think you spent hours preparing this , but it's actually easy to put together. 
When you're looking for something special to serve, consider Chicken Spirals with Creamed Spinach Sauce. Your guests will be delighted!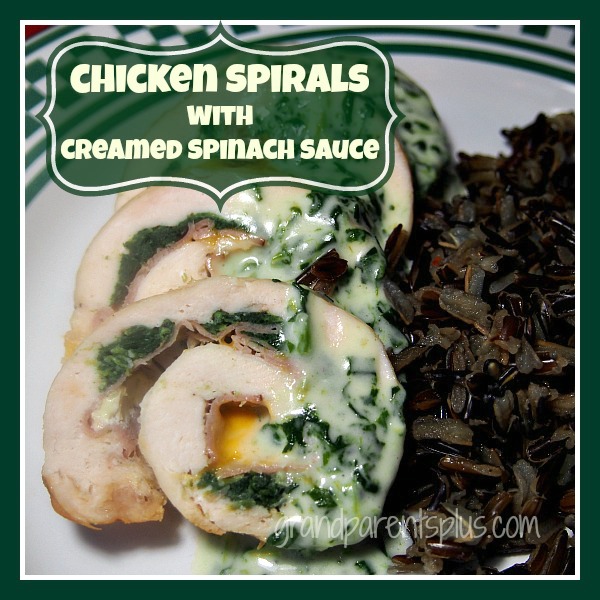 For this recipe, I am using the thin-sliced ham, but you can use Pastrami, any Kosher deli meat, or the expensive prosciutto. I also used 3 large,whole breasts instead of the 6 half-breasts. This made 3 larger rolls and I just cut them into 6 slices instead of 3.
Chicken Spirals with Creamed Spinach Sauce
Author:
Prep time:
Cook time:
Total time:
A spiral of chicken that is stuffed with ham, cheese, and spinach. This is a special main dish that has a "wow" factor!
Ingredients
6 large skinless and boneless chicken breast halves
1 10 oz. packages of frozen, chopped spinach, thawed
1 egg, lightly beaten
12 thin slices ham
Colby Jack cheese, Gouda, Monterrey Jack. Pepper Jack or any cheese
Cut into six 2 x 1/2 inch sticks
2 Tbsp. butter, melted
Creamed Spinach Sauce:
3 tbsp. butter, melted.
2 tbsp. flour
Use 1/2 pkg of chopped spinach from ingredients above
3/4 cup chicken broth
1/2 cup whipping cream or half and half
Salt & Pepper to taste
Instructions
Stuffed Chicken Directions:
Place a chicken breast with boned side up between 2 pieces of plastic wrap. Pound lightly with the flat side of a meat mallet. Start in the center and work to the edges. Pound to 1/8 inch thickness. Remove top of wrap and sprinkle with pepper. Continue with each chicken breast.
squeeze spinach until well-drained and almost dry. In a small bowl, combine 1/2 of the Squeeze spinach until very dry. Use 1 1/2 pkg and mix with the lighty beaten eggs. Save 1/2 box of the spinach for the cream sauce.
For each chicken roll, spoon about 2-3 tbsp. spinach mixture over each flattened chicken breast
Top with a slices of ham or other choice of thin-sliced meat. Place a stick of cheese at the edge.
Start from the edge with the cheese and roll into a spiral, pressing edges in to seal. Secure spirals with wooden toothpicks
Place rolls,seam sides down, in a 9 x 13 greased baking dish. Drizzle the rolls with melted butter.
Bake uncovered at 375 degrees for 35-40 minutes or until chicken reaches 170 degrees.
Cover with foil and let rest a couple of minutes.
Remove toothpicks and slice each chicken roll. Top with cream sauce.
Creamed Spinach Sauce:
Melt 3 tablespoons of butter in a saucepan
Add 2 tbsp. flour and stir constantly until bubbly
Slowly add 3/4 cup chicken broth to the flour mixture stirring constantly
Add remaining spinach, stir and cook for 4-5 minutes.
Add 1/2 cup whipping cream or half and half. Heat until warm. If too thick, add more cream.
This should be a gravy-like consistency.
Salt and Pepper to taste.
When chicken is done…
Remove toothpicks from chicken
Cut chicken into spiraled slices
Ladle hot creamed spinach sauce over the spirals.
Serve with wild or white rice
While I'm not paid for this recommendation, it is a lot easier to work with pounding the chicken when using Glad Press and Seal. Lay one piece on top and one on the bottom of the chicken breast. It stays together while pounding and it makes it easier to roll the chicken up, too. Just take the bottom piece and roll the chicken in a spiral.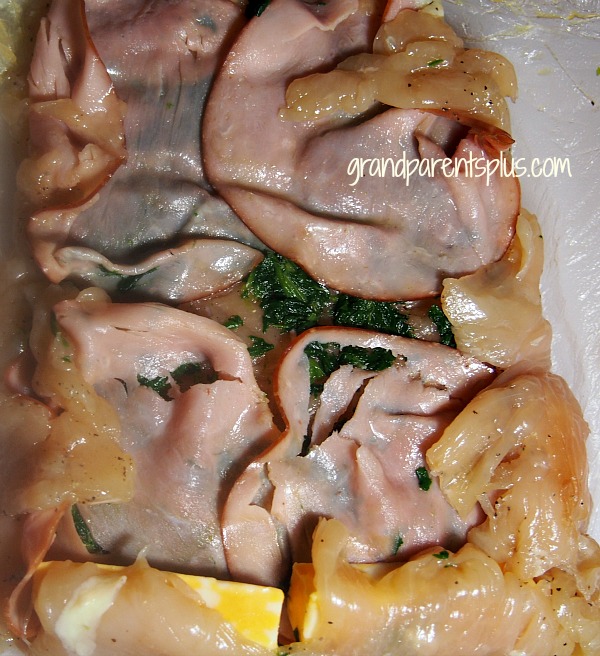 Layer the spinach mixture, ham, and roll with cheese. Secure with toothpicks. Don't worry if your chicken roll resembles a porcupine, just secure it as the toothpicks come out after cooking.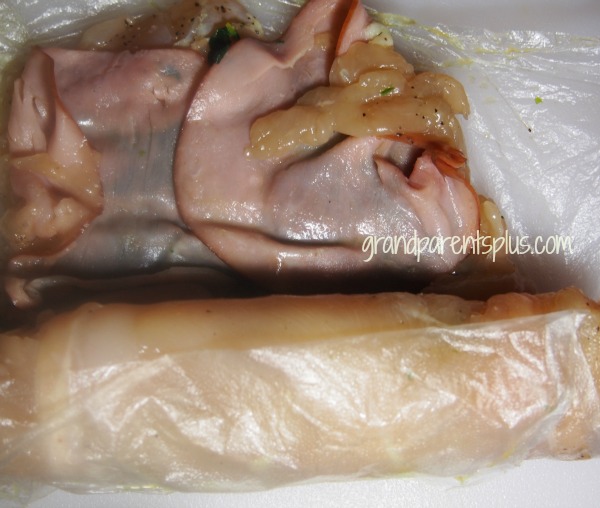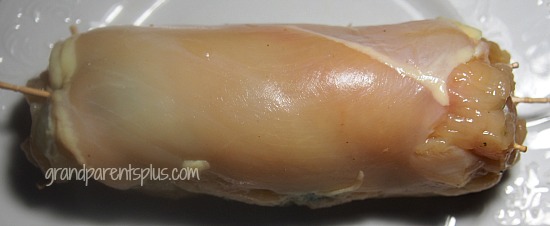 It's nice to prepare and roll the chicken spirals on the evening before your dinner. Wrap and place the chicken rolls in the refrigerator ready for the oven.  This way, you don't have the preparation and clean up to do before your dinner. When ready, just pop the chicken in the oven to bake. I made the creamed spinach sauce ahead as well. It thickened as it cooled, but just thin with extra chicken broth, if needed.
When baked, remove toothpicks, slice chicken, layer 3-4  spiral chicken slices on a plate and drizzle with the sauce. Serve with wild rice, white rice, or a combination. Offer additional creamed spinach sauce in a gravy- boat for guests.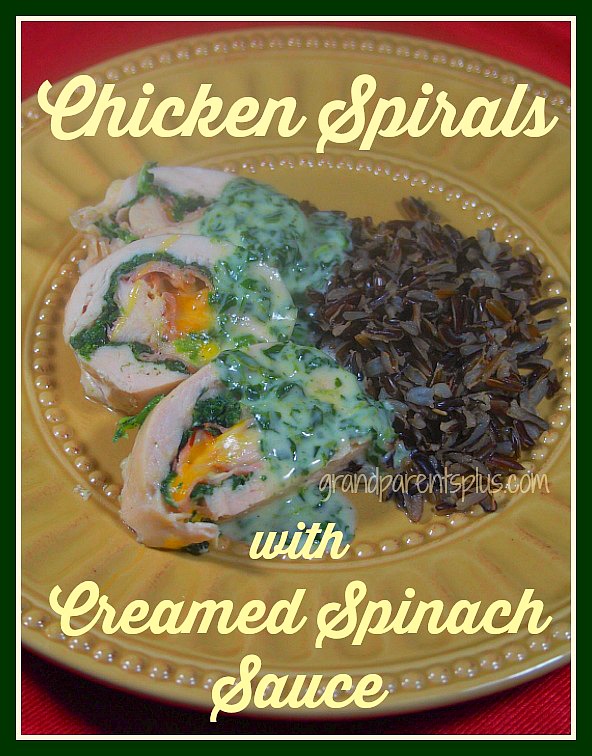 I know you'll enjoy this special recipe for Chicken Spirals with Creamed Spinach Sauce! Next time I'm going to try it with Gouda cheese. You can change the cheese and the meat for a different flavor combination.
Enjoy!
Phyllis
By choosing to subscribe on the sidebar, know that your email is never sold or shared.
Follow on Pinterest, too.
linked to these parties…
Pin It