Christmas Idea House 2013 -Part 3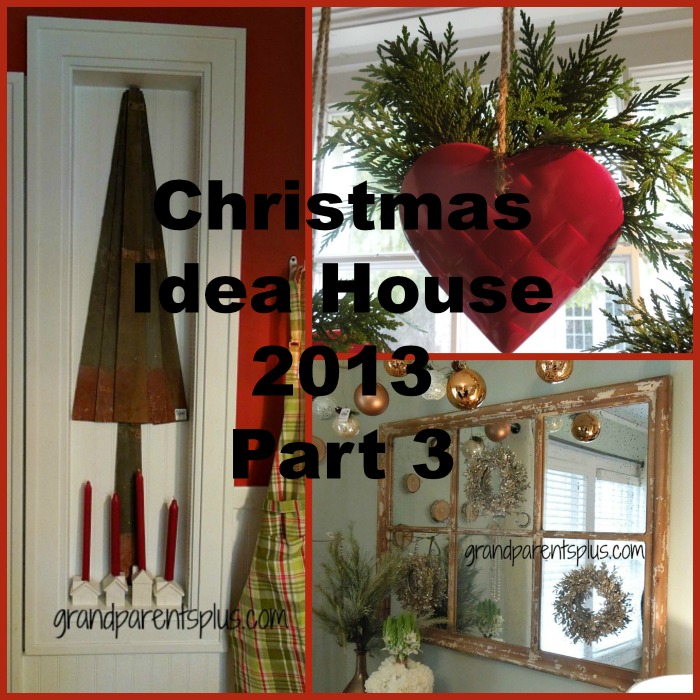 This is the third post of Christmas decor ideas from the Idea House 2013! Hope you enjoy the ideas and can make some your own.
First, if you have an open shelf, just put all your red and green dishes on display. It certainly is easy to do and give a huge pop of color!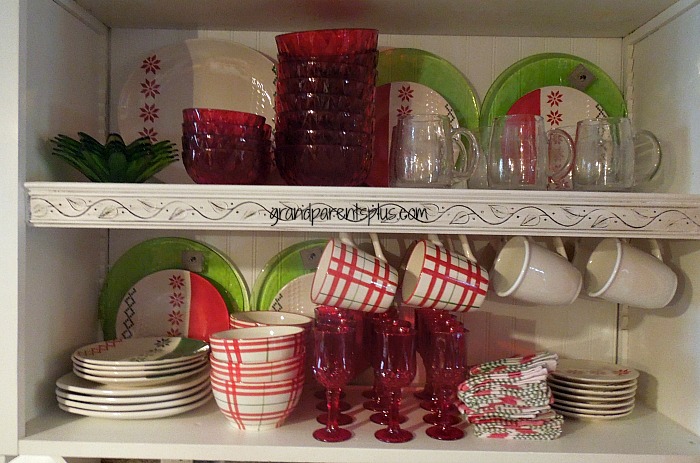 Lots of the ideas are around a Scandinavian theme. "Ya sure, you betcha!"
The hearts filled with greens and hung in the kitchen window could probably last through Valentines, but are very Scandinavian for Christmas. They would be a great match for the hearts and pines china!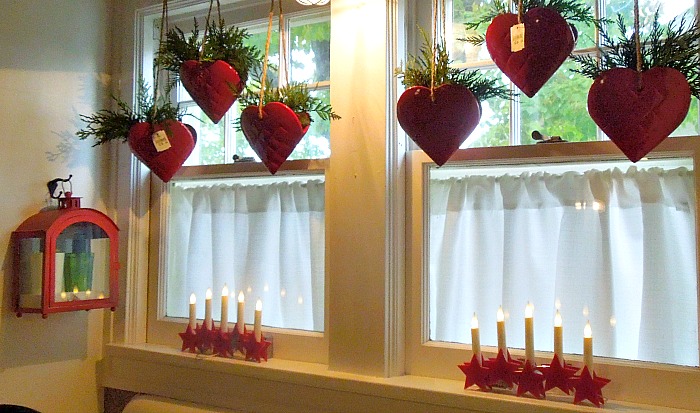 In the kitchen, the unique pot rack is a vintage baby bed spring!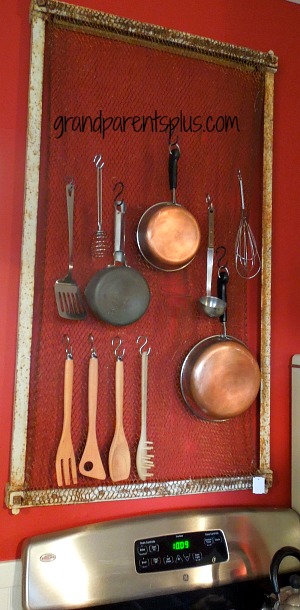 Anther idea is to hang a large sectioned vintage drawer and embellish with accents of Christmas in each nook! Change the look for each season!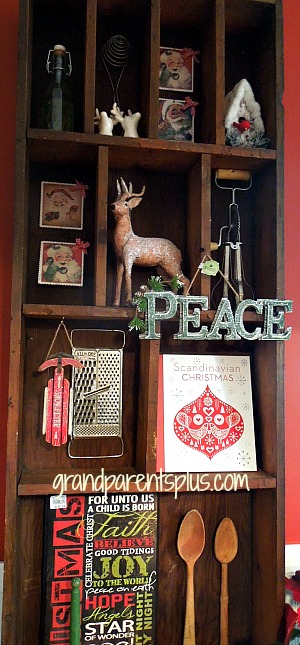 For this unique Christmas tree, they used vintage fan blades!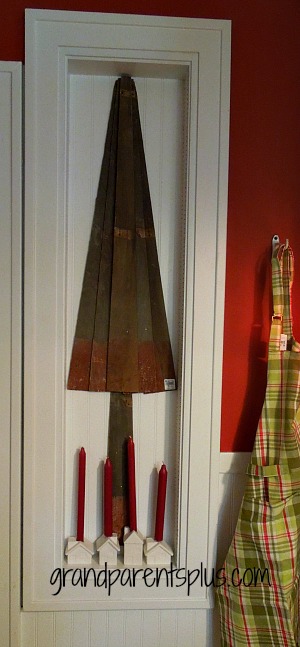 Well, not having vintage fan blades or a cute nook, I turned wooden paint stirrers into a similar, but smaller tree.
Here's my version….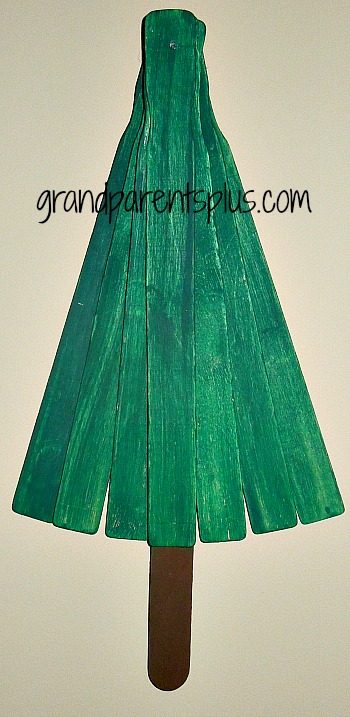 I rubbed the paint on with a cloth as I didn't want it all the same depth of color. Adding a stain would make it look old, too. I used 8 sticks – 7 for the tree and a partial one for the trunk.  For a larger tree, use lathe and cut to your desired dimensions. Hot glue the sticks together and add a loop for hanging! Simple and inexpensive!

Here's a cute wreath hung off to the side of a larger circle mirror in the bathroom.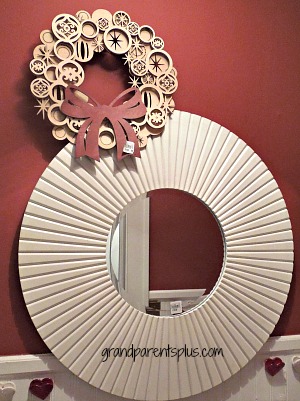 I think this idea is beautiful!
It is a gnarly branch painted white and adorned with springs of pine, pine cones, white and crystal ornaments. It is hung against a backdrop of a furry white pelt. It looked spectacular! This was hung on a wall in a room, but I think it would be awesome over a fireplace, too!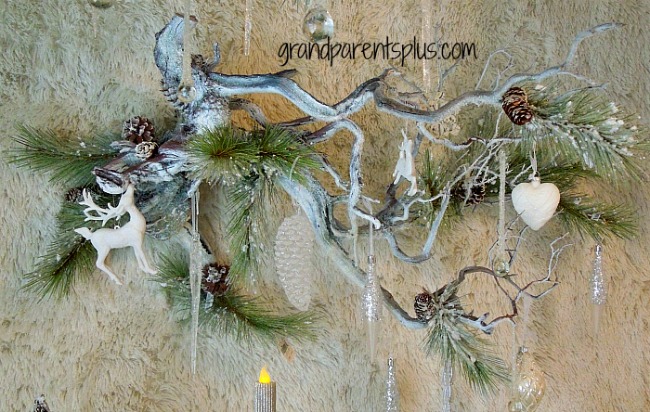 Adding wreaths on a vintage mirrored window looks easy……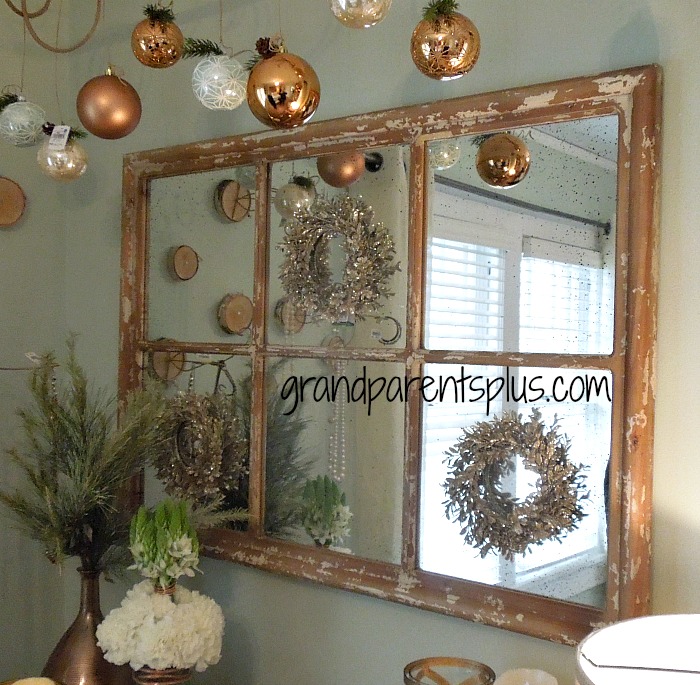 Now, my knock-off version…..
While I don't have my other decorations done in the office bathroom , I did make these wreaths from items found at the Dollar Tree Store and place them on my vintage mirror.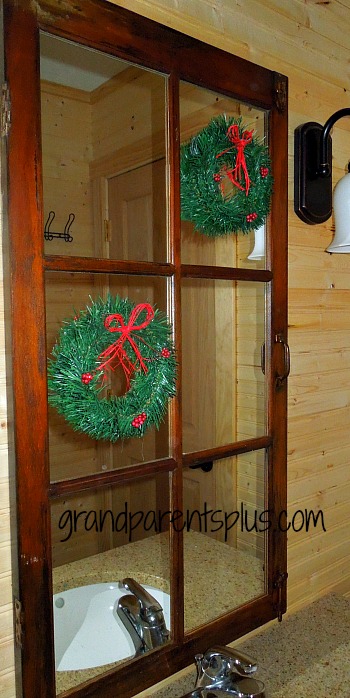 The Idea House master bedroom's headboard is made from cedar shakes. I would call it "Rustic-North Woods Elegance"!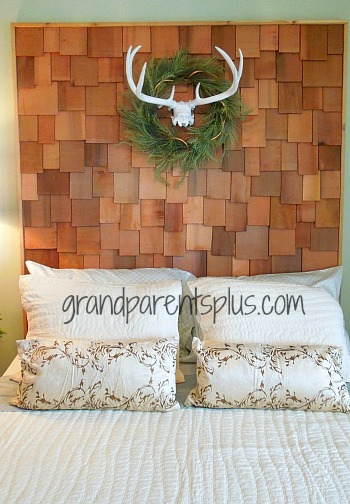 Up the stairway, they used a combination of plain wood with metal accent pieces as wall art.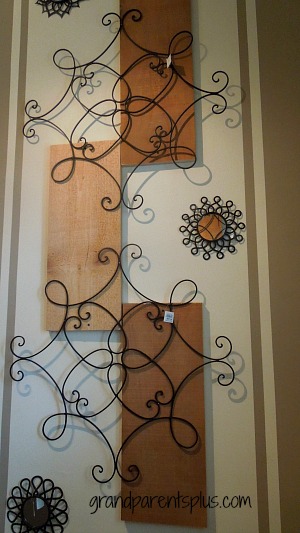 This is a simple idea for the bathroom. Using fish line to hang your ornaments, use as an accent at the top of your shower curtain!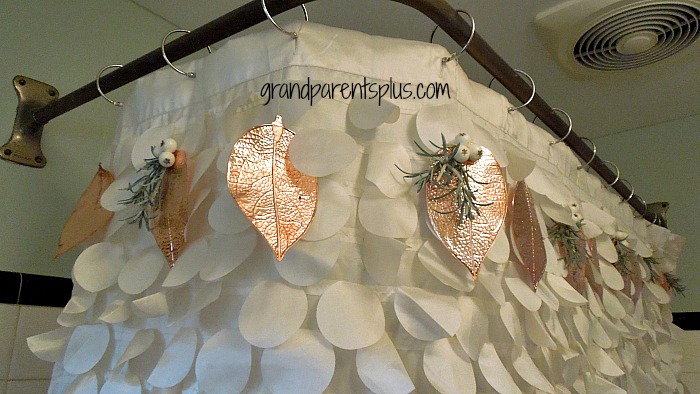 A simple arrangement in a dish looks great in the bathroom!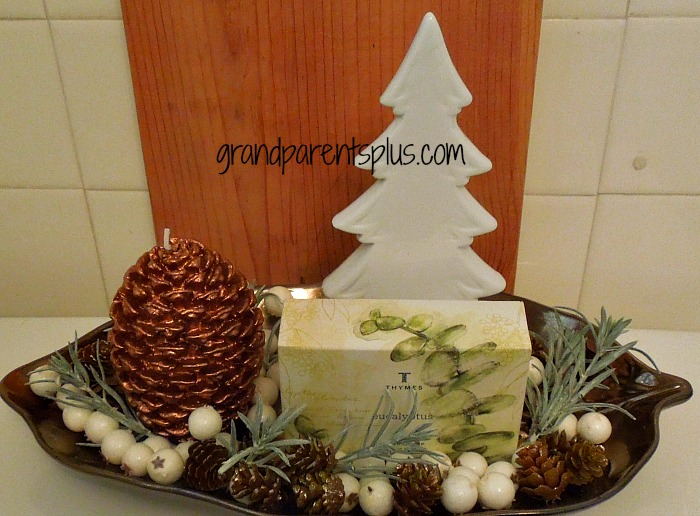 Did you find some ideas for decorating? There's more to come in Part 4 so be sure to subscribe so you don't miss a post!
Check out Part 1 and Part 2 if you missed them.
Take time to enjoy and reflect on this blessed season!
Phyllis
This post is linked to the following parties…..
Pin It