Christmas Idea House 2014 Part 3
Thank you for stopping by to look at Christmas Idea House Part 3! If you missed the first two posts, you can check them out at the end.
Again, this is a tour through an Idea House decorated entirely for Christmas by several decorators  It is open by ticket reservation to tour and see all the decor ideas. I am sharing them with you to see the creative and beautiful ways the rooms are decorated. You'll find many ideas that you can do in your own home.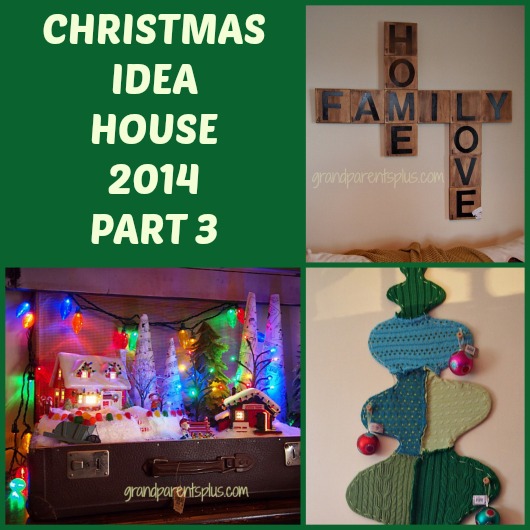 Today we'll tour 3 bedrooms, hallway and a game room. Here we go……
First stop is a bedroom done in a rustic, woodsy feel. Notice the painted border that surrounds the room!  It is placed at eye level so you see the detail. Christmas decorations showcase silver with a bit of woodsy, natural accents.,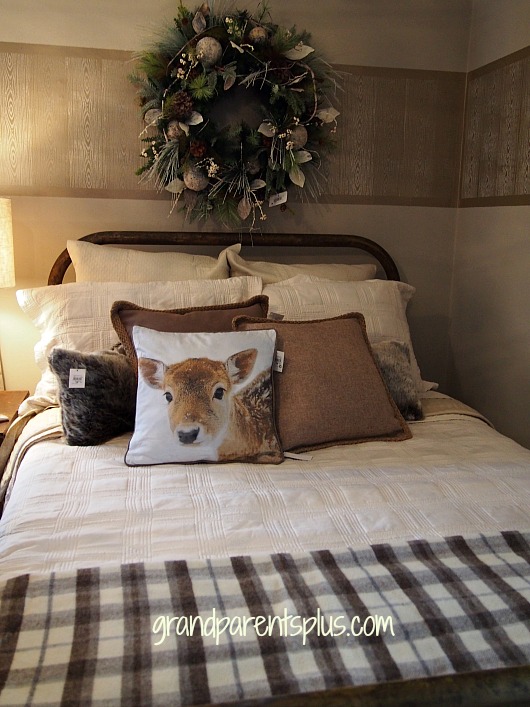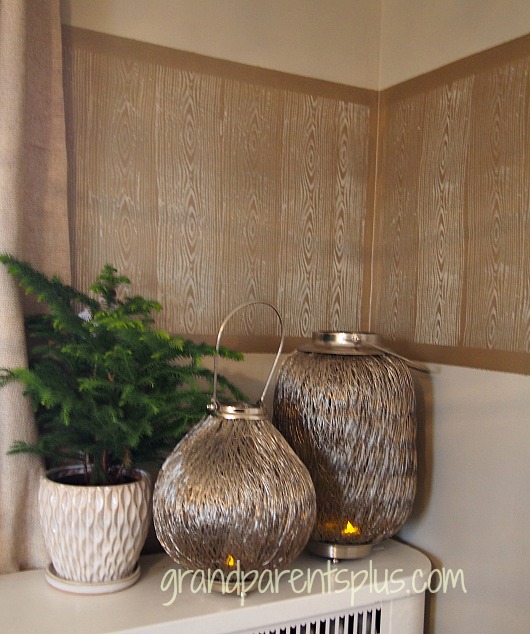 On top of the desk are silver, burlap and birch bark decorations.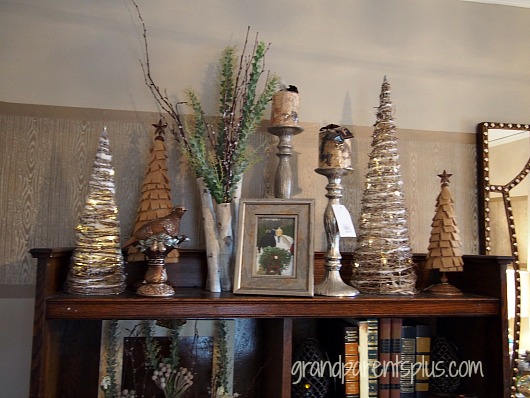 A stately silver buck stands next to a sphere filled with pinecones. As a diy alternative, fill a fishbowl with pinecones and small lights!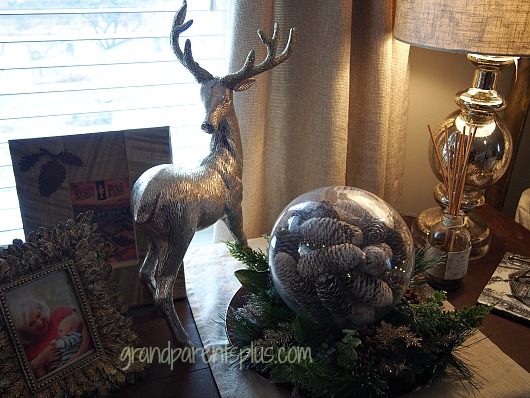 In the second bedroom, a rod holds coordinating Christmas decorations above the bed.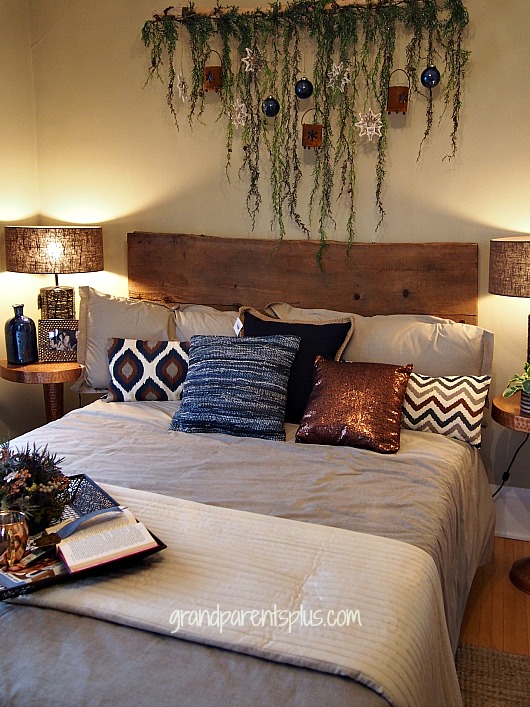 I like the nice rustic detail used for tiebacks on the curtains….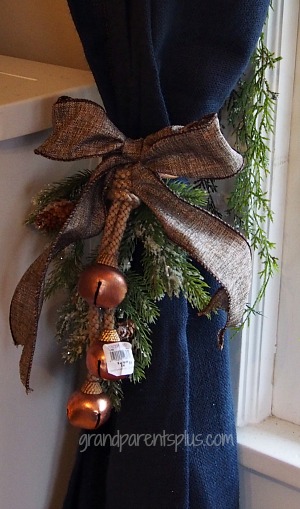 An antler tree acts as a jewelry holder. Copper and wood decorative items mix nicely together on this distressed vintage dresser.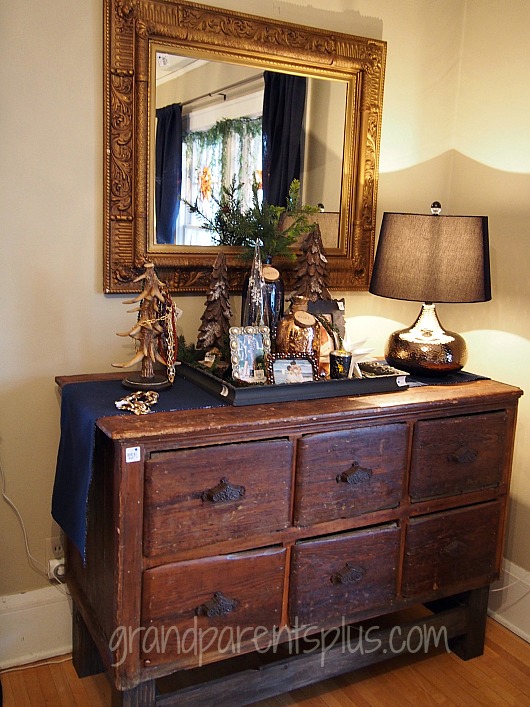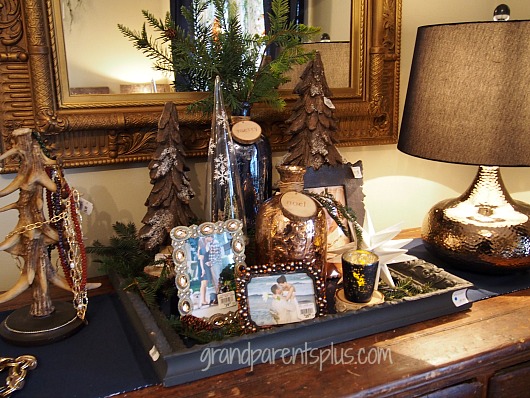 Here's the game room! A large baker's pie shelf holds many game choices.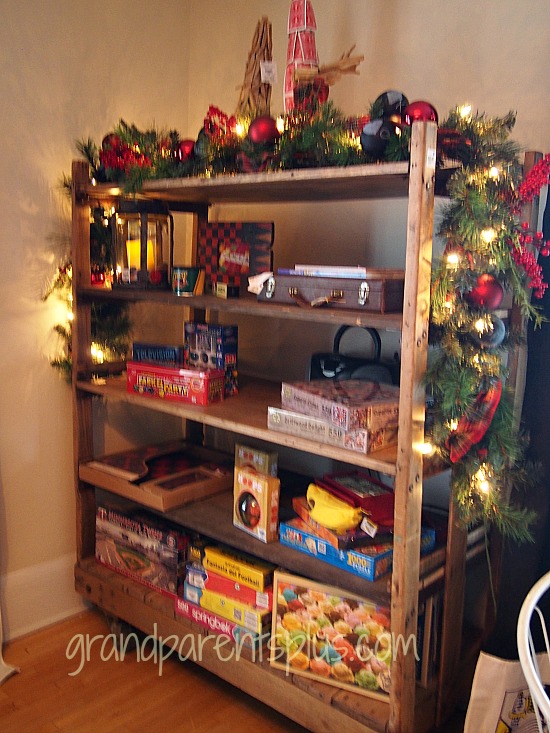 In keeping with the game motif, large painted wooden squares are made to look like scrabble pieces and hung as wall art.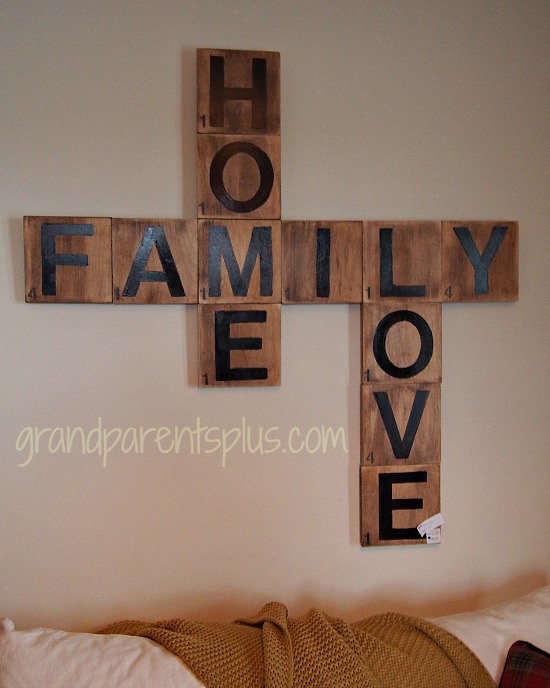 The bottom of the curtains have "playing card fabric" attached! Nice touch, don't you think?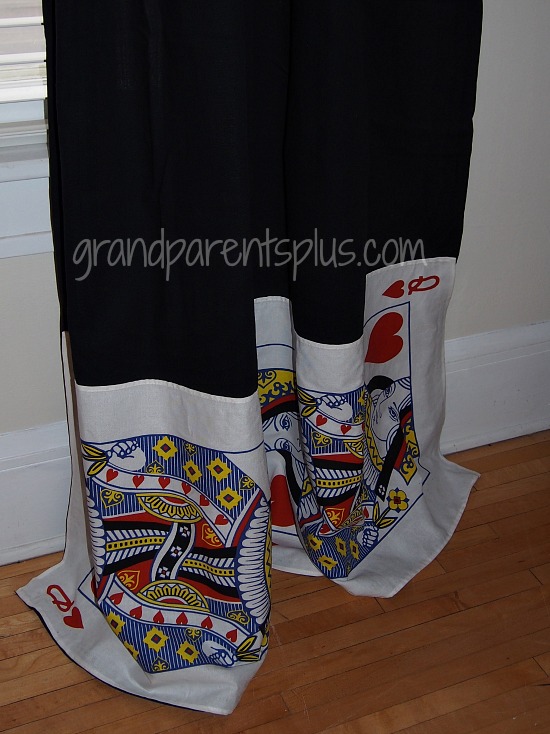 Now, this is what you call "playing your cards right"! What a great conversation piece for a game room!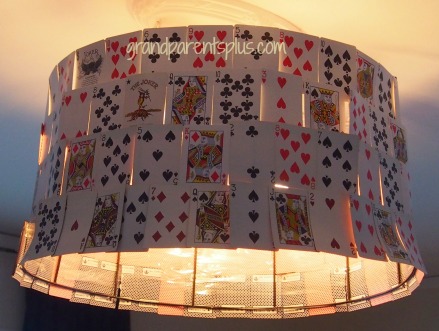 The game table chairs are vintage outdoor pieces, but notice the seat covers. The attention to every detail in this room is so fun!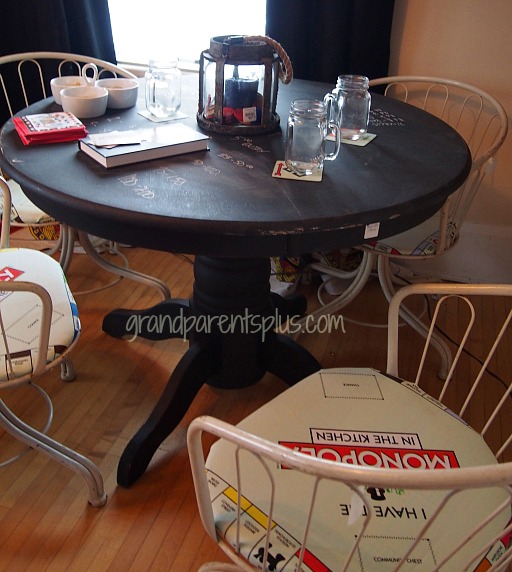 On the wall is a display of old game boards.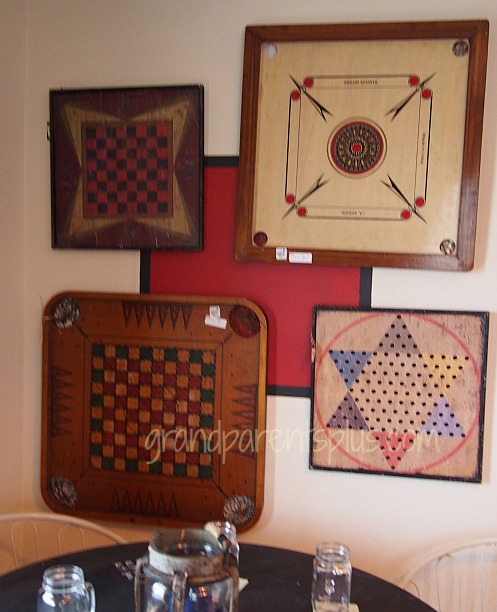 Stepping into the hall…..
The same concept of anchoring wall hangings with a painted square makes a grouping much more interesting and cohesive.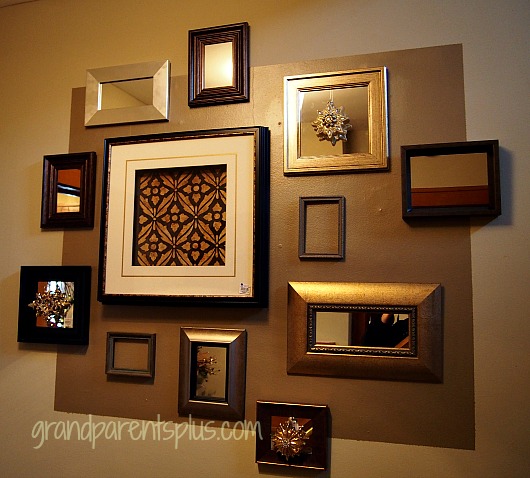 A teen's bedroom is the last peek into this Idea House.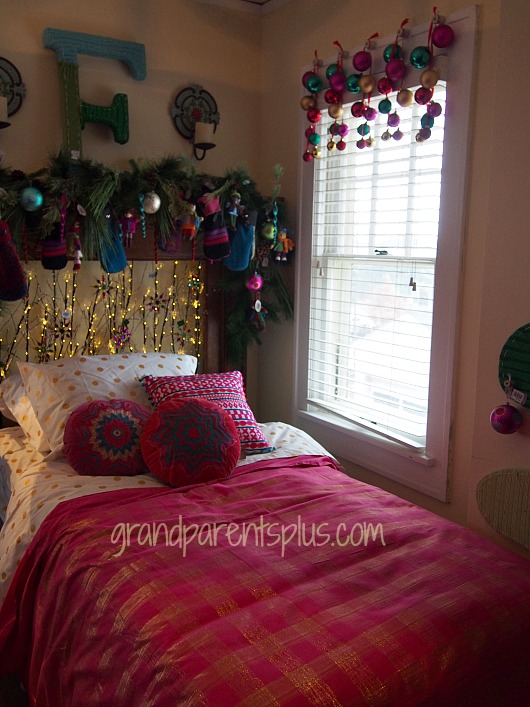 Have any sweaters that you're ready to give away? Instead, stitch up a whimsical Christmas Tree!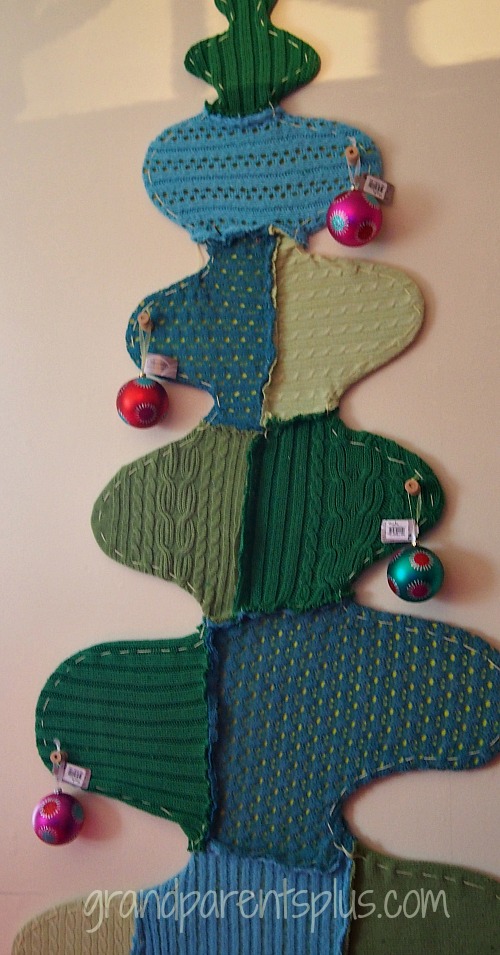 Three of the same tables stacked together become interesting shelving!   The highlight for me is the Christmas display in a vintage suitcase!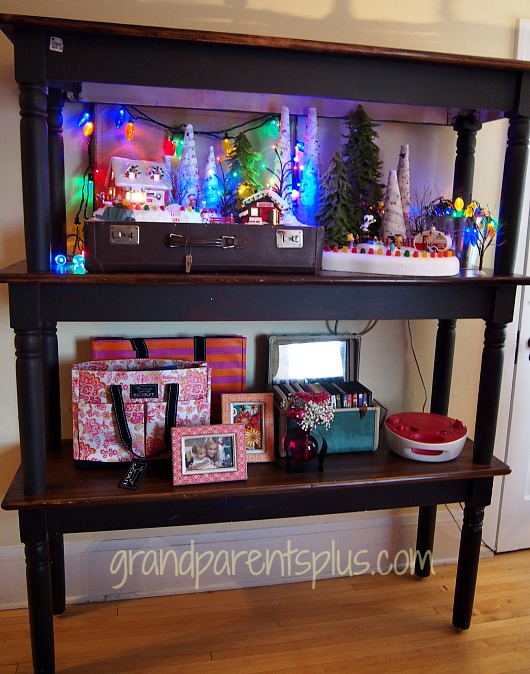 Take a closer look at this winter village all lit up!  Now, this is one of my favorite ideas! I'll be looking for a cute vintage suitcase. How about you?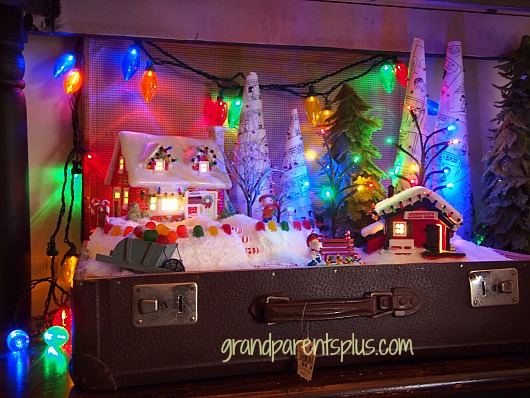 Sad to say, this is the last post of the Christmas Idea House 2014! Here are the first two posts in case you missed them….
Christmas Idea House 2014 Part 2
Thanks for stopping by! 
Phyllis
Don't miss any future posts…..subscribe!
This post is linked to many of the following parties…..
Pin It