Christmas Idea House 2014
The Christmas Idea House 2014 is ready! The question is, are you ready for tons of decorating ideas for the Christmas season? As usual, there are vintage finds used as well as new items.  You'll see a lot of natural outdoor accents like salvaged wood, pinecones, birch sleeves, decorative birds throughout the home.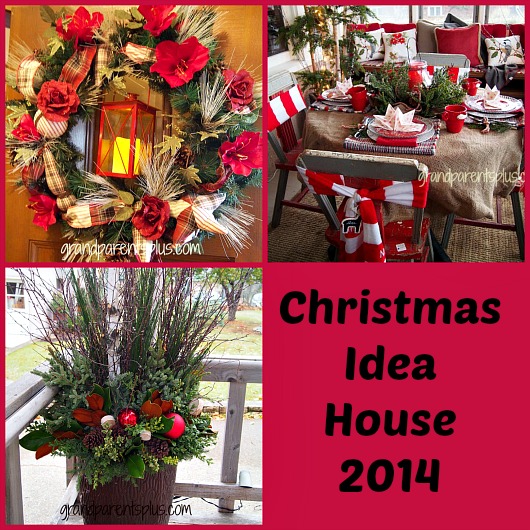 I enjoy decorating for Christmas! While I do some of the same things each year, I always try to update and incorporate something new! The inspiration for new ideas is unlimited in this Christmas Idea House 2014! I found some new ideas to add and so will you!
This is a fun idea for the outside of your home! Six branches of varying sizes and some rope is all it takes! Add a spotlight and you've got an eye-catching show-piece! If you have access to a wooded area, you've got most of the materials for free!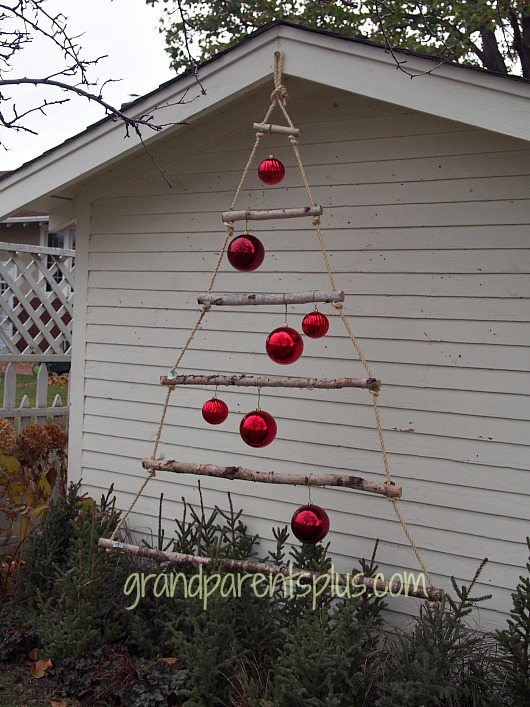 If you have a sleigh or cart, this is a fun idea…….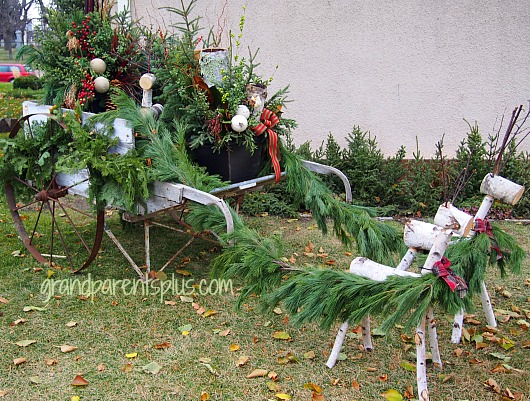 A beautiful container display for Christmas!  More materials from the woods with some additional decorations make this outstanding!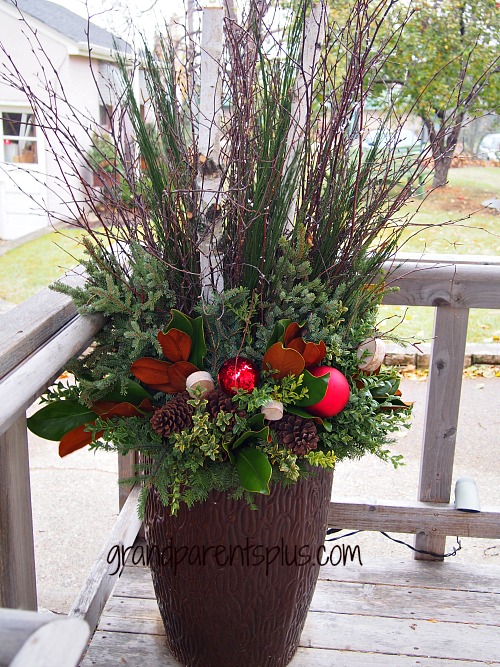 Beautiful window boxes with rolled birch bark and pine cones.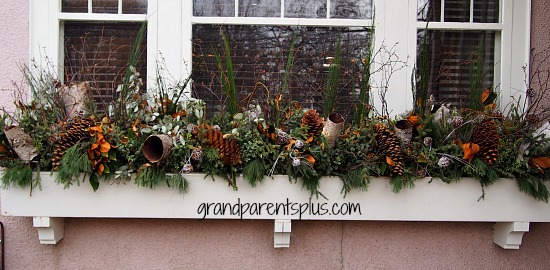 This old house has a front porch. It is all decorated in red and white! The vintage table is covered with burlap. Small textured rugs become placemats. The chairs are tied with red and white winter scarves!  Easy ideas to do on your own!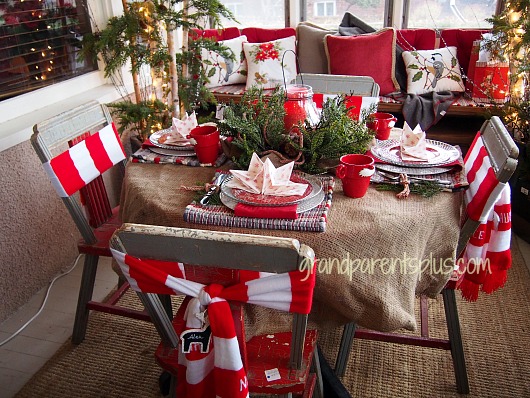 The centerpiece is a red globe lantern with an artificial candle. The globe is circled with evergreen and red and white roping wraps in and out of the greenery.
The same red and white roping wraps around the silverware in a slip knot along with a fresh spring of pine. Simple to do!
The porch window valance is burlap tied up with red twine. Artificial greenery hangs down with red decorative ornaments interspersed at different levels.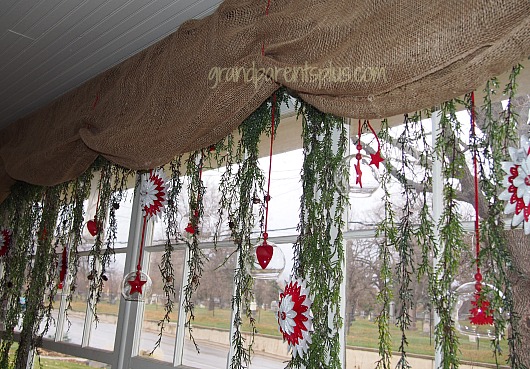 In the corner are birch branches at different heights decorated with artificial pines and tiny lights. It goes with the woodland theme nicely.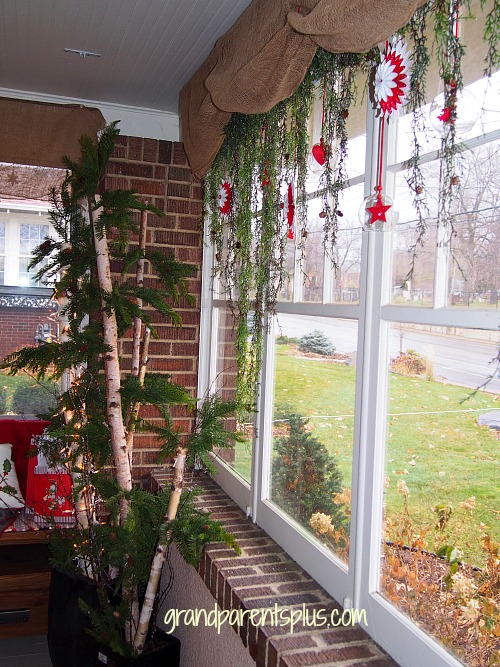 A wreath with red flowers, plaid ribbon, and highlighted with dried wheat tuffs circles the small lit lantern. It gives a cozy welcome to the home.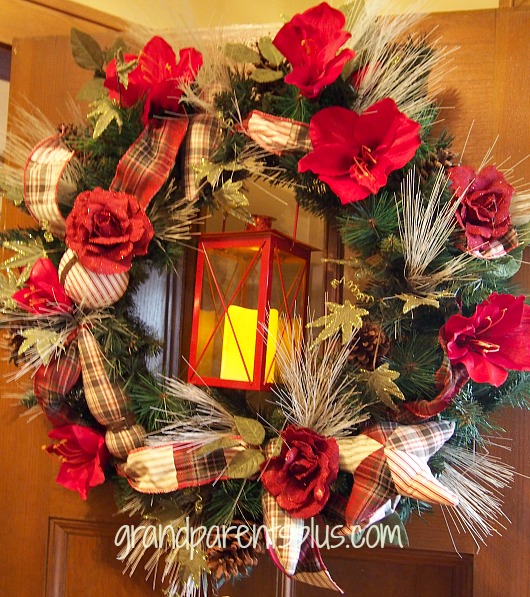 Around the light hangs 3- dimensional paper lanterns clustered together.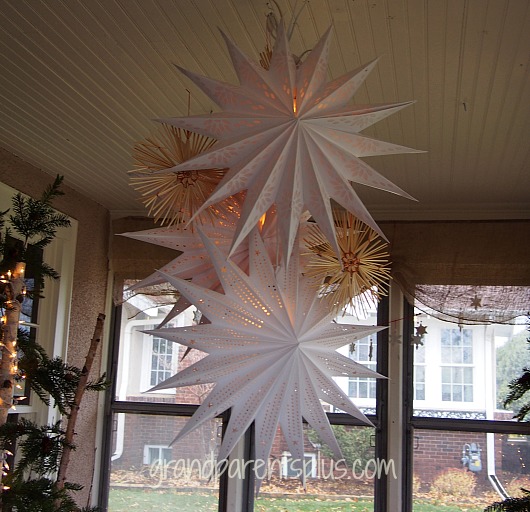 On the other side of the porch is a simple, but beautiful display. Notice it is all contained in a commercial aluminum baking tray!  The fringed, red plaid blanket works perfectly to set everything off.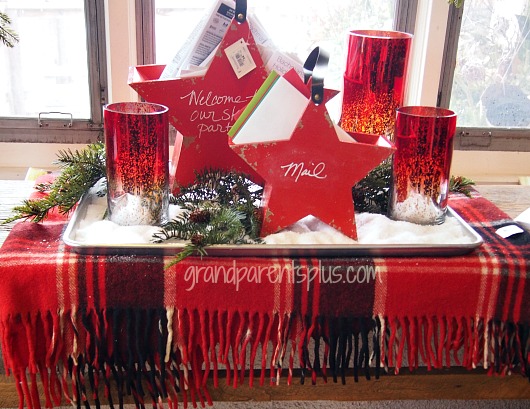 Another small birch tree in a pot is accented with a red and white paper medallion.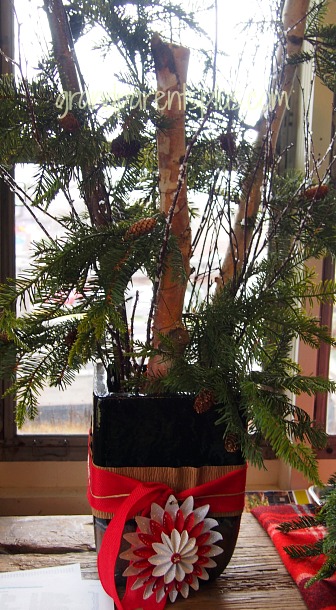 Of course, there's a bit of whimsy added with these cute red and white trolls on the little toboggan.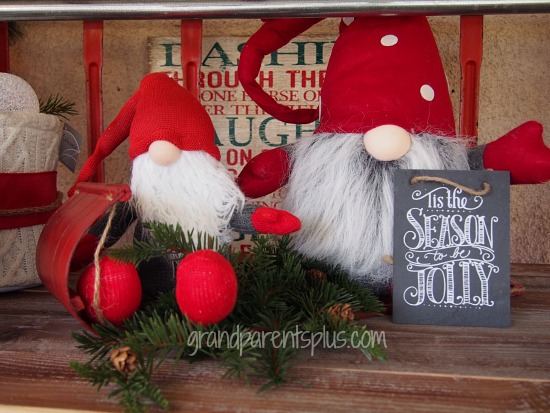 Did you find some new ideas to add to your decorating scheme this Christmas? Perhaps, it's just a new way of displaying what you already have on hand.
Next time we'll step into the main rooms for more inspiration!  Stay tuned ……
Hope you enjoyed the tour! 
Phyllis
This post is linked to many of the following parties…..
Pin It