Christmas Idea House 2016 Part 2
Christmas Idea House 2016 Part 2 is the continued tour  through a vintage home filled with ideas for Christmas decorating. A team of decorators create ideas using vintage finds as well as seasonal items found in the marketplace. I always find inspiration for my Christmas and home decorating. I'm sure you will, too.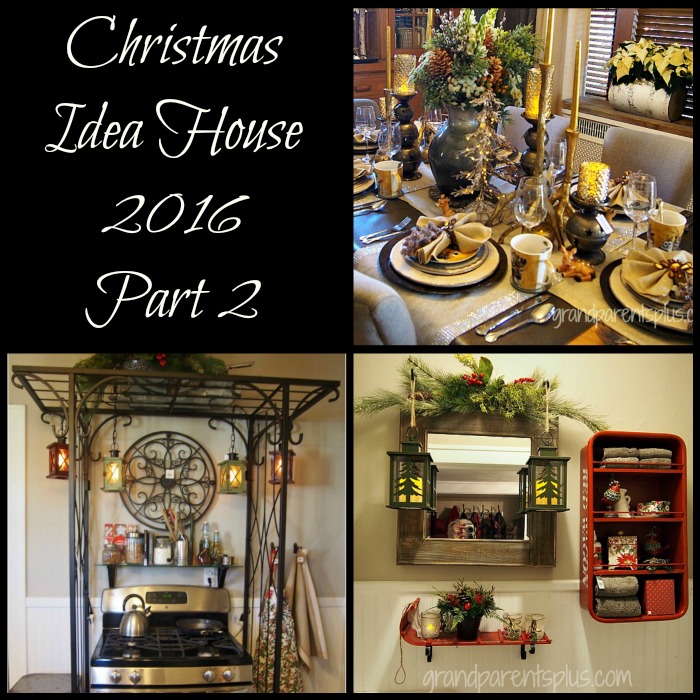 As you enter this home, the dining room is what you notice first. They use many different metals in their arrangements and it looks beautiful! So, don't be afraid to mix them up!
Above a side table, a large industrial metal frame is layered with winter art. A mix of bronze and silver are also used in the display below.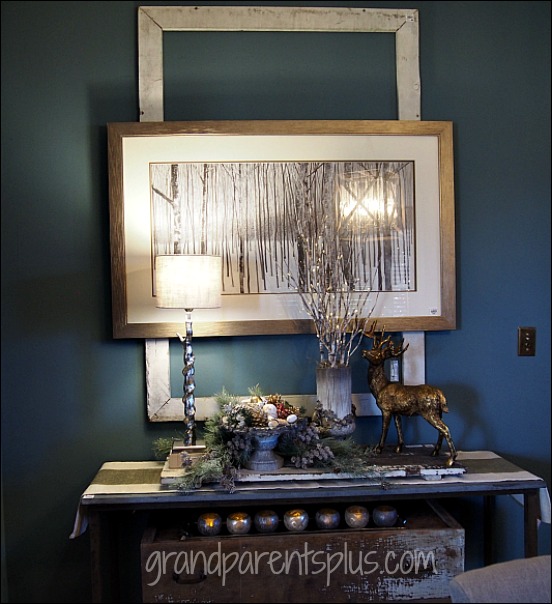 Here's a closer look at the arrangement in the bowl. Notice the re-purposed cabinet door under the arrangement.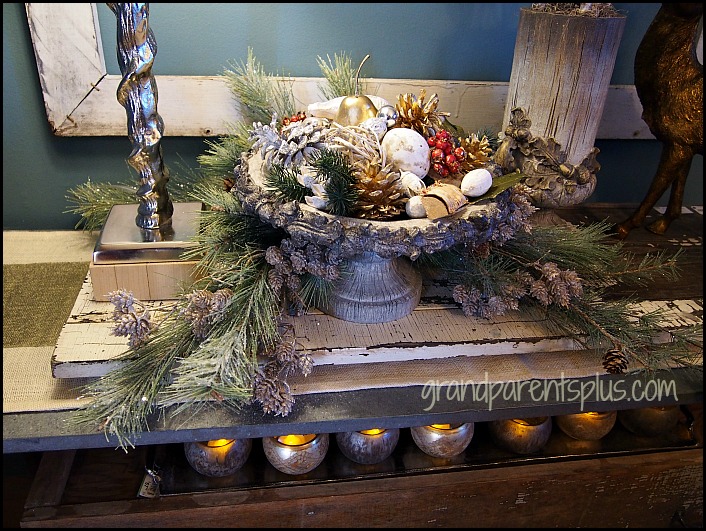 On the table, metallic wallpaper lengths are layered with rhinestone edged runners. In the center, gold and gunflint metal candle holders mix together for a lovely table display. Also, notice the birch bark planters filled with white poinsettias.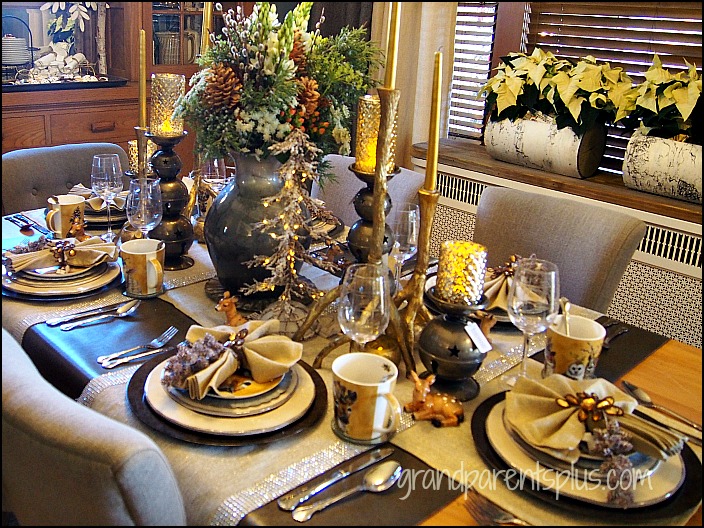 Each place-setting includes coordinating plates, napkin rings and a spray of miniature pinecones.The small deer at each place serves as the name-card. (A nice re-useable idea!) The name of the guest is written on the deer with dry erase marker.  Small mirrored candle plates serve as coasters.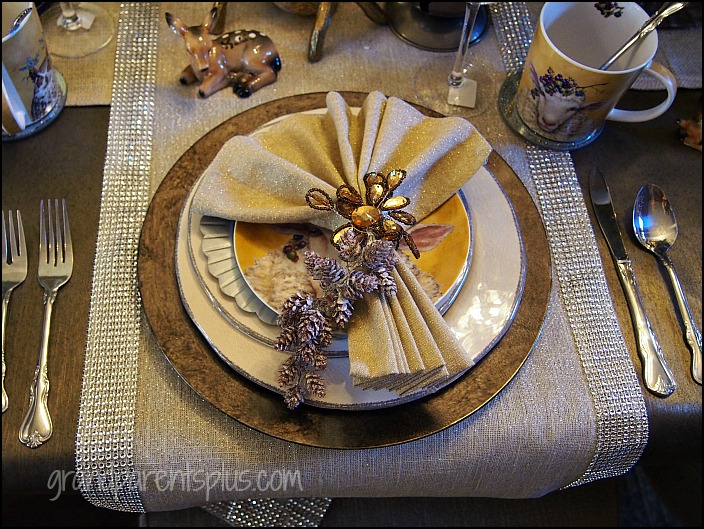 This small vintage kitchen always has many unique ideas.
First, the island is a re-purposed industrial cart.
Next, notice the two pieces of wall art. Framed pieces of galvanized metal gives you the opportunity to change notes or sayings on them.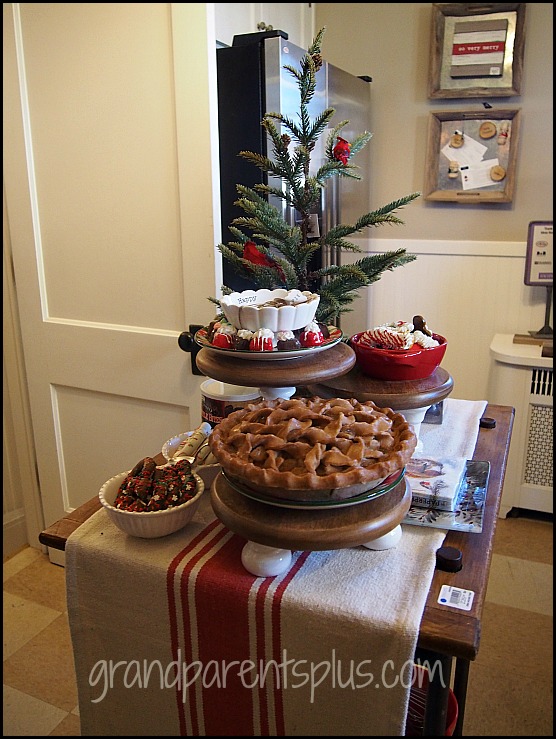 In the kitchen, the open cupboards show off the red patterned china while re-purposed drawers hold tea and hot cocoa supplies.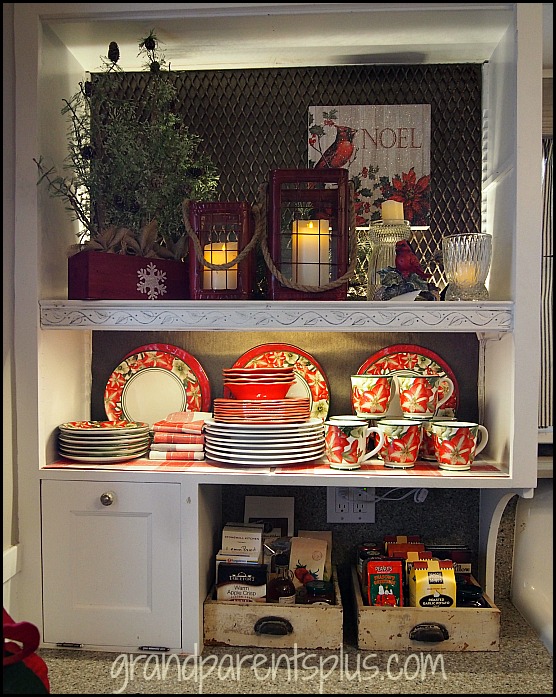 The last feature in the kitchen is a garden arbor over the stove. Hanging lanterns and seasonal greens make this an unexpected focal point in the kitchen.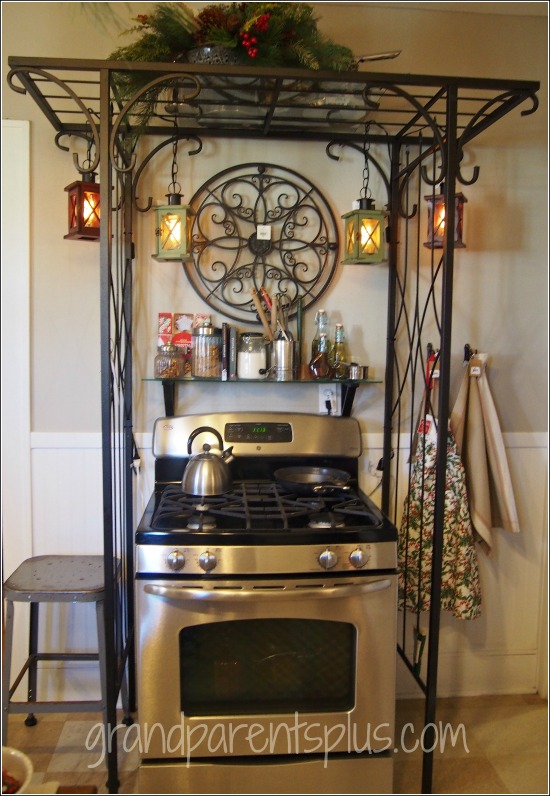 The small vintage bathroom uses a wagon shelf unit as towel storage. The wall mirror is decorated with greens and hanging lanterns. Right under the mirror, a small wooden sleigh makes a lovely seasonal wall shelf.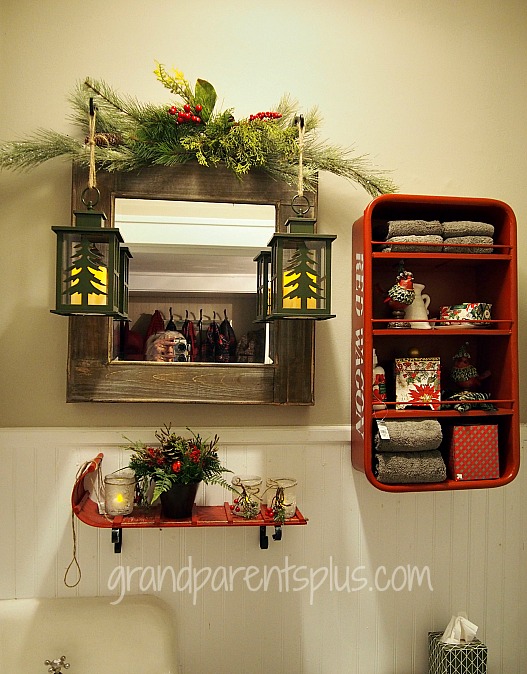 Have you ever thought of using an old drawer for a toilet paper holder? Love it, don't you?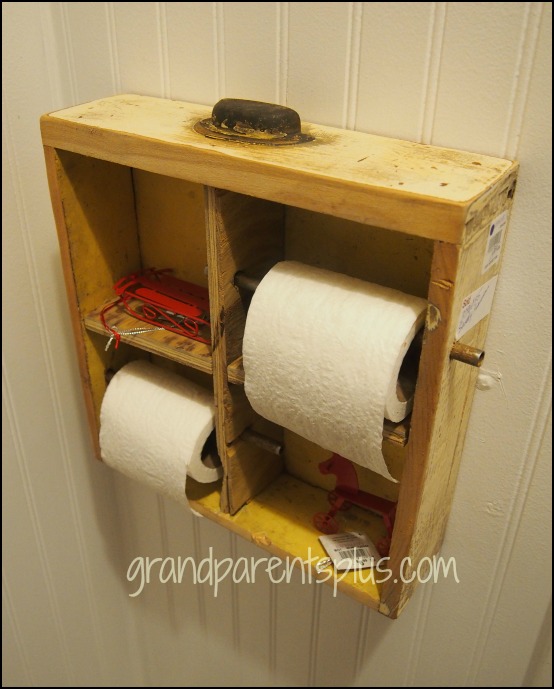 The next three ideas are for tall narrow areas. The first narrow hallway area uses a vintage section of a cabinet with a metal panel above. The second area uses salvaged wooden gates layered with holiday decor.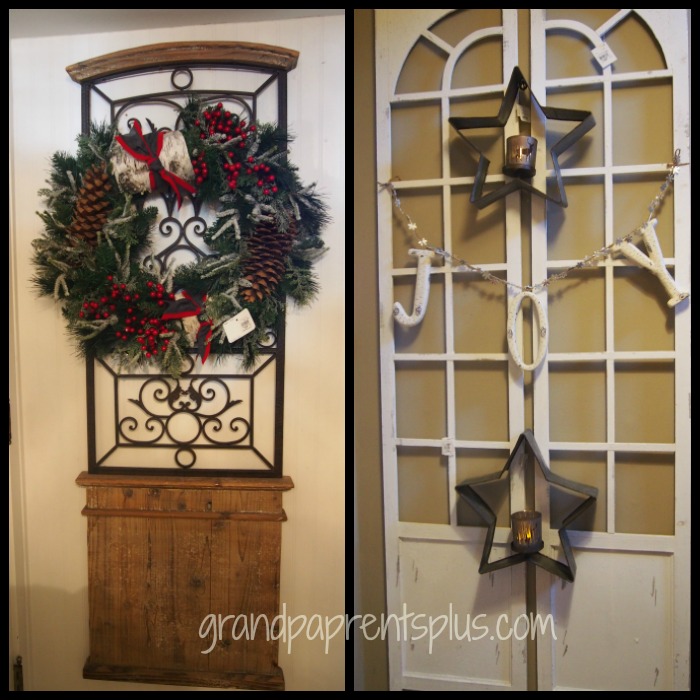 In the stairwell hang decorative curtain panels of a pine tree embellished with garlands and ornaments. If you are artistically inclined, you might want to paint your own.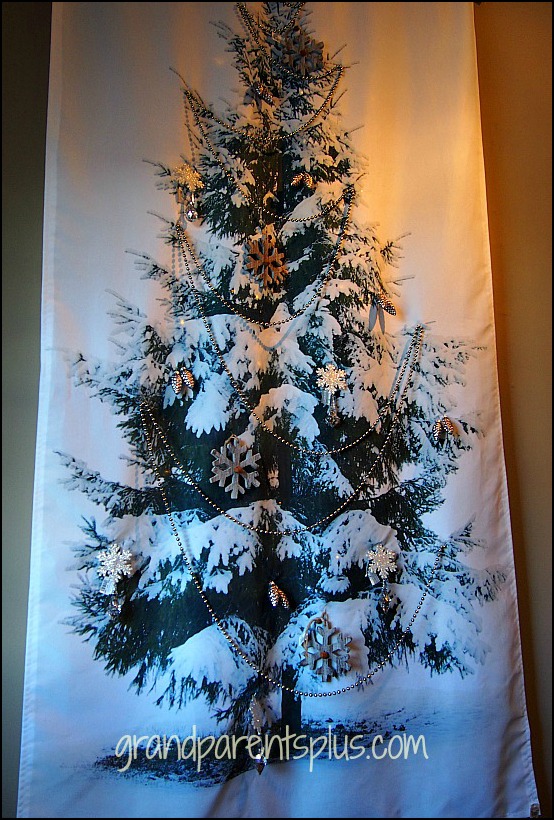 One bedroom is a "Sports Den". Industrial clamp lights are attached to pipe making it look like stadium lighting. An old incubator table is re-purposed as a coffee table.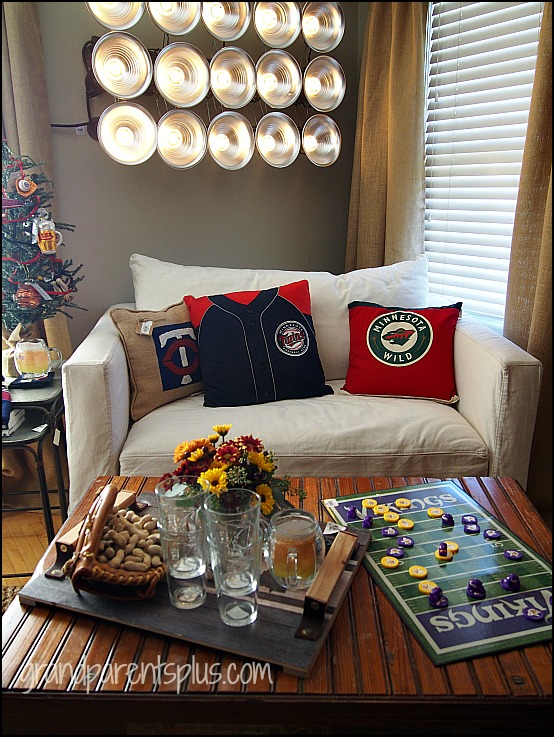 In keeping with the theme, a small Christmas tree is decorated with sport-themed ornaments and shoe laces as garlands.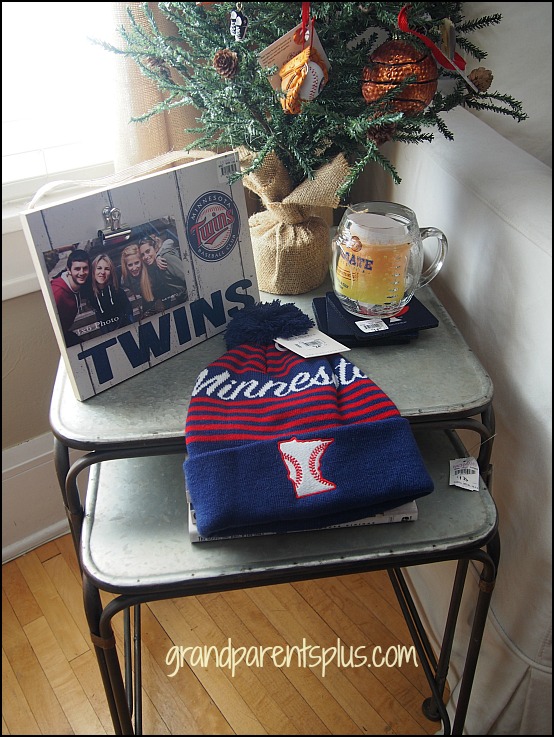 Two golf clubs wired together form the curtain rod!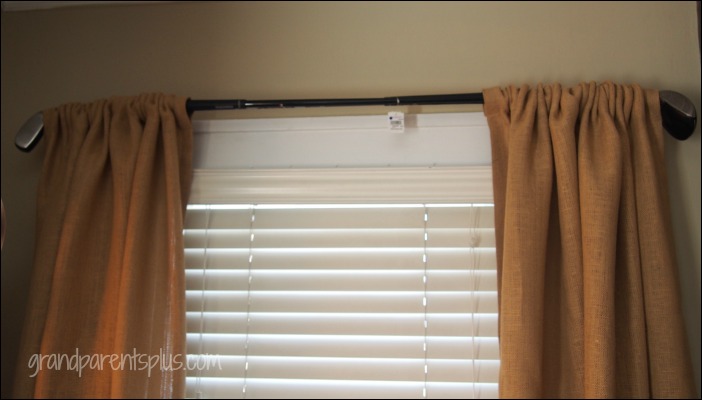 I had to look twice when I walked into the room and saw this 3-dimensional looking wallpaper on one wall. It looks like the real corrugated metal siding. Going along with the sports theme, the hockey stick, attached to the wall, makes a great ledge for pictures!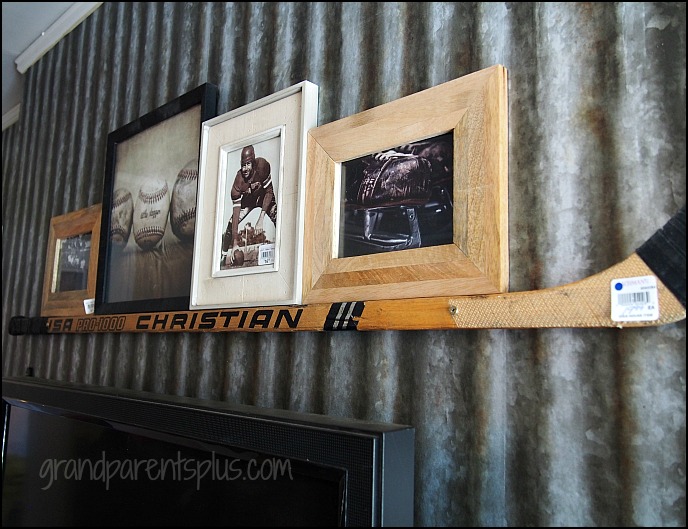 The last piece highlighted in this Sports Den is a metal store rack used as a shelving unit. It fits in perfectly when decorated with sports containers, glasses, snacks, and sports related games.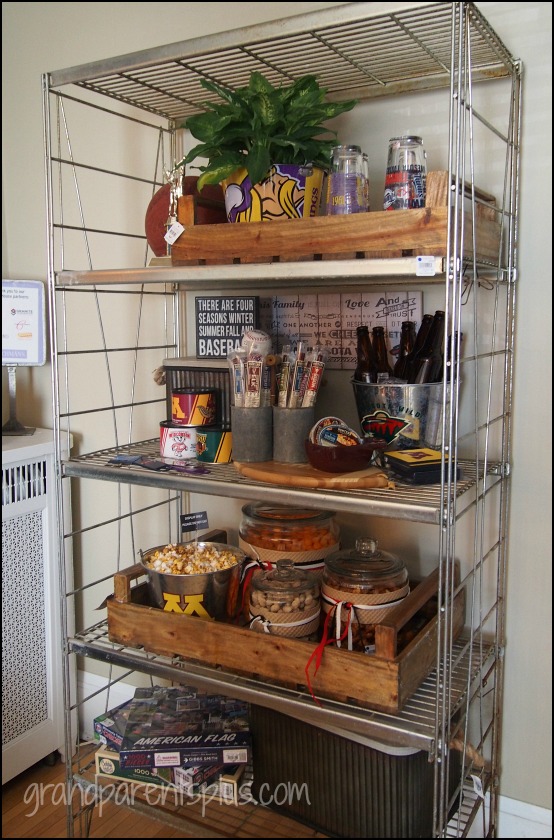 You've seen several unique ideas both for Christmas and year round. Did you get inspired? Which idea did you like the best?
If you missed the Christmas Idea House 2016 Part 1 post, be sure to check it out, too. Part 3 will be posted soon.
Thanks for stopping by,
Phyllis
If you subscribe on the sidebar, your email is safe and never sold or shared.
Follow on Pinterest, too!
Pin It