Christmas Idea House 2016 Part-3
This third and last tour of the Christmas Idea House 2016 Part 3 has just as many ideas for decorating and adding special touches for the holiday season as the other posts. Now, if you missed Part 1 and Part 2, be sure to go back and check out the ideas there. In Part 3, I will cover 3 bedrooms, a living room, and small bathroom. I know you'll enjoy these ideas!
The Christmas Idea House is decorated each year with a team of talented decorators. The tour features creative inspiration for your home as well as featuring new decor and vintage re-purposed items.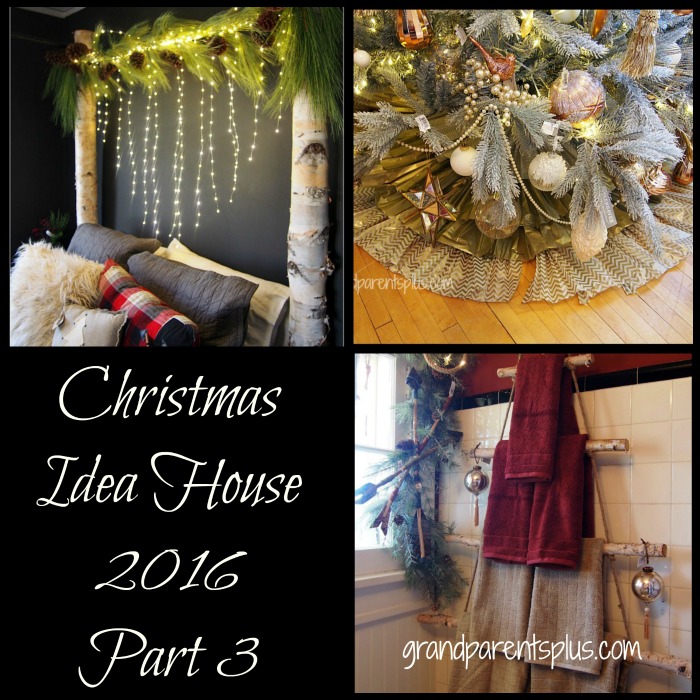 The first bedroom is quite dramatic with walls painted black! Dark walls set off the white birch bedposts. The added Christmas greens and lights make this a dreamy bedroom.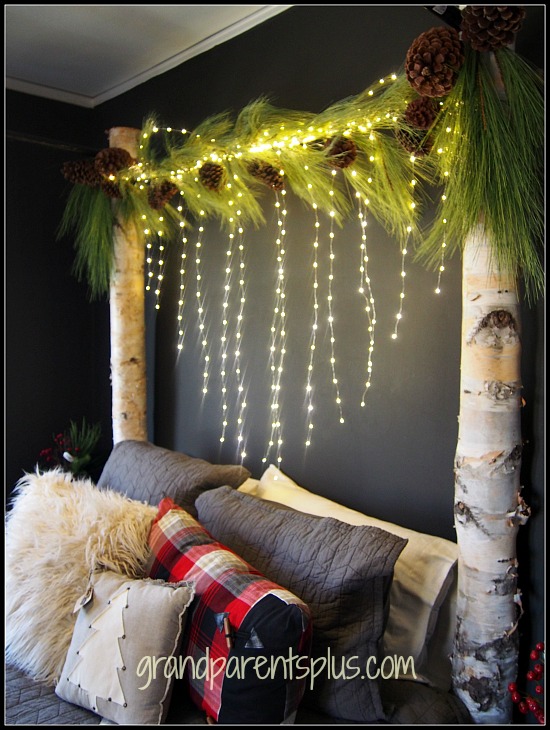 To carry out the birch theme, birch branches are used as curtain rods. Red plaid placemats hang over the branches for an easy and striking valance.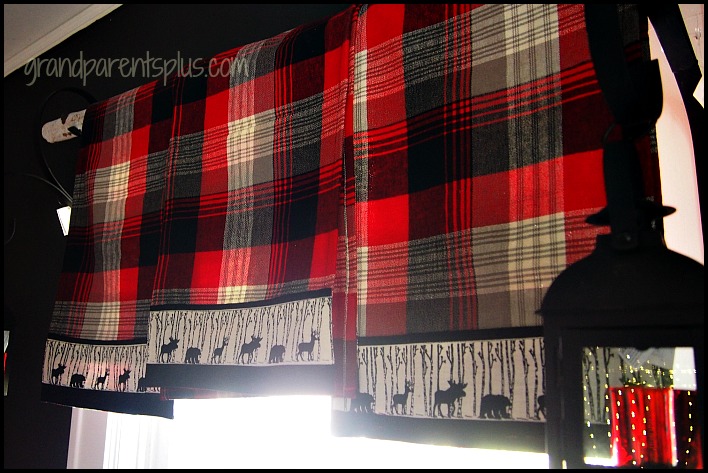 A vintage white cabinet, filled with books, pictures, and seasonal decor, adds lots of interest and color to this room.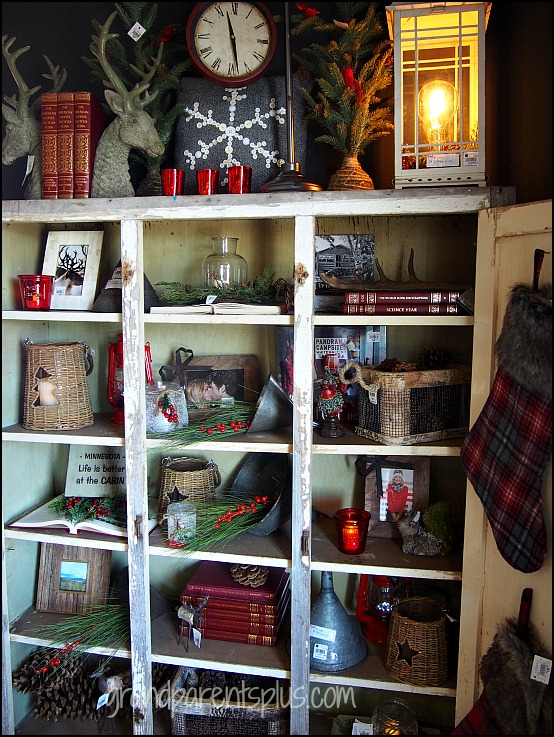 In the hallway between rooms, a sled hangs with cotton batting added for snow.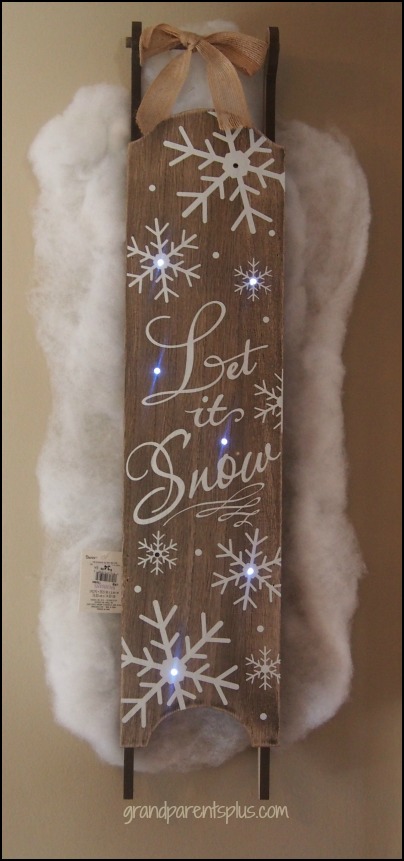 Next, the master bedroom is decorated with Native American decor. Wall art, colorful pillows, and natural items carry out this theme.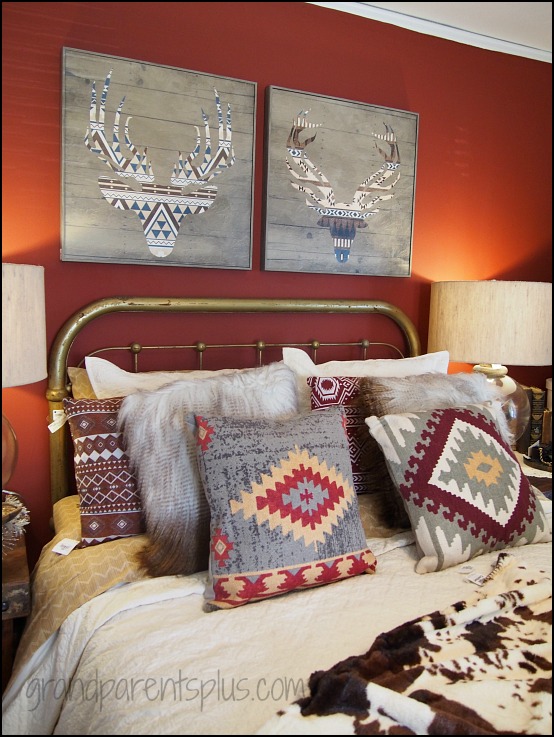 The curtains have an added touch of Christmas with greens attached to the natural rope used for tie-backs.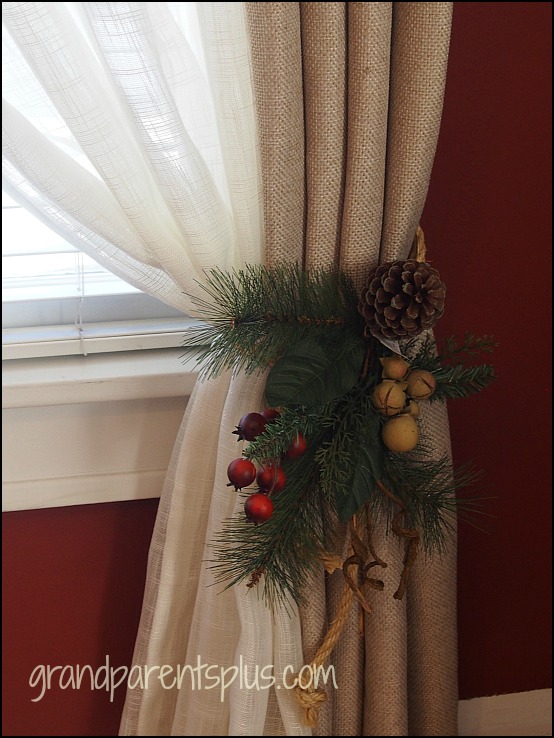 On the vintage cabinet, re-purposed as a dresser, is a metal sheet pan (the ones used in a commercial kitchen). It is spray painted brown and  filled with faux snow along with decorative ornaments and decor. What a nice way to contain the faux snow as well as re-purposing an ugly metal pan!!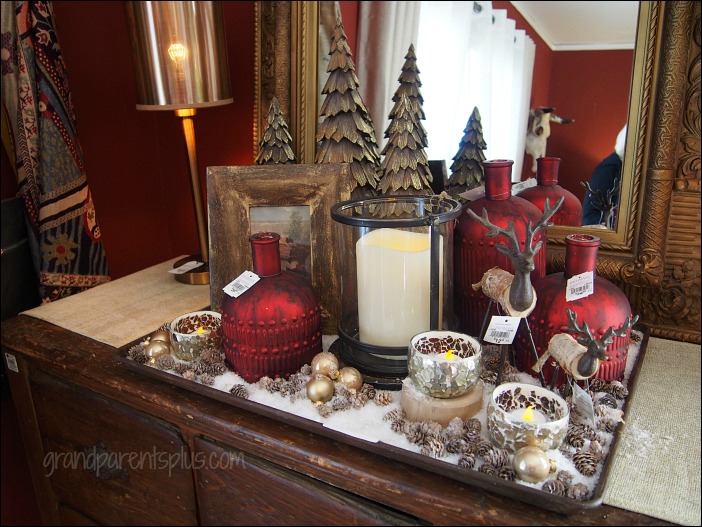 Wood slices with hooks mounted on a board make an interesting coat or garment rack..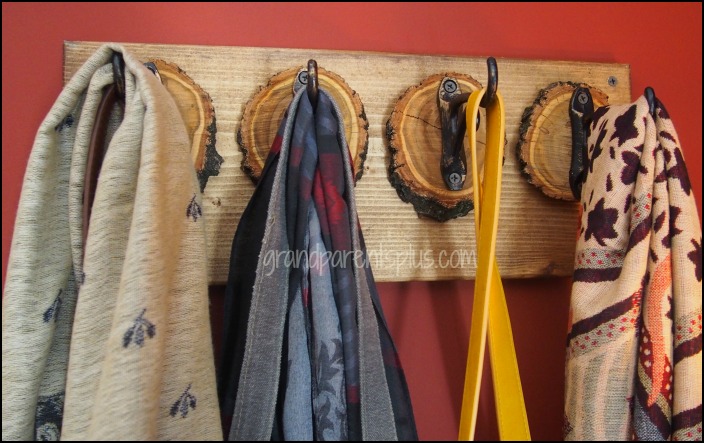 Here's another idea of using a door knob for a unique hook.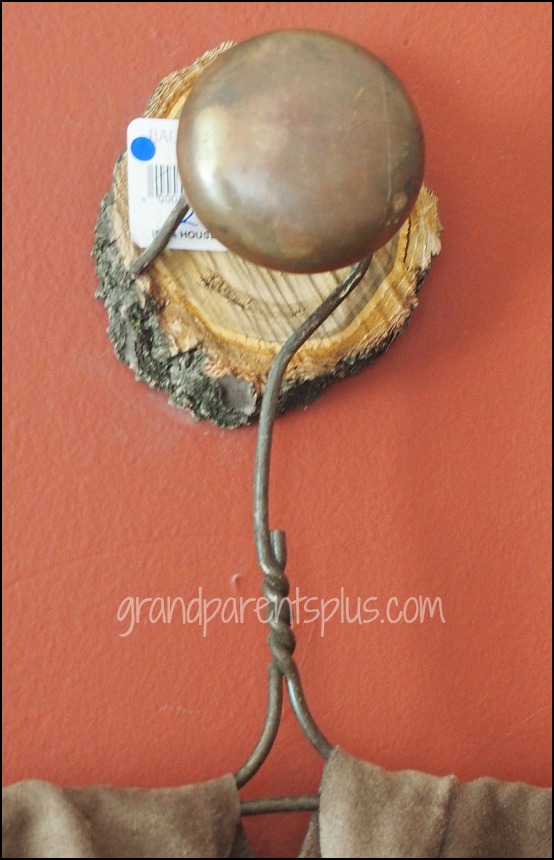 The tree in this bedroom is embellished with a garland of rope lighting, natural-looking ornaments, feathers, and colored balls. Hanging on the wall, dream catchers (made from doilies) add interest.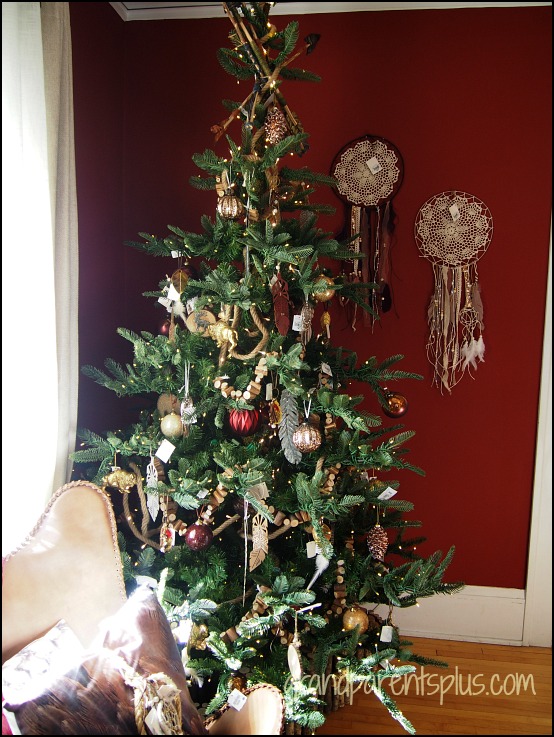 Continuing on into the small upstairs vintage bathroom, wood slices along with hanging votive candles become wall art above the sink.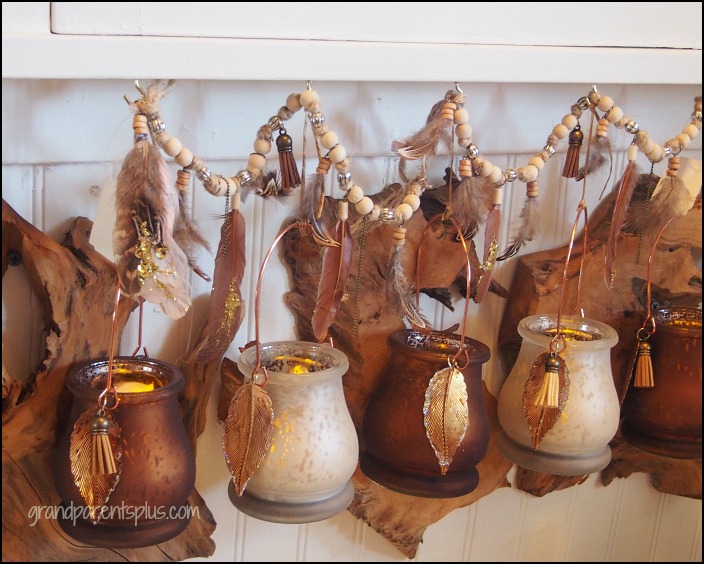 A birch branch tree becomes a decorative towel holder in the shape of a Christmas Tree!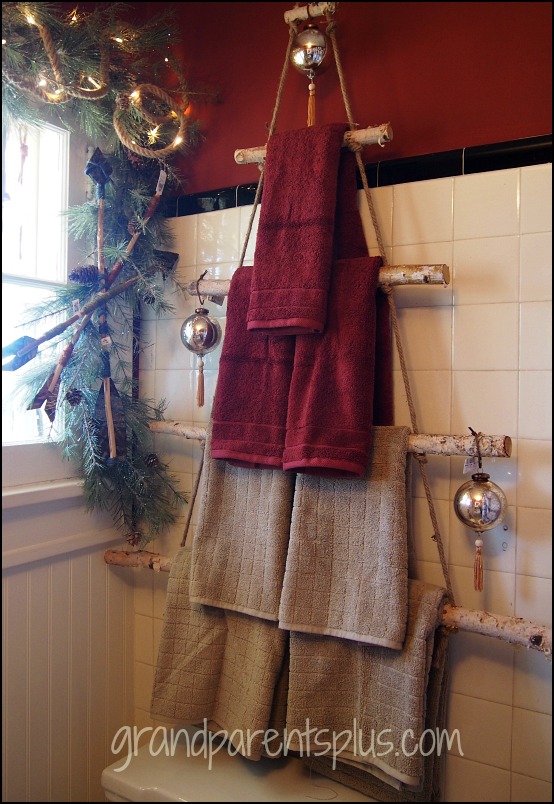 Also, in the bathroom, a toilet paper holder is created from a slice of wood, hook, rope, and a birch branch! How unique!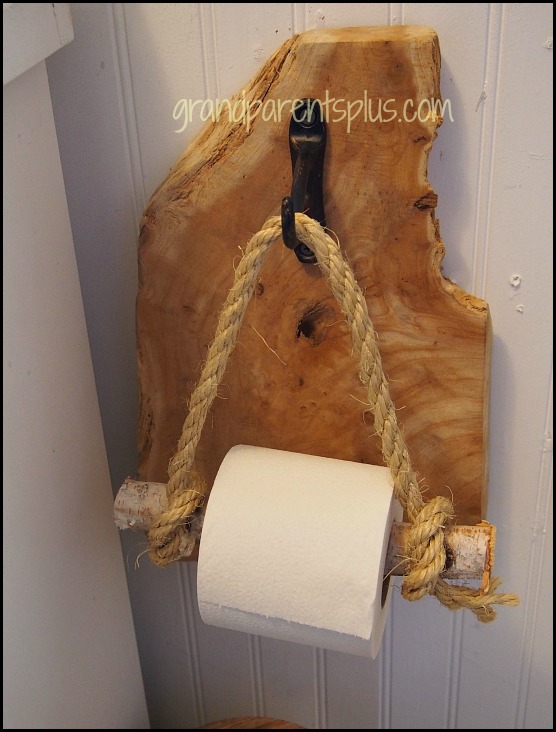 In the third bedroom, a wall mirror becomes a beautiful headboard and serves as the focal point in this room.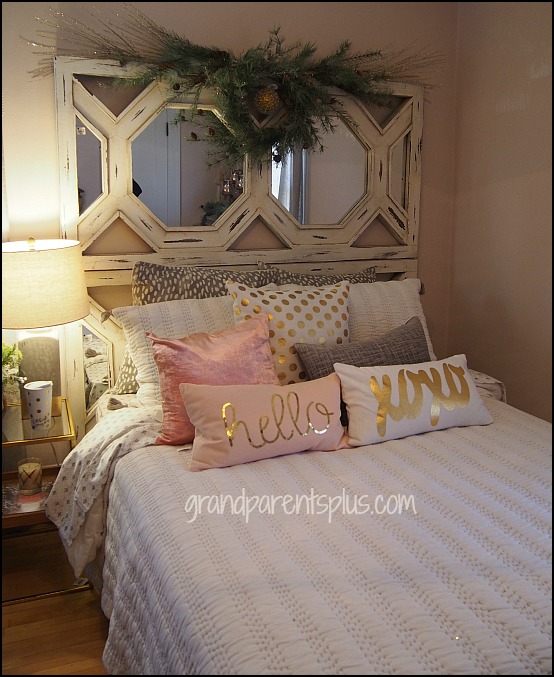 Window treatments are embellished with ornaments and draped with pearl garlands. Lots of gold ornaments and tiny white lights make the Christmas tree in this room sparkle.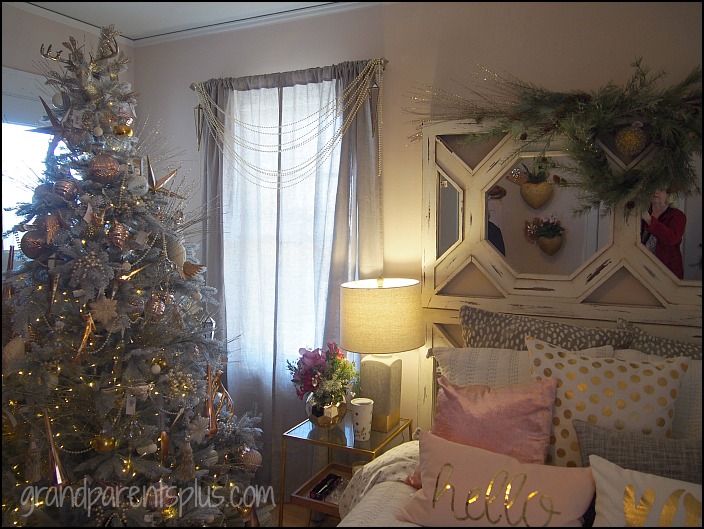 A look under the tree reveals this idea! If you don't have a tree skirt, make one from decorative tissue paper. Each piece of paper is accordion-pleated and glued or stapled together to form the skirt around the tree. Using a coordinating color, a second and third layer is added on top.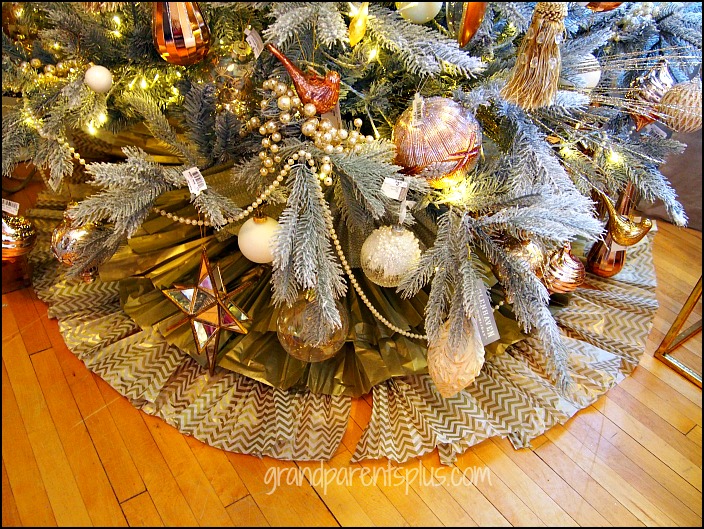 In the final room, a salvaged metal window is layered with artwork and metal sconces making an interesting statement above the fireplace. The sconces have battery-operated lights placed inside. Inside the fireplace, a galvanized mirror is also lit with battery-operated lights. Birch planters hold white poinsettias.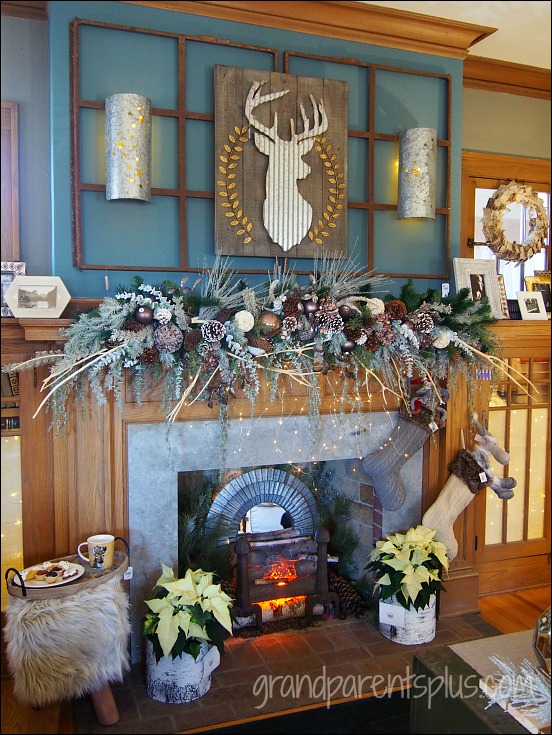 The same birch planters with poinsettias are repeated by the windows.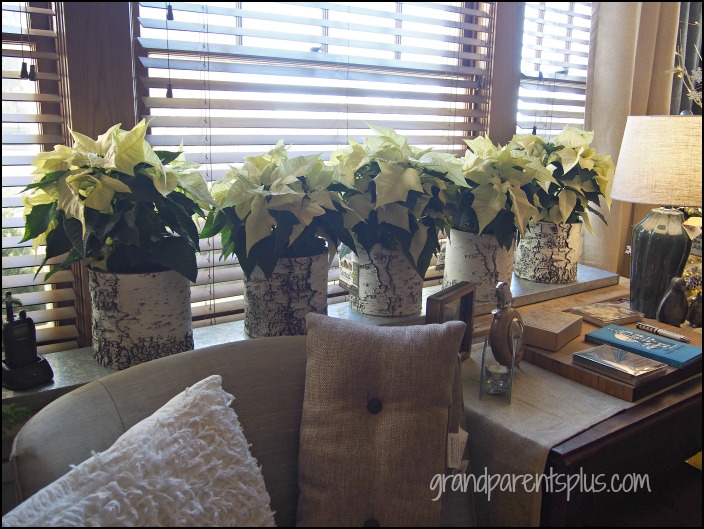 Another salvaged metal frame creates a backdrop for more artwork over the couch.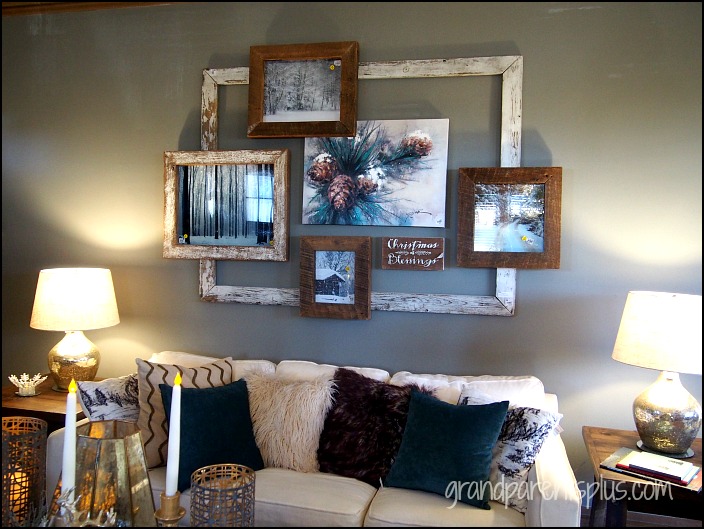 Using a vintage office cabinet on top of an industrial cart, creates a moveable coffee table. On the top, it is layered with salvaged wood.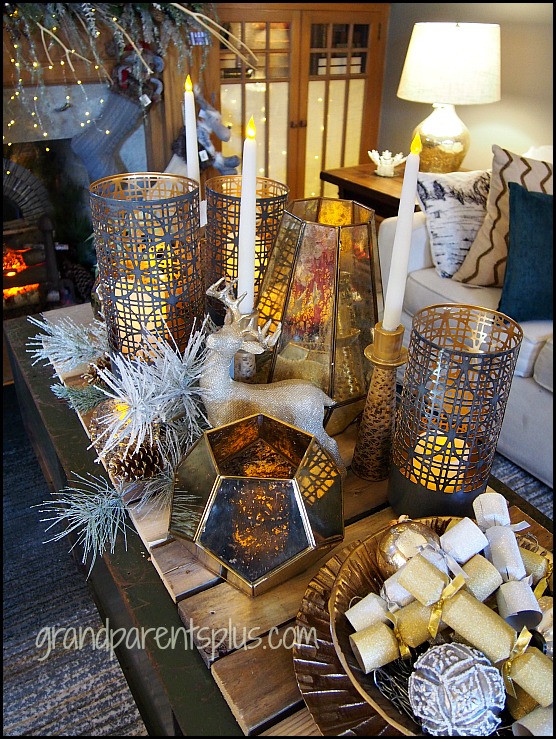 A salvaged wooden gate gives dimension and height to the metal clock.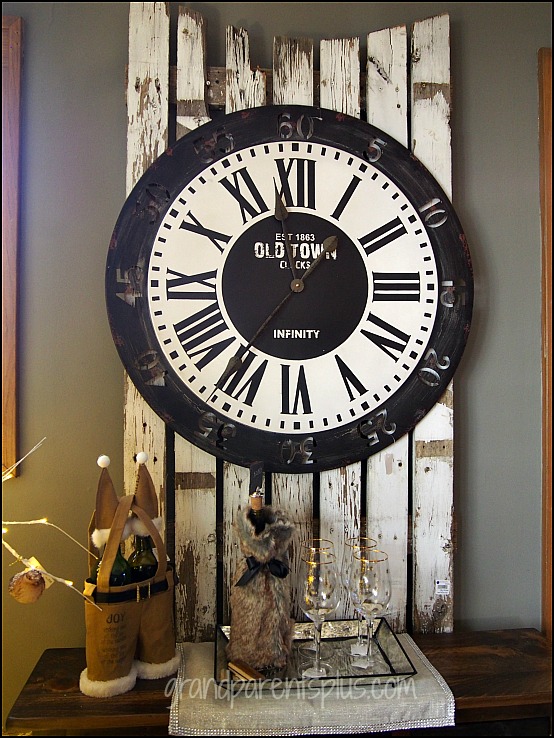 By adding birch poles to a mirrored shadow box, it repeats the theme on the wallpaper.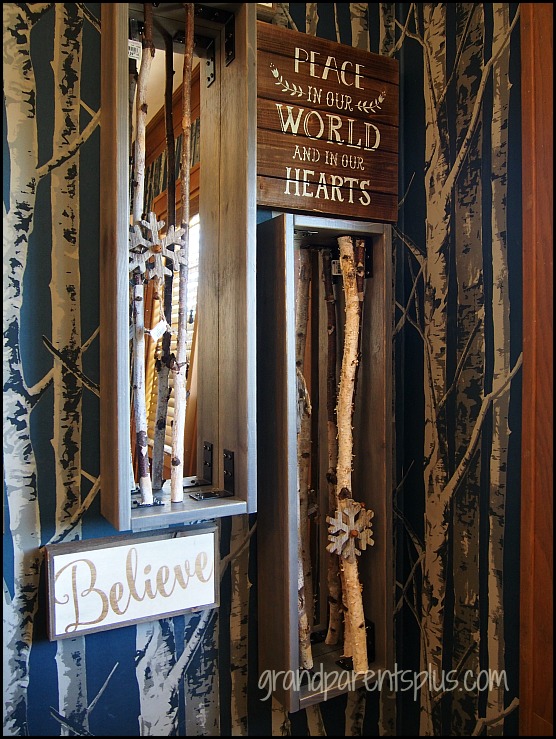 Additional lit branches gives drama and depth to this Christmas Tree. Warm lights and grey balls, together make a beautiful tree.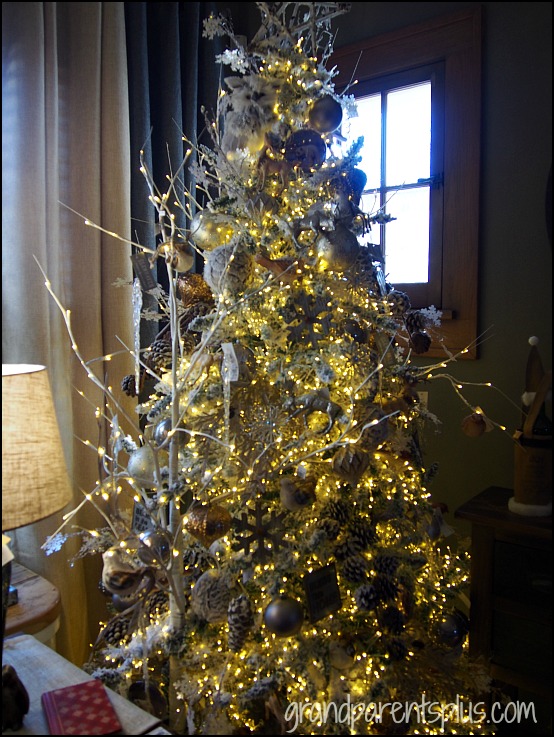 So many ideas for decorating your home are represented here that it's hard to remember all of them. I'm sure you'll want to pin them for future inspiration. Remember, many ideas are not just for Christmas, but anytime!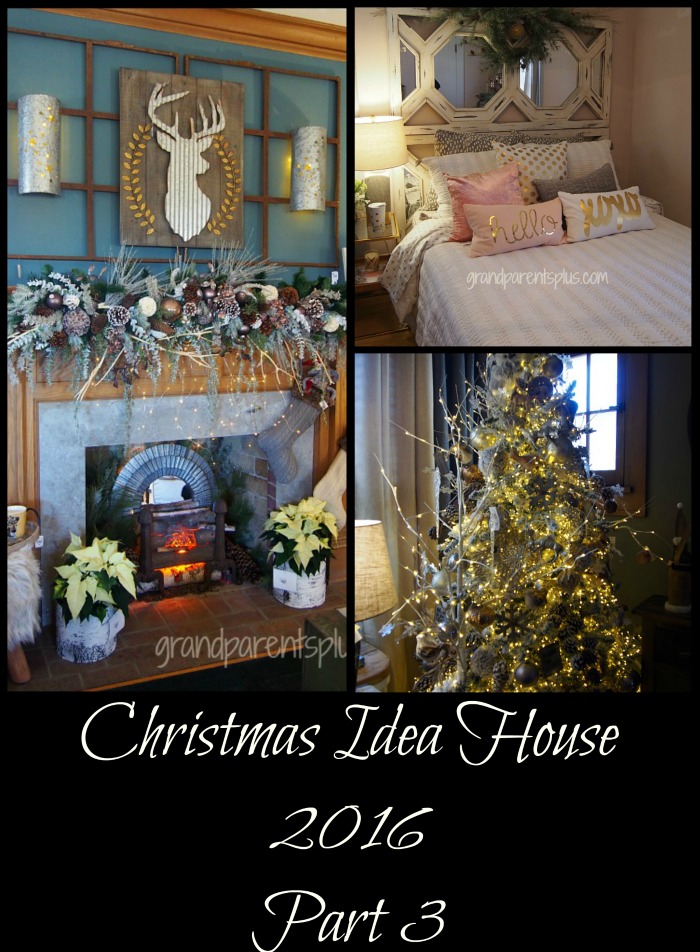 Did you find some inspiration?
Thanks for stopping by,
Phyllis
By subscribing on the sidebar, you won't miss a post. Please note that your email is never shared or sold.
Follow on Pinterest, too!