Christmas Idea House Part 2
The Christmas Idea House is decorated by several designers and is filled with Christmas decorating inspiration! I love new ideas to make our home festive at Christmas. For this post, I'll show you the dining room, kitchen, and small bathroom. Watch for lots of re-purposed vintage pieces used in fun new ways!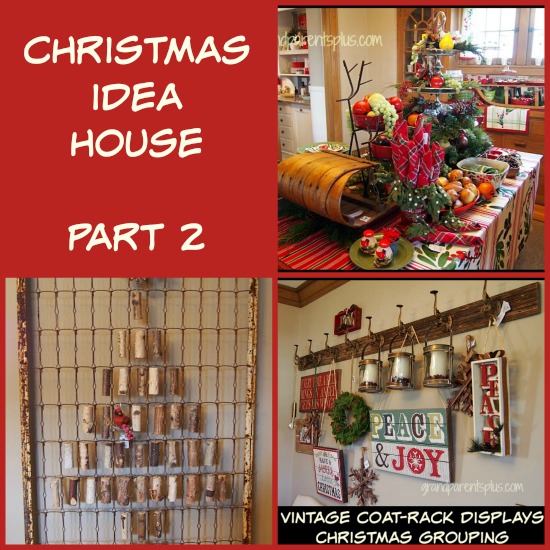 As you enter the house, the dining room catches your eye right away with the wonderful buffet displays and vintage pieces re-purposed.
The  table is all set for a fabulous buffet. Notice the toboggan placed on top of the table (how could you not notice – ha) with two large metal reindeer leading the way for the beautiful array of food!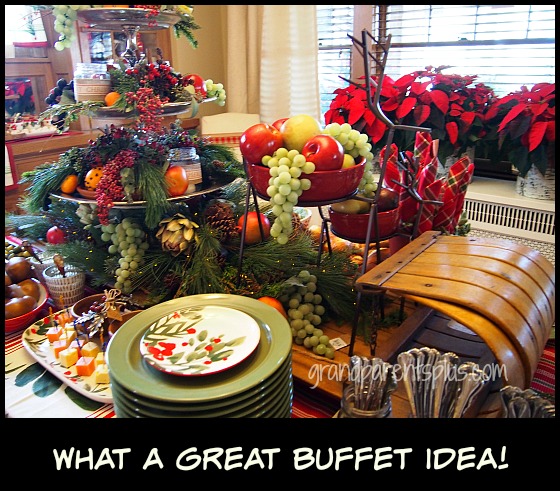 The desserts are displayed on another European sled on the built-in buffet.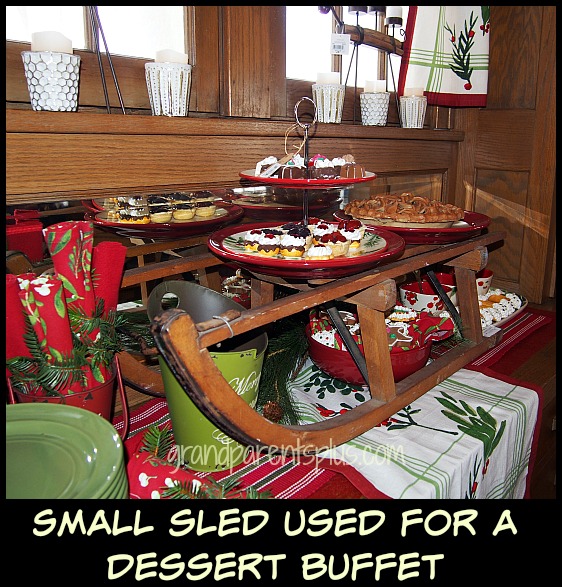 This is the cute little red sled that I use for decorating at Christmas. Sometimes it becomes the centerpiece and sometimes I use it on my coffee table.  It's a great vintage piece that I really enjoy using.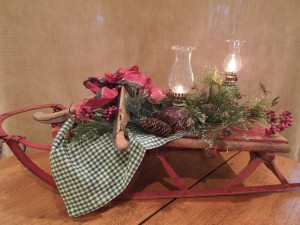 On one wall of the dining room, a display of Christmas wall hangings, wreath, lanterns, and winter decor all hanging from a vintage coat rack. Everything is changeable for a different season.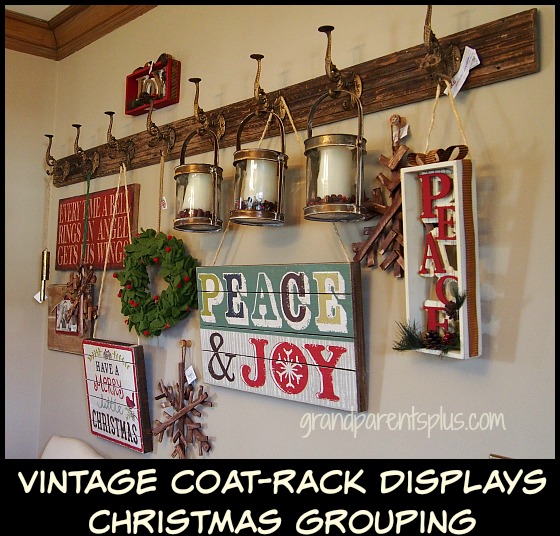 I've seen many ideas for a crib bed-spring, but this is one tops them all, I think! Each small section of a birch branch hangs from the sections of the spring to create a tree. Don't you love the little bird, too?
The sections of birch branches have a cup hook attached at the top.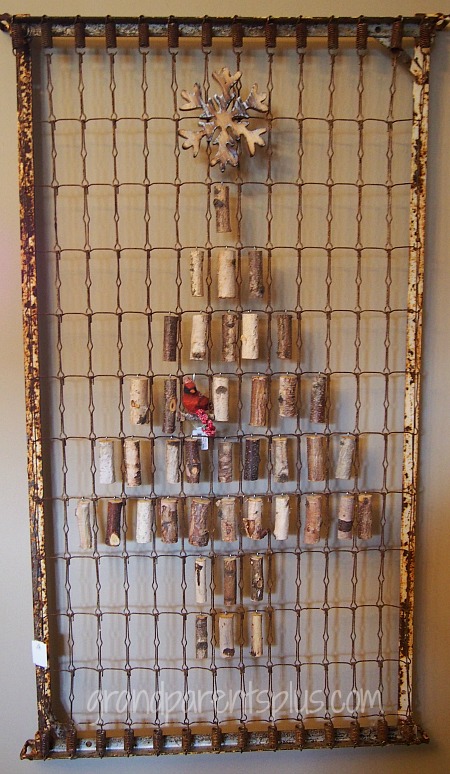 A wooden star finishes off the top of the tree! I think this is outstanding! It's certainly a conversation piece! I thought the Fall Decor Idea House – Part 3  had an unusual idea for a bed-spring. Now, this is totally different. I wonder how many ways you can re-purpose an old bed-spring, don't you?
The kitchen wall looks interesting with  birch trees stenciled on the wall. Little red birds accent the birch trees and add a pop of color. This winter scene wouldn't last all year, but by putting it in a large frame instead of on the wall, it would be changeable with the season.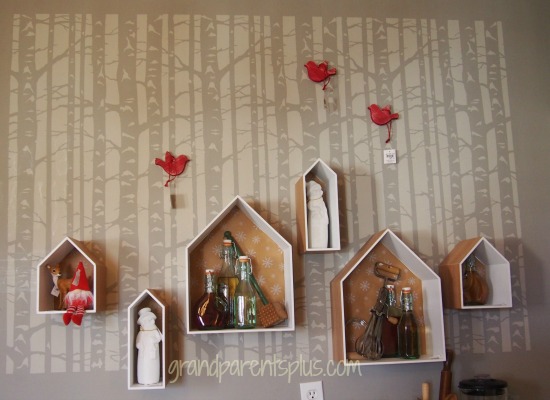 The open kitchen shelving includes red and white Christmas accents among the red and white china.
On the wall, a unique piece of metal screen is re-purposed as an accent for a piece of Christmas art. Also, an old insulator attached to the wall, serves as an apron hook.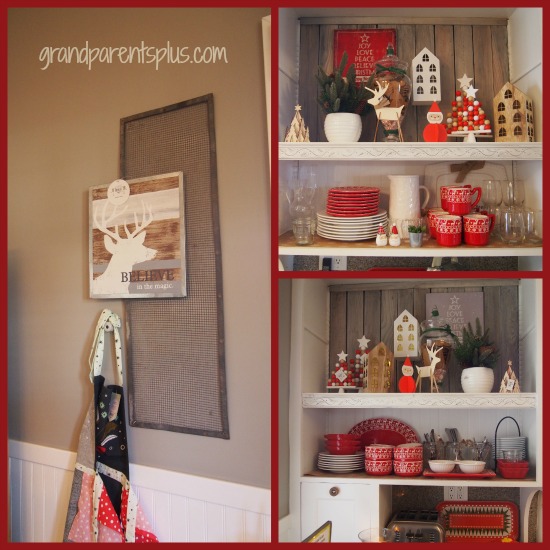 The island in the kitchen is a salvaged industrial cart. It gives extra storage below and can be moved anywhere.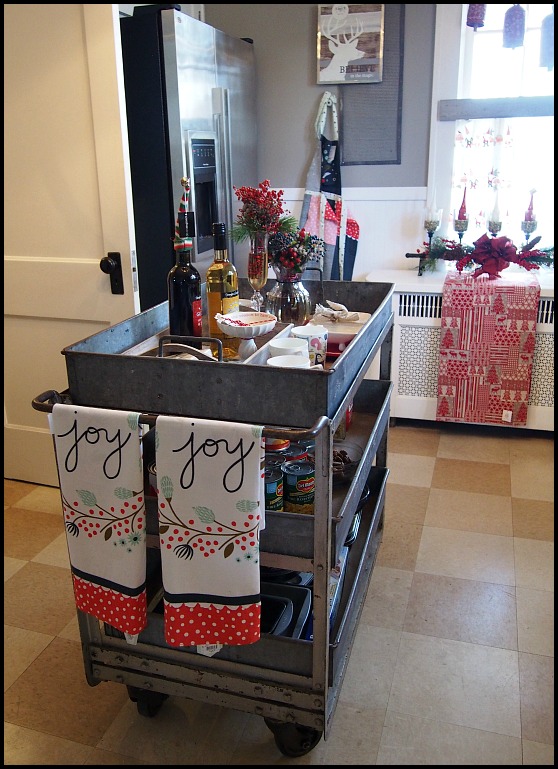 Salvaged wood with decorative wooden snowflakes create an interesting valance for the season.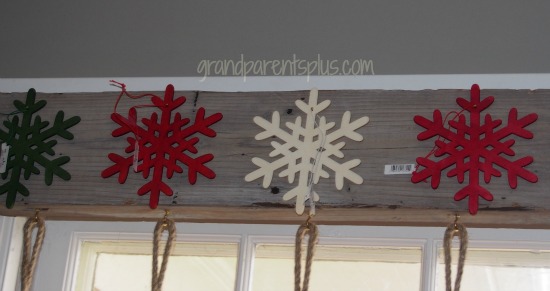 In the small bathroom just off the kitchen area, you see the same birch tree stencil. A simple wooden cut-out of a deer hangs as a seasonal decoration. He looks like he is running though the woods! The lanterns hang from metal twig hooks. 
Two metal suitcases, attached to the wall at different levels, serve as shelves and storage.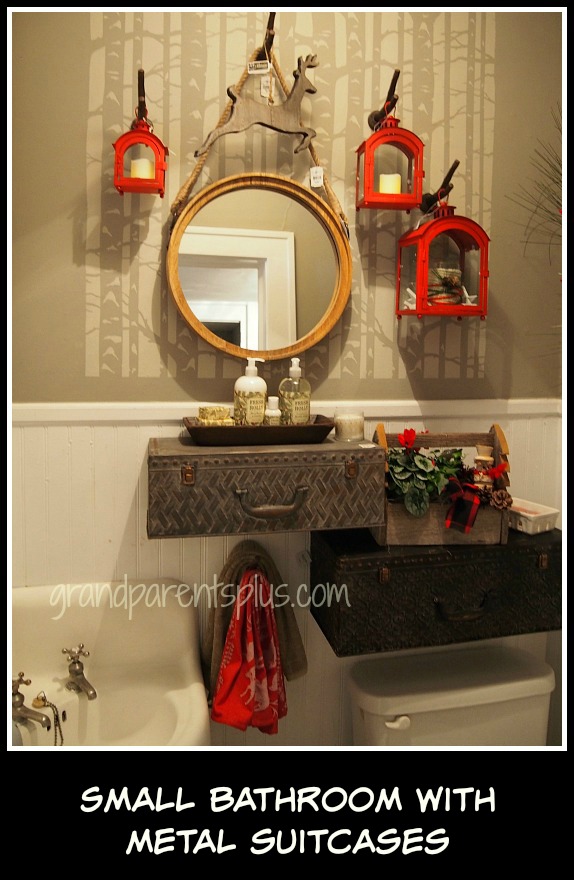 The small bathroom window also uses wooden snowflakes along with red wooden hearts hanging from the valance. The curtains are Christmas kitchen towels.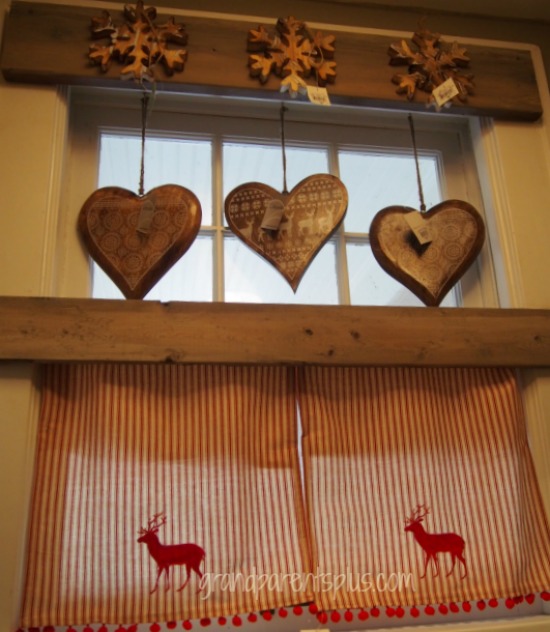 All these wonderful ideas and this was just three rooms, but there is still much more to come in part 3 and 4! There's eight more rooms to show you!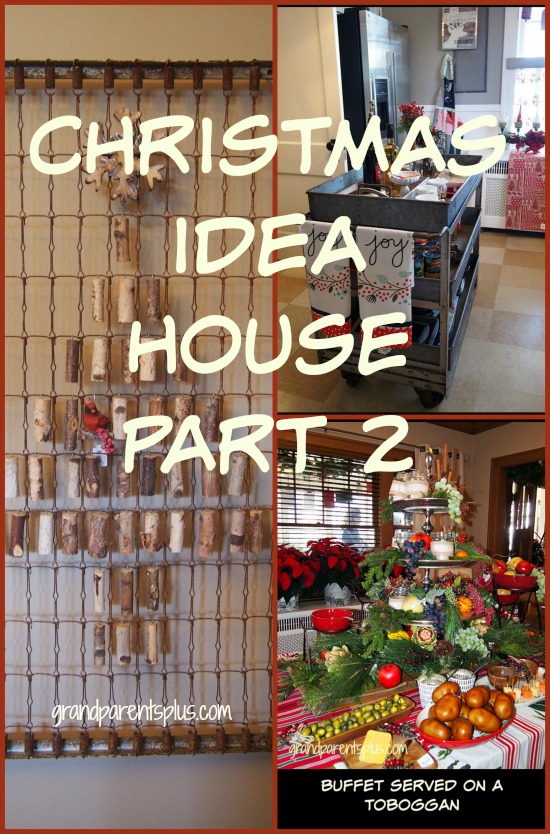 Were you inspired by any of these ideas?  
Be sure to subscribe so you don't miss the next posts. Your email is never sold or shared. 
Hope you enjoyed the Christmas Idea House Part 2!
Phyllis
Follow on Pinterest, too
Linked to these parties….
Pin It