Awesome Christmas Table Settings Part 2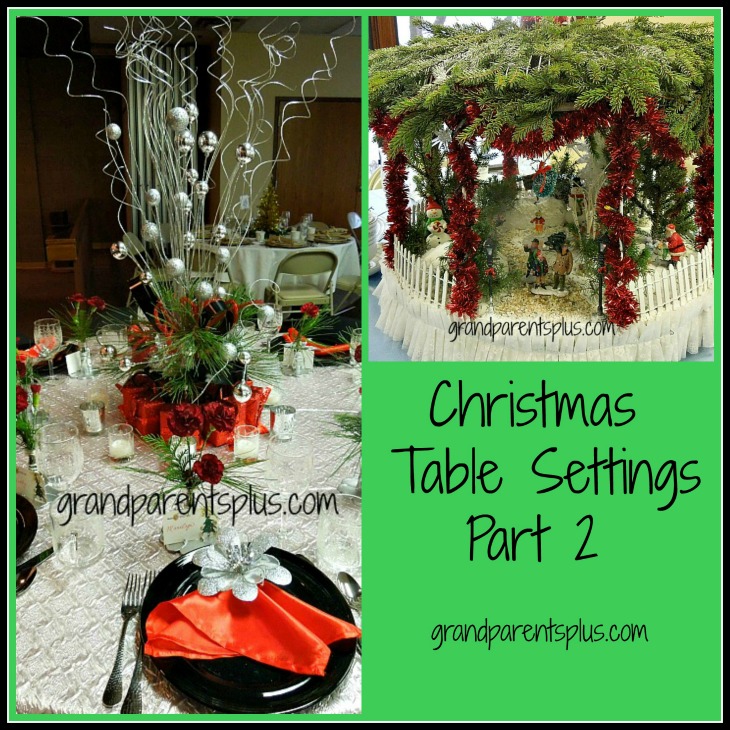 There's no limit to creative ideas for Christmas Table Settings! From simple to elegant, easy to complicated, the tables are all awesome and will certainly inspire you for your own Christmas table settings! This is the second post of table settings created by the women of our church for the annual Christmas Extravaganza 2013.
I love the simplicity and bright colors of this table setting. Greens, red berries,white dinner set, red accent plates, plaid table-cloth all make this a beautiful setting!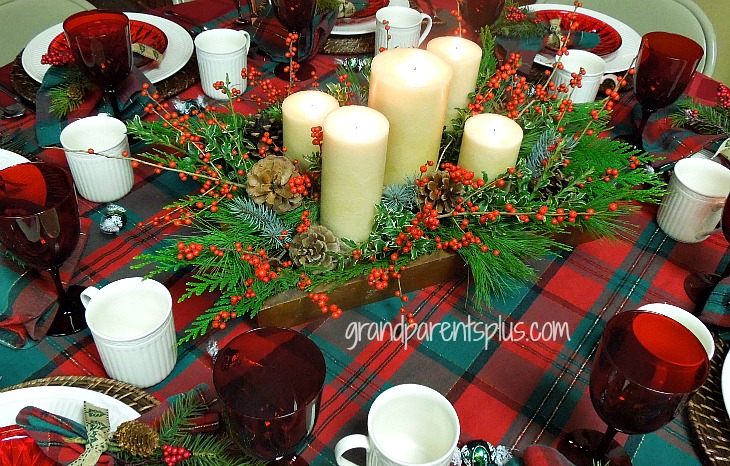 The napkin rings are a lovely combination of greens and berries tied together!  The white plates show off the lovely red salad plates with their design.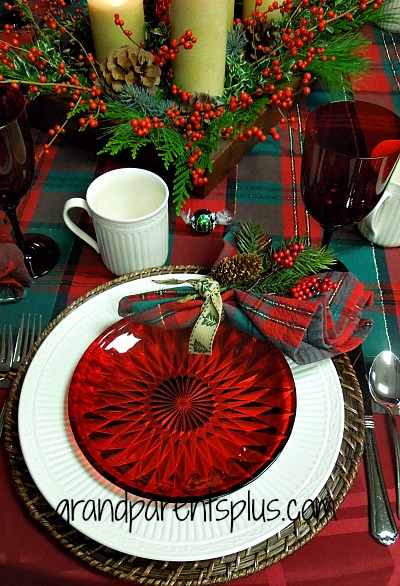 By just using a centerpiece of branches adorned with red and white ornaments and candy canes, it works well with this themed table.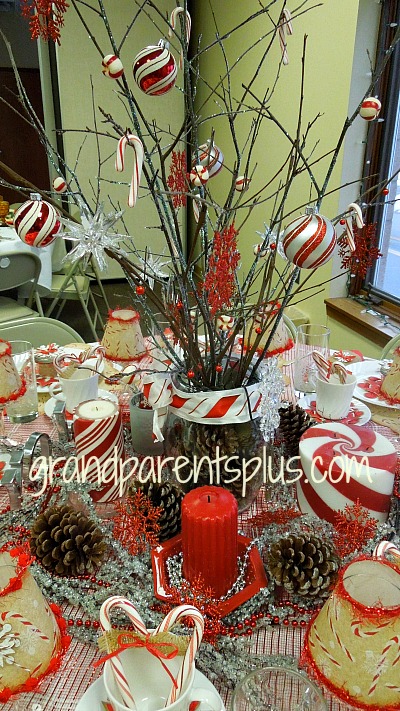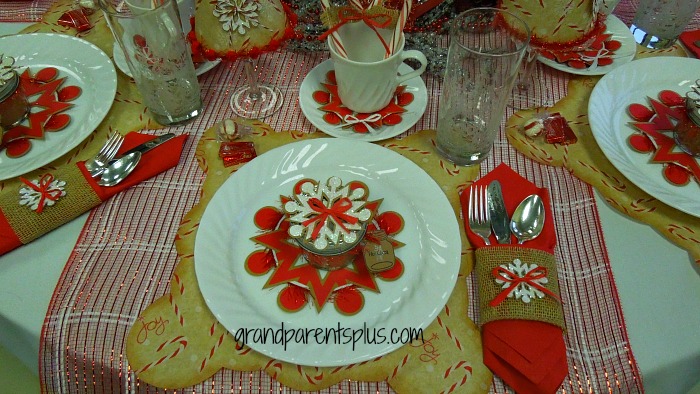 Cute hearts made from candy canes!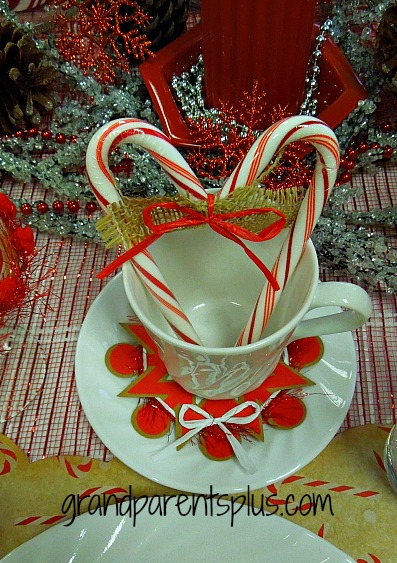 Lots of elegant drama highlights this Christmas Table Setting with a red, silver and black theme!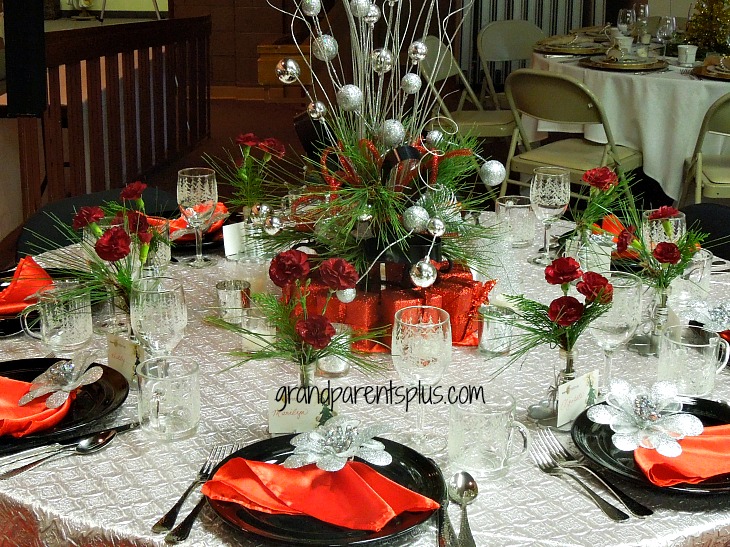 Beautiful!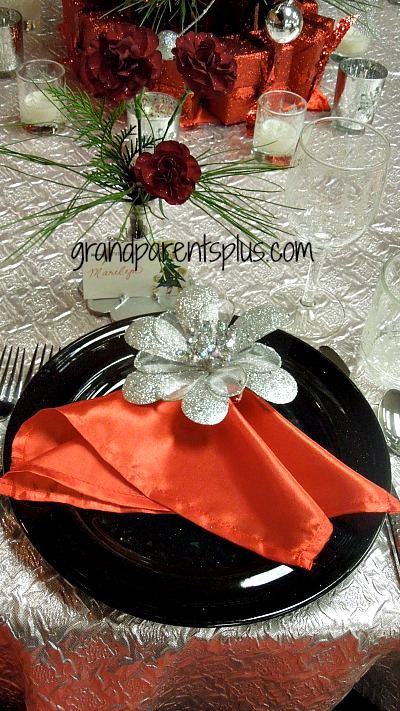 A Barbie Christmas Tree! This table was done in memory of her daughter. So sweet!
Using different pedestal plates and adding levels, dolls are placed on the tiers.
Who says a Christmas tree has to be traditional?
Nice tribute to her daughter's memory!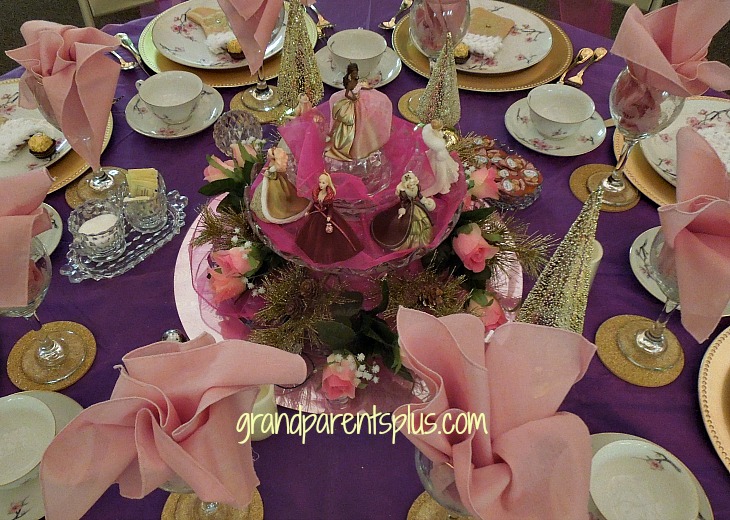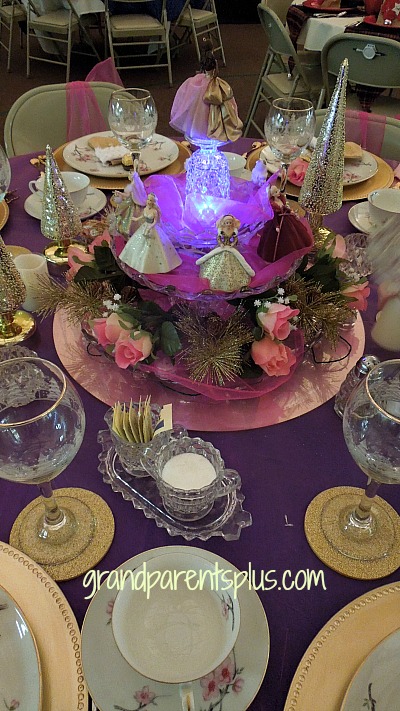 Snowflakes, blue and silver are the theme of this next table. Using battery operated lights, the centerpiece is greens with white and silver. The napkin rings are fun foam sparkle snowflakes with the center cut out to insert the napkin. The rest of the snowflakes are coasters.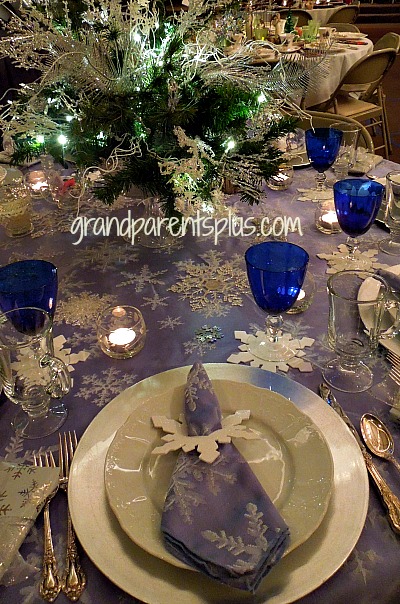 A simple lit tree with fresh evergreens makes an easy beautiful centerpiece!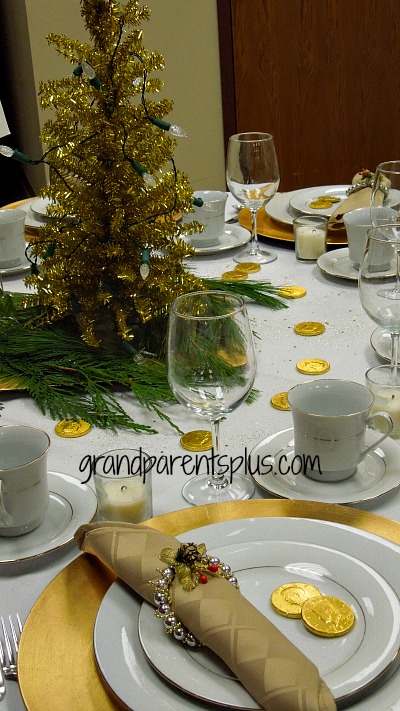 A collection of gold and silver trees makes a beautiful centerpiece! Love the gold and silver mixed and with all different textures of trees!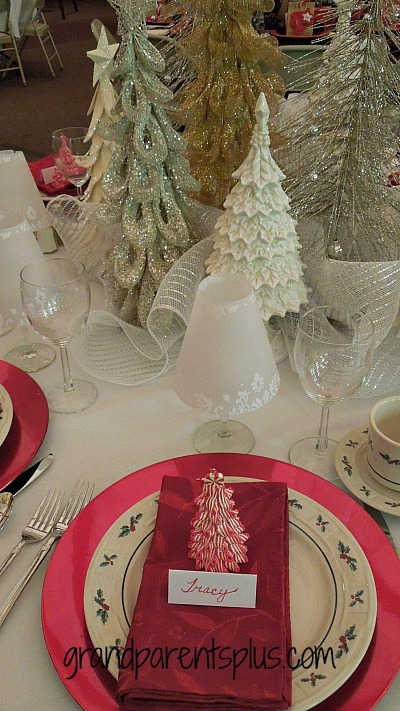 All lit up, they look like this…..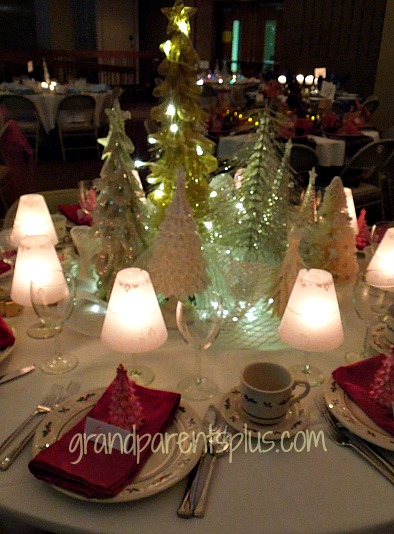 One this table a large bow is beautifully enhanced with icy branches. Simple and elegant!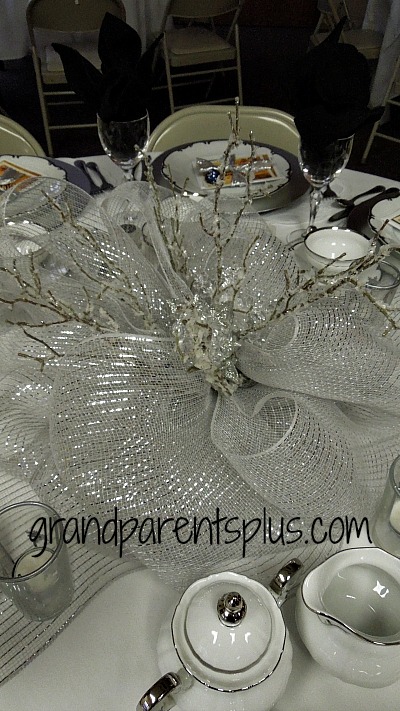 A fresh arrangement of greens and roses set in a glass with cranberry and nut layers gives a beautiful look to the table.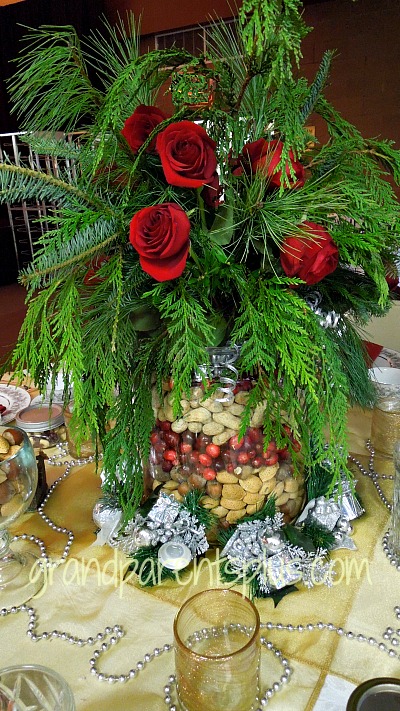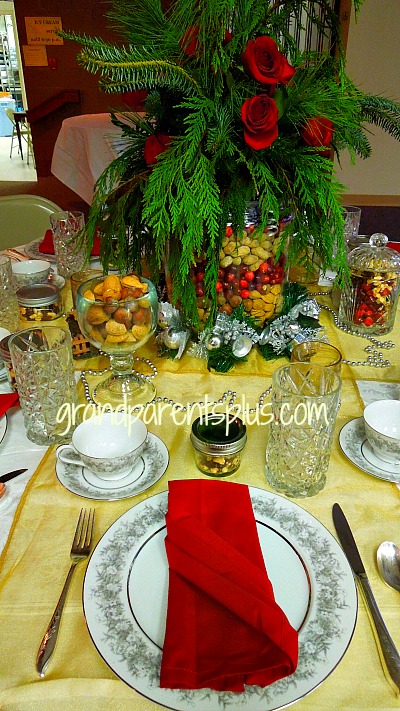 Red and White always look fresh at Christmas!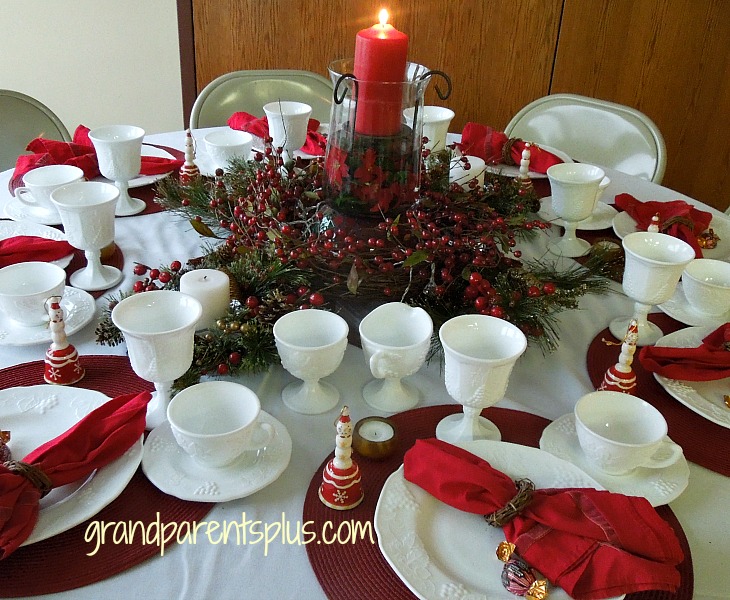 Another simple, but beautiful look!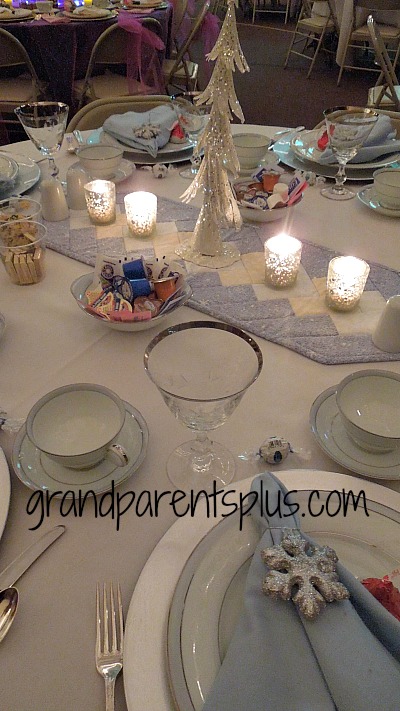 This table setting was the most unusual and I couldn't figure out how it was made until the creative designer explained it. Who would think of this?
This scene was so cute! Can you guess what it is made from?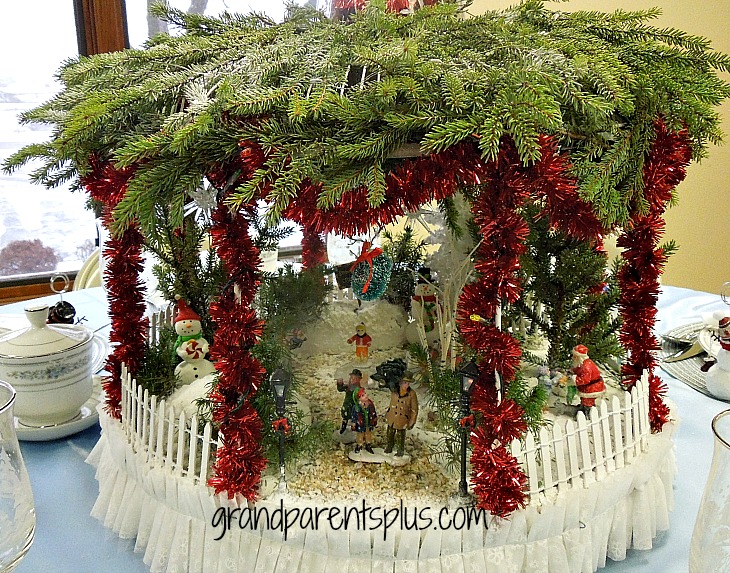 The top is from part of a fan….. Can you see it?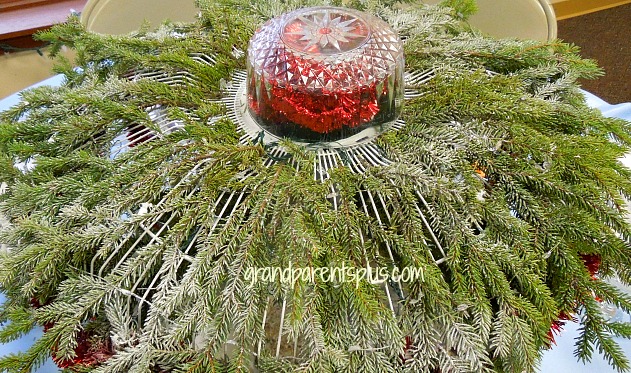 The fan is then set on top of a lamp shade! (just the wires)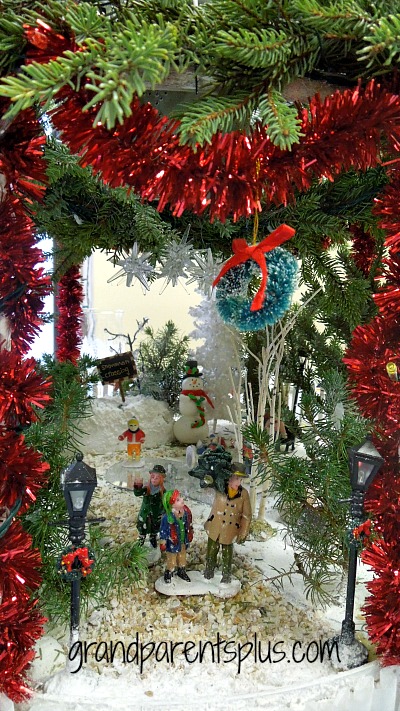 Each vertical wire is decorated with a small red garland to cover the wires.  She then placed  it on top of an upside-down  styrofoam sectioned deli tray and used Plaster of Paris to create the snow scene on top. The tiny figures including a skating rink look so pretty! Just a special Christmas centerpiece that certainly generates Ooh's and Aah's!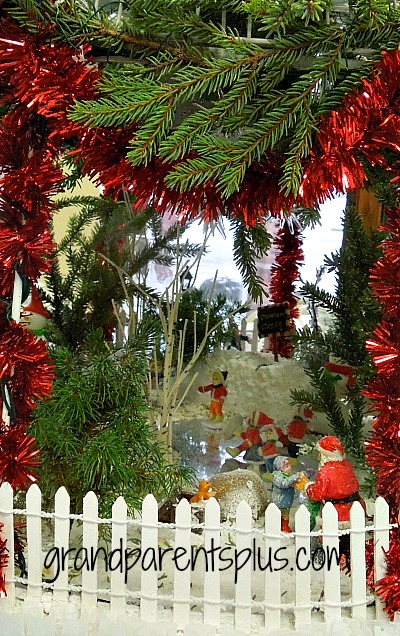 What a masterpiece!  All upcycled from a fan and lamp shade! Now that's creative!
Thanks for stopping by and I hope you found some creative ideas for your Christmas table!
Another post is coming with more great Christmas Table Settings! Don't miss it!
Phyllis
Love to have you subscribe to future posts or follow on Pinterest or Bloglovin!
This post is linked to the following parties……
Pin It