Christmas Tablescapes 2014
The annual Christmas Extravaganza at our church with all the wonderful Christmas Tablescapes, is always a spectacular event. Women decorate a table with their own Christmas Tablescape ideas. Each year, they are unique and beautiful! It is a wonderful start to the Christmas season with great fellowship and a program focused on the real meaning of Christmas. Some tables are whimsical and fun while others are just plain elegant! This is Part 1 of two posts with Christmas Tablescape ideas.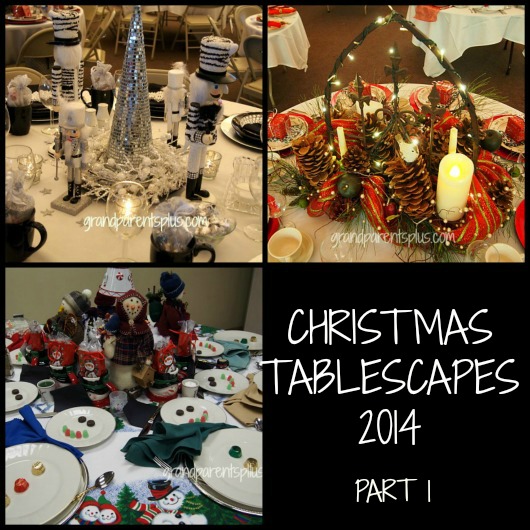 This tablescape states what Christmas is all about "The Word Became Flesh and Dwelt Among Us"   Notice all the details they included…..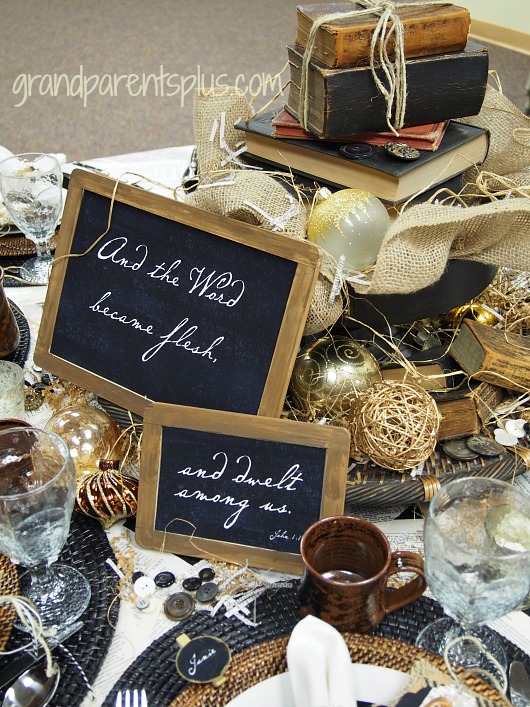 Old Bibles tied with twine, gold and black accents, along with burlap ribbon make a beautiful combination of textures on this table….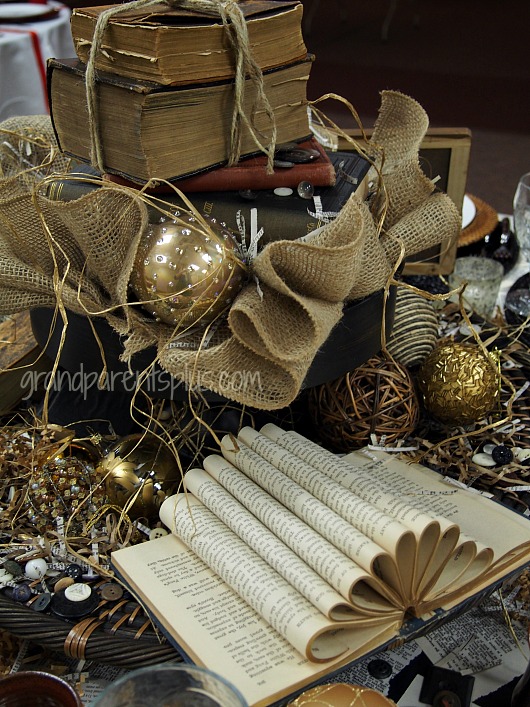 Antique buttons also add interest…..
Did you notice the tablecloth covered with pages of words from an old dictionary?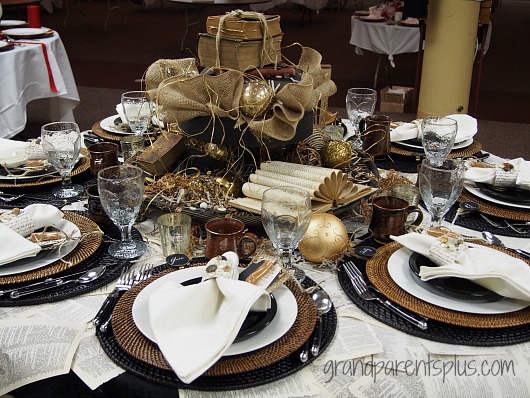 Antique button napkin rings look beautiful with this setting.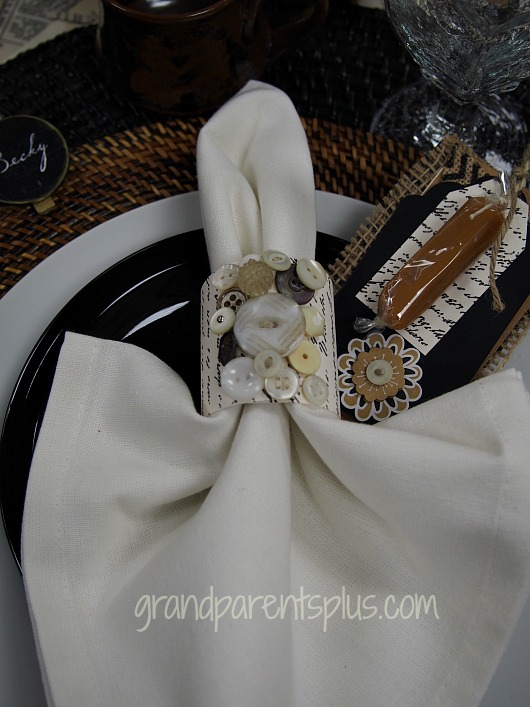 The next tablescape features three wire angels holding candles.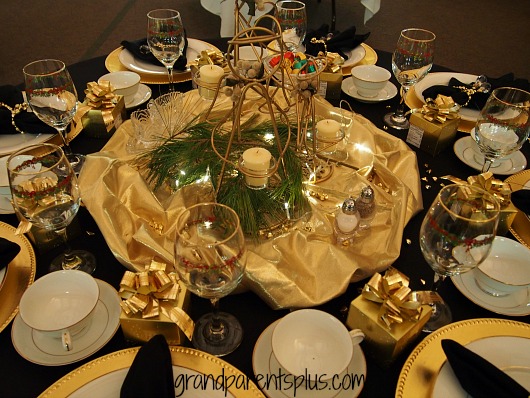 An ornament is used as a napkin ring.  Black, white and gold look stunning together.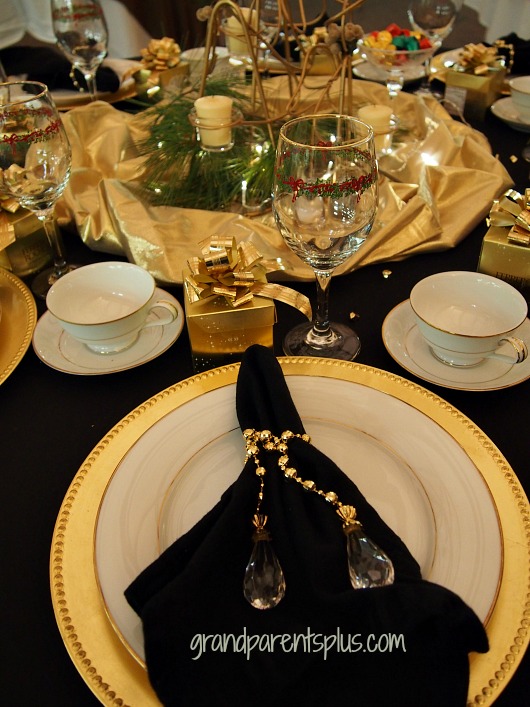 Using a window box as a base, adding a unique metal piece in the middle, sure makes a stunning table centerpiece. Just add lights, candles, pinecones and ribbon! Sounds simple, doesn't it! This took a bit of vision along with creativity!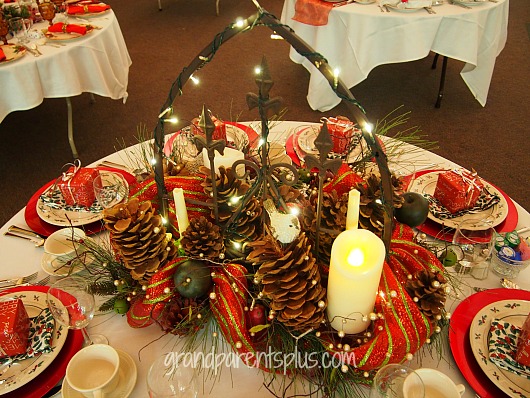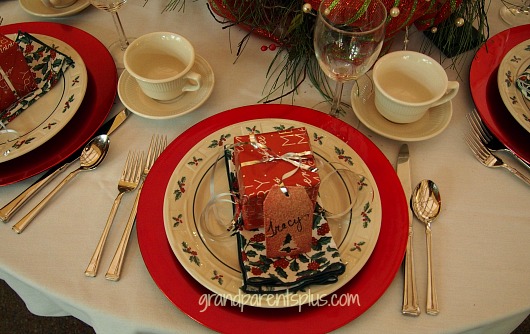 Red, white and silver are the colors of this table. Fill a glass cylinder with silver balls and another one with red balls. It is simple to do and looks so elegant.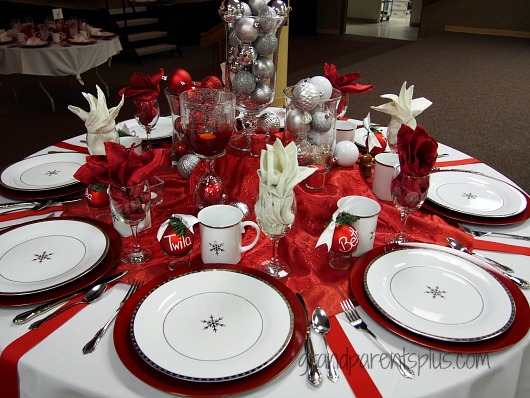 Extra glass vases are glued on top of a dollar store wine glass. It elevates the candle light and becomes a unique piece as part of this tablescape. Alternating the color of the napkins is another great idea.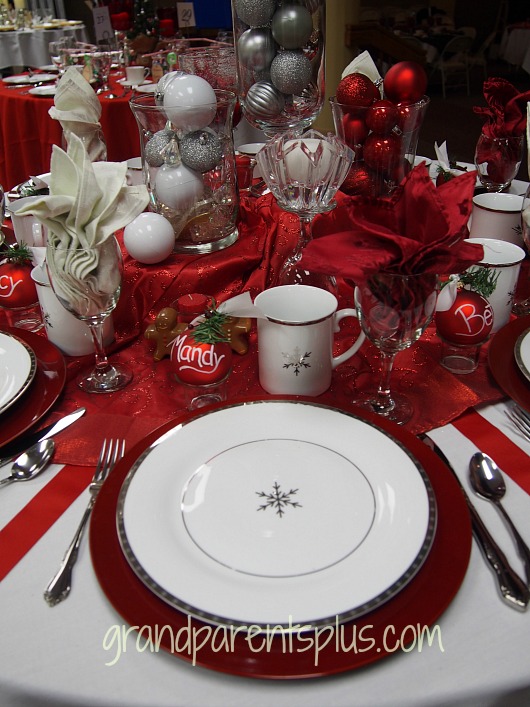 Adding burlap to a Nativity scene makes a lovely centerpiece.  A simple sprig of pine sets off the napkin.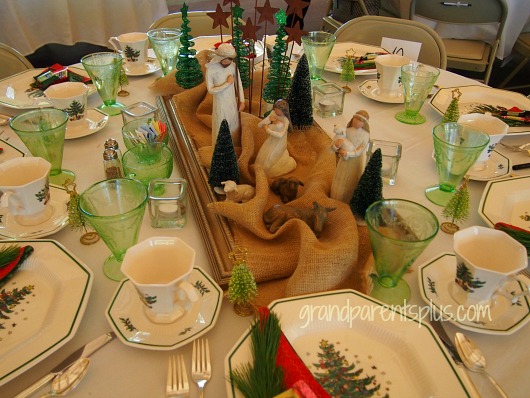 This is such a cute, whimsical snowman tablesetting. Notice the hat and hands! Snowman mugs awaited the guests.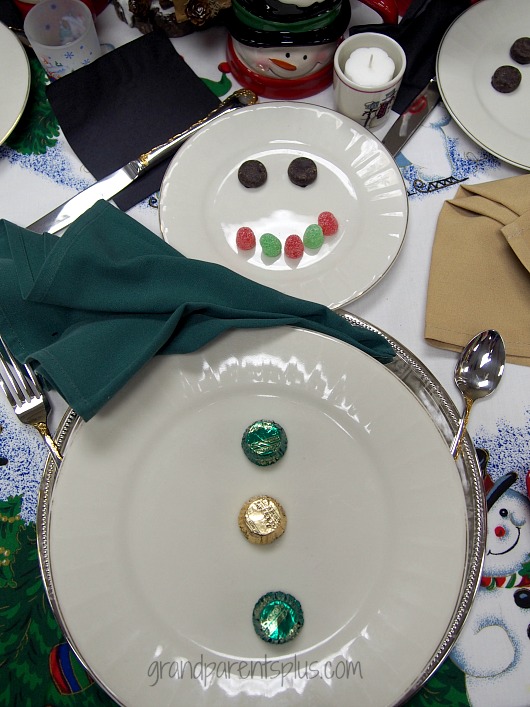 The centerpiece has a snowman collection to delight the guests. A cute snowman tablecloth is another added detail to this wonderful tablescape!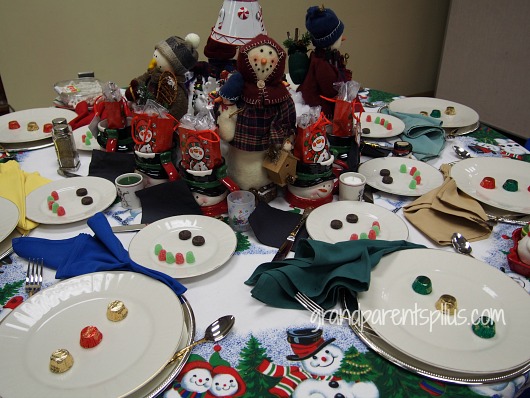 Black and white nutcrackers stand at attention around a sparkly, mirrored tree.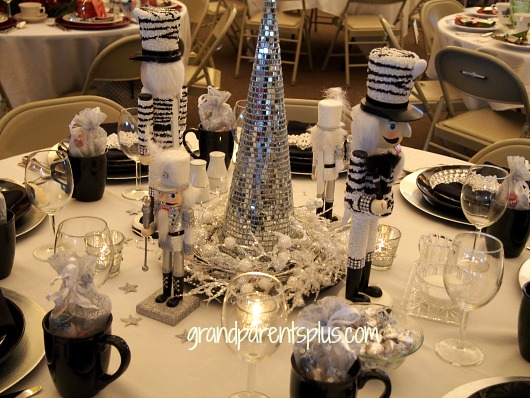 Beautiful black dishes topped with a silver salad dish add more glitz and detail to this elegant table!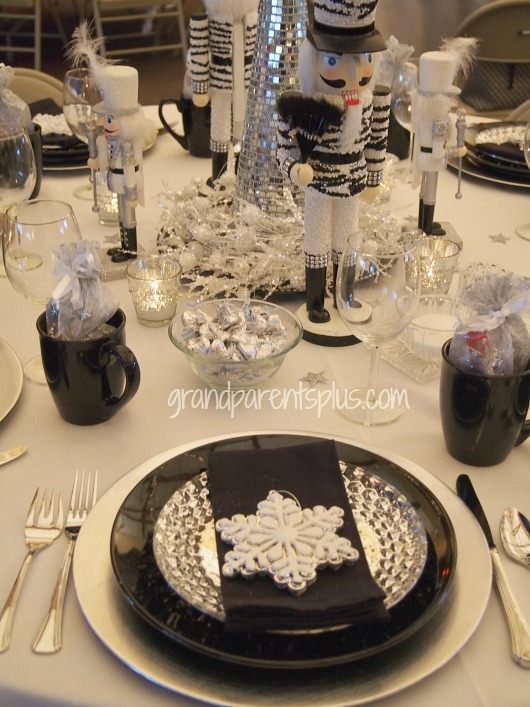 Here's a beautiful Caroler setting. The mirror underneath reflects the candlelight.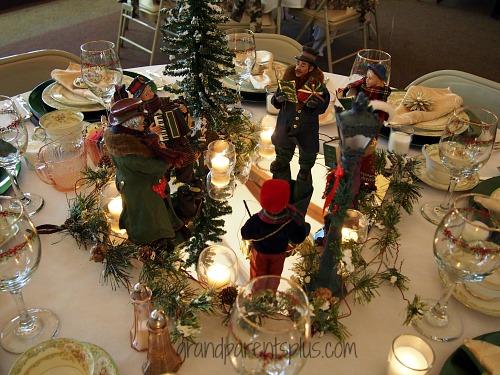 Antique china accented with green chargers compliments the entire setting.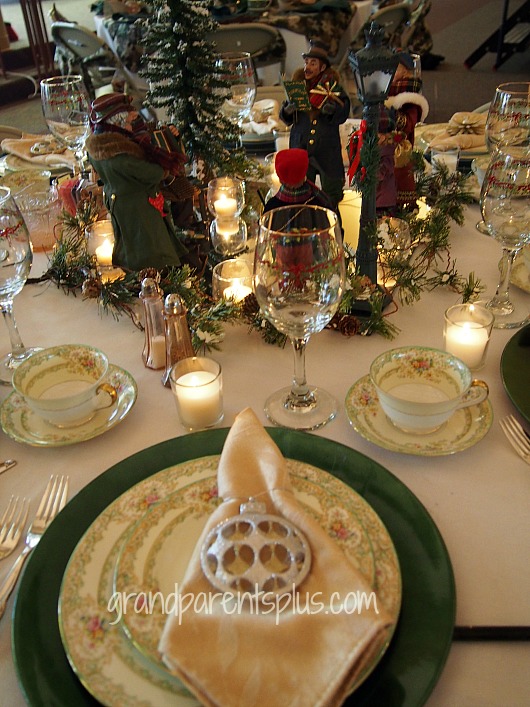 This tablescape also features Carolers, but these are handmade by her elderly mother. Individual Carolers are at each placesetting. This will be a keepsake for the family! Christmas is full of memories!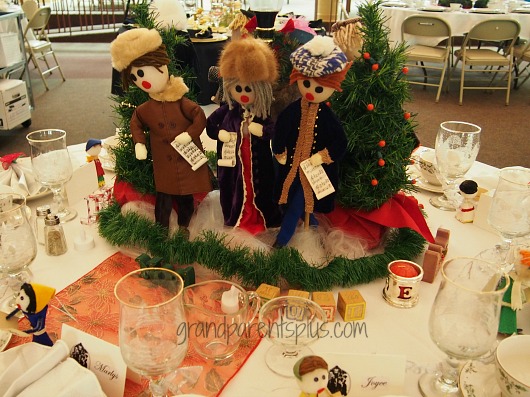 Yes, this is a Duck Dynasty Christmas Tablescape!  I give more detail on this Duck Dynasty Tablescape post. This is one of the tables that I decorated.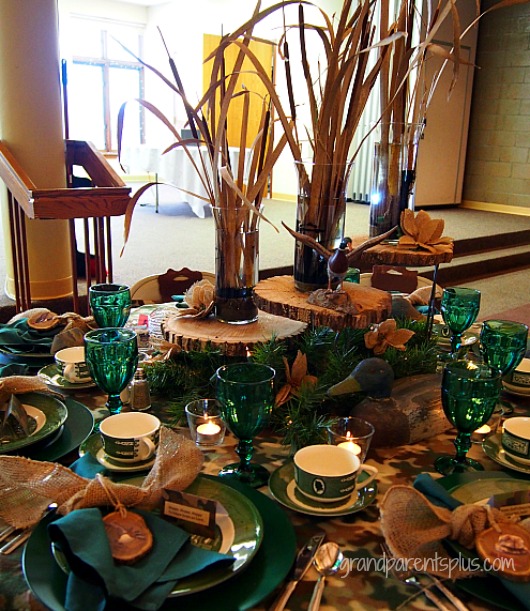 As I said, this is Part 1 of Christmas Tablescapes 2014.  Part 2 is to follow! 
Hope you enjoyed the variety! Perhaps it gives you some ideas for your own Christmas tablescapes or tablesettings! (I never know which one to call them)
Phyllis
This post is linked to many of the following parties…….
Pin It