Christmas Tablescapes 2015 Part 1
Oh, the creativity of the women at our church event! Each year the Christmas Tablescapes on each table are absolutely wonderful. We have a Christmas event that everyone looks forward to called a Christmas Extravaganza. Besides a wonderful Christ-filled program, the ladies attending enjoy seeing each table decorated by individual women in such gorgeous ways. It is a wonderful, festive way to start the season.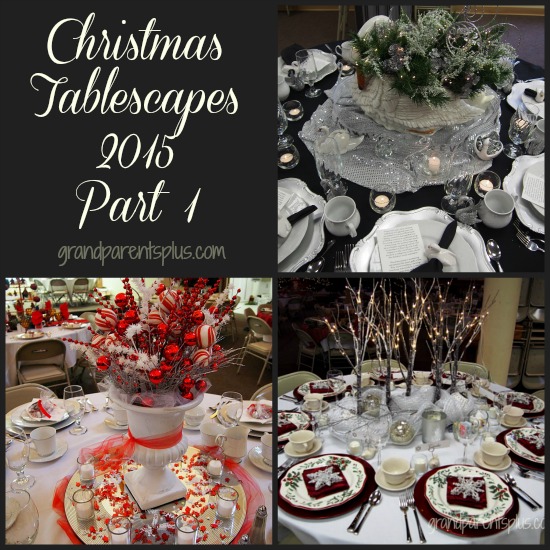 I just need to share these beautiful ideas with you. Perhaps it will spark some inspiration for your own tablescapes. Some are elaborate, some whimsical, and others are very simple and elegant. Some start with a china inspiration and others go with a centerpiece inspiration.
The first table centerpiece is four, graduated-sized milk glass serving pieces all tiered together.  It's decorated with artificial pines, tuffs of pink, red and cranberry ribbon, and topped with a pillar candle. How clever to use some of your favorite pieces to create a one-of-a-kind Christmas tree.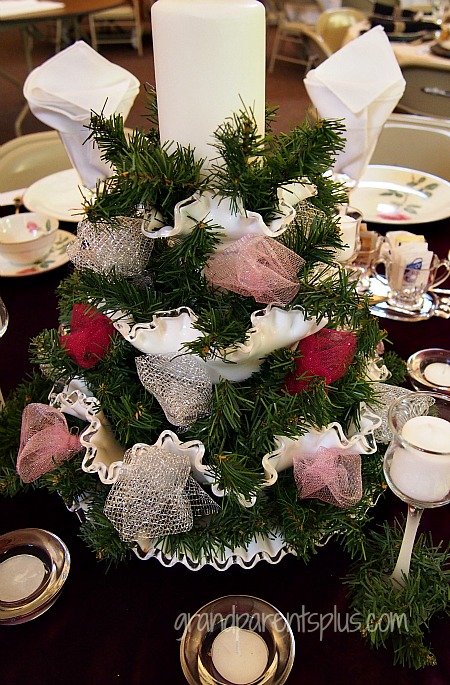 A burgundy tablecloth under the rose china makes a lovely vintage table setting.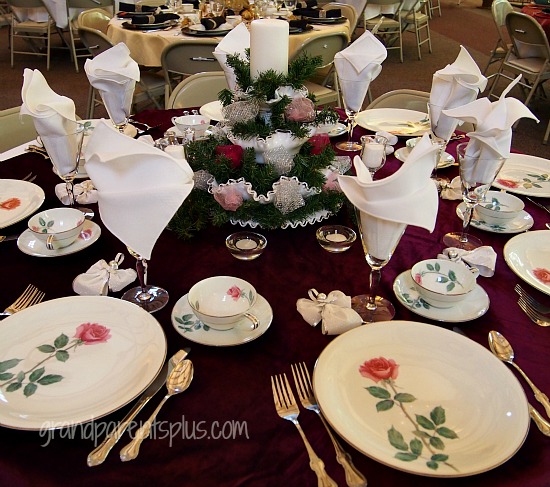 Lots of red and white balls accented with silver and red berries look great in the white garden urn. By placing it on a mirror base, the tea lights fill the table with light. Next summer, use the planter in your garden! Silver-rimmed, white dishes compliment the silver accents in the centerpiece.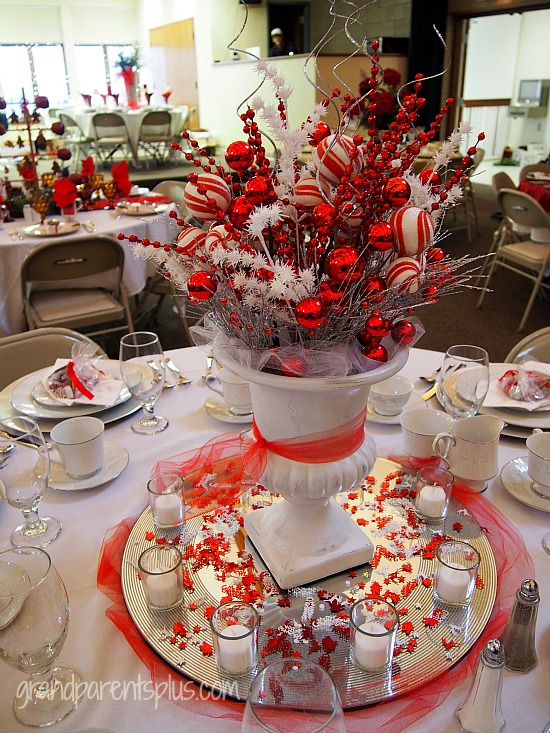 Not everyone lives in the northern regions that have snow, so why not have a Christmas table with a beach theme?
The circle wooden lantern has a candle inside surrounded by seashells. The artificial greens and flowers are typical of a tropical area, but do carry out the red and green of the season. Burlap on top of the table simulates the sand on the beach.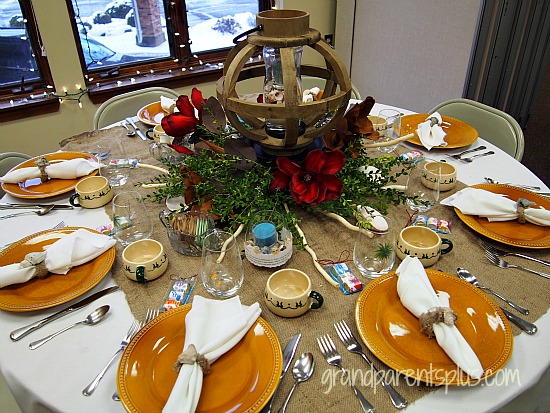 Lovely shell napkin rings fit the flavor of this Christmas table. Notice the glasses……they have a sticker attached to them to make them tropical as well! It make be cold outside, but this setting feels warm and fun!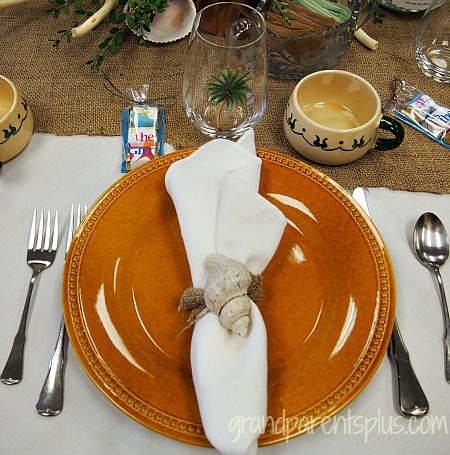 This elegant vase has rhinestones glued all around it. It is filled with greens and tied with a large red bow that flows down on the table. Three red pillar candles surround it.The white dinner set is accented with red napkins.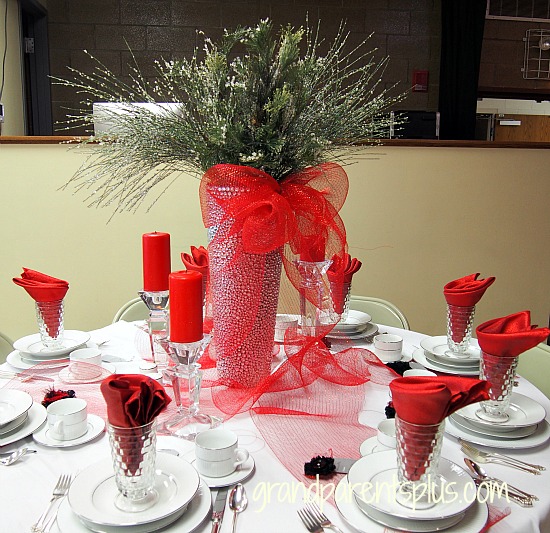 The two women that created this tablescape didn't have enough place settings for eight people. However, each had a coordinating set with roses on them so they combined the two sets for this tablesetting. The centerpiece has roses held in the tall vase with pebbles. Distilled water is added up to the blooms with submersible lights added for drama. The graduated glass vases also hold pebbles, submersible lights, and floating candles.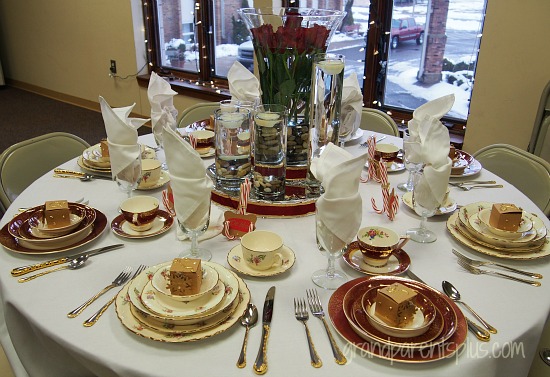 The centerpiece became quite dramatic when lit.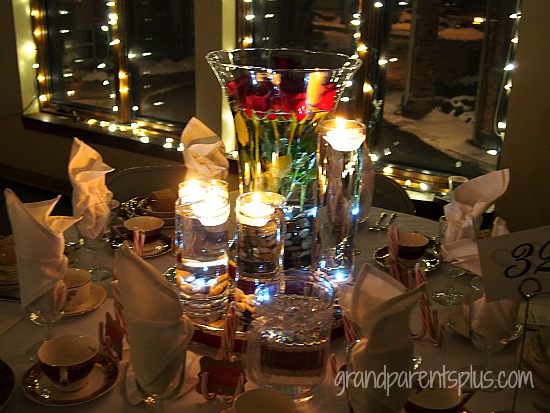 This centerpiece is made from a gold sprayed box, filled with white tissue paper flowers, and accented with tall gold floral stems.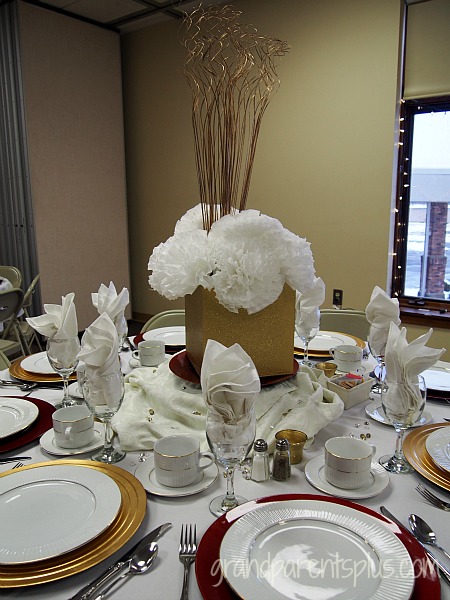 A detailed embroidered runner, placemats, napkins, and small dolls from Guatemala make this table unique. Christmas is celebrated around the world! The vintage soup tureen holds artificial pines and a candle. The glasses are also vintage pieces from her grandmother. How fun to create a table around special memories.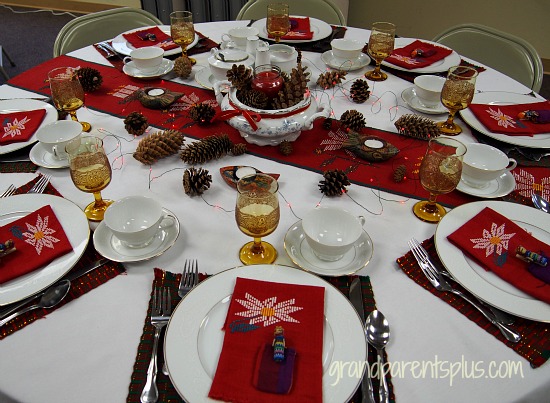 Even God's animals celebrate Jesus' birth! This is a whimsical, "beary" cute version of a nativity scene.  The figures are elevated on cuts from a birch tree. The woodsy table top adds to the theme. Notice the pine-tree glasses, too!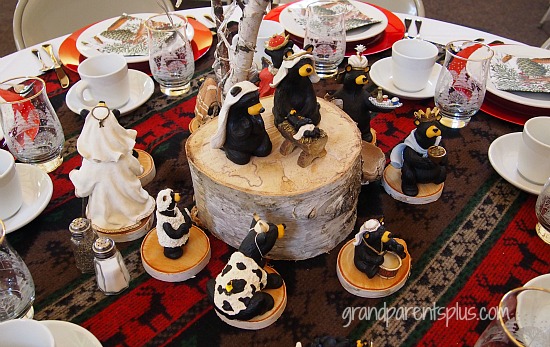 Five lit branches make this a festive, winter table. The centerpiece is tall, but guests can still see each other through the woods! Snowflake ornaments decorate the place-setting.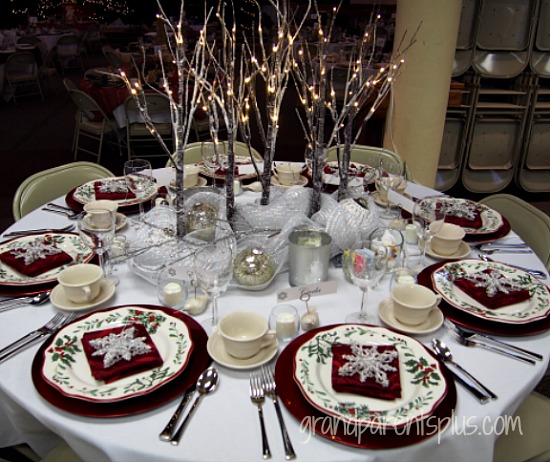 The last table for this party was the one that I decorated for this event. It is from the 12 Days of Christmas carol and represents the "7 Swans a Swimming" part. The song is actually a religious song that has a meaning for each phrase. Read the information on the card below.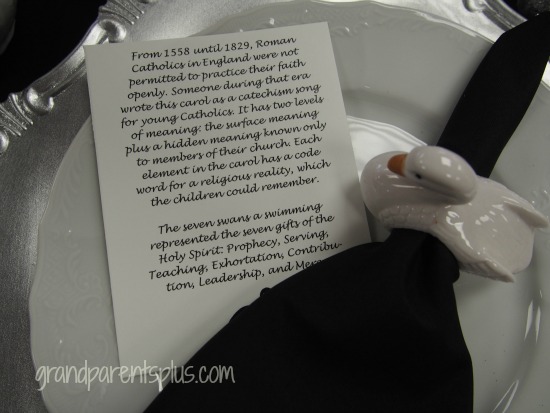 This swan usually sits in my bathroom with towels rolled and tucked into the opening. As a centerpiece, I filled it with artificial green pines along with white and silver floral additions. The small battery lights add a sparkle. Six other small swans circle the big one on  glittered silver fabric. 
Small silver swan ornaments sit to the right of each place-setting.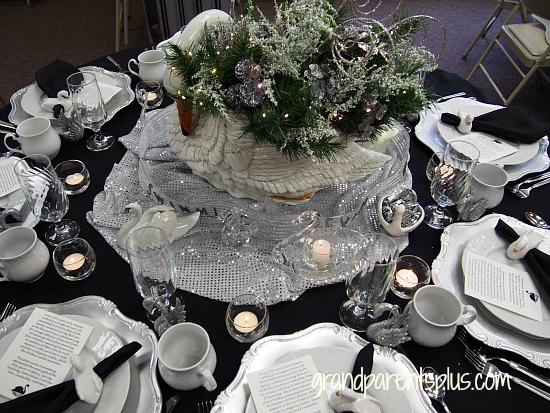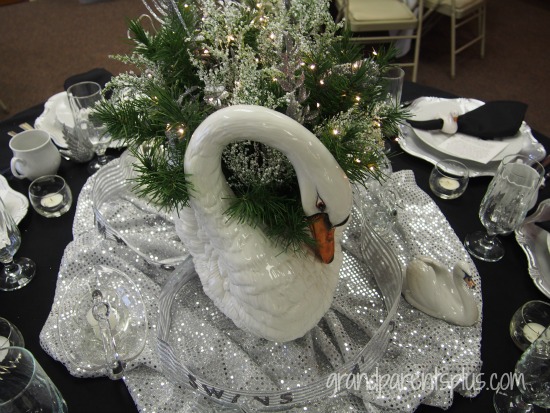 Did you know the meaning of "7 Swans a Swimming"?
I love to set a beautiful table, don't you?
These are just some of the Christmas Tablescapes I have to show you. More are coming in Part 2 and
Part 3. 
Subscribe so you don't miss the next posts. Your email is never shared or sold. 
Hope you enjoyed seeing this variety of tablescapes.
Phyllis
Follow on Pinterest.
post linked to these parties….
Pin It