Christmas Tablescapes 2015 Part 2
Looking for some more inspiration for beautiful Christmas tablescapes ?  Well, you came to the right place. Individual women from our church created these tablescapes for our annual Christmas Extravaganza. The tables are amazing! Each year, I think that they really can't come up with more wonderful ideas, but they do! The entire event is a beautiful Christ-filled celebration of the birth of our Savior. It's a wonderful way to start off the Christmas season.
Ready to see Part 2? If you missed Christmas Tablescapes 2015 Part 1, be sure to click on it, too.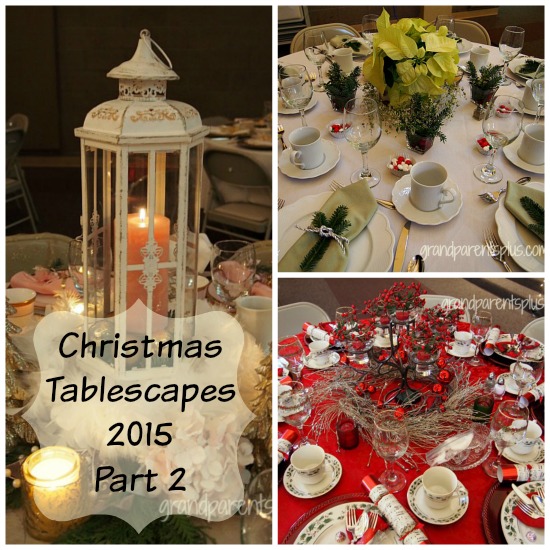 You don't always think of "pink" for Christmas, but this tablescape looks dreamy using pink, white, and gold. A soft feather boa with pink hydrangeas and sparkly gold trees all add up to a wonderful centerpiece display.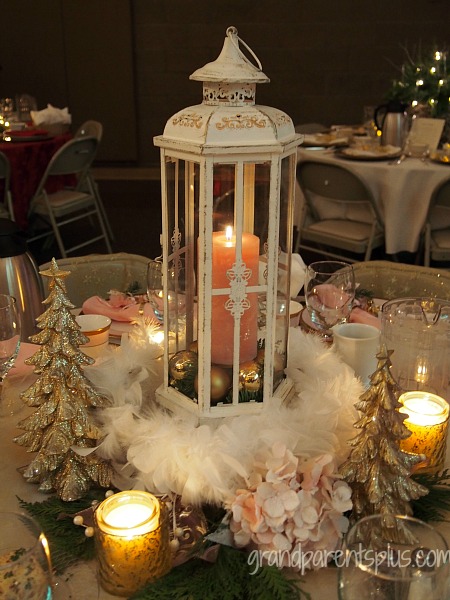 The individual place-settings are beautiful and inviting.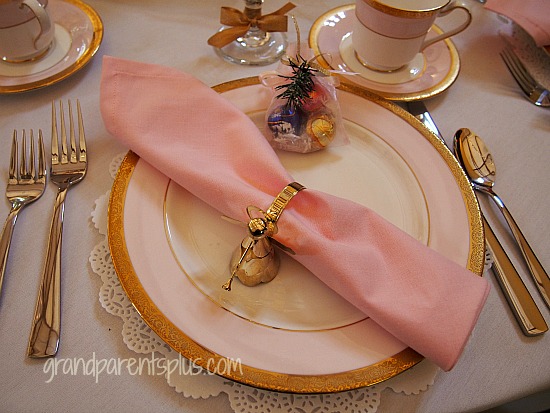 Here's a blue and gold tablescape featuring a white tree with small blue and gold balls. It is simple, yet elegant.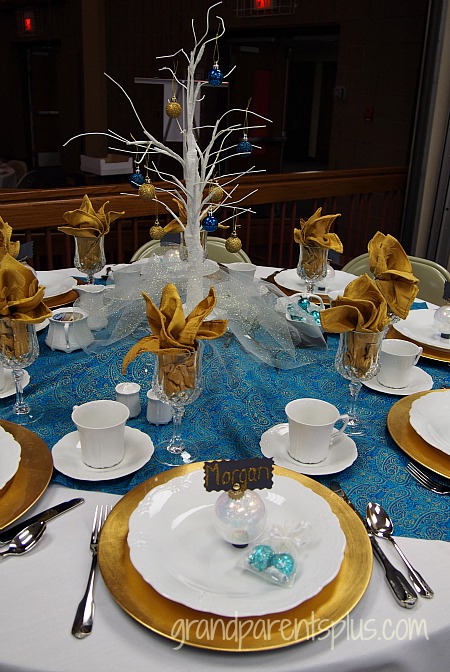 A poinsettia arrangement highlights this table along with gold and black china, goblets, and chargers. Napkins are tied with a pretty gold bow.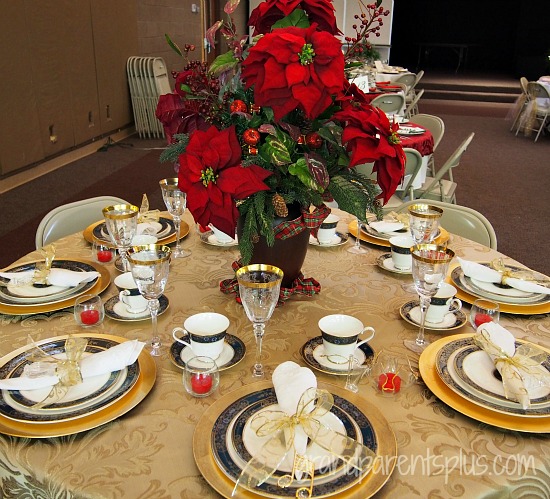 White, silver, and blue are the color combinations of this table. Pretty silver floral sprays are placed in three painted bottles. Each place-setting has a different cup and saucer!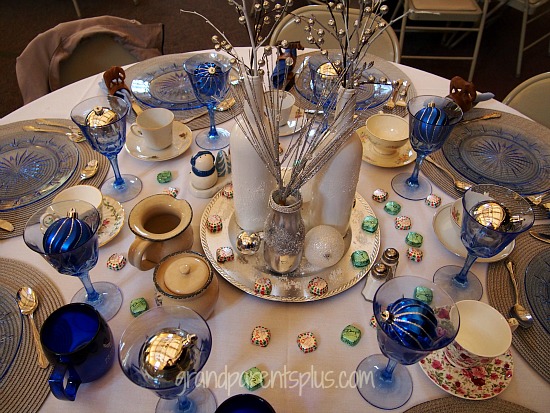 Gingerbread and apples! The theme is carried through from the red and green apple china. Amber goblets look great with this china. Wooden Santas surround the centerpiece.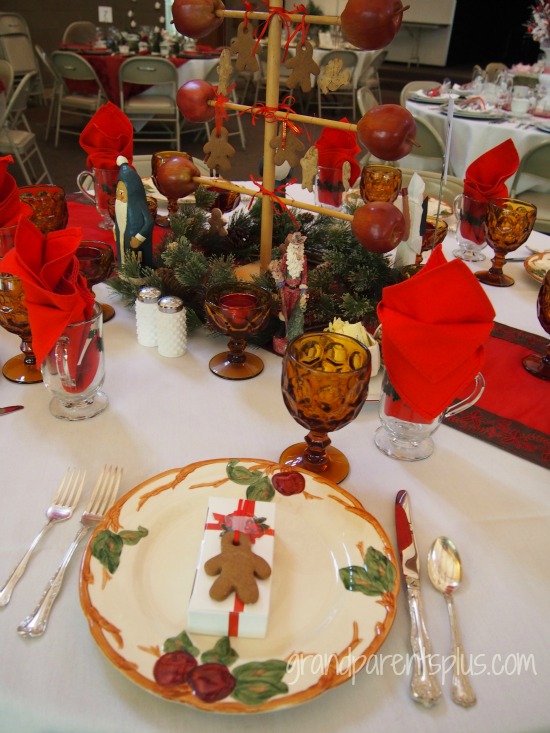 Do you love cardinals? They are such a beautiful bird and the cardinal theme is carried throughout this tablescape. The table-runner has cardinals on it and at each place-setting is a cardinal tin with some home-made goodies for the guests.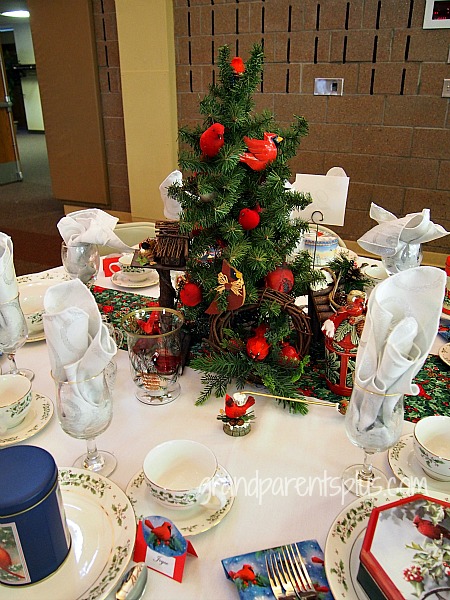 You see a lot of birch accents at Christmas. This tablescape is elegant with lots of woodsy accents. The napkin rings are made of wood, too. The combination of browns and blues look great together.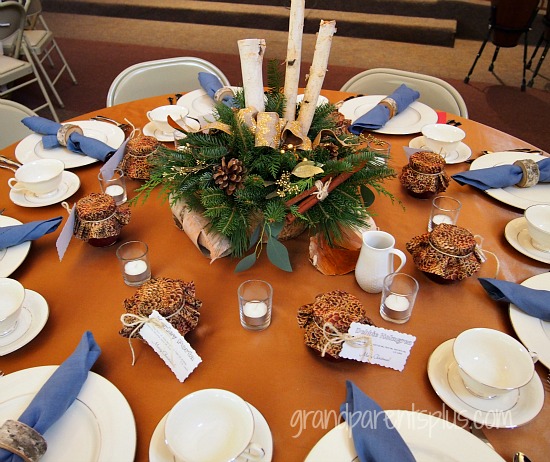 Lime green poinsettia blooms really set off this table. The dark green evergreen plants around it are a nice contrast.  The napkins have a spring of evergreen tied with silver roping.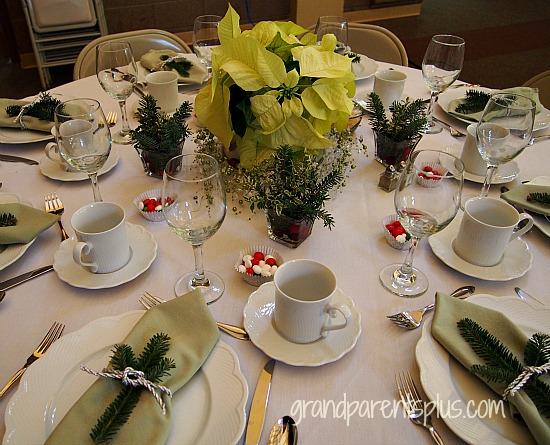 Among the candle centerpiece, a collection of teacups and a teapot are nestled in the evergreens to welcome the guests. Looks like a tea party is about to happen.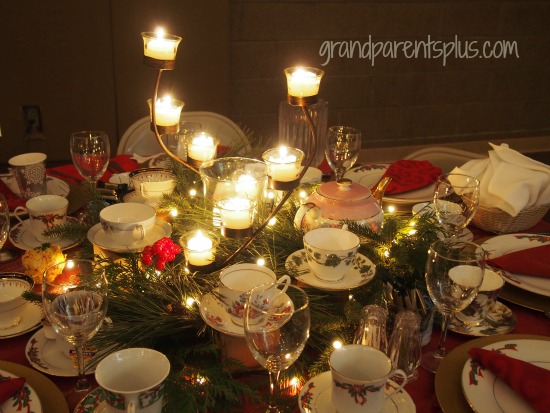 Each glass votive in this centerpiece is encircled on the outside by red berries. Sparkly silver pines with red balls create a colorful base for this tablescape.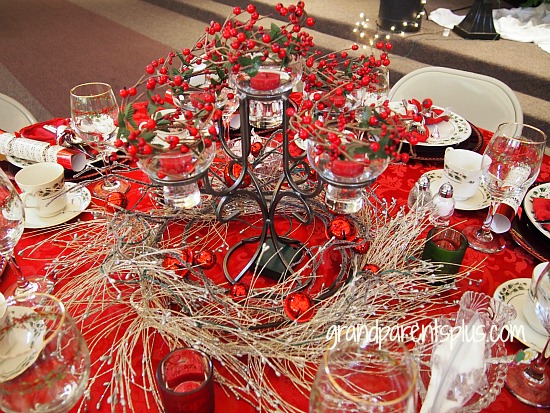 I love the way the silverware, tied with a red bow, is displayed on the plate.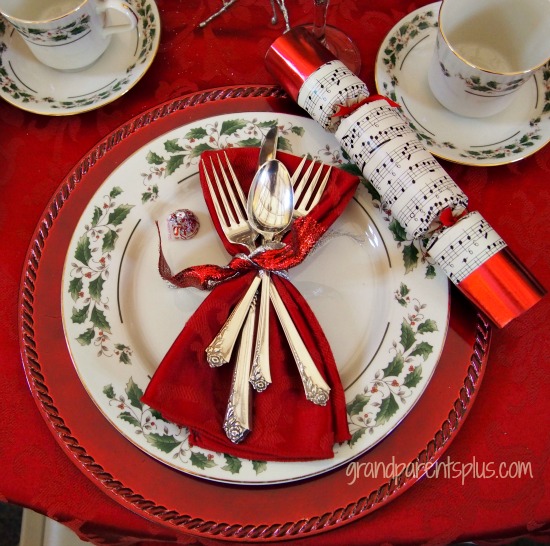 Do you know the story of the icicle? This centerpiece is made of evergreens, gold painted branches, lights and icicles.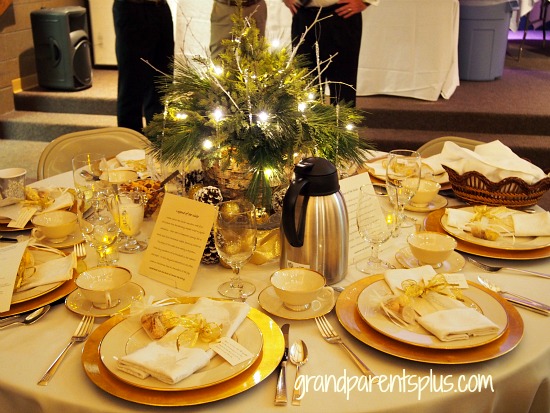 This is the legend……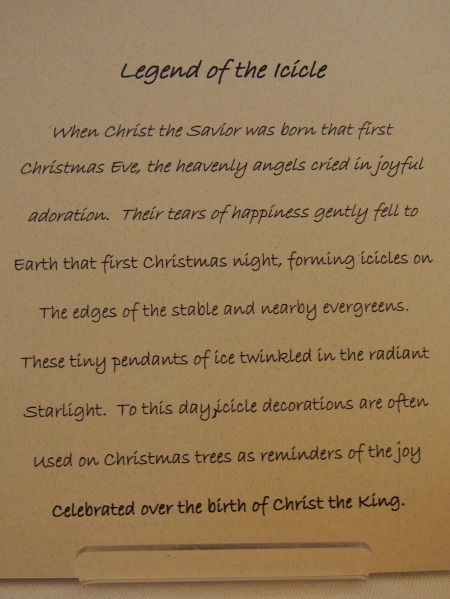 At each place-setting, this little reminder of the evening is for each guest.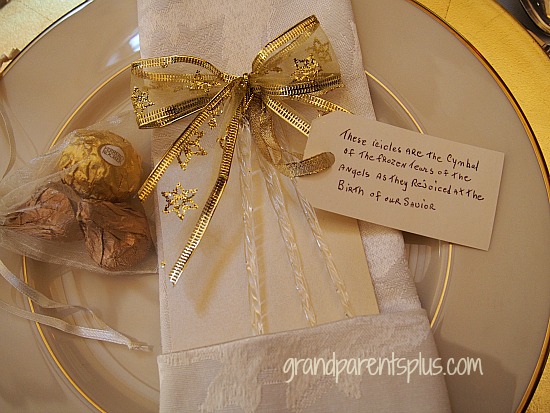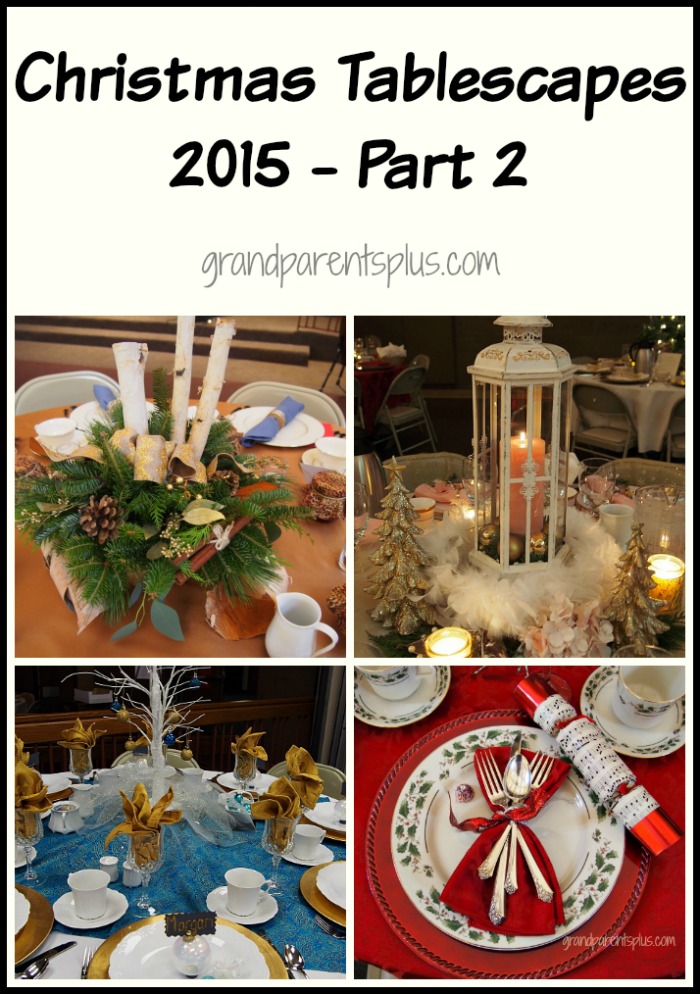 I've said this before, but I think a lovely table not only creates a beautiful greeting for your guests, but also makes the food taste even better! 
I hope you enjoyed seeing these Christmas tablescapes. Stay tuned for Part 3!
Have a blessed Christmas season!
Phyllis
Subscribe so you don't miss Part 3! Your email is never sold or shared.
Follow on Pinterest, too.
linked to these parties…
Pin It