Denim Wreath – No Sew!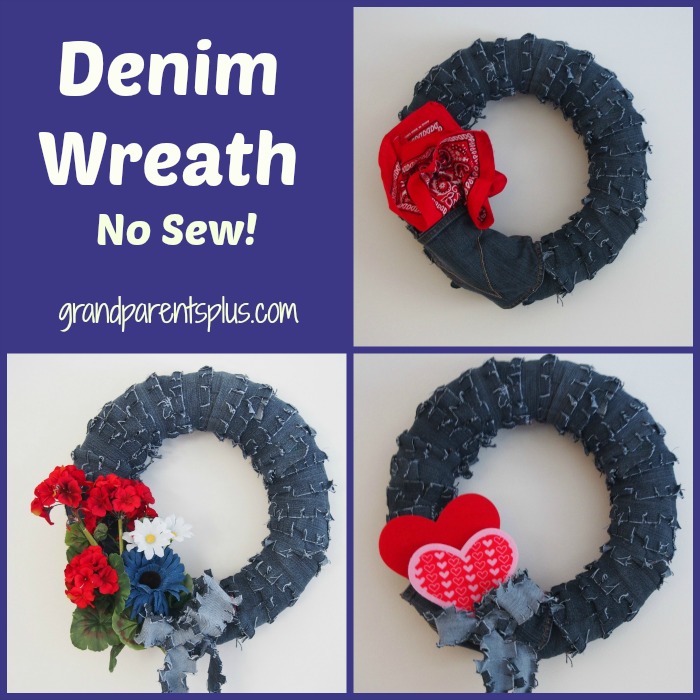 Denim Wreath?  Another up-cycle or re-purposing idea for your old jeans? Yes, but this one is NO-SEW! Anyone can do this! If you can cut with a scissors, you've got all the skills needed for this one!

After upcycling jeans and making a Scrappy Jean Quilt, I had some jeans left over and decided to create a "Denim Wreath" using the same scrappy method. You don't even have to be "crafty" to make this wreath!
Elementary kids and teenagers could easily make this Scrappy Jean Wreath. The  younger ones may need some help cutting the strips, but most elementary kids can handle that, too!
What makes this Jean Wreath special is the texture that comes from the fringing. If you prefer, you can mix jean fabrics for added color variations. Just experiment and make it the way you like it!
If you wanted to make a smaller wreath, just cut the strips a bit narrower and fringe only 1/2 inch at the most.
Materials:
Old jeans – just one pair of very large jeans will make this wreath
Scissors – sharp ones!
Common Pins or you also can use the glue gun if you prefer.

Straw wreath base or styrofoam (your choice) My wreath was 14 inches in diameter.

Directions:
First cut lengths of jean fabric ( I cut the jeans apart so they would lay flat. It is much easier to work with them this way. ) You don't have to be very accurate, just cut away! The strips I cut were about 3 1/2 inches wide. No straight lines here!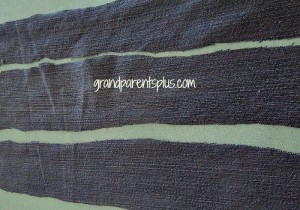 Fringe one side by cutting 1/2 -3/4 inch cuts on the side of the fabric. On one piece, fringe both sides. This will be the last piece of jean fabric to wrap around the wreath. That way, the fringe will show and you won't have a bare spot without fringe.
Wet fabric strips completely and throw in dryer. They will begin to fray. Repeat again until you get the fringed, scrappy look.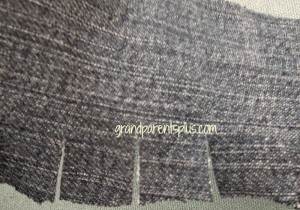 At an angle, start wrapping the strips of jean fabric around a straw wreath. I like to use the straw wreaths versus the styrofoam as they don't bust or break,  if dropped. Use a common pin to keep the fabric in place. When one piece ends, be sure to end it on the backside of the wreath. Now, pin another strip over it and keep going! Continue until you meet the first piece. Just be sure to connect all pieces on the backside of the wreath. They won't show anyway.  (You may notice that this straw wreath is wrapped in burlap. I just covered it up with the denim and when I want to change it back, no problem as nothing is glued or permanent.)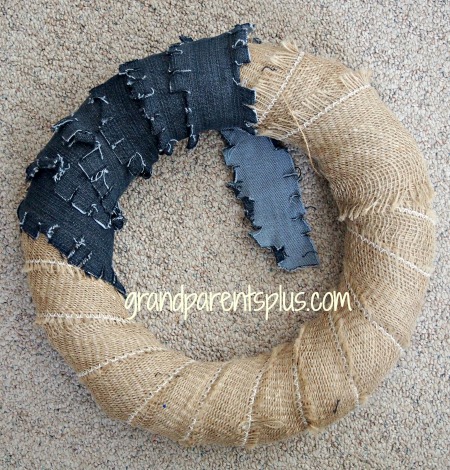 When completely wrapped, it will look like this….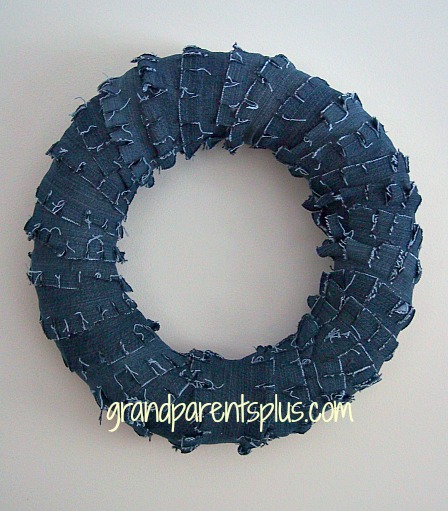 Now get creative and add embellishments.
I merely placed the rag heart on top and pinned it to the wreath. See the Rag Heart post on how to make this heart.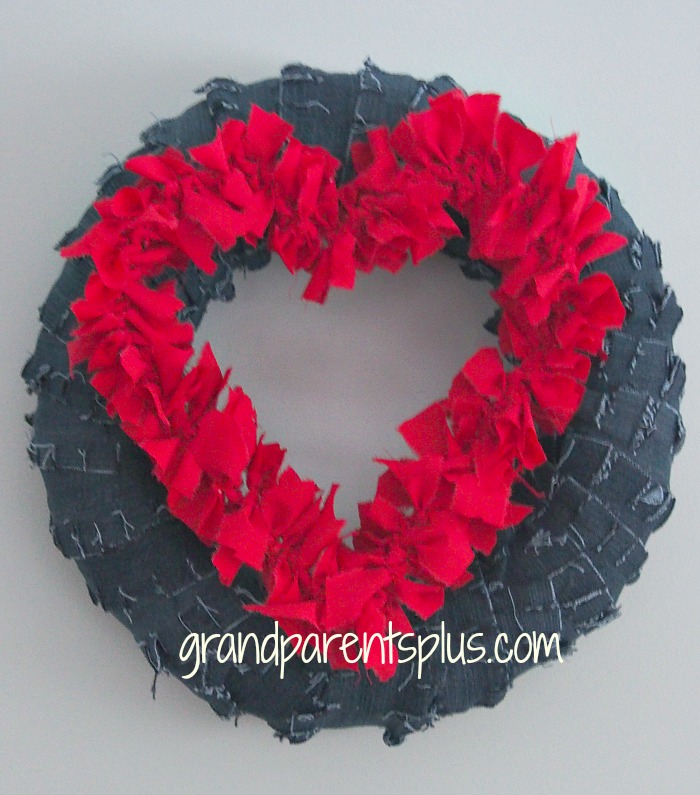 Or this….  The denim bow is made from a narrower strip, fringed, and tied so that the opposite side shows for some contrast.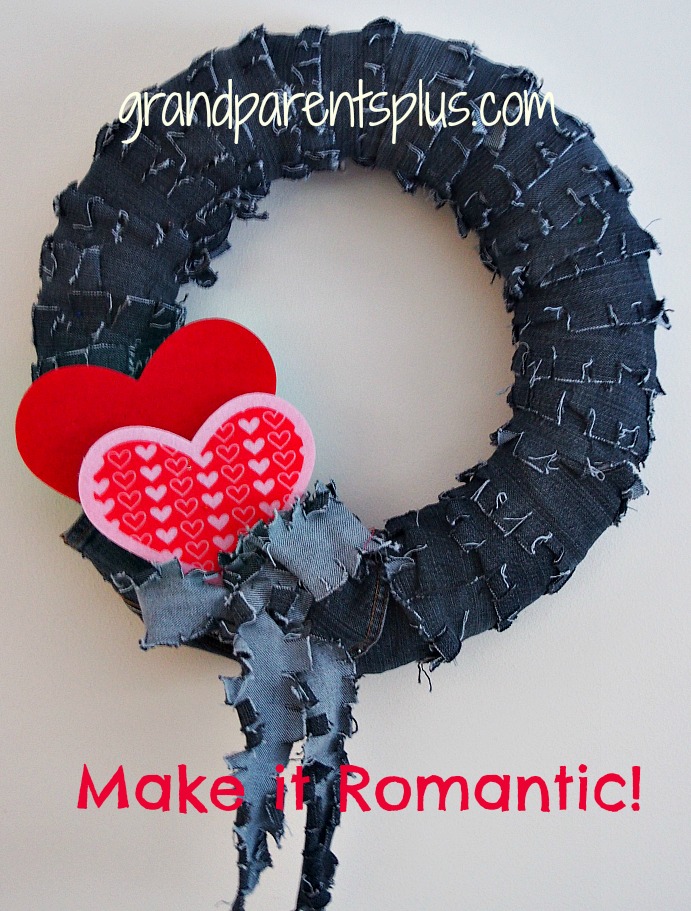 For a boy's room, pin a pocket on it and add a western red handkerchief!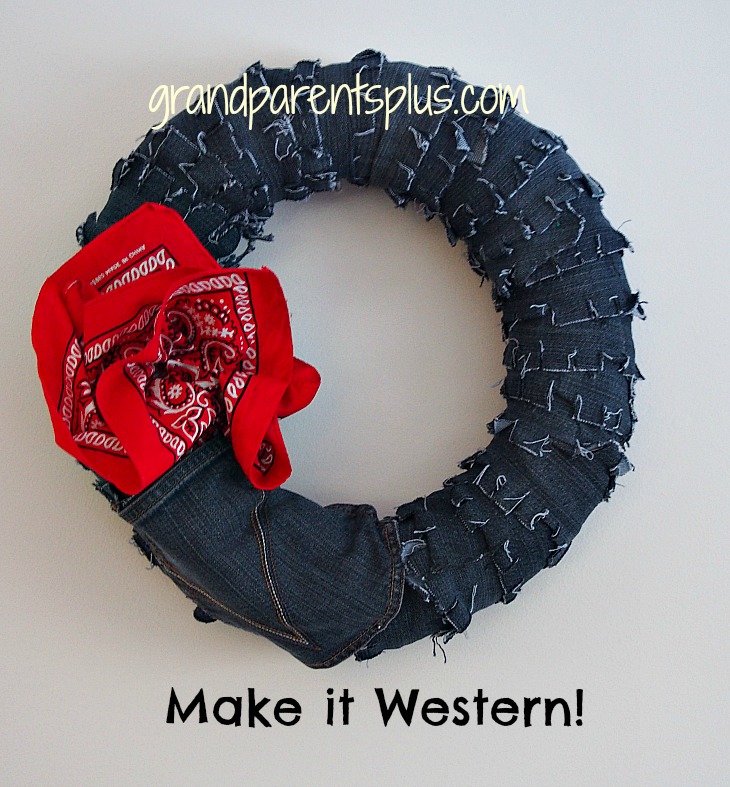 Or for Summer……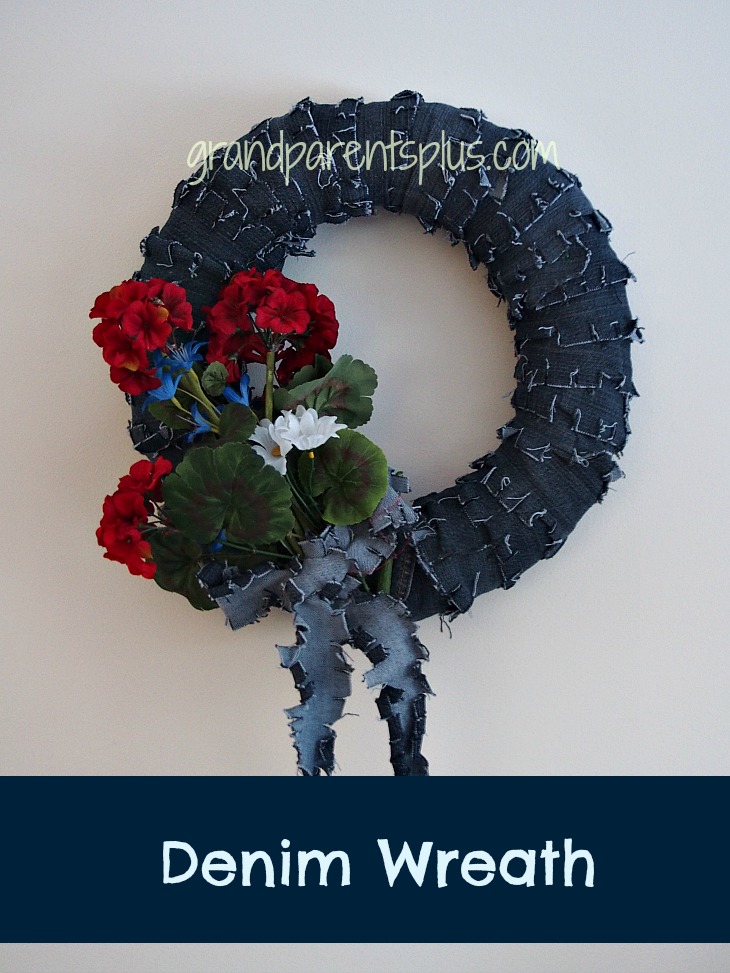 For 4th of July, add a flag!
Make it nautical!The possibilities are endless!
This wreath is a good base for any season. By pinning the arrangements, they are easy to change.  No need to buy or store multiple wreaths! However, if you prefer, you can use a glue gun.

Easy, isn't it?
After the posts on the Scrappy Jean Quilt and this Denim Wreath, you'll never throw a pair of jeans out again, right?
Have Fun!
Phyllis
Now, go ahead and subscribe so you don't miss new posts!
You can also follow on Pinterest or Bloglovin!
I appreciate your visits to my blog! Thank you for stopping by!
This post is linked to the following parties……
Pin It