DIY 4th of July – Memorial Day Centerpieces
No Vase?
No Problem!
Looking for easy, inexpensive, yet impressive DIY centerpieces
for the 4th of July or Memorial Day?
Well, check out these ideas!
These centerpieces won't blow away with the summer breezes. They will stay right where placed because of the weighted "vases".
Not only are these centerpieces great for Memorial Day or the 4th of July, but by adjusting the colors to your liking, they make lovely centerpieces at any casual outdoor wedding or party.
I got this centerpiece construction hint from a friend that worked as a floral designer.

It sure cuts down on the cost of multiple centerpieces.
Supplies:
Brown Lunch Bag with flat bottom (If you want taller centerpieces, use a tall, flat-bottomed, brown paper bag from a liquor store. Another option is to use white bags from a bakery)
Cat Litter or Sand
Paper Towel or Newspaper
Choice of Silk Flowers
Red, white & blue ribbon, twisty garland or raffia  
(I bought red, white & blue curling ribbon at the Dollar Tree)
Directions:
Open bag and scoop cat litter or sand and fill almost half way.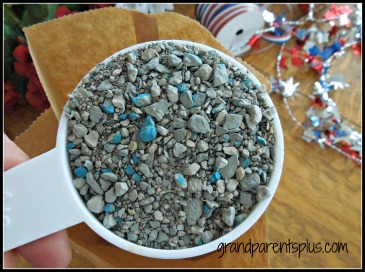 Take some paper towel, wad it up, and place on top of the sand or cat litter.
This gives your centerpiece so much weight that it will  stay on the table even when windy!
Add the flowers and tie tightly with a twisty patriotic garland, patriotic curling ribbon or just plain raffia.

Red, white and blue napkin rings from paper towel or toilet paper rolls add to the theme.  Complete directions are found here.
Another option for a decorative napkin ring is using a piece of twisty garland.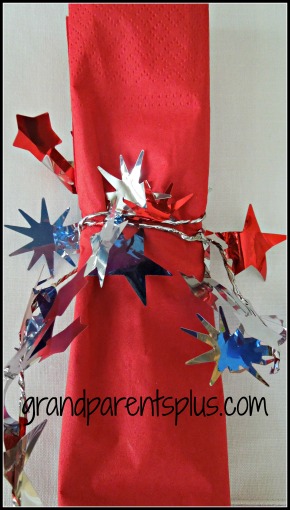 This centerpiece uses the taller liquor store bag.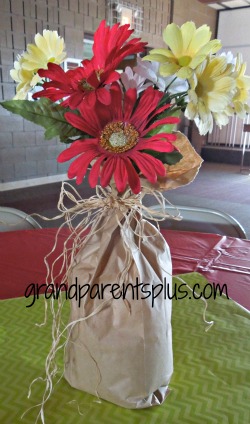 Another easy and quick centerpiece idea is from Catchmyparty.com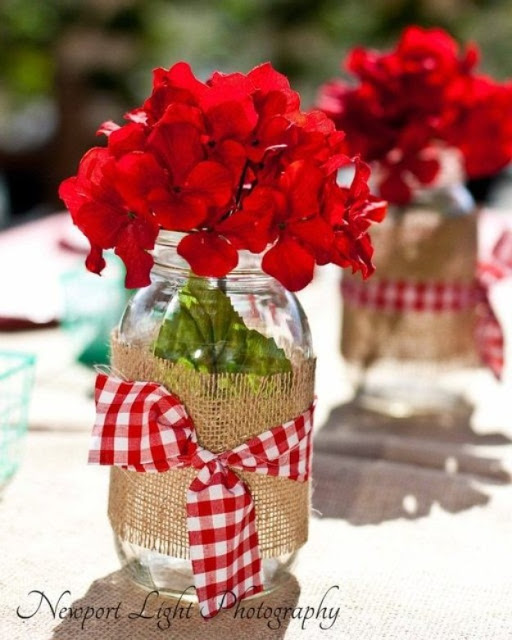 Use a ball jar wrapped with fringed burlap and tied with a ribbon. For 4th of July or Memorial Day, use a patriotic ribbon! After the party, reuse the jars for jam!

If you're on a budget, but want that extra special touch, these ideas are a super way to go! When I look at some of the table settings for the 4th of July on Pinterest and in magazines, I wonder, "Who sets such a formal table for the 4th of July?". To me, 4th of July is casual, no mess paper plates and napkins! These decorations fit right in with "casual" and "outdoors".
Besides that, as I said, they are so inexpensive, quick and easy!!!
(My kind of qualifications for a project!)
I hope these ideas are helpful and fun for you to use!
Yea! Red, White and Blue!
Celebrate the freedoms that we enjoy!
Are you the formal or informal type
for 4th of July / Memorial Day
get-togethers?

Phyllis (Oma)
Linking post to these parties….
Pin It