Duck Dynasty Tablescape (for Christmas)
Just for something fun and different, I made a Duck Dynasty Tablescape for a women's Christmas event. The women at my table were great sports with this unusual Christmas setting. I'll tell you about how I made the details of the tablescape. It would also work for Thanksgiving if you have hunters or Duck Dynasty fans in your family. I used the green camo as it seemed to go better with the Christmas decor.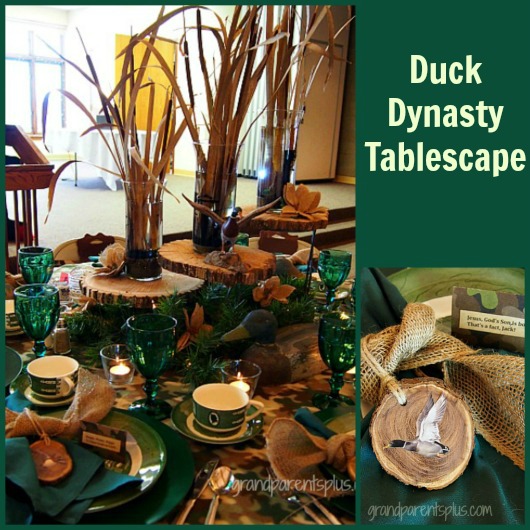 I wanted to have a hunting scene so I downloaded a silhouette of a man hunting ducks. Then, I copied it through a copy machine on an overhead projector transparency. It fit perfectly around the dollar store vases. Just before our first snowfall, I went into a swamp area and cut some cattail leaves. At a local floral shop, I found pencil thin cattails for 10 cents each! I expected that I could just add water and stick the cattail leaves in the vase, but when I tried it, the cattail leaves floated up! (Guess that's why they stand up so good in the wet swamp) So, I used floral foam covered with a square of burlap and secured them down in the vase. I used submersible LED lights down in the water to illuminate it.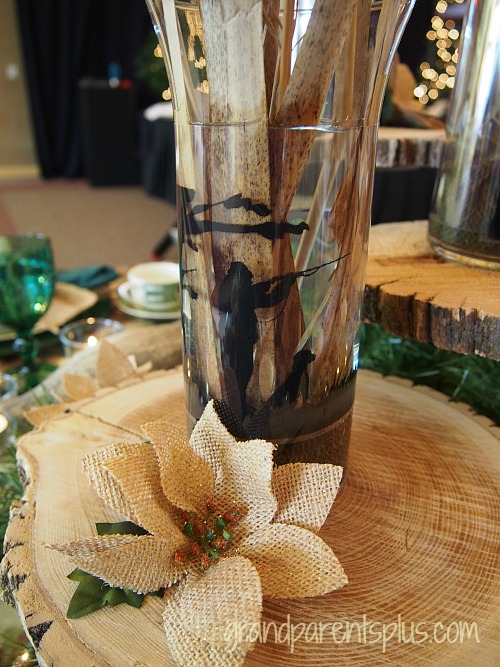 The burlap poinsettias were on a pick from the Dollar Tree. There were five blooms on the pick for $1.00! The chargers were $.38 on a closeout at Michael's because they were shiny orange! I painted them green. (Be sure to use spray paint that adheres to plastic.)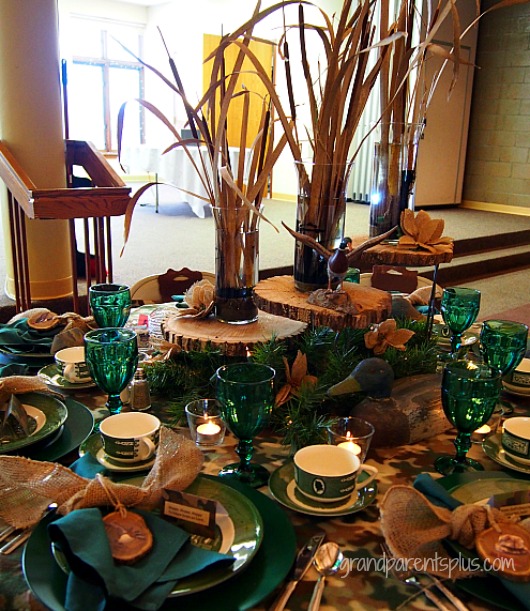 Christmas greenery,  battery operated lights, along with a few antique duck decoys, decorated the center of the table. At each placesetting, I used burlap ribbon along with wood slices to compliment the napkins. I found duck stickers and just adhered them to the wood slices which my husband had cut for me. I made Duck Dynasty phrases and placed them at each placesetting.  The phrases were:  "Jesus, God's Son, is born! – That's a fact, Jack! ", "Happy, Happy, Happy, to know Jesus!" – "Jesus came to save us! That's a fact, Jack!", "Jesus – God's plan for Salvation", "Happy, Happy, Happy – That Jesus died for me!"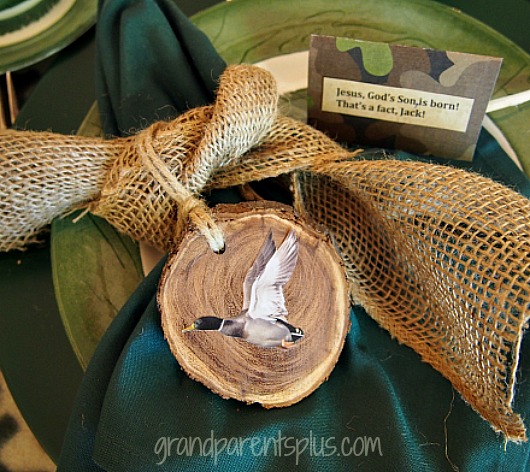 Another view of the table……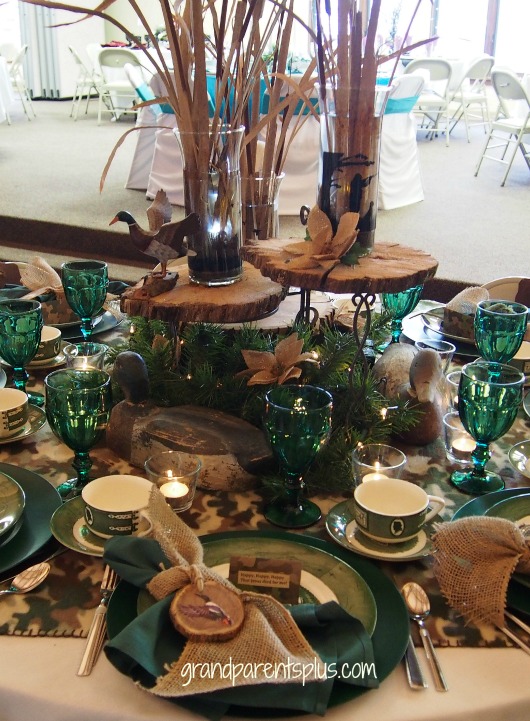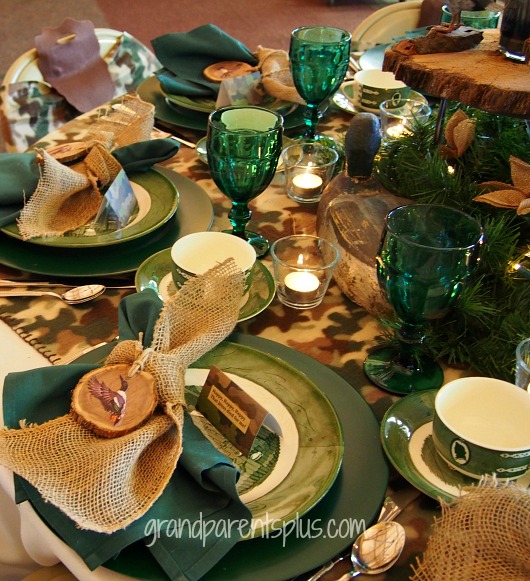 I tied the chairs with camo cloth. I found a thin fleece blanket at Walmart for $2.88. I bought two of them. One I used as a tablecloth and the other I cut into 6 inch strips and tied them on the chairs. I made felt beards, glued a straw on the side and stuck them on each chair. The felt was too floppy so I backed it with cardstock.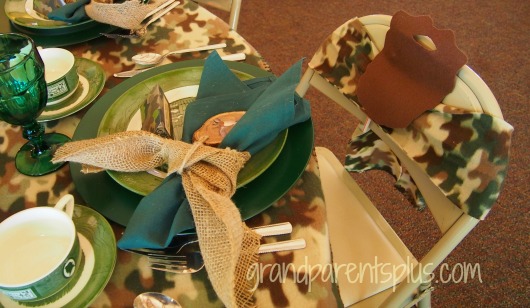 Here's my table guests…..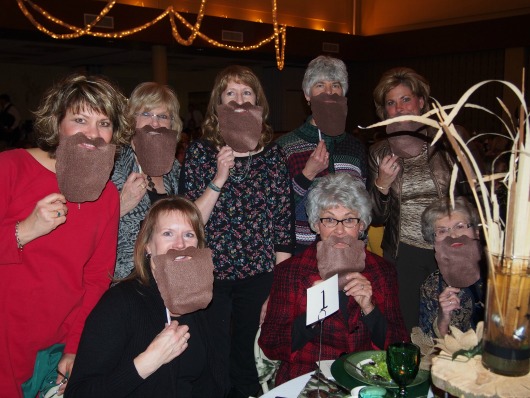 For a hostess gift, I wrapped a box of  party "Quackers"  (crackers)  for each guest (in Duck Dynasty paper, of course)!
We had a great evening!
Are you a Duck Dynasty fan?
Hope you enjoyed the Duck Dynasty Tablescape! I had fun coming up with ideas and arranging it.  
Here's a link to Duck Dynasty shows…
Phyllis
This post is linked to many of the following parties….
Pin It