Duck Themed Baby Shower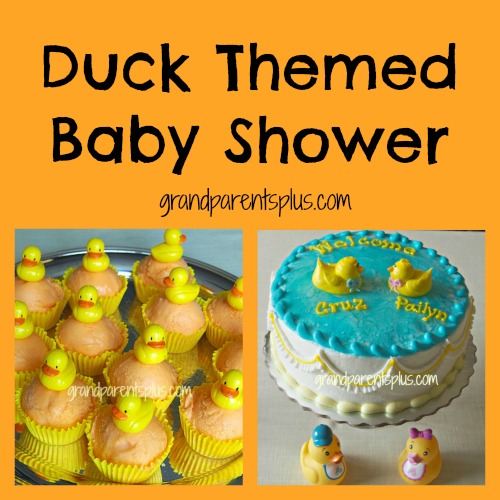 Just recently, my sister and I hosted both a double baby shower and a bridal shower in one day. It is a tradition that we give each of our nieces a wedding shower and with their first baby, a baby shower. Not every family member lives in town. So with lots of family coming in town on one weekend, we decided to do a double baby shower and a wedding shower. We did everything on one day so people didn't have to travel great distances again.  It was sort of a mini-reunion with baby shower, wedding shower and a big get-together that same night! WHEW! My sister was in charge of the first event and did a cute Duck Themed Baby Shower. I've posted the wedding shower that I was in change of doing. You may want to check it out, too!
The darling duck cake became the centerpiece for the table. It was a double baby shower for two of our nieces. One niece had a boy and one had a girl.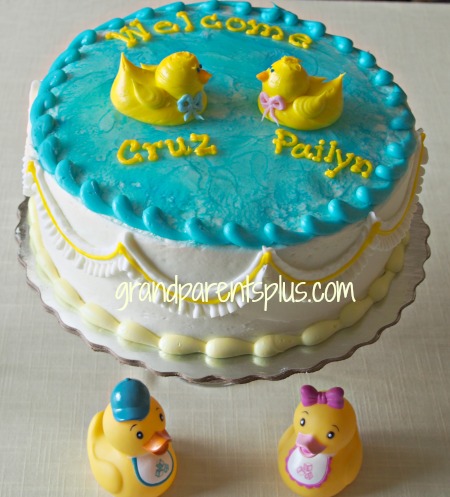 The Duck Themed Baby Shower was carried out in all different ways. Cheese slices cut with a cookie cutter looked cute on a plate! Very simple and easy to do.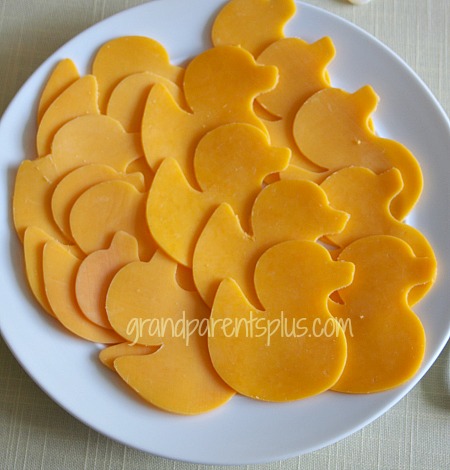 Ducks floated in the punch bowl…….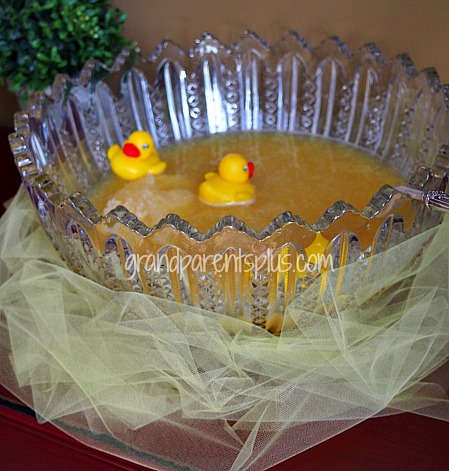 Yellow duck mints made from a mold, duck napkins and a whimsical duck with candies added to the theme!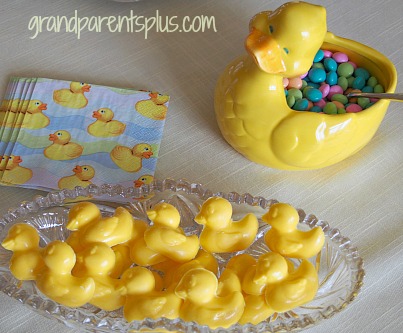 More duck themed decor…..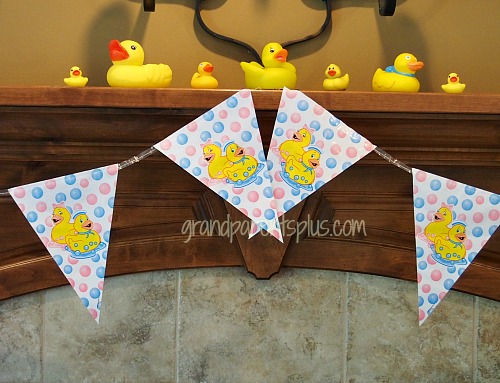 Knife, fork and spoon wrapped in the napkin and tied with yellow tulle added another decorative touch to the table.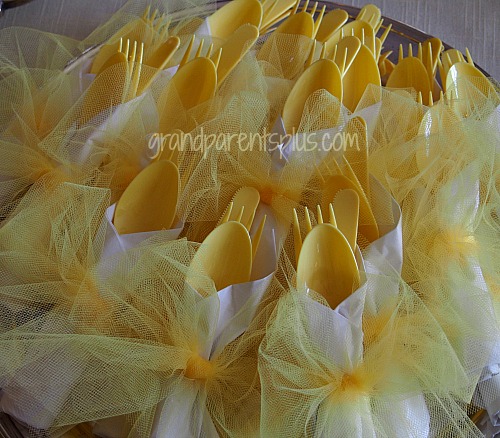 Along with cake served, guests picked up a scoop of orange sherbet decorated with a little duck pick!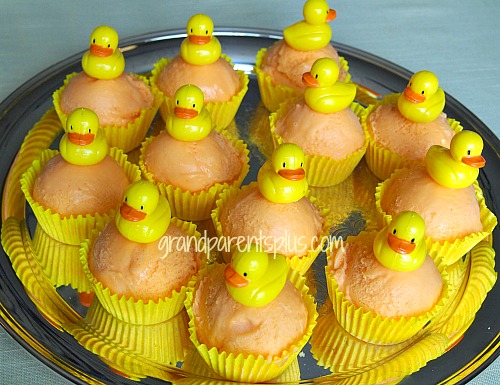 The serving table for the Duck Themed Baby Shower Brunch……
My sister made  two Amish Egg Bakes. One had Sausage and Mushrooms and the other was with ham!
Notice the baby buggy with fruit?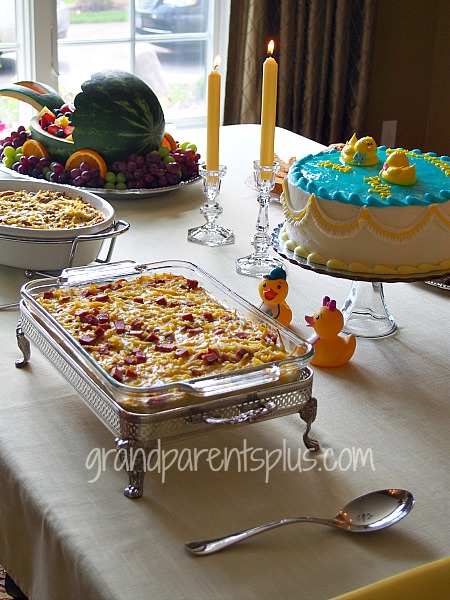 The complete menu included Amish Egg Bake (it was "yellow like a duck"), fresh fruit, Swedish Almond Rusks, assorted quick breads, cheese, cake, sherbet, duck candies, punch and coffee.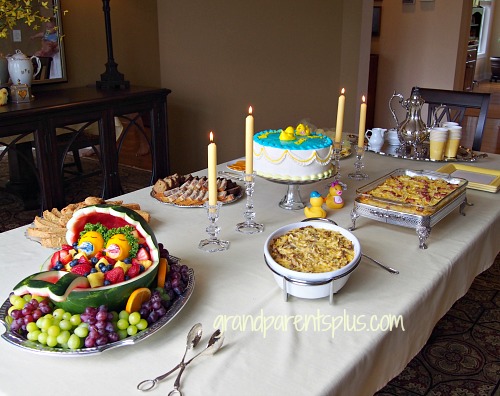 I'm sure you've seen this idea for the baby buggy before, but I think my niece did an excellent job making this one. The babies are lemons with curly lettuce hair.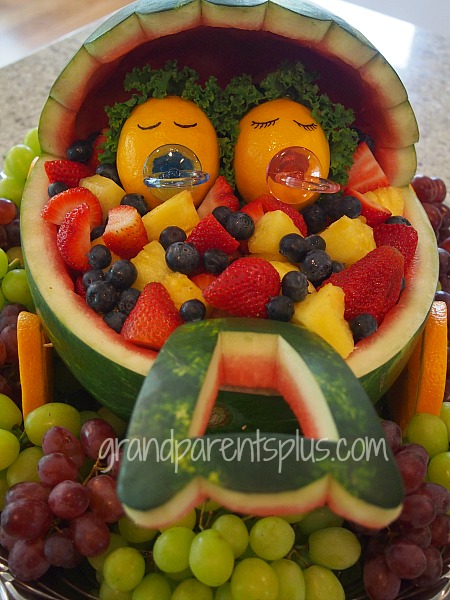 Did you notice the difference between the boy and the girl? One has curly lashes and the other one doesn't! So cute!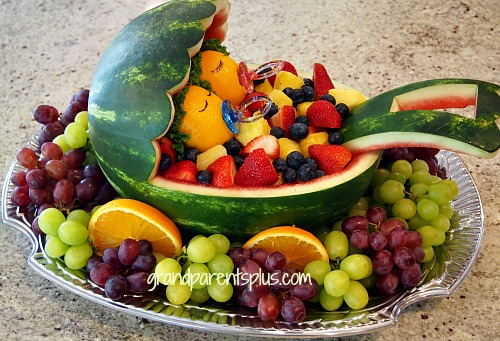 We played a "Duck Game" using facts about ducks and their ducklings! The winner won a little duck flashlight key chain and a " duck tape-measure".  It is pretty easy to find lots of little duck themed items in stores.
 Many of these ideas certainly are adaptable for a young child's birthday party, too!
Hope this gets your creative juices flowing!! Now, wasn't this post just "ducky"?

Thanks for stopping by,
Phyllis
You may subscribe on the sidebar so you don't miss future posts!
Follow on Pinterest and Bloglovin, too!
This post is linked to many of these parties……
Pin It