Easter Cross – Amazing Grace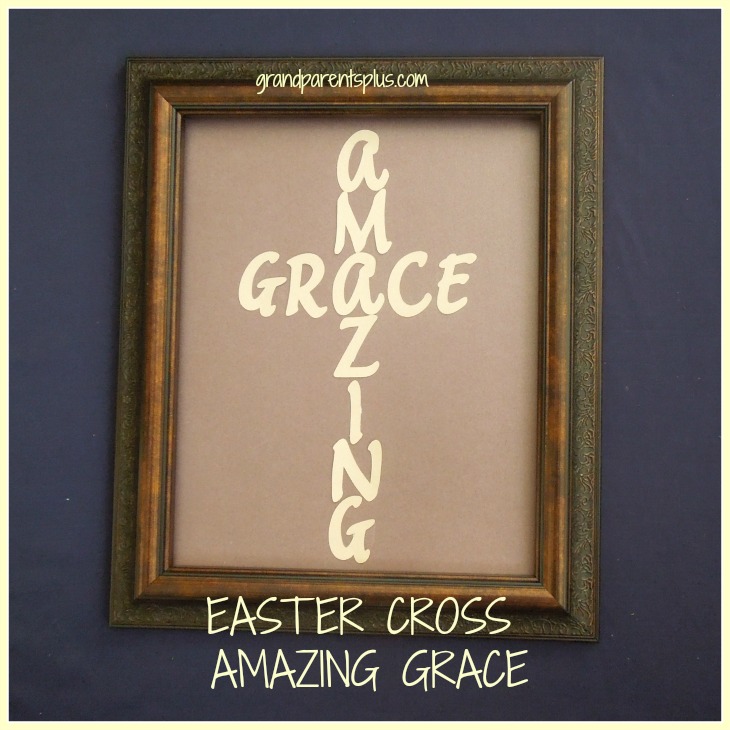 This easy Easter craft of the "Easter Cross- Amazing Grace" is a meaningful reminder of the sacrifice Jesus made on the cross and the "grace" (undeserved free gift") that is extended to all who call on His name. The wonderful gift of salvation is given to us by His payment of our sins! AMAZING!
Below is the inspiration for the craft……   Looks great, but you need wall space to hang it! Plus it is expensive to do!
This idea was on Pinterest. The original post is from keierleber It was the inspiration piece that gave birth to a simple and less expensive idea that became the craft  for our Mops group (Mother of Preschoolers) at our church. No, I don't have preschoolers, but serve as a mentor mom to this wonderful group of moms.
The original cross is made from large letters purchased at craft store which are glued together to form this cross.  It looks "Amazing" and I love the message, but it was expensive to buy each of these letters. Since that didn't fit into the budget, a member of our planning group had a Cricut and was willing to do the letters.
She used plain copy paper and made them 1- 1/2 inches tall. They worked perfectly! The cost factor was perfect, too!

Using scrapbook tag-board paper for the background, the letters were arranged on an  8 x 10 piece. We used mounting tape to adhere the letters to the background.  No messy glue! The finished product was placed in an inexpensive 8 x 10 frame to display!
With the  1   1/2 inch letters pre-cut, it only took 20 -25 minutes to put together! Of course, part of that time was having fun chit-chatting away and looking at what others were doing with their creations. For you, it may take even less time.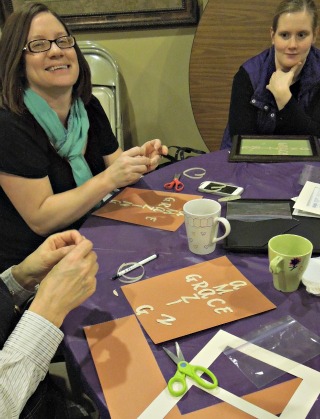 They turned out amazing! The moms took them home to display the real message of Easter! The framed cross is easily displayed standing or hung on a wall!

After  Mops ended, the idea came to me that this would work for kids by making it more kid-friendly. It makes a great craft for Wednesday night church clubs or Sunday School. By using foam letters (easier for kids to handle) and lightly placing a line for kids to follow down the middle vertically and horizontally, they would be able to make one, too! So off I went to get the foam letters…..  Foam letters are hard to find in one color, so use the cricut letters if you don't like the multi-colored letters. Also, I found it very hard to find lots of "Z's"' in one package. If you are making just a couple, the foam letters work, otherwise find someone that can cut out the letters.
Using small pieces of mounting tape works better than glue. Glue gets too messy for these letters. If  you are cutting out letters, making them larger makes it easier for kids to handle. If using larger letters, just use a legal-sized piece of paper and use a glue stick!

 This is the "elementary and up" kid version of this craft! I used construction paper for the background. It is simple, easy, inexpensive, and yet meaningful!! Notice the "n" on its side is a "z" and the "m" is an upside "w"!! It's the best we could do for letters!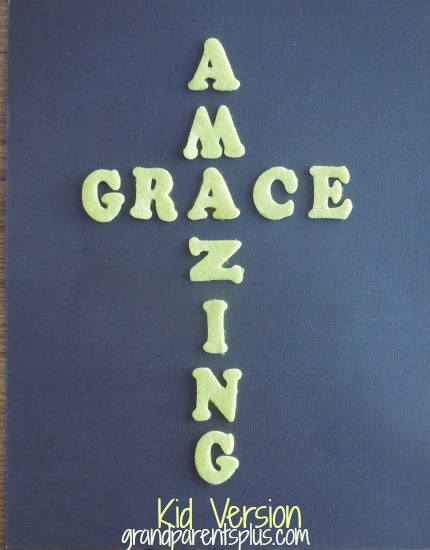 This craft provides a great opportunity to explain to kids the meaning of the Easter Cross.
Hope this gives Sunday School teachers, club volunteers and parents a great tool for talking about the real meaning of Easter!
John 3:16   For God loved the world so much that he gave his only Son so that anyone who believes in him shall not perish but have eternal life. (The Living Bible)
There's a great kids' song called "A-M-A-Z-I-N-G. My grandkids love it! Check it out on Youtube.
Have a blessed Easter!
Phyllis
I invite you to subscribe to future posts on the sidebar!
Follow on Pinterest and Bloglovin, too!
This post is linked to the following parties…….
Pin It