Easy Cheesy Potatoes – "Shreds"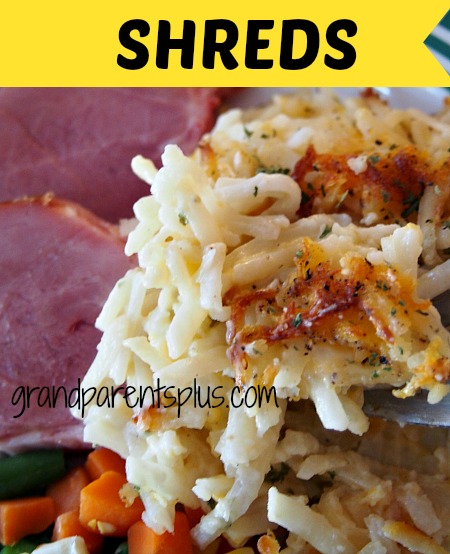 In my book, when you serve ham, you've got to have cheesy potatoes to go with it! They just naturally go together! The easiest and best cheesy potatoes are called "Shreds"! They take hardly any time to put together and taste fantastic! I'll give you a couple of versions of them and you can choose which you think is best! I use the first one more often.
Both kids and adults are crazy for these potatoes! Don't plan on lots of left-overs!  
Shreds – Cheesy Potatoes
Ingredients:
2 packages of 30 0z. frozen shredded hash browns – thawed
2 cups of shredded Cheddar Cheese (or combination of cheddar and another cheese)
2 pints of heavy whipping cream
2  small chopped onions (sautéed) – optional
Salt and Pepper to taste
Directions:
Place a layer of shreds in an ungreased 9 x 13 pan. Sprinkle with salt and pepper and a layer of cheese and onions 
(This looks like it won't fit, but it will.  It cooks down!)
Repeat the same with the second layer.  Pour cream over the top covering all areas.
Bake, uncovered, at 350 degrees for 60 minutes until bubbly and hot in the middle!
Serves 12
For making a smaller batch, just use 1 package of shredded potatoes, 1 cup of cheese, and 1 pint of cream.
For an even cheesier version…..
32 oz. bag of frozen shredded hash browns – thawed
2 cups of shredded or grated mozzarella cheese
2 cups of grated Cheddar cheese
1 cup of grated Swiss
1 pint of whipping cream or half and half
Onion
Salt and Pepper
Combine and place in 9 x 13 pan and bake uncovered for  1  1/2 hrs at 325 degrees.
Both versions are delicious!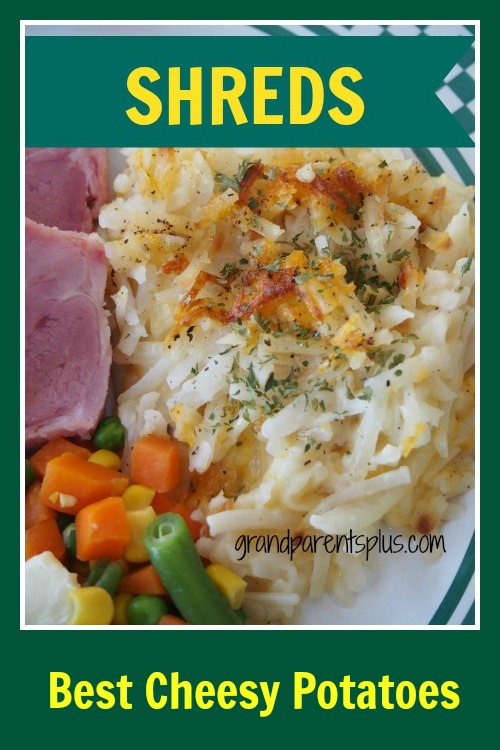 If you serve ham with the Best Cheesy Potatoes – "Shreds", check out the "Juicy Ham Every Time" post!
YUM!
Enjoy!
Phyllis
Be sure to subscribe so you don't miss future posts!
Follow on Pinterest and Bloglovin, too!
This post is linked to the following sites…..
Pin It