Eggs Ortega – Breakfast Casserole!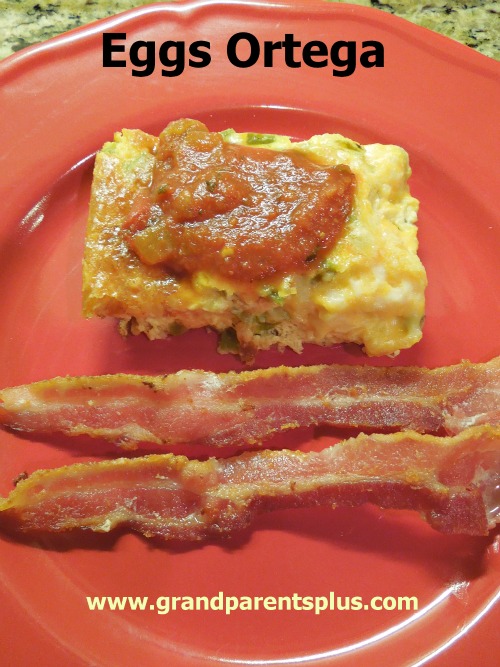 I love this easy "no-bread" breakfast casserole!!

I have a refrigerator that does not have a lot of space! UGH! When entertaining, (especially holidays) I often don't have room to have overnight egg bakes taking up room in the frig  (especially if I need two breakfast casseroles). Well, this is a quick breakfast casserole easily put together in the morning! Also, it doesn't have all that bread! When you put it together, you wonder how it possibly can turn out! Not only is it so-o-o good, but it is lower on carbs and calories than most breakfast casseroles. If you happen to have leftovers, it freezes well, too! Just pop a piece in the microwave for a quick breakfast. 
I hope you enjoy it as much as we do!
Eggs Ortega
Ingredients
8 oz. evaporated milk  (I've used skim evap. milk,too)
12 eggs beaten with 1/2 tsp. salt
2 small 4 oz. cans chopped green chiles (mild or hot – your preference)

1 lb. shredded Jack Cheese ( I've used low-fat Jack Cheese, too)
1/4 cup flour
Directions:
In separate bowl, beat evaporated milk with 12 eggs and salt
In greased 9 x 13 pan, Alternate and layer 1/2 of  flour (1/8 cup), cheese, chiles
and repeat with second layer just the same.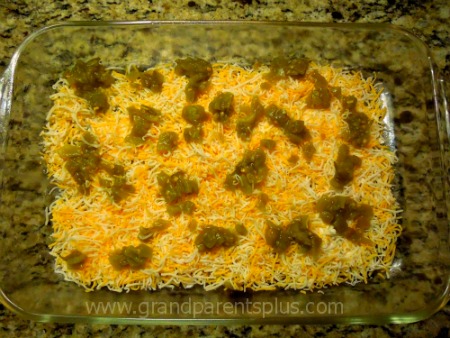 Pour on egg mixture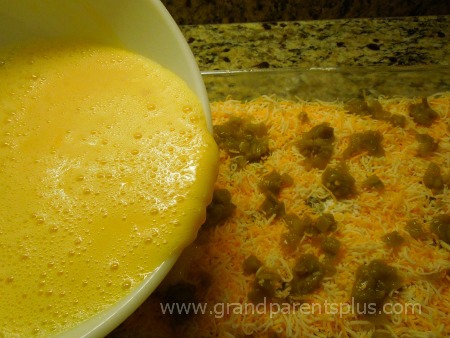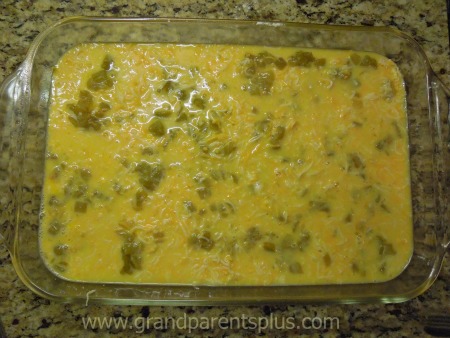 Now bake at 350 degrees for 40-45 minutes or until set.

Let sit for 5 -10 minutes (It will deflate a little)

Cut into squares and serve with salsa.
Every time I have served this recipe, my guests have always asked for the recipe!
You can make this as spicy as you like by using the "hot" green chiles along with "hot" salsa.
Remember to freeze the left-overs, if there are any!
Enjoy!
Be sure to subscribe to grandparentsplus!

Pin It