Fall Decor Idea House Part 1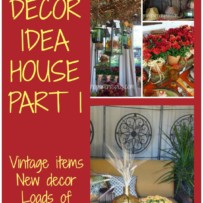 Welcome to a tour of the Fall Decor Idea House 2015. Several decorators completely overhaul this lovely old home with new trends and seasonal decor three times a year. You'll see re-purposed vintage items in unique ways along side of many new decor items. Every room is beautiful and filled with wonderful eye-popping ideas and inspiration for your own home decor. Come with me on this tour of wonderful fall decor ideas. You won't be disappointed!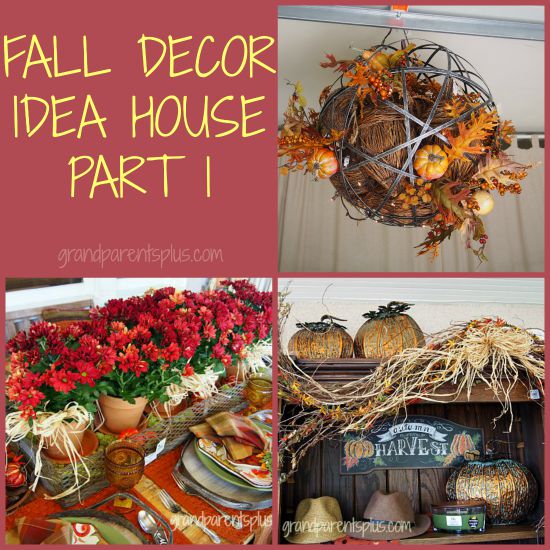 Before you even enter the house,  you'll find fall decor in the yard, garage and in a "she shed"!
 This outside fireplace looks fantastic!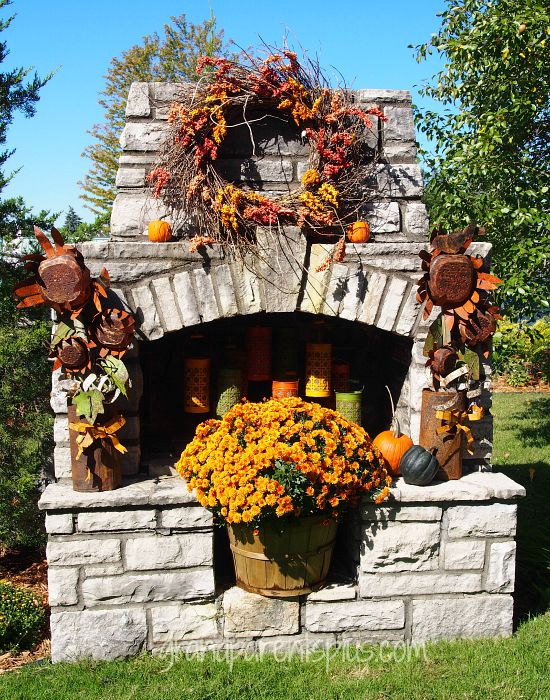 Gorgeous Container Gardens….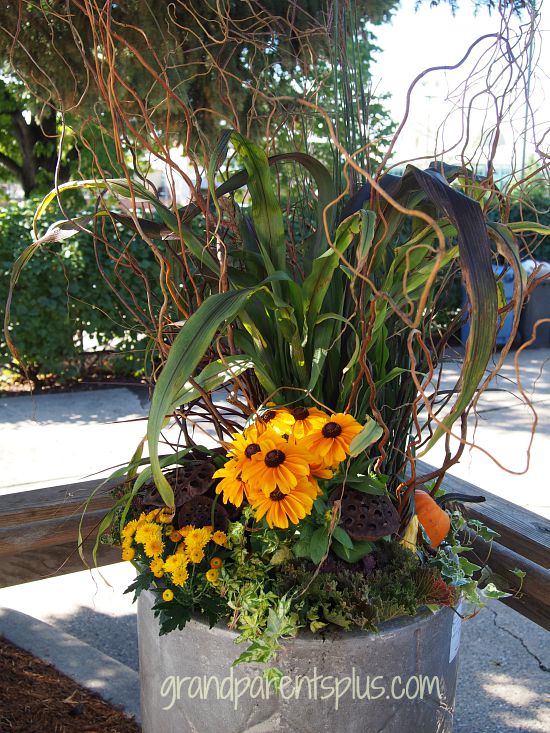 Would you like to spend time in here?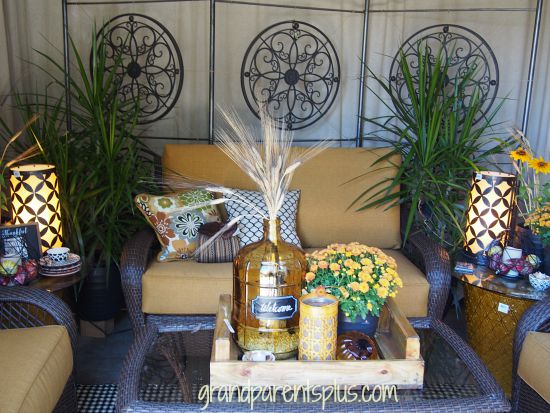 Notice the side tables made from plant containers. They're filled with mulch and a glass piece is added on top.
From the ceiling hangs a metal orb filled to the brim with decorative twig acorns, artificial fall stems and string lights. It creates wonderful mood lighting.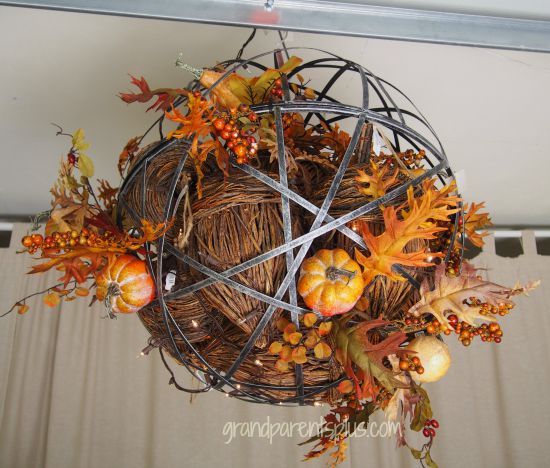 In the yard, under a tree, sits a cute scarecrow. This "Miss" has floral stems for the eyes. Buttons create the nose and mouth. All decked out in a fancy hat, this scarecrow wouldn't scare anyone. In fact, she looks like she is going to a tea party! I think she should change her boots, however!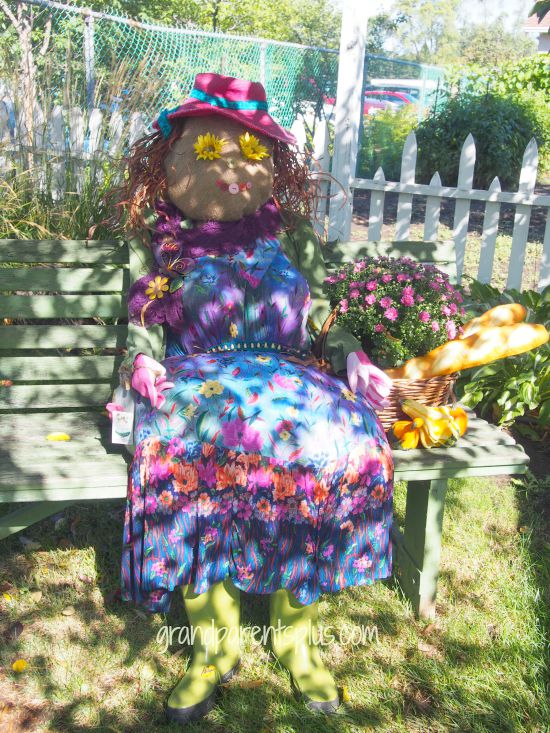 The window boxes on the house look spectacular all dressed in fall decor.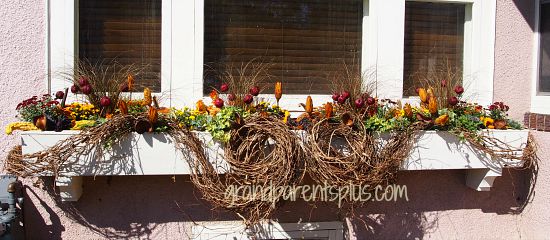 A close look…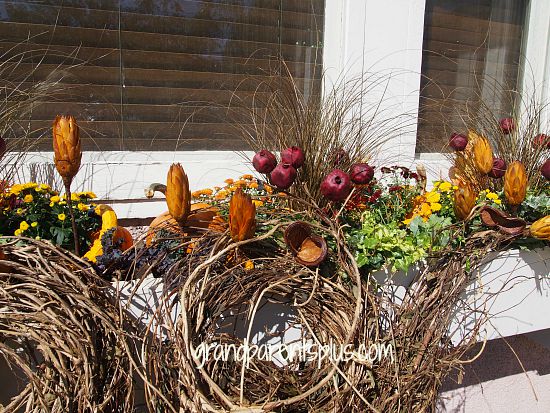 Stepping into the front porch, you are greeted with a beautiful table-setting.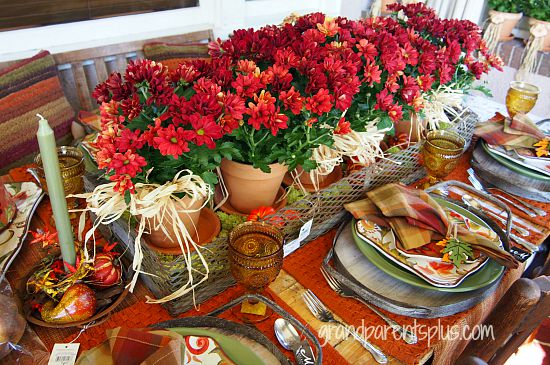 The centerpiece is a salvaged metal drawer which holds potted mums with raffia bows, small artificial pumpkins, and moss. Each placesetting uses a wood tray as a charger. Notice the napkins tied with decorative fall wooden leaves and twine.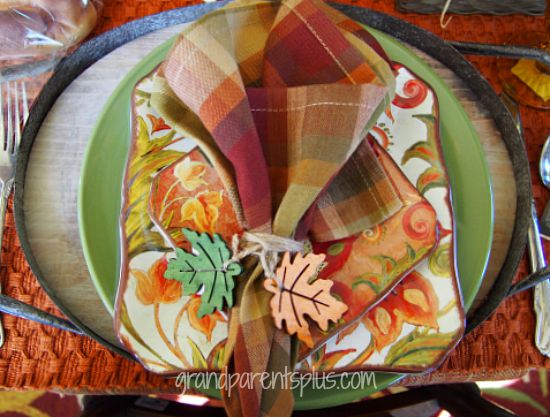 I've posted a simple version of these napkin rings.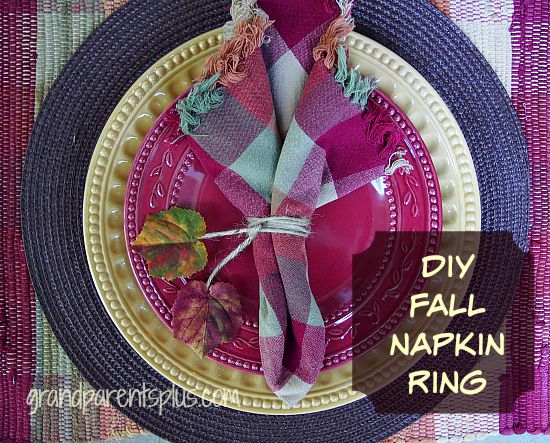 Go to DIY FALL NAPKIN RING for complete instructions.
A bed spring hung from the ceiling?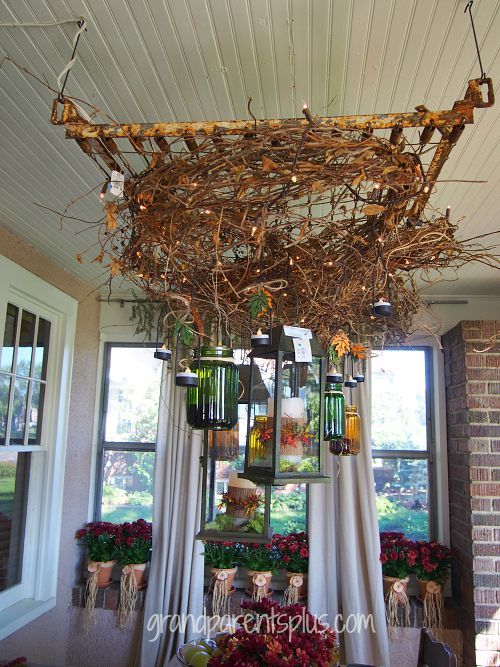 I told you they use re-purposed items in different ways!
The bed spring is decorated to the max with honeysuckle vine entwined with string lights, colored jars,  lanterns, and fall leaves. Wow! What an impressive sight! I'll bet it looks amazing at night all lit up!
Notice the plants tied with raffia and an artificial apple slice all sitting on the window ledge.
The next item is a chicken feeder re-purposed as a decorative item filled with various small artificial pumpkins.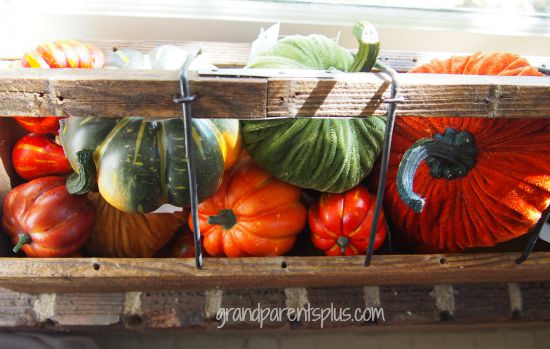 Also, on the porch, is an oak shelving unit. The decoration on top is honeysuckle vine mixed with some fall garlands along with a raffia bow. I like the way it flows.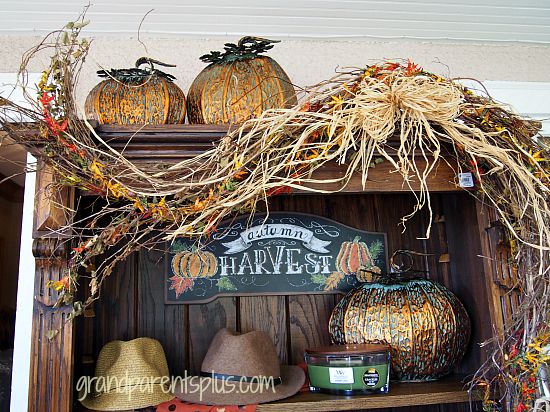 Well, this is just a taste of what is to come in the next posts. You won't want to miss it. There are lots and lots of new ideas!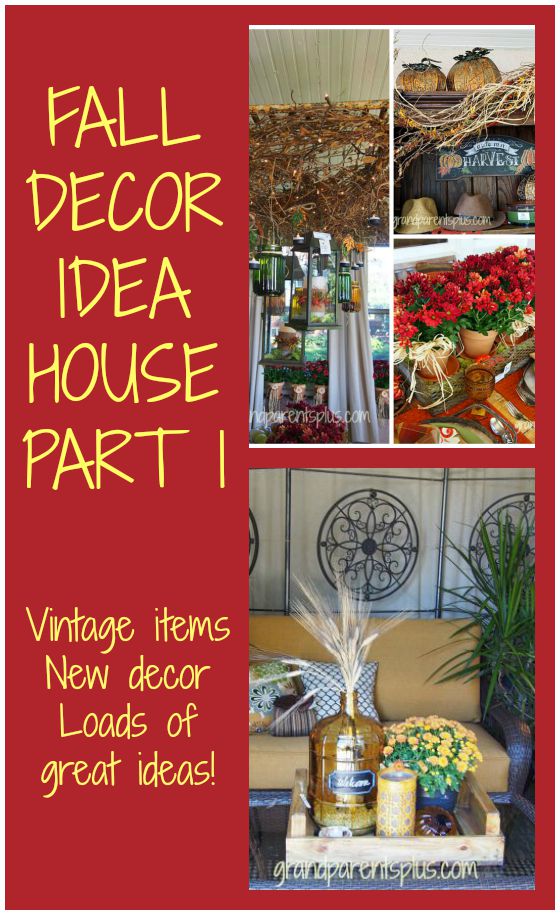 Thanks for stopping by for the Fall Decor Idea House tour. 
Phyllis
Subscribe so you don't miss the next posts! Your email is never shared or sold.
Follow on Pinterest, too!
post linked to these parties….