Fall Decor Idea House Part 3
Do you remember from Part 1 that this Fall Decor Idea House featured a lot of salvaged wood? Well, in this part 3 of the series, you'll see more uses for it. Perhaps one will inspire you to do something similar in your own home. Part 3 takes you into the stairway, wine room, photo gallery room, guest room, and bathroom. Wow, that's a lot of territory and ideas so let's get started!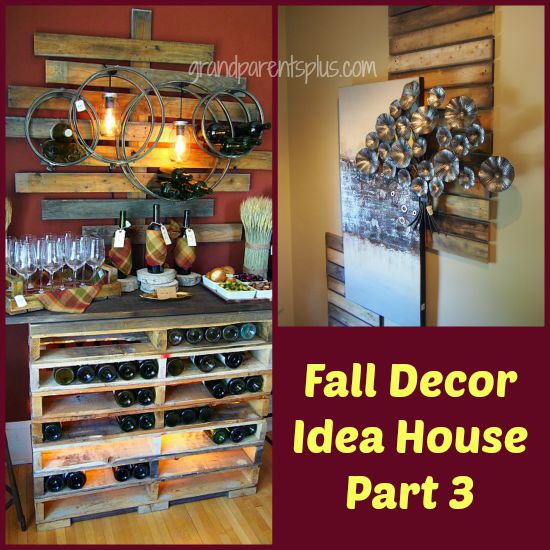 In the photo above you see some ways they used salvaged wood.  In the stairway, they used salvaged wood planks that set off the art work . The stairway is very narrow and tall and this arrangement looked awesome.
Along with the artwork in the stairway,  they used salvaged wood for the window valance there, too!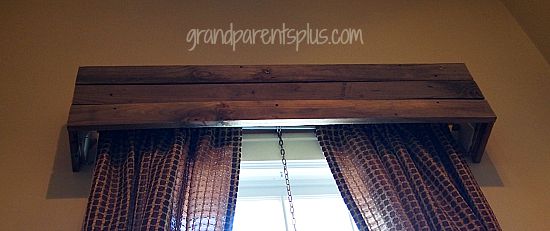 Salvaged wood makes an interesting display as wall art in the wine room. Look how they used pallets! There's a large piece of salvaged wood on the top for the table with the wine storage between the pallets.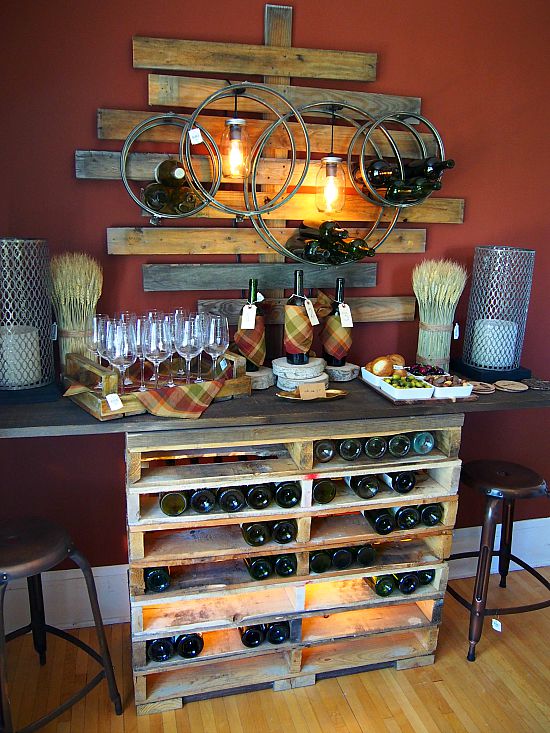 Look what they have done with wine corks! Bet you won't throw any away again!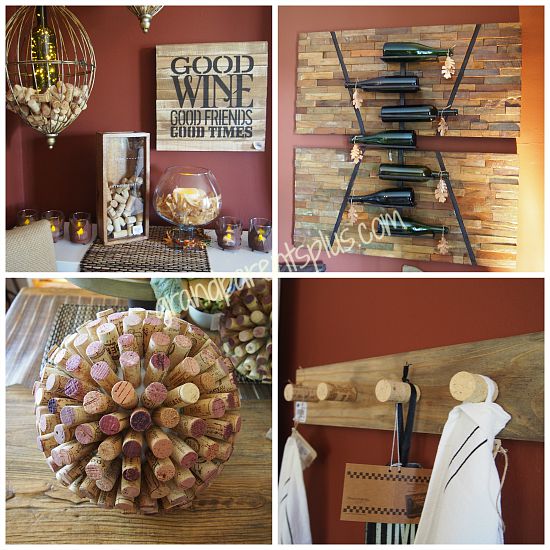 There are wine corks glued around a styrofoam ball, displayed in a bowl and shadow box. They're in a hanging cage with a lit wine bottle, too. Oh, don't forget the salvaged wood with wine corks as hooks along with the interesting wine bottle and wood display. Enough wine cork ideas for you? Start saving the wine corks! Actually, I think you can buy them in bulk, too.
Next up is the photo gallery room!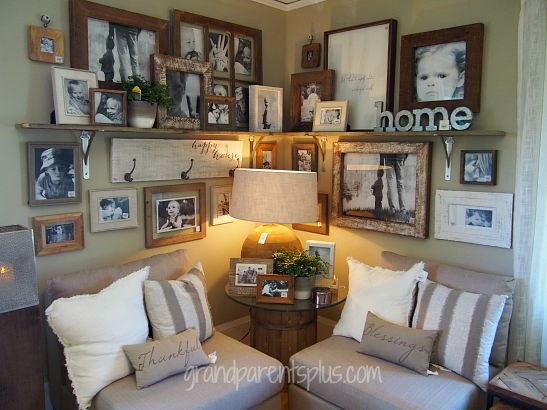 In this area of the room, there are various mixed wood frames. The shelves, of course, are made from salvaged wood and the table is an old vintage barrel with a glass top. Artwork is incorporated in and among the family pictures. On one picture that has a background of wallpaper, they used glass markers to write phrases. Notice on the upper left corner how an old insulator serves as a wall hook. 
Two other areas of the photo gallery room look very different. One area uses all black frames.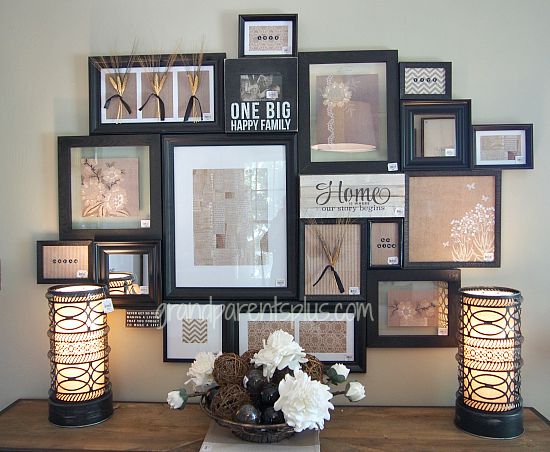 The frames are tightly grouped together to look like one big wall collage. Notice how some frames pictures are scrapbook paper; others are wallpaper. Stickers, also, create framed word art. Two frames are wheat pictures. Go to grandparentsplus.com/wheat-pictures  to see directions on how to make these. (They make a wonderful gift.)
The black metal lights tie in so well with the black frames.
The next wall is all mixed metal frames.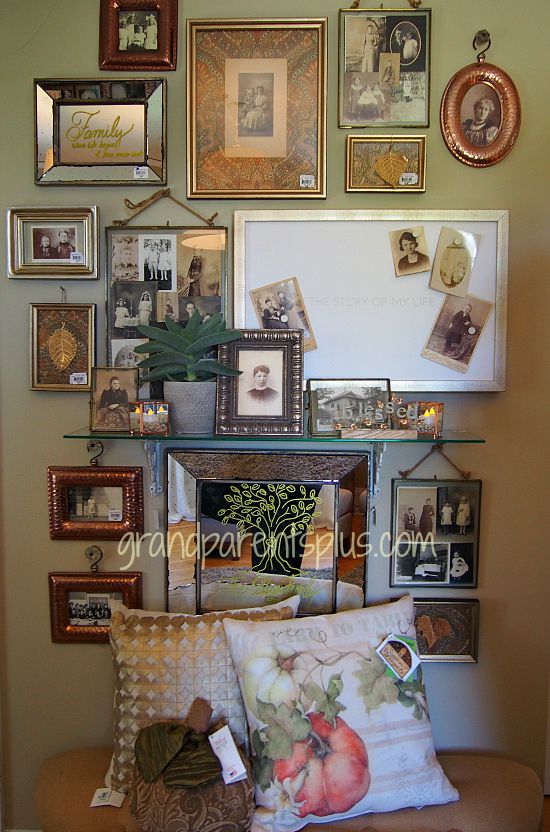 Now to the guest room….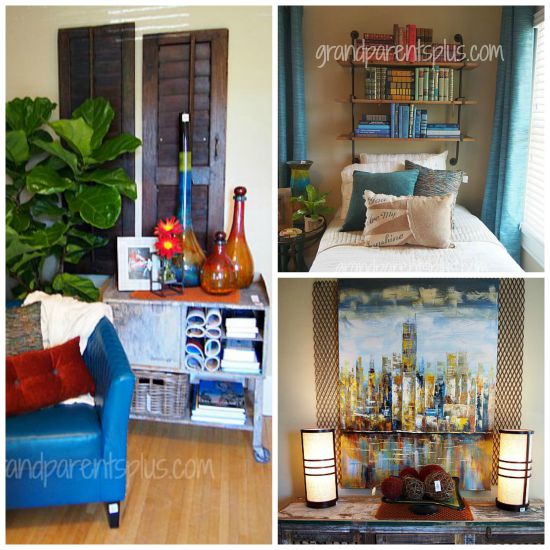 In the guest room, the bookshelf takes the place of a headboard. Alongside of the blue chair is a side table which is a vintage metal workbench. Vintage shutters become interesting wall decor and the artwork is layered over salvaged metal expandable mesh. Fun to see unusual things reused in such interesting ways!
Finally, we go to the small upstairs bathroom…  Remember, these old homes have very small bathrooms, but it is big on ideas!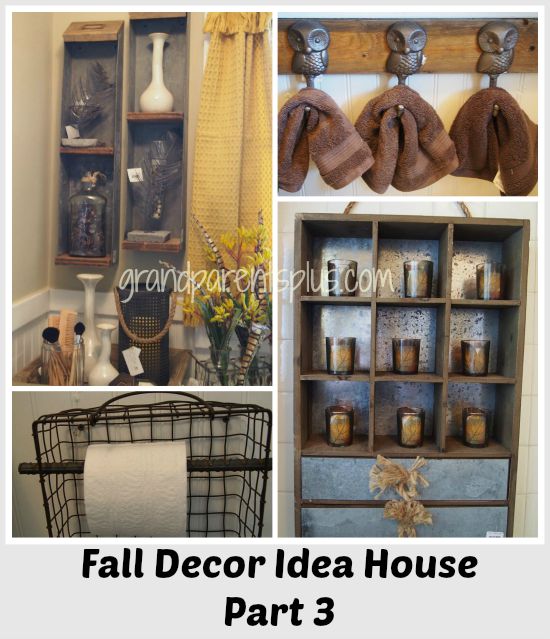 The upper left picture shows vintage library card drawers turned into wall shelving! (Oh dear, I think I remember these in school!) To hold the toilet paper, a metal basket is hung on the wall with a piece of rebar to keep the roll of paper in place.
The salvaged wood piece, with three metal owl hooks, acts as a towel hook above the sink. 
On the last picture, this metal shelving unit serves as bathroom storage over the stool. 
Which idea did you like the best? Hard to choose, isn't it! After seeing all the re-purposed items, you start to look at every vintage piece you see in a different way. 
I hope you enjoyed seeing these rooms with all the salvaged wood ideas along with many unique vintage re-purposed pieces. Remember, this is not the end. I have one more post with the living room and master bedroom. Some of the items you will see in Part 4 will amaze you, I promise! 
Did you miss Fall Decor Idea House Part 1 or Part 2? Be sure to check them out!
Thanks for stopping by, 
Phyllis
Subscribe so you don't miss Part 4. Your email is never sold or shared.
Follow on Pinterest, too!
linked to these parties…