Fall Decor Idea House Part 4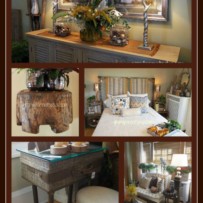 We've covered a lot of ideas in the three posts prior to this last one. The Fall Decor Idea House Part 4 probably has the most unusual re-purposed ideas I've seen in a long time. While interior designers have totally decorated for fall, many of these ideas work for any season. The two rooms left are the master bedroom and living room. Just wait…..as I'm saving the most unusual until last! Stick with me.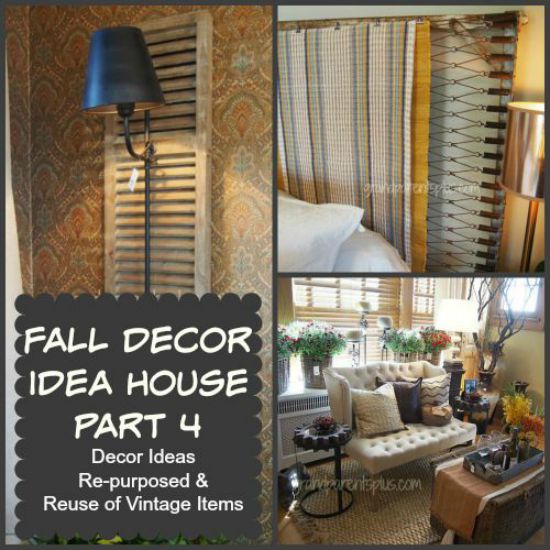 First a look at the master bedroom…..
They used a spring from a crib for the headboard, but they dressed it up with a decorative runner and colorful rugs. (closer look below) You'll find those same colors picked up in the pillows on the bed. Notice more of the same color accents throughout the room.
Along side the bed, stacked crates create the bedside tables.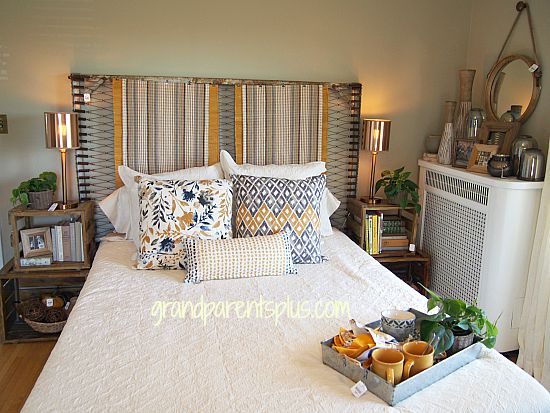 With a closer view, you can see how they secured the rugs and runner. Regular office clips hold everything in place.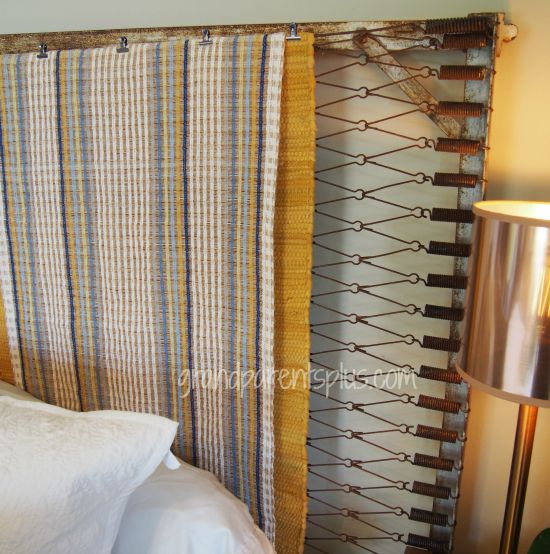 Opposite the bed, a vintage Scandinavian buffet serves as the dresser.
In the corner of the master bedroom, a suitcase outfitted with legs and glass top, serves as a side table. A metal basket, turned upside down, becomes a pendant light while decorative key rings, hanging around it, give it sparkle!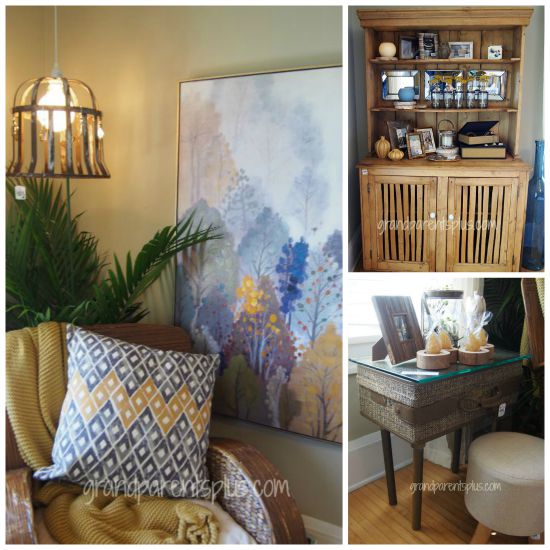 On the way down to the living room, there's one unique item I forgot to include. Don't ever toss a stool with a leg missing or a part destroyed. Instead, turn it into a wall shelf using the good parts that are left. Above the shelf, is a salvaged wood piece with "thankful" stenciled on it.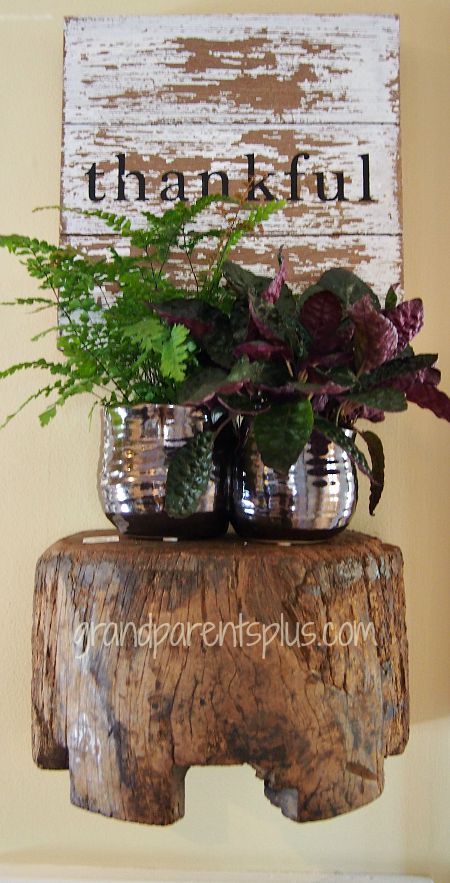 Walking into the living room, you quickly focus on the fireplace. An ornamental elk horn decorates the mantel with pumpkins displayed around it. The top part of the fireplace looks like stacked stone, but it really is wallpaper!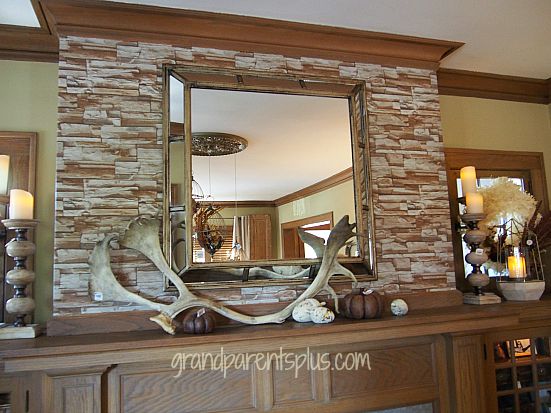 In a sitting area of the living room, there's a wicker chest, draped in two runners, that serves as a coffee table. Beside the loveseat, is a floor lamp made from a vintage stair newel and a large candleholder.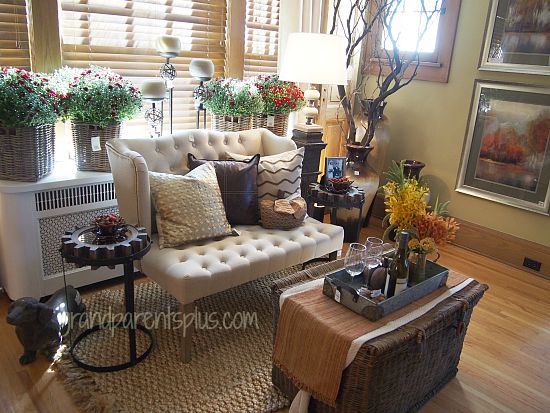 Hanging from the medallion in the center of the living room are wire cages filled with artificial stems and pumpkins. The table underneath is a re-purposed, circular greenhouse heater. A glass top turns it into a "one of a kind" table.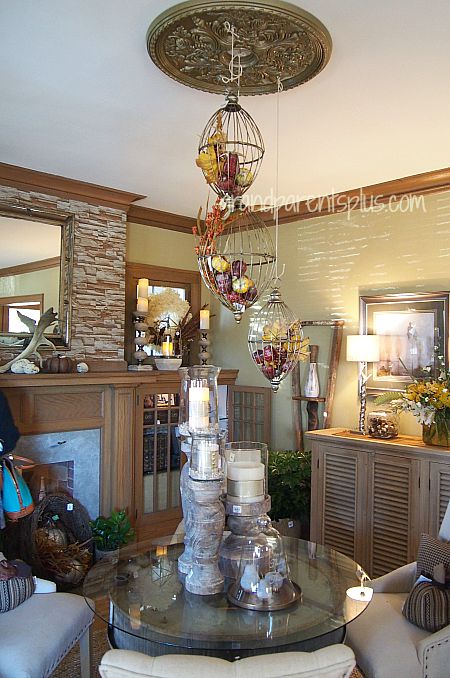 In the sun-room extension of the living room, an old school desk becomes a plant stand. Also, on a narrow wall, a lamp is mounted on a long vintage shutter.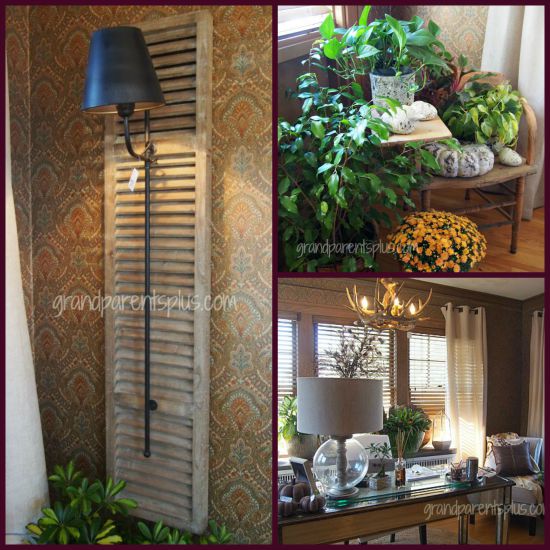 Back into the living room, look closely to find the most unusual item that is re-purposed. If you were raised in the city, you may not know about these items.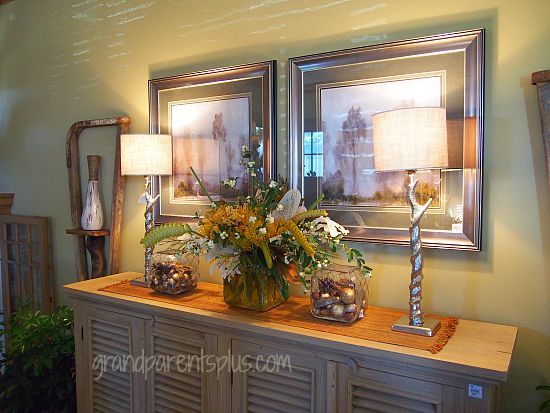 Did you find the unusual items? On either side of the buffet, there are vintage, wooden cow stanchions. A stanchion is used to lock cows in place while being milked. Who would ever think to use them as decor in a beautiful living room? They certainly are a conversation piece! Do you agree?
Within the stanchion, a re-purposed wooden shoe form braces the added shelf.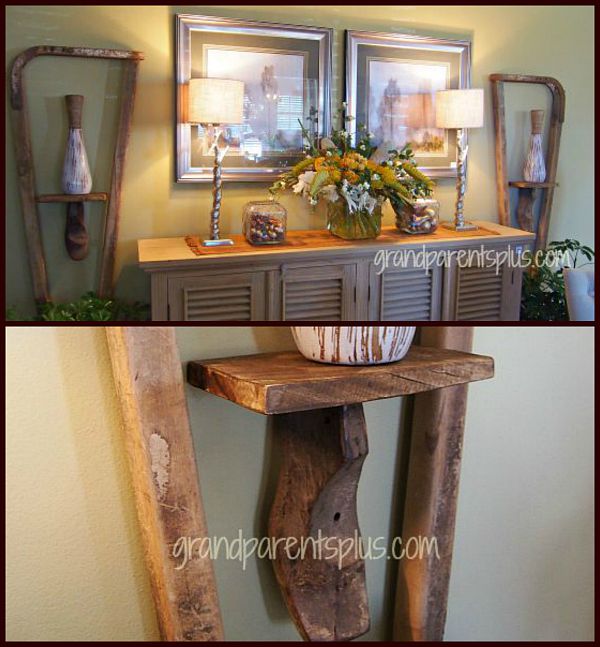 Have you ever seen a stanchion used in this way? Being a city girl, I had to be told what they were and certainly could not have imagined them used in a formal living room arrangement! How fun! Seeing the entire area tied together with the colors of taupe, white, and silver used in the art work, frames, arrangements, and lamps, makes everything work. It's a great look!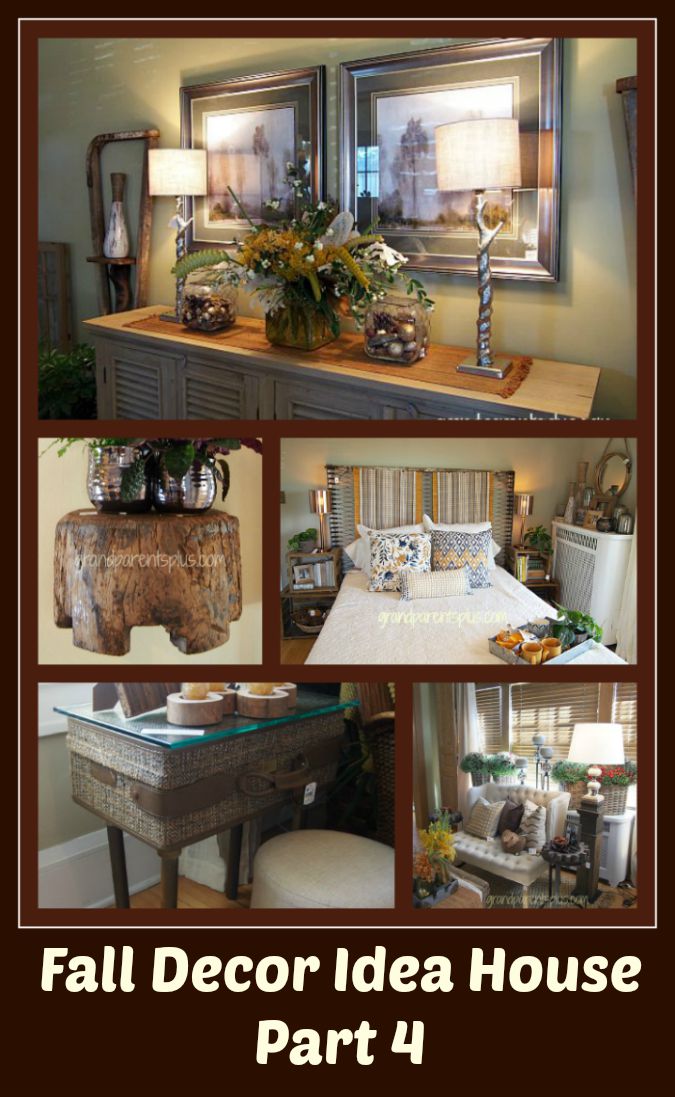 This is the last look at the Fall Decor Idea House! I hope you have found some fun, new ways to decorate. This house certainly has an abundance of ideas for both fall decor along with vintage re-purposed items. Now, be on the look-out for those stanchions and let me know how you use them!
If you missed the posts on the Fall Decor Idea House Part 1, Part 2, or Part 3, you'll want to check them out!
Coming up soon is the Christmas Decor Idea House so be sure to stop back!
Thanks for stopping by and hope you enjoyed the fun ideas! 
Phyllis
By subscribing, you won't miss future posts and your email is safe and secure.
Follow on Pinterest, too!
linked to these parties….