Fall Idea House #2
Ready for another Fall Idea House tour? Well, let's continue into the porch and living area. Lots of inspiration here! Many ideas are easy to do and I'll show you how to use materials you may already have on hand to duplicate a couple of ideas. Because the sun was out full force, I apologize that some pictures reflect that bright light. I always like a cloudy day to shoot photos, but this day was really sunny! Probably fitting with all the sunflower motif on the front porch.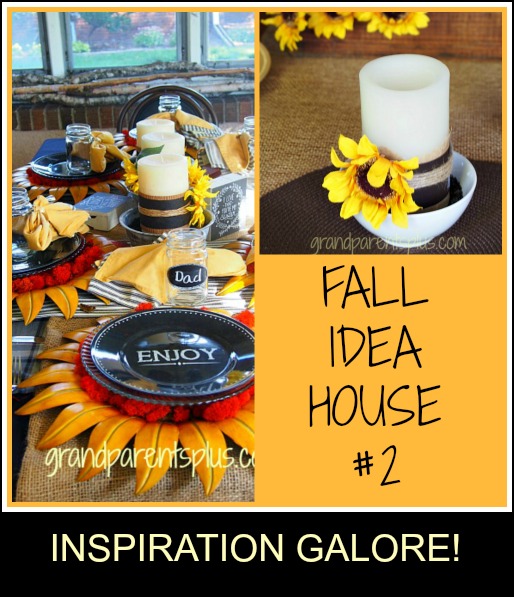 Immediately as you walked into the porch, the theme was very evident with the table setting. They used sunflower wall art as the chargers. Burlap along with black & white ticking table runners gave pattern and texture.
They wrapped candles  in tree wrap (brown), roofing paper (black), twine, and added a sunflower accent.  The candles rested on top of charcoal bits in a bowl.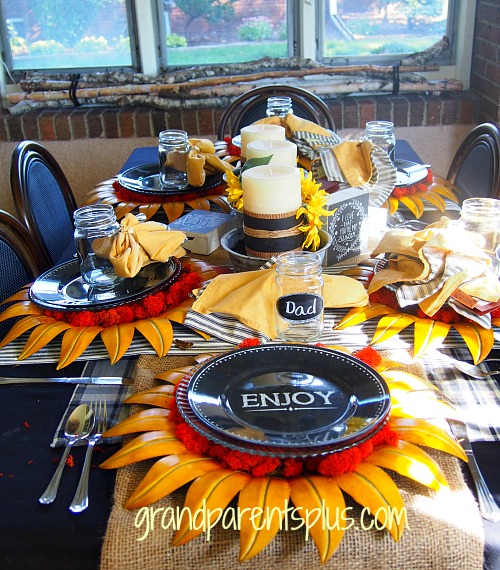 While I didn't have tree wrap,  roofing paper or charcoal, I did have other materials that I substituted for my candles. My simple version uses brown paper bag instead of tree wrap. I tore it instead of cutting with a scissors. It gave it an uneven textured edge.
Instead of black roofing paper, I used brown textured cardstock and wrapped it with twine. Instead of black accents, I used brown as an accent color. I happened to have a sunflower on hand and used birdseed as a filler for the bowl instead of charcoal bits.  So that's my copycat version! Easy, simple and inexpensive. I'll bet you have most of the same materials on hand.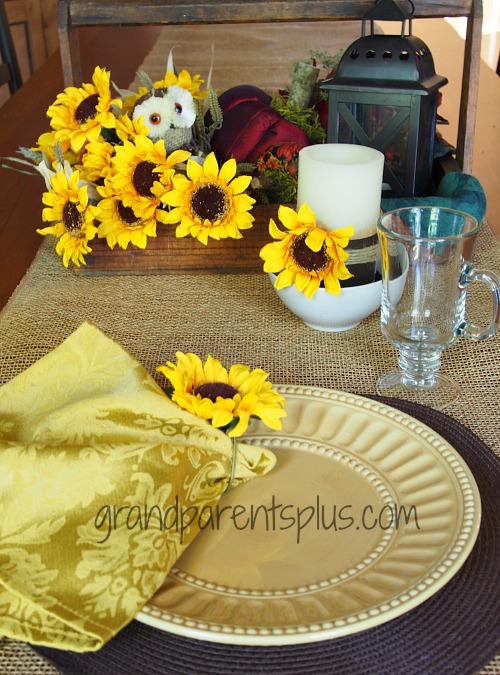 Theirs……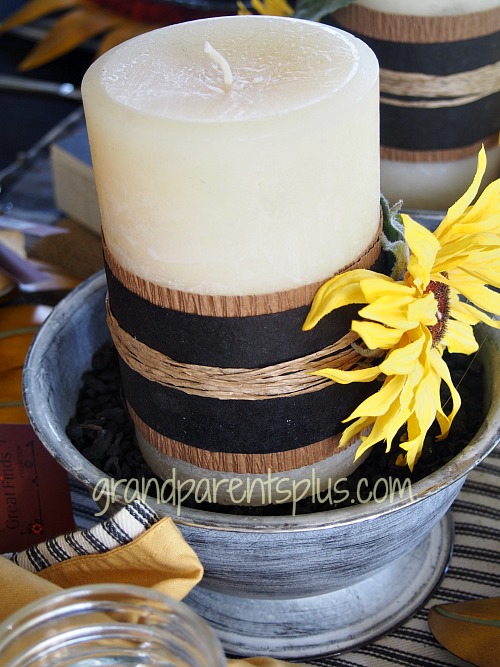 Mine……..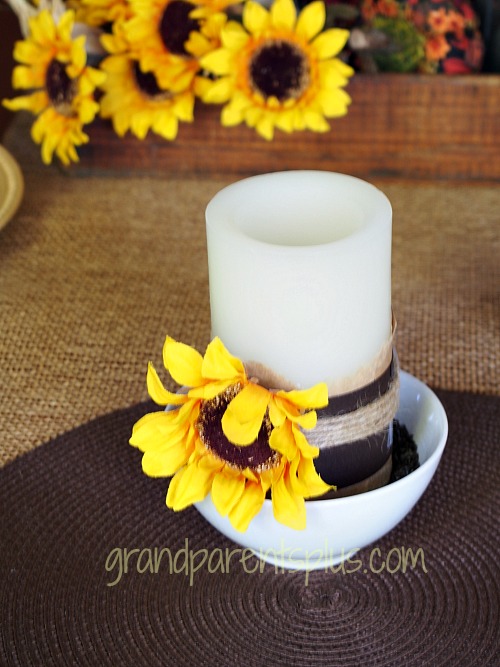 I also made a matching napkin ring out of cardboard tubing, brown cardstock, twine, and a sunflower! I often make my napkin rings for various occasions. For complete directions and ideas, go to DIY Napkin Rings.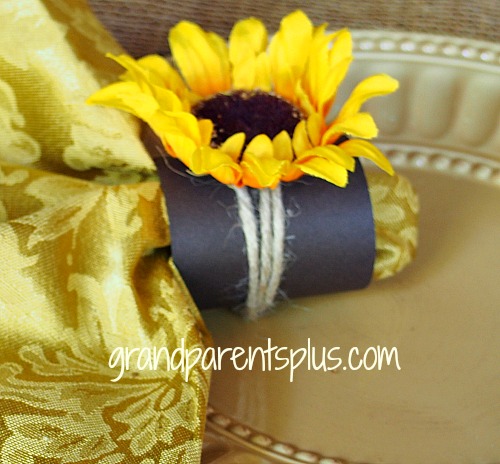 Colorful fall wreaths adorned the porch windows.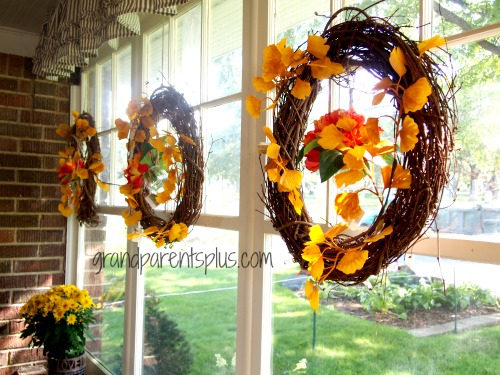 Here's a look at the beautiful arrangement on the side table of the porch….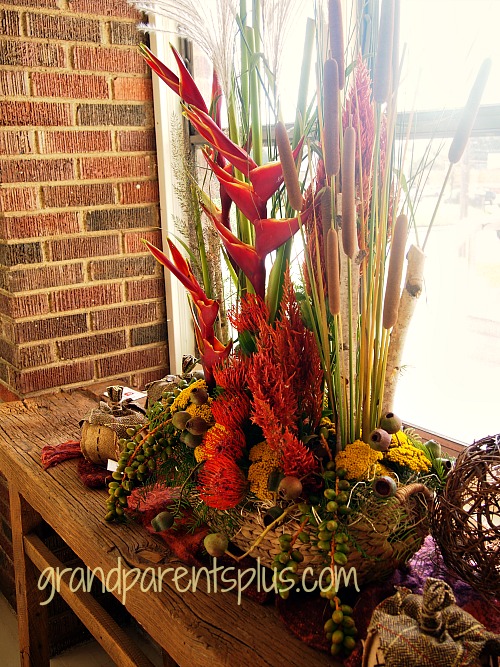 Entering the house, the door had a wreath with one of the black plates used in the center.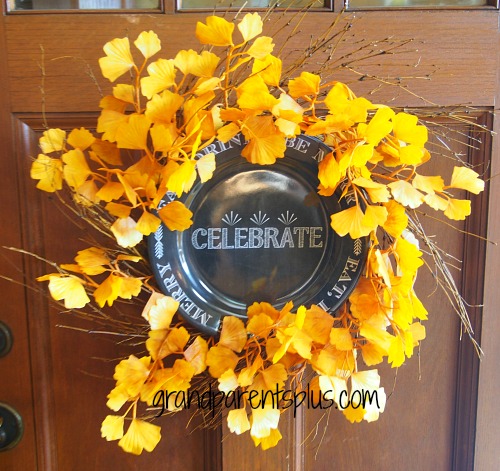 In the living room area, three large dried arrangements catch your eye. Notice the mixing of finishes. There's copper, gold and silver at varying heights and used all together.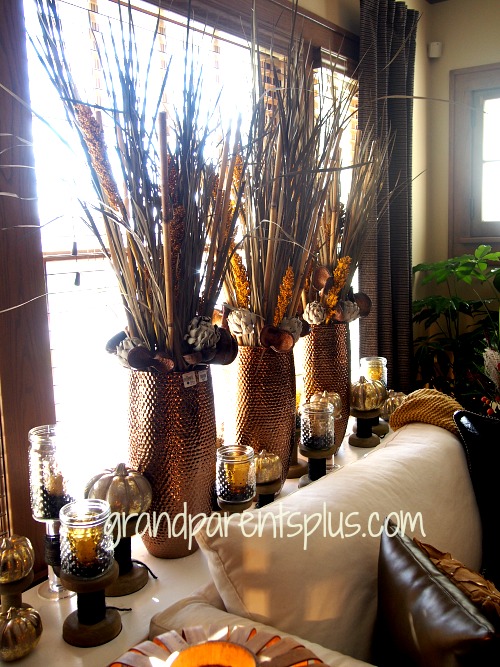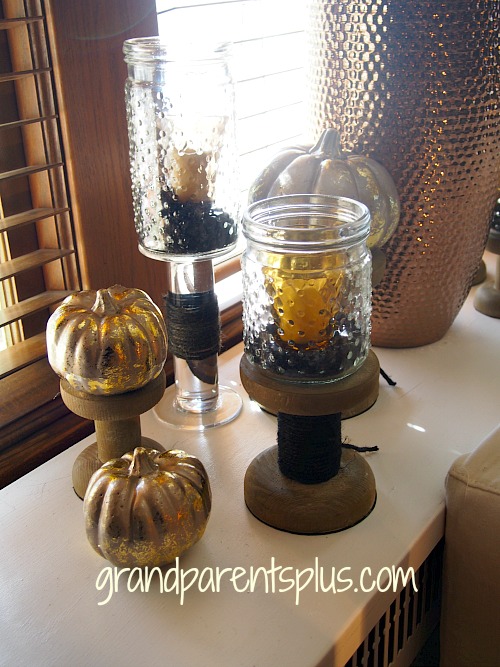 This combination of birch tree art along with the birch log dried arrangement really caught my eye! I love how it echoed the artwork.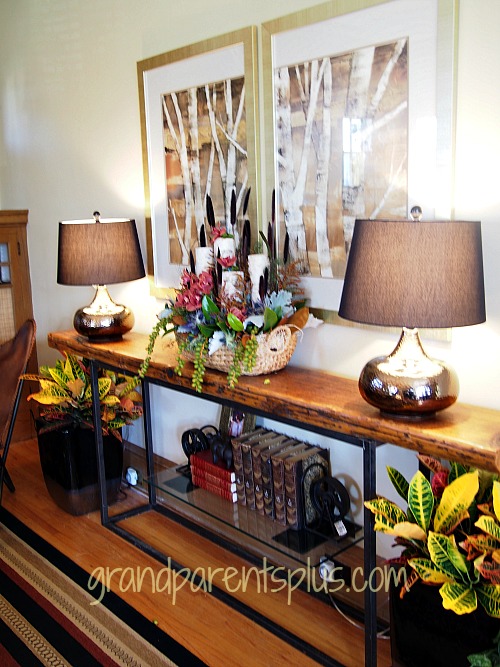 A closer look…..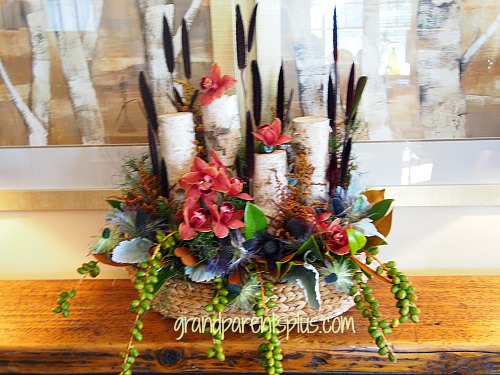 In a small room off the living room,  was a computer area.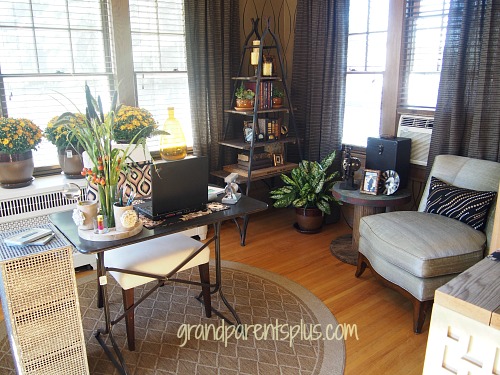 I wanted to give you a closer look at the dried arrangement on the desk.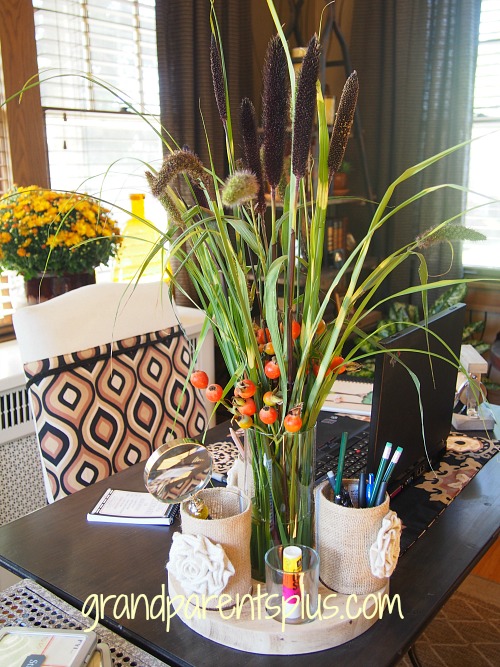 I also thought the black pillow on the chair was stunning. If you have a lot of shirt buttons, this might be the DIY project for you! Notice the pillows wrapped in burlap with "Thanks" and "Blessings" on them. (another DIY project)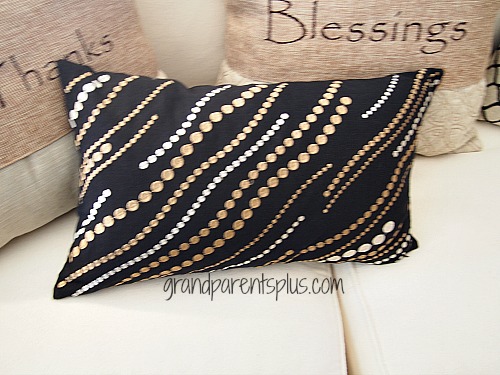 I liked the three mirrors over the fireplace! Across the mantle they placed a natural piece of driftwood and added live greenery in front.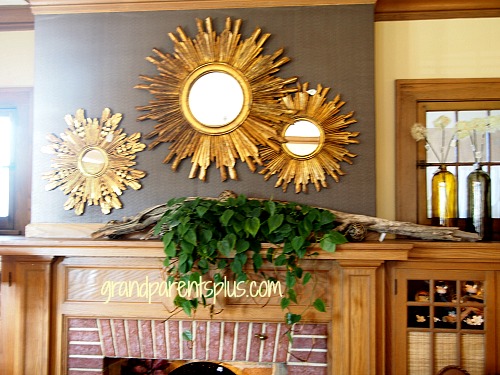 This is not the end of the Fall Idea House!
There's more to show you so please subscribe on the sidebar so you don't miss the next post.
Did you get some inspiration? Which idea did you like the best?
Have fun decorating for fall!
Phyllis
Follow on Pinterest and Bloglovin, too!
This post is linked to many of the following parties. …
Pin It