Fall Idea House 2014
The Fall Idea House 2014 has oodles of inspiration for you. It's time to take you on another tour of this special place. Several decorators come together to plan the entire house. The visitors are left with wonderful ideas showcasing  new products and re-purposed items. Many of these ideas are easily blended into your own home decorating. I don't know about you, but when I see these ideas, it spurs my imagination and the creative juices run wild in my own mind! I think of ways to incorporate ideas in various ways in my own home. I'll specify what I have done to use these ideas.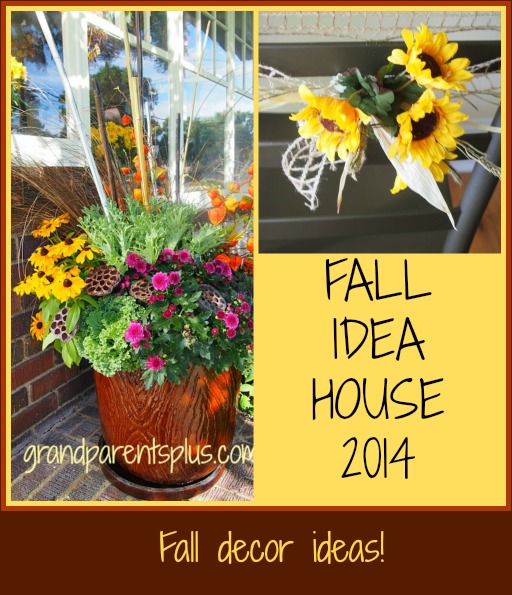 So were off on the first part of the tour….  Fall Wedding Dinner Table and Outside Containers and Planters
The outside plantings are always beautiful. As you walk toward the house the gardens are rich with fall color and texture.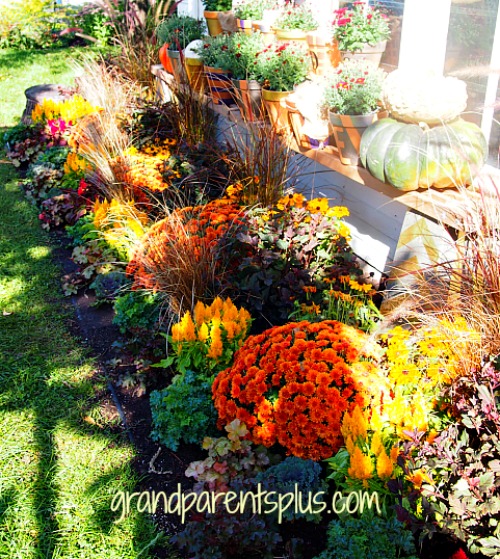 Think of adding height to your container gardens!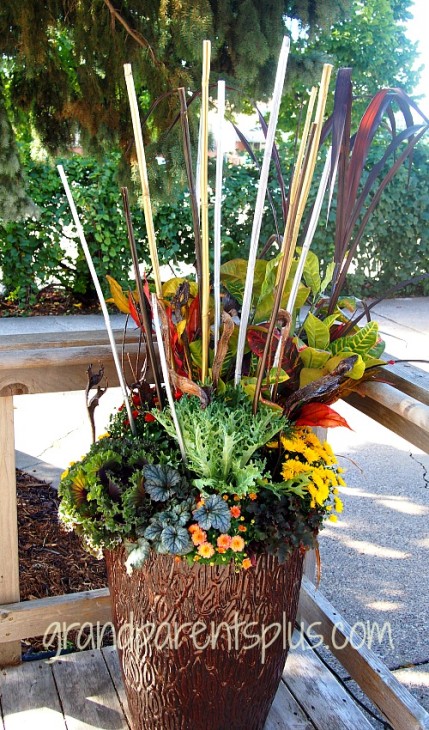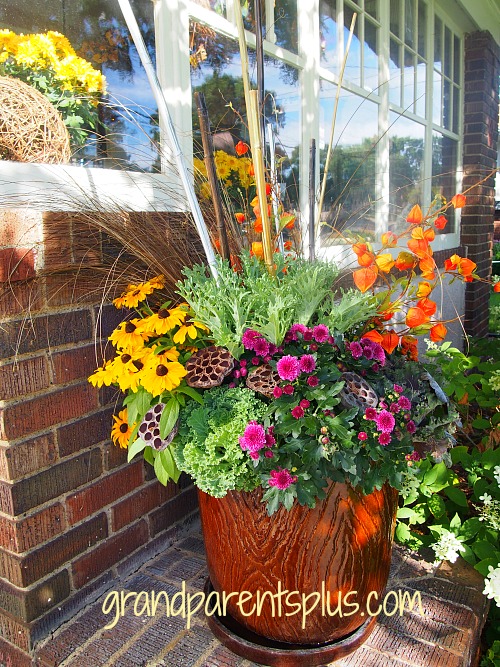 Window Boxes: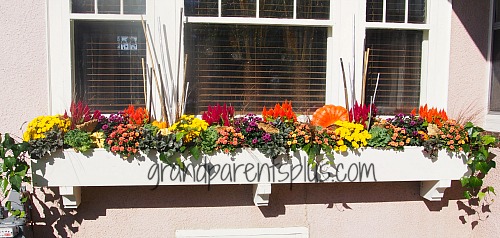 Wedding Dinner: (In a Garage) This beautiful fall archway announced the special dinner awaiting the guests. Fall leaves with lace bows, white pumpkins all give a hint of the decor inside.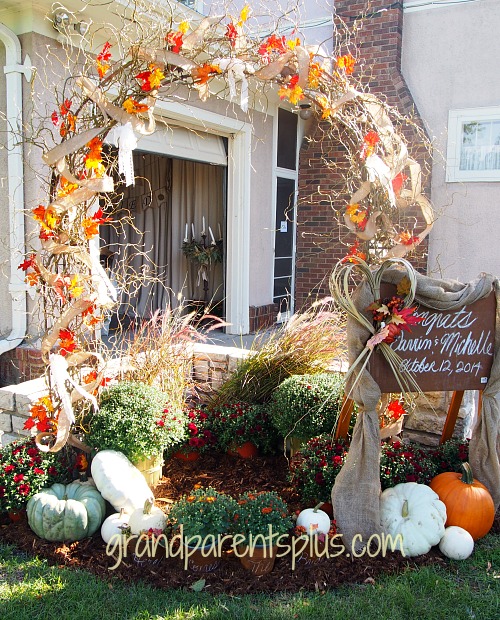 In the garage, a wedding dinner table awaited the guests. While a garage is an unusual setting,  the decor made it special by incorporating lace, burlap, vintage pieces and new items! The table was absolutely lovely! The same ideas are useable in any fall table setting.
Table centerpiece…..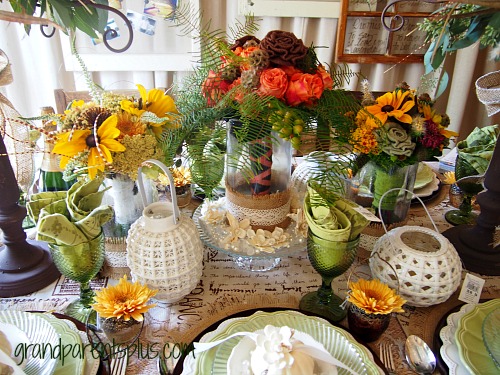 Lace tablecloth with burlap placemats! Great texture combination!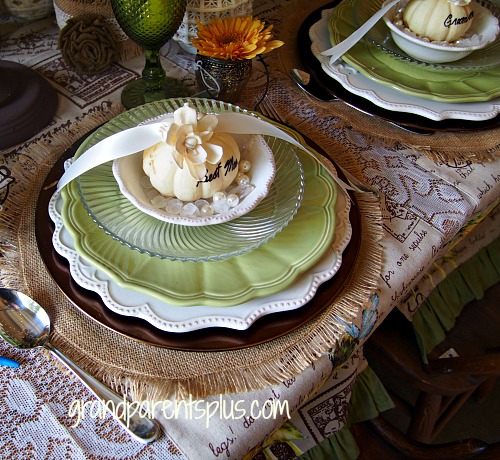 The place-cards are painted white pumpkins adorned with a white dried flower and personalized with each person's name.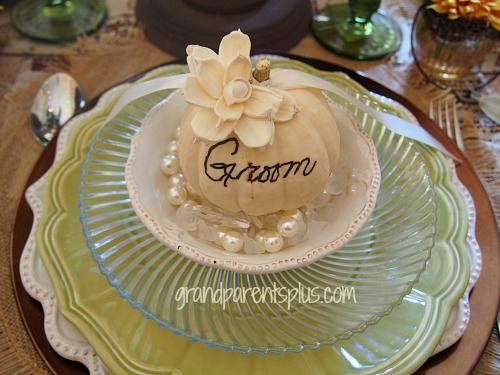 Chair tie decorations…..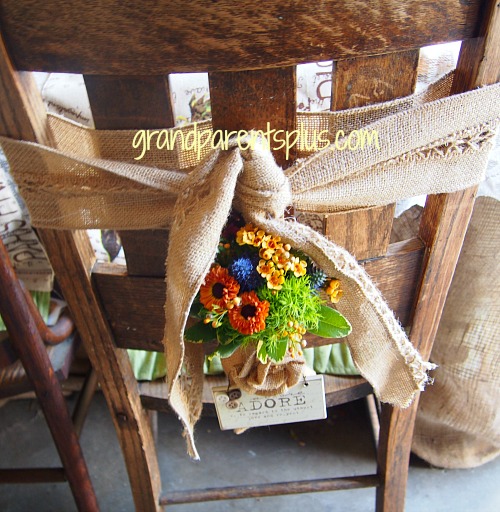 My version using what I had on hand! This is an easy chair decoration to do!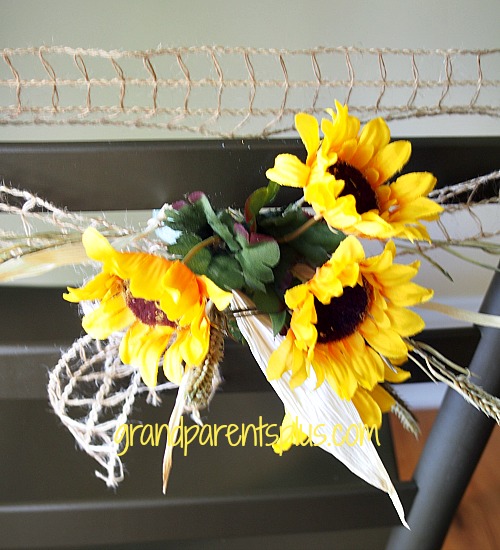 Isn't this a super idea for the wall?   The vintage screen has pictures attached by magnets and the windows have all the names of the guests and wedding party!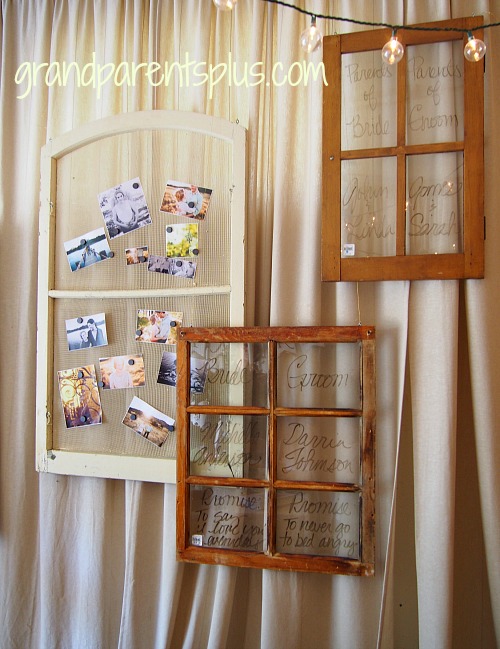 This is just the start! There's so many more ideas to come in the next post. Hope this has inspired you!  Be sure to subscribe so you don't miss the next posts.
Phyllis
Follow on Pinterest and Bloglovin on the sidebar, too!
This post is linked to many of the following parties……
Pin It