Fruit Fling (Salad or Dessert)
I'm not sure whether to call this Fruit Fling recipe a salad or dessert. The original recipe calls it a salad, but it tastes like a dessert. Either way you serve this, you'll love it.
The name is a bit of a tongue twister. Say it 5 times quickly and you'll know what I mean. This is one of my mom's recipes so don't know where it originated or how it got its quirky name!
The Fruit Fling goes together so quickly and makes a large bowl full! This is more than a family can eat. If you are taking this to a potluck or have a large gathering, make the whole recipe, otherwise, cut this in half and you'll have more than plenty for your family. For extra color, add more strawberries or blueberries on the top before serving.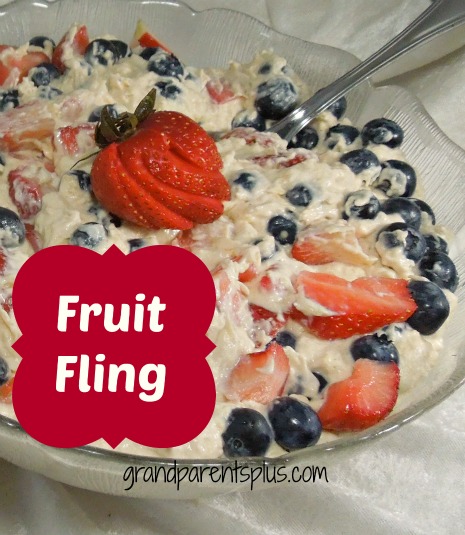 Fruit Fling
1 – 16 ounce vanilla yogurt
12 oz. frozen whipped topping – thawed

2 pkg. ( 3.4 0z.) vanilla instant pudding
1 can 20 oz. crushed pineapple – DRAINED
Strawberries, blueberries, either or both!
Directions:
Mix yogurt, crushed pineapple, whipped topping and pudding by hand.

Add fresh strawberries, blueberries or both!
Place in refrigerator until served
For a full recipe, I used 1 quart of strawberries, quartered, and 1  1/2 pints of blueberries.  (vary amounts to your liking)
Before serving add additional fresh fruit on top!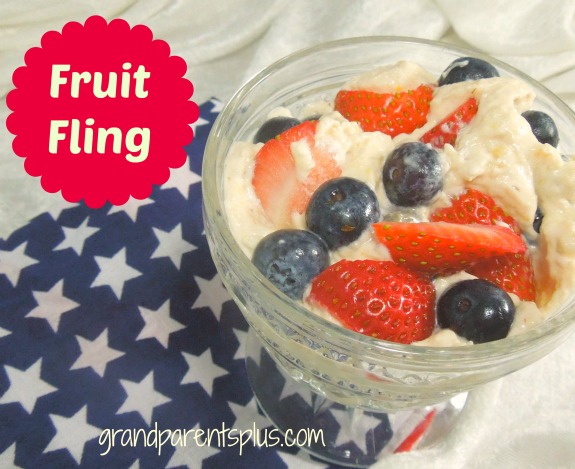 Would you serve this as a salad or dessert?
Enjoy!
Phyllis (Oma)
I'd love for you to follow on Pinterest, Bloglovin or subscribe to future posts!  Thank you!
This post is linked to the following parties……

Pin It