Hawaiian Pineapple Cheesecake Bars
You don't have to visit Hawaii to enjoy these wonderful Hawaiian Pineapple Cheesecake Bars. They are truly awesome! A mixture of pineapple, coconut, and cream cheese is absolutely "Hawaiian heaven" to the taste buds. Believe me, you'll get rave reviews when you serve them!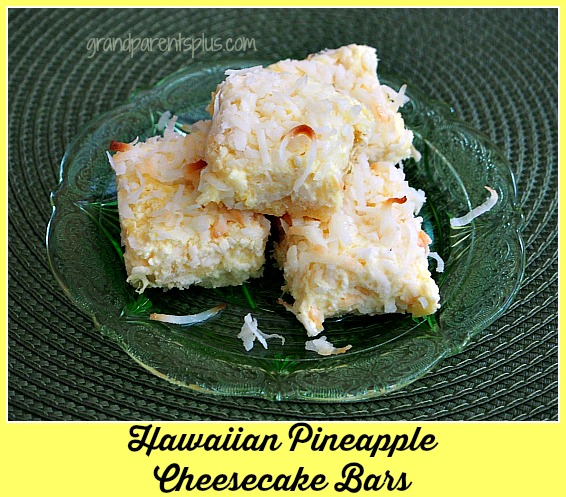 Hawaiian Pineapple Cheesecake Bars
Recipe Type
:
Dessert Bars
Prep time:
Cook time:
Total time:
Ingredients
Crust:
1 cup flour
1/2 cup butter
1/2 cup sugar
Filling:
8 oz. cream cheese
2 Tbsp. sugar
2 Tbsp. milk
1 egg
1 tsp. vanilla
1 8 oz. can crushed pineapple, drained well
Topping:
1 cup coconut
1 tbsp. melted butter
Instructions
Combine crust ingredients and pat into a 9″ square pan.
Bake @350 degrees for 15 minutes and Cool
Combine cream cheese, sugar, milk, egg and vanilla. Fold in drained crushed pineapple and spread over cooled crust
Combine coconut and 1 Tbsp. melted butter. Sprinkle on top of the filling.
Bake bars at 350 degrees for 15-20 minutes. (or until coconut is just slightly toasted and filling is set.)
Cool. Place in refrigerator. Cut into small squares with a wet knife.
These bars freeze very well!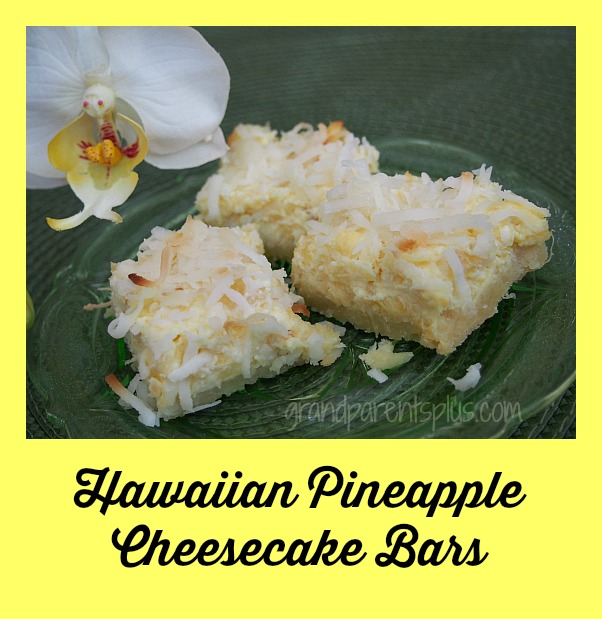 While I love chocolate, these are a nice diversion with fantastic flavor. For holidays, decorate with a half cherry.
These are wonderful to make ahead for an occasion as they freeze well. I must confess that sometimes I can't wait for them to thaw out before I eat one! YUM!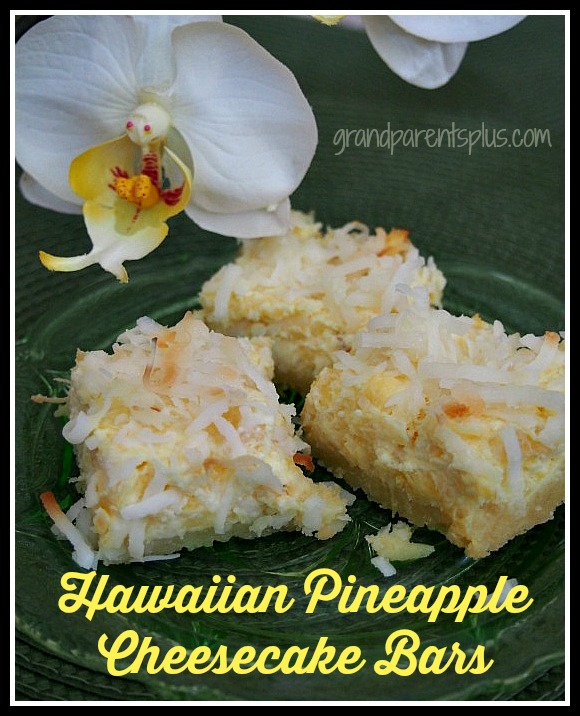 Enjoy these Hawaiian Pineapple Cheesecake Bars anytime of the year! 
Phyllis
When you subscribe, know that your email is never sold or shared.
Follow on Pinterest, too!
Post linked to these parties...