Homemade Chicken Nuggets
These are the best Homemade Chicken Nuggets by far! Your kids will never want any other chicken nuggets other than these, but don't limit them just to kids! Adults like them, too!
They are so quick and easy to make. Besides that, they freeze well. It's a quick dinner from the freezer to the oven. Heat in the oven at 400 degrees for 5-10 minutes and they are ready. 
Need a quick appetizer?  Add some dipping sauces of mustard, BBQ sauce, or honey and you've got a wonderful appetizer that adults will love. Great idea for those football game days!
Homemade Chicken Nuggets
Author:
Prep time:
Cook time:
Total time:
Best Chicken Nuggets!
Ingredients
Chicken Breasts
Flour
Eggs
Panko Bread Crumbs
Oil of choice or butter
Salt and Pepper
Like it spicier? Add some Kickin Chicken spice!
Instructions
Cut chicken into bite-sized cubes.
Beat eggs
Have 4 shallow bowls and place flour, eggs, and Panko bread crumbs in each separate bowl.
Roll cubes in flour to coat
Dip in beaten eggs
Roll in Panko bread crumbs – usually found in the baking aisle
Fry in oil or butter of choice
Season to taste
When browned, remove and drain on a paper towel
If freezing, place on baking sheet to freeze individually. When frozen, bag and seal. This way, you can use the amount that you need.
Don't substitute regular bread crumbs for Panko. It's Panko bread crumbs that make them so crispy and good. You'll find a couple different brands of them in the baking aisle.
If freezing for later, place on a flat cookie sheet to freeze individually. When frozen, bag in smaller amounts. I like to make a big batch and have them in the freezer all ready to use.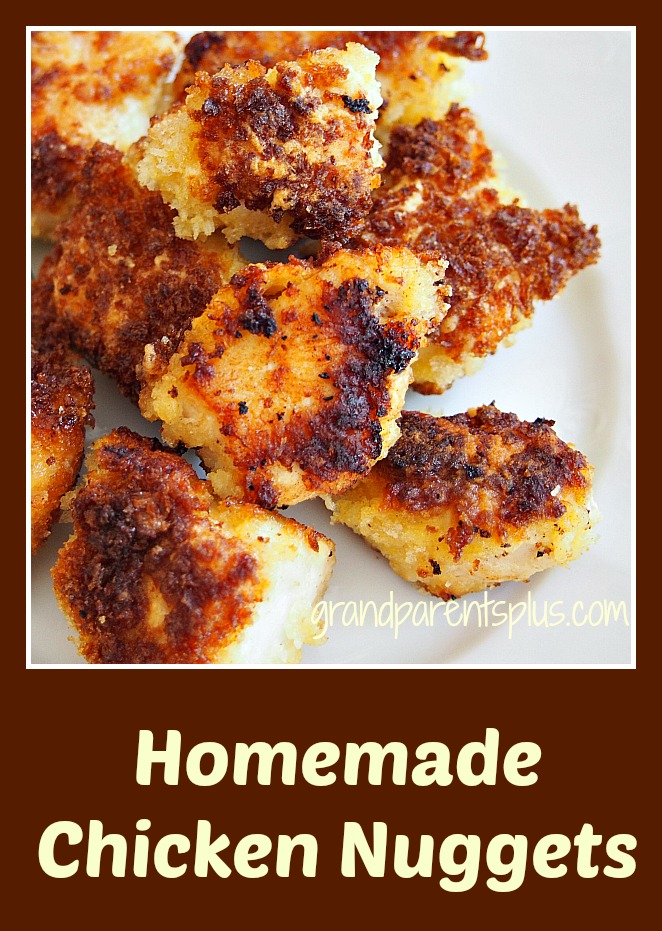 YUM! Tender and juicy! They are the best! 
Enjoy!
Phyllis
Don't miss a post. Subscribe on the sidebar. Your email is never sold or shared.
Follow on Pinterest, too.
Linked to these parties...
Pin It