Merry Cherry Bars
If you want a quick, easy, colorful and delicious cookie bar, this is for you! The Merry Cherry Bars are an old recipe of my mom's that I changed a bit. They look so colorful on a Christmas cookie plate! No need to drop or roll cookies, but simply bake them in a pan, ice, and cut!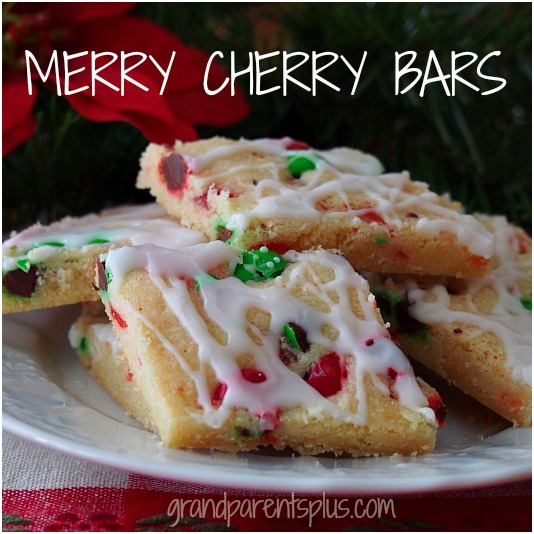 These bars are crisp like a cookie, but you bake them like a bar.They are so simple!
Ingredients:
1 cup sugar
1 cup margarine
1 tsp almond extract
1 egg
2 cups flour
1/4 tsp salt
Generous 1/2  cup chopped red candied cherries  (you buy these in the baking aisle) You can also use maraschino cherries. Be sure to pat completely dry with a paper towel before adding to your dough…
Generous 2/3 cup chopped red and green M&M's
Glaze: 1 cup powdered sugar, 1/4 tsp. almond extract, and 5-6 tsp. warm water
Directions:
Mix sugar, margarine, almond extract, and egg.
Stir in flour and salt
Add chopped Candied Cherries to the batter
Press into an ungreased jelly pan. (a bit of flour on your hands keeps the dough from sticking to you)
Chop M&M's and sprinkle over the top and press into dough.
Bake at 300 degrees for 27-30 minutes.
Cool slightly. While warm, cut the bars, but do not remove. Cool completely in the pan.
When completely cooled, drizzle with glaze consisting of 1 cup powdered sugar, 1/4 tsp. almond extract and 5-6 tsp. of warm water. Glaze should be runny enough to drizzle over the bars.
When frosting is set, remove bars.
Using a spatula, lift bars from pan.
I cut the bars on a diagonal. This looks pretty, but you do lose some small triangles along the edges. My family, however, gobbles those up and I serve the pretty diamond shapes to guests!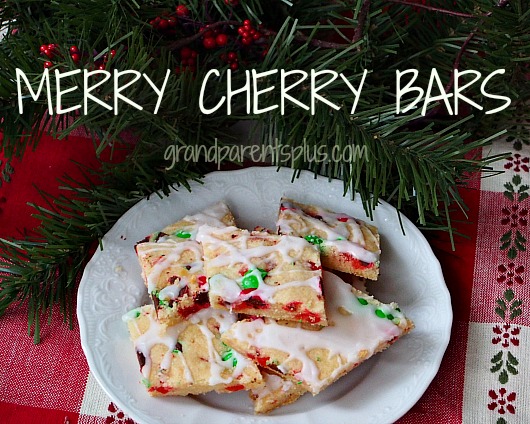 Now, I need to share a story about my baking Christmas cookies when my kids were in Jr. High and High school. I would always bake cookies early and freeze them for Christmas time. My kids would find them in the freezer (whenever I left the house) and soon they were gone! One year, they couldn't find them. At Christmas, I brought out the full containers of cookies and they asked, "where were the cookies? We couldn't find them!"
My secret was to place the containers in the trunk of my car. When I left home, I smiled to myself as the cookies were safely with me. I could just imagine my kids hunting all over. We live in a northern climate so they stayed frozen the entire time. We had a good laugh at Christmas when I brought them out! I was able to outsmart my teenage kids!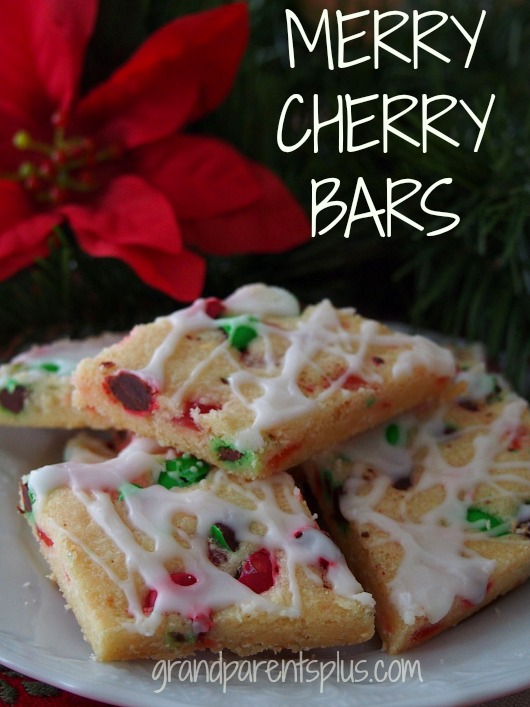 These Merry Cherry Bars freeze well, too! (you might want to place them in the trunk of your car – HA!)
Enjoy! 
Phyllis
This post is linked to many of the following parties……
Pin It