Monkey Bread Round-Up (Sweet)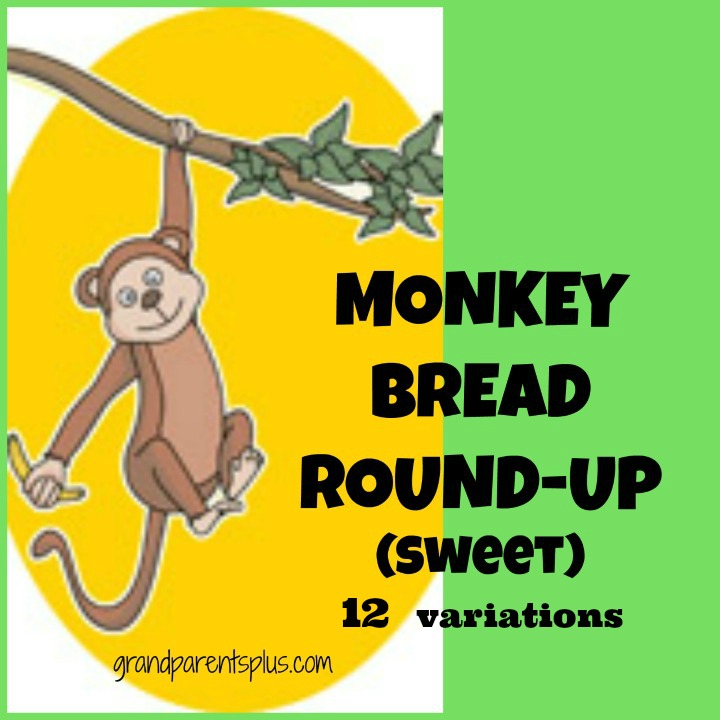 I love Monkey Bread so I decided to put some of my favorite variations all in one place. I hope you enjoy Monkey Bread, too!
I've wondered where the name "Monkey Bread" came from and who started it. Well, after a bit of research, the name probably was given  because you pick it apart and eat a bit at a time just like monkeys do. I don't find that very flattering, but guess it fits. Nancy Reagan said that the name was given because you "monkey around" with it so much when you make it! Another theory is that the bread looks like the Monkey Puzzle Tree, a relative of the Norfolk Pine Tree.
Monkey bread has other names, too such as:  Hungarian coffee cake, pinch-me-cake, bubble loaf, and golden crown.
The bread has some fancy roots as Nancy Reagan served it at the White House and it was always served at Christmas time at their ranch.
Enough of the background so let's get going on the wonderful sweet variations of this bread.
#1  Carmel Apple Monkey Bread
Go to: momontimeout
#2 Lemon Monkey Bread
Go to Pillsbury
#3. Strawberry – Blueberry Monkey Bread
Go to: Daily Dish Recipes
#4.  Chocolate Cinnamon Monkey Bread
Go to:   WhatsCookingLove
#5. Orange Monkey Bread
Go to:  SixSistersStuff
#6.  German Chocolate Monkey Bread
Go to: HeatherCristo
#7.  Peach Monkey Bread
Go to: A Sweet Baker
#8. Monkey Bread with Butterscotch Pudding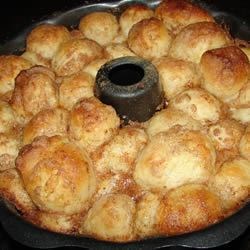 Go to: Allrecipes
#9. Chocolate-Kissed

Go to: Recipes
#10.  Berry and Cream Cheese
These are made with pizza dough. A nice powdered sugar or cream cheese frosting compliments these…
Go to: Spoonful
#11. Strawberry Cream Cheese
This recipe uses Bisquick, but you can substitute refrigerated rolls, too!
Go to: Betty Crocker
#12. Raspberry Cream Cheese Monkey Bread
On this one, you can substitute any flavor…..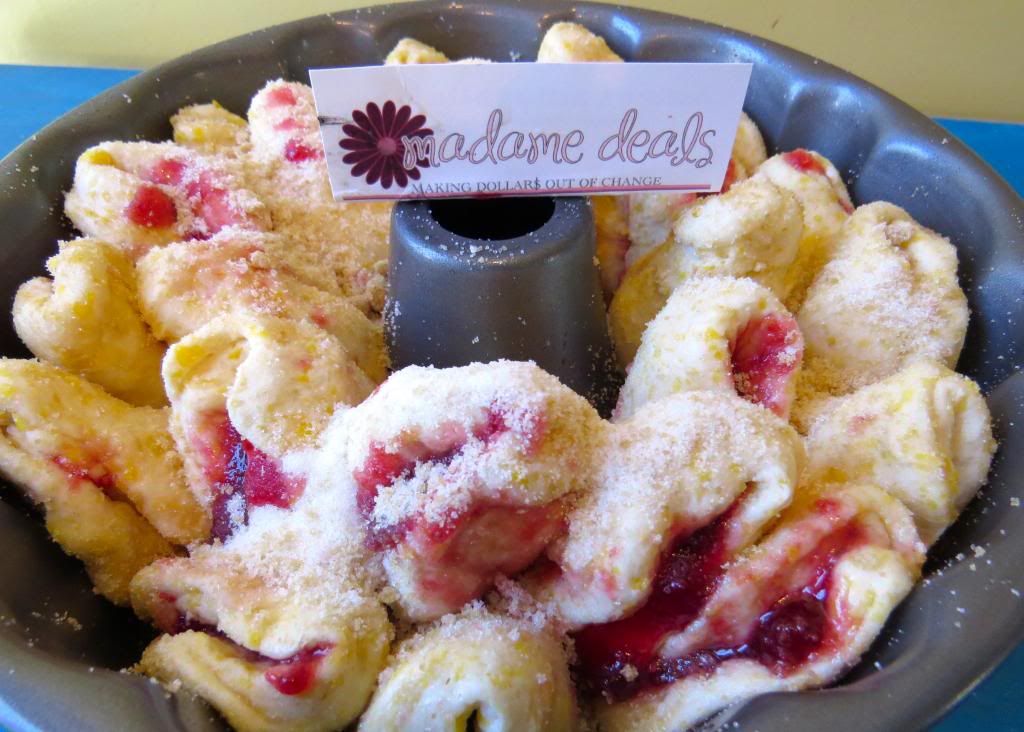 Go to: Madamedeals
#13  Pumpkin Monkey Bread    (I had to add one more!)
Go to Mad in Crafts
Now make up your own with these basic recipes. One is for frozen bread dough and the other is for refrigerated biscuits.
Monkey Bread using frozen dinner rolls:
2 dozen dinner roll dough balls
1 -3 0z pkg.  of instant or regular vanilla pudding
1/2 c. melted butter
2 Tbsp. milk
1 cup brown sugar
Nuts – optional
Spread frozen dough balls in bottom of greased pan. (bundt or angel food pan) Sprinkle dry pudding mix over the rolls. Melt butter and add brown sugar and milk. Mix well and pour over rolls. Cover and let rise at room temperature overnight. Bake at 350 degrees for 40 minutes. Butter top after done. Invert immediately onto a plate.
Monkey Bread  – using refrigerated biscuits
4 tubes of buttermilk biscuits
1/4 to 1/2 cup of nuts (optional)
1 cup sugar
1 tsp cinnamon
Melt the following together until smooth:
3/4 cup butter
1 cup brown sugar
Directions:
Cut biscuits into quarters. Mix sugar and cinnamon and dip each biscuit piece in sugar mixture until well coated. Sprinkle nuts into bottom of a well-greased Bundt or Angel food pan. Place coated biscuits over nuts. Pour the butter/brown sugar mixture over biscuits. Bake at 350 degrees for 30-35 minutes. Carefully invert onto a plate.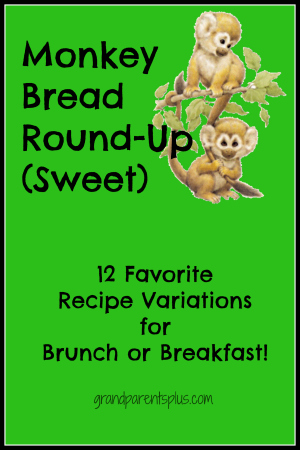 Don't you love Monkey Bread?
Enjoy!
Phyllis
This post is linked to the following parties…..
Pin It