Patriotic Rag Wreath
Patriotic Rag Wreath
Short on time to make something special or different for Memorial Day or the 4th of July? This idea takes very little time and may be the project that is just right for you. It is easy enough for a child to do as long as they can tie a knot. You see, tying a knot is the greatest skill level needed to make this Patriotic Rag Wreath.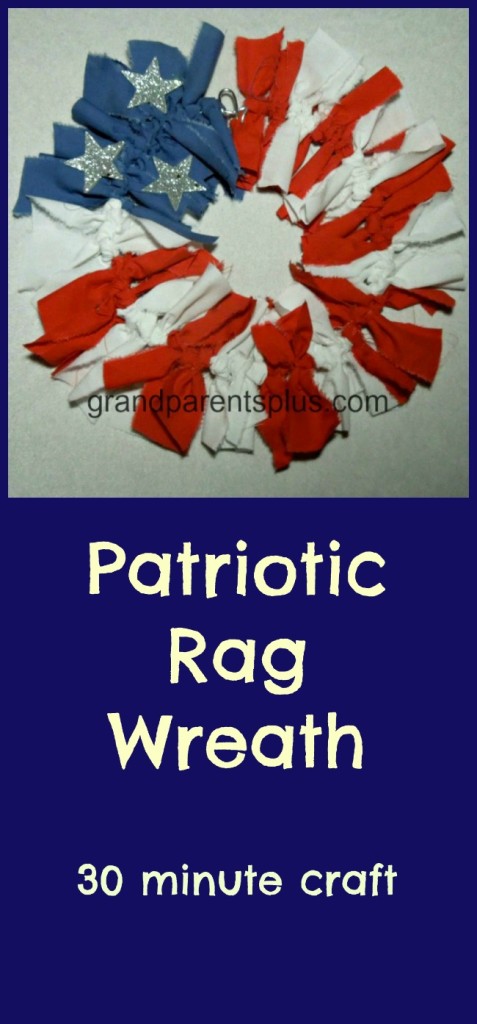 This idea was born after I saw a 4th of July Rag Wreath here.
I wanted to make it more in the traditional red, white and blue.
I happened to have  red, white and blue sheets that were in a bag ready to be donated to a thrift shop. When I thought of  making this, I went right to that bag and salvaged those sheets! Lucky I had not given them away! I just happened to have everything on hand. Here are the supplies I used….
Supplies:
red, white and blue material 
  I liked the sheets as there was no wrong side. The solid color was on both sides. You might want to remember this if you buy material. (If buying material, adjust amount to the size of the wreath. One fourth yard of red and white will be more than plenty – 1/8 yd. of blue for a 6 inch wreath)

Wire – 12 gauge   (this can vary – it's just what I had on hand)

Foam glitter stars or any stars

Directions:
Tear or cut material into 1  1/2 inch wide strips
Cut strips into approx 5 1/2 inch lengths
I used 21 (5 1/2″) lengths of white, 21 lengths of red, and 10 lengths of blue.  This was for a 6 inch diameter wreath.
If you make a bigger wreath, you will need to adjust those lengths. You want an open area in the middle of the wreath. Trim lengths if you find them too long.
Bend wire into a 6 inch diameter circle and bend a hook or loop for hanging the wreath.  ( Adjust this diameter to your liking.)
Fold in half and tie each length on to the wire. I tied 3  of red and then 3  of white. For the blue area, I tied 10 lengths.

When finished tying all the lengths, add foam sparkle stickers to the blue area.
Make is as fluffy or flat as you choose.  Hang on a door, window or use in your decor as a patriotic accent!
Fast, easy and turns out great!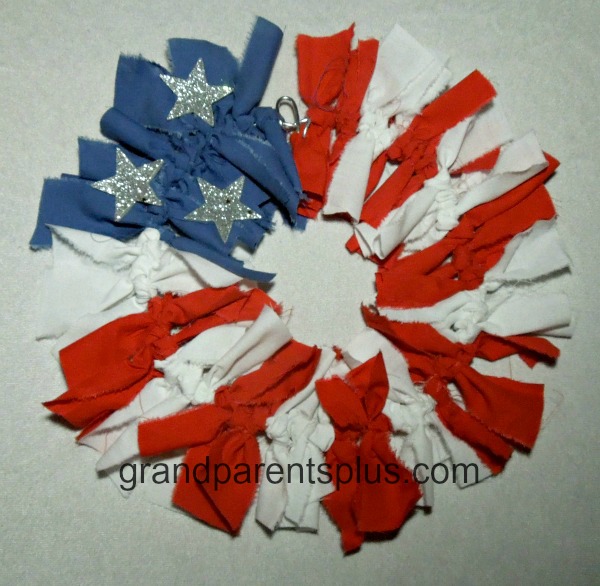 Check out my other 4th of July Patriotic posts for more games and crafts Part 1 & Part 2

Other options: Make a larger wreath using a hanger for the wire base. Adjust the length of the pieces to the size of the wreath.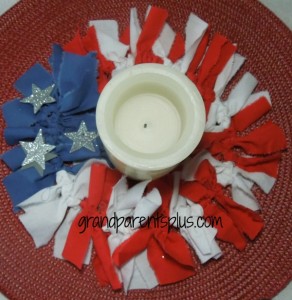 It works as a candle ring, too!
Happy 4th of July!
Phyllis (Oma)
Follow on Pinterest, Bloglovin' or subscribe to future posts!
This post is linked to the following parties….
Pin It