Peach-Nectarine Muffins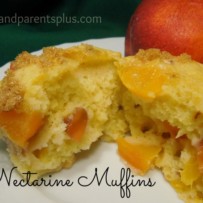 Peach-Nectarine Muffins!
Someone gave me a bunch of nectarines that were pretty ripe and needed to be used within a couple of days!  There were too many to eat so quickly so I scrambled for ideas and modified a Peach-Nectarine Muffins recipe that turned out fabulous. While I used nectarines, peaches are interchangeable with this recipe.
These Peach – Nectarine Muffins were like eating a moist muffin with jam inside! So good! It didn't even need butter! Everyone loved these muffins!
My favorite part of cooking with nectarines is that you don't need to peel them.  It is much faster and  easier than using peaches.
Peach-Nectarine Muffins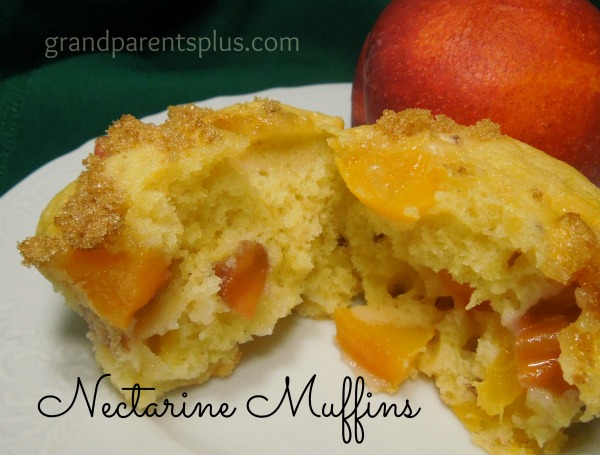 Ingredients:
1  1/2  cup flour
3/4  cup  white sugar
1/2 teaspoon salt
2 teaspoons Baking Powder
1/3  cup vegetable oil
1 egg
1/3 cup of nectarine slurry + 3 tbsp milk  If not making slurry then just 1/3 cup of milk  (not both!)

3 nectarines or peaches diced (two for the muffins and 1 for the slurry)

1/4 cup brown sugar (for the top of the muffins)

Directions:
Mix flour, white sugar, salt and Baking Powder
Add vegetable oil, egg, nectarine slurry or  1/3 cup milk
Note: Make slurry by dicing 1 nectarine or peach and adding a small amount (1 tsp+) of milk. Use a blender or bullet to make a slurry, thick type liquid. Add this to the dry ingredients instead of 1/3 cup of milk. If using the slurry, add 3 tablespoons of extra milk to the batter. This slurry was not in the regular recipe I had, but it adds more flavor!
Mix in 2 diced nectarines
Fill muffin cups to the top. Makes 12 Peach – Nectarine muffins!

Sprinkle brown sugar on top of each muffin.
Bake @ 400 degrees for 15-17 minutes until very lightly browned.
 I love Nectarines! No peeling is necessary! If using peaches, drop peaches in boiling water for a few seconds and the skin slides off easily!

 Enjoy these Peach – Nectarine Muffins!

Phyllis (Oma)
Follow on Pinterest, Bloglovin' or subscribe for future posts.
Linked to the following parties…
Pin It