Scrambled Eggs Alfredo Bake
Scrambled Eggs Alfredo Bake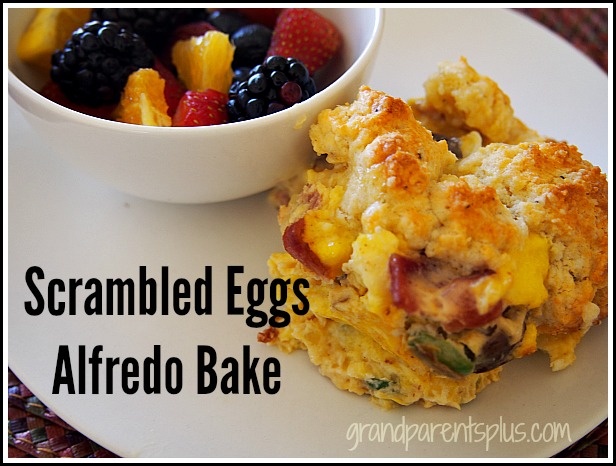 Add a bit of Italian flavor to your morning with this Scrambled Eggs Alfredo Bake Recipe.  This is a very different type of egg bake from the soggy bread recipes. The eggs are scrambled with green pepper, mushrooms, onions, and bacon with an Alfredo sauce added. The delicious combination is topped with dollops of an Italian flavored crust. Keep this recipe on hand as it is a delicious one. By eliminating the crust, it becomes gluten-free and still is wonderful!
Add this recipe to your Yummly box by clicking on the YUM button.
Scrambled Eggs Alfredo Bake
Ingredients
1 c. Bisquick baking mix
1/4 tsp. Italian seasoning
6 tbsp. butter, divided
13 eggs, divided
1/4 chopped onion
1/4 c. chopped green bell pepper
1/4 cup chopped fresh mushrooms
Salt and Pepper to taste
1/3 cup crumbled, cooked bacon
3/4 cup Alfredo pasta sauce
Instructions
Preheat over to 400 degrees
Grease 8x8 baking dish
In a small bowl, add Bisquick, 4 Tbsp butter and Italian seasoning. Blend with a pastry blender until mixture is crumbly. Add 1 egg and stir in gently. Set aside.
In a skillet, over med. heat, saute' onions, peppers, and mushrooms in 2 tbsp. butter, until veggies are tender, but crisp.
Mix 12 eggs together in a bowl.
Add eggs to skillet with the veggies.
Stir occasionally until eggs are set.
Remove from heat and stir in bacon and Alfredo sauce
Spread egg mixture in the prepared 8x8 baking dish.
Plop small dollops of Bisquick mixture over eggs.
Bake for 15 minutes until the topping is light brown.
http://grandparentsplus.com/scrambled-eggs-alfredo-bake/
Scrambled Egg Mixture in Baking Dish……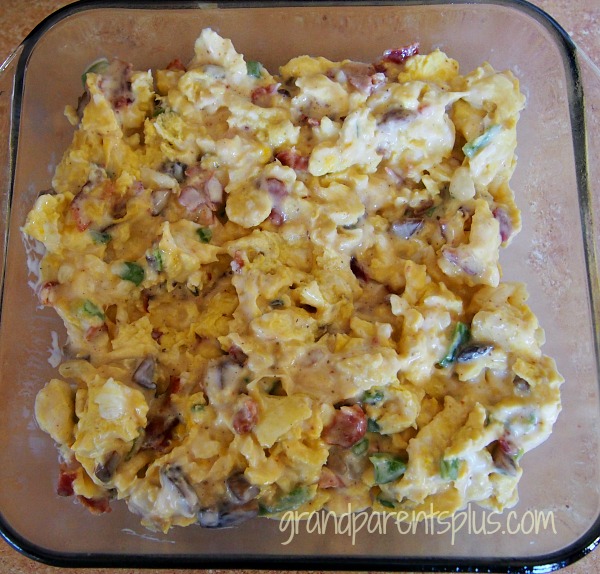 Dollop the Bisquick mixture on top of the eggs.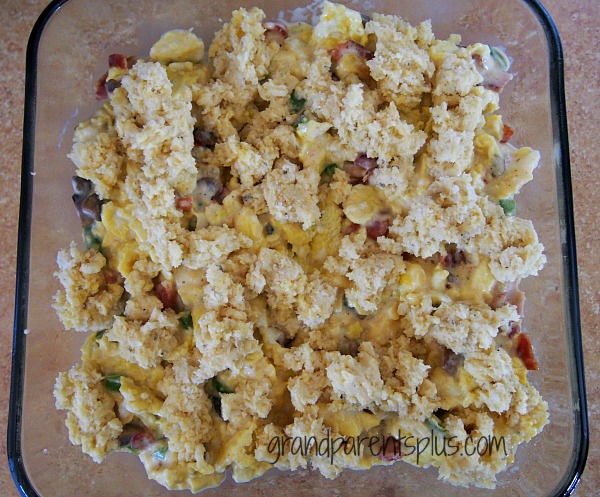 Remove when topping is lightly browned.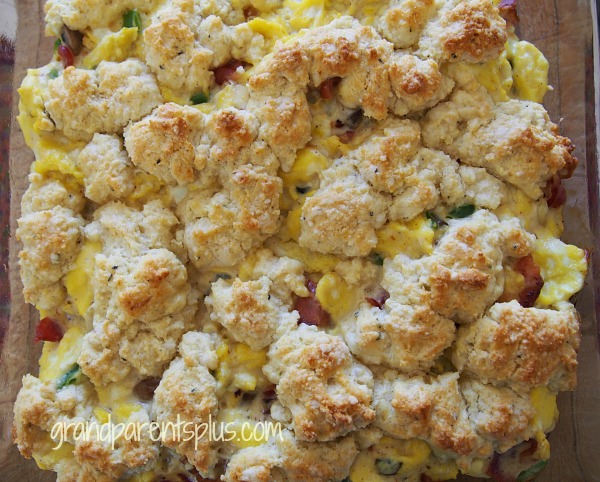 If desired, offer remaining warmed Alfredo sauce on the side. Serve with fresh fruit for an outstanding breakfast or brunch.
To shorten the prep time for the morning, cut the veggies and prepare the bacon the evening before. Cover and place in refrigerator. Now, it is so quick and easy to put together in the morning.
This recipe makes a nice option for a holiday brunch. Also, if you like breakfast for dinner, make it in the evening. Anytime is good for this Scrambled Eggs Alfredo Bake.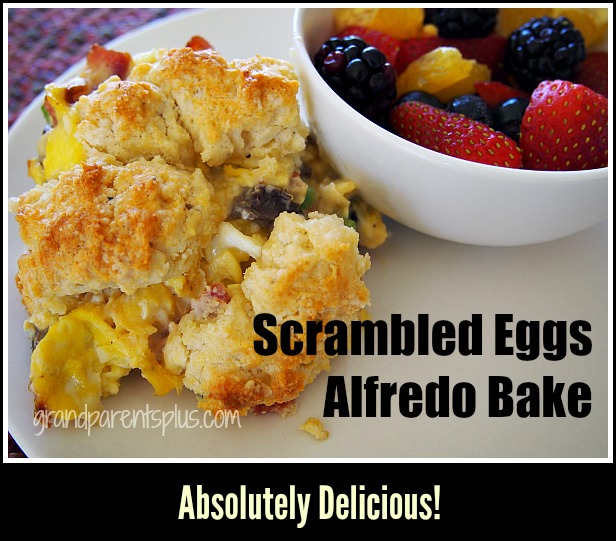 Without a doubt, I know you'll enjoy this "out of the ordinary" egg bake.
Thanks for taking the time to stop by….
Phyllis
When you subscribe on the sidebar, know that your email is never sold or shared.
Follow on Pinterest, too.
linked to these parties…
Pin It