Spring Idea House 2014 – Part 4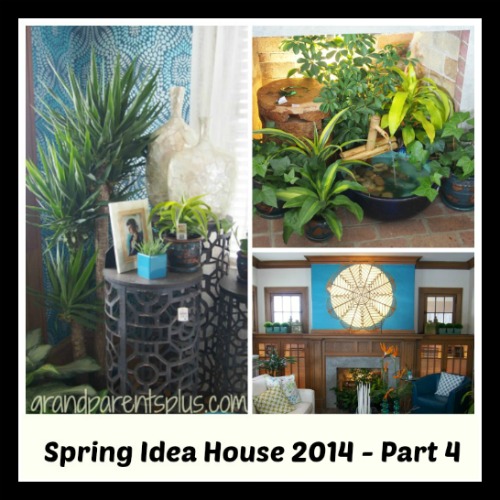 The living room and sunroom, from the Spring Idea House 2014, provide more interesting decorating ideas! While these ideas are done by a team of decorators,  perhaps you'll be inspired by some of their unique designs to try something similar in your own home.

As you enter the living room, you are immediately struck by the blue color scheme and the focal point of the fireplace.  The soothing  sound of water from the fountain makes it such a relaxing and inviting place. Backlighting  the plant arrangement give lots of drama, too!  It makes me wish that I had a non-working fireplace to decorate.
The wall art above the fireplace is a wall mount light fixture! Very striking when lit.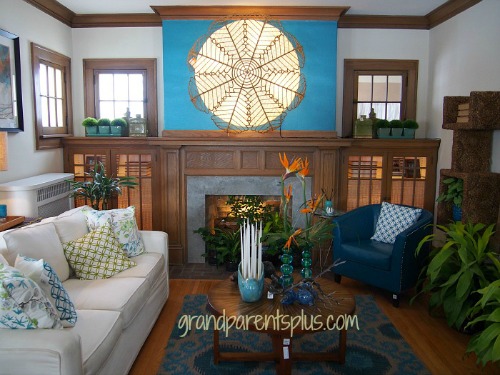 What a beautiful arrangement in the fireplace!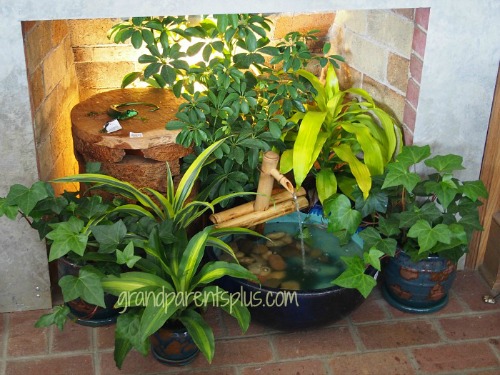 To the right of the fireplace……..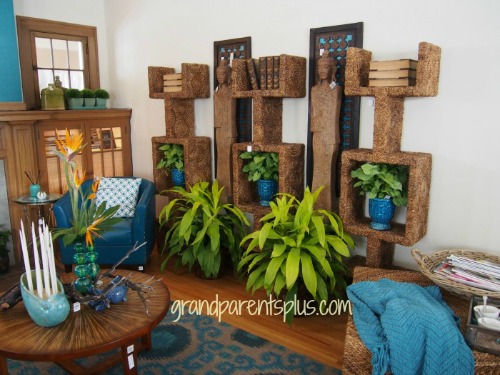 Notice the candles in the blue shell? Here's a closer look…..   just stuck in sand!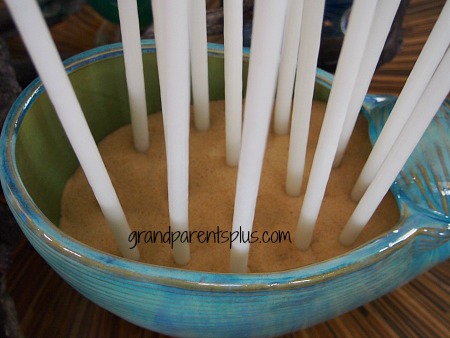 The small table to the left of the blue chair had an interesting detail. At the top of the table, it had about an inch depth to it. White sand along with colored rocks, that matched the color scheme, made a interesting design. Glass covers the top!  Now, with little kids, this may not be the perfect idea for you! I can just see this getting tipped over, ugh! It is a beautiful detail, however.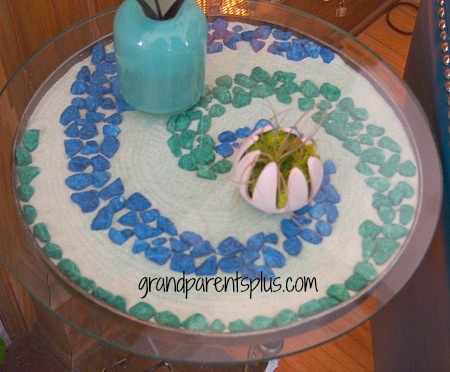 Opposite the fireplace is another seating arrangement. Notice the unusual light idea using a re-purposed vintage post.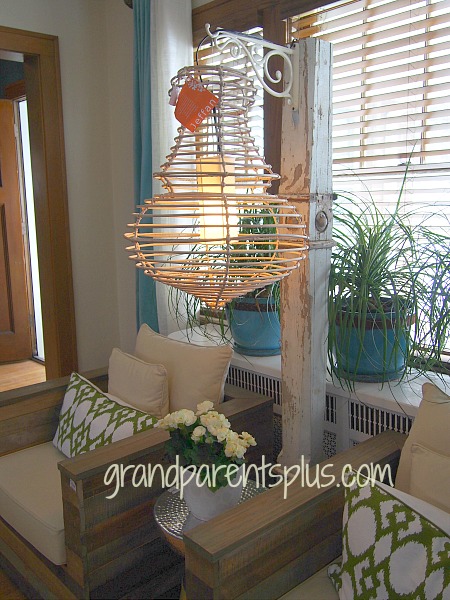 I thought the drape detail was beautiful! Instead of one color of drapes, they used a blue and white combination. The finial at the end is a wicker-type ball.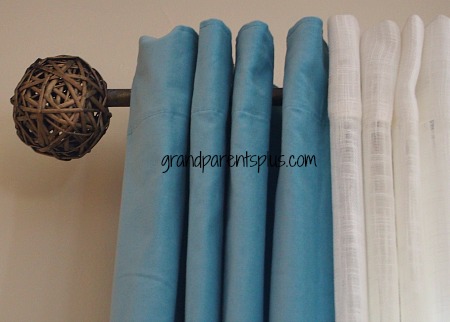 Hung on the wall are two huge industrial drawers showcasing beautiful items to highlight the colors of the room.  The smaller boxes inside add more dimension and display areas.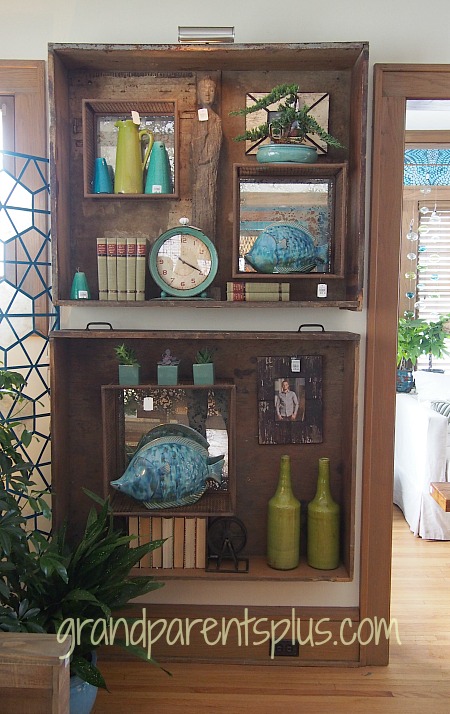 Upon entering the sunroom, so bright and cheery, a white loveseat sits in the middle highlighted by plants and colored glass.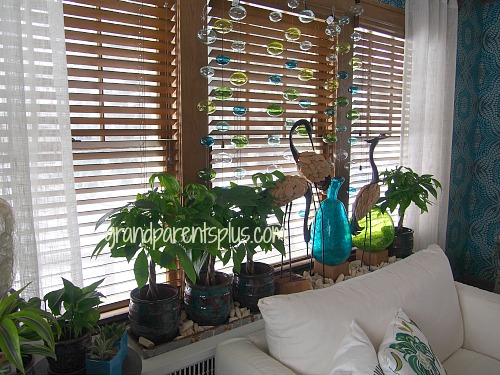 To the right of the loveseat is  an indoor garden. This garden reminds me of the Chihuly glass exhibit that we visited in Arizona. Everything is arranged in an old water trough. The gazing ball, glass bowl and orbs give lots of color against the various greens of the plants. I thought this was spectacular!
This picture shows the trough and how it is elevated on top of an old wooden box.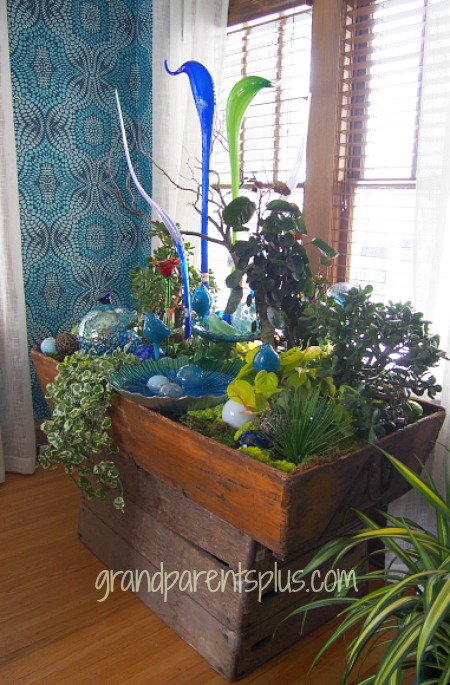 Across the sunroom on the opposite corner, the Spring Idea House decorators added another beautiful grouping.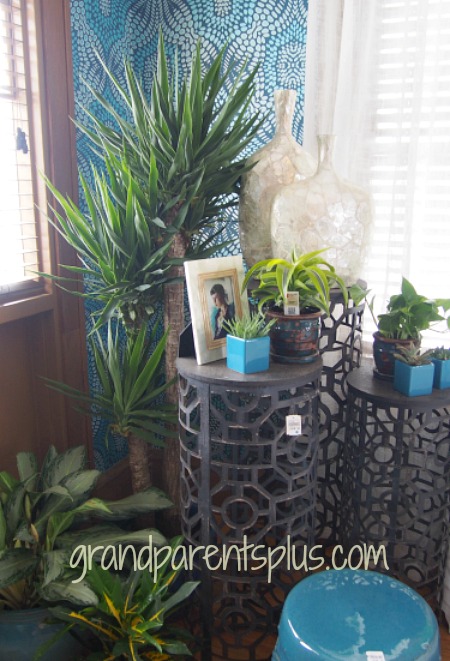 Wow! Enough decorating ideas for you? I certainly will be on the prowl for some of those vintage items. How about you?  Did it generate new ideas for your own place?
Thanks for stopping in and Happy Decorating!
Phyllis
You're invited to subscribe to future posts. Wouldn't want you to miss out!
Follow on Pinterest, Bloglovin, and Facebook, too!
Pin It