Spring Idea House Tour 2015 (Part 1)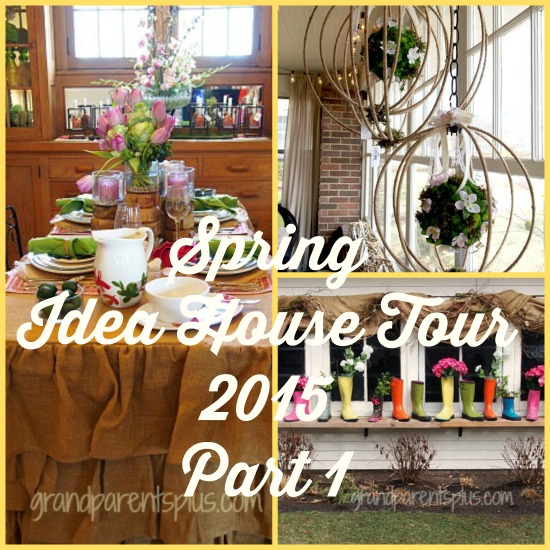 It's Spring! (at least that's what the calendar says) Time for another Spring Idea House Tour 2015 (Part 1)! This house is decorated by designers three times a year to highlight repurposed items, decorating trends, new items for sale, along with loads of inspiration for spring! I'm sure you'll find many ideas for your own home.
Nothing is left undecorated! Even the garage windows are hung with burlap and twine roping. An array of colorful rain boots all lined up, with some used as vases, look so spring-like! Now, this makes a fun entrance! Perhaps, it would be great as an early spring accent on your flower boxes or near your front door or do you decorate your garage, too?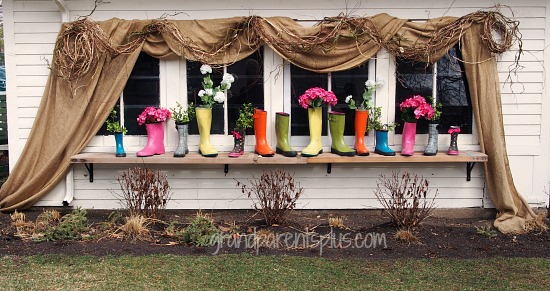 This old wooden painted trunk is stenciled with "Sunshine" and filled with an artificial spring arrangement. I can visualize this using a small wooden box with a similar arrangement used indoors. Can't you?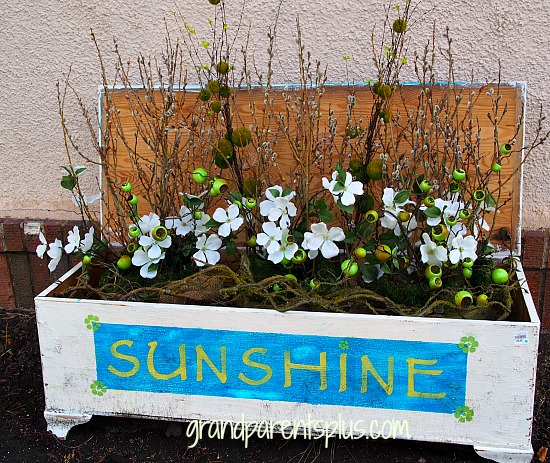 The window boxes are filled with a spring arrangement as well! Notice that they use rolled birch bark, too.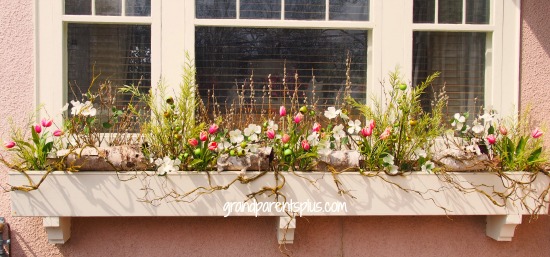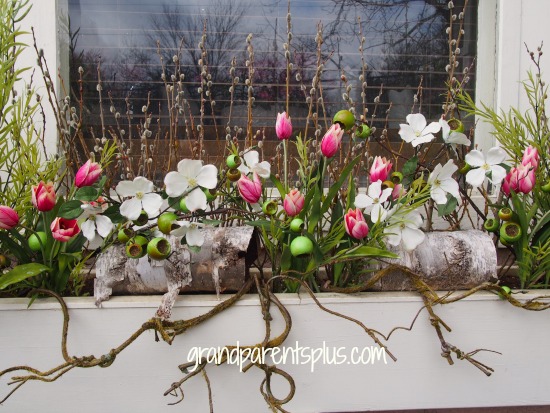 As you enter the front porch, a vintage workbench with candles in a glass cylinder are wrapped with burlap and lace.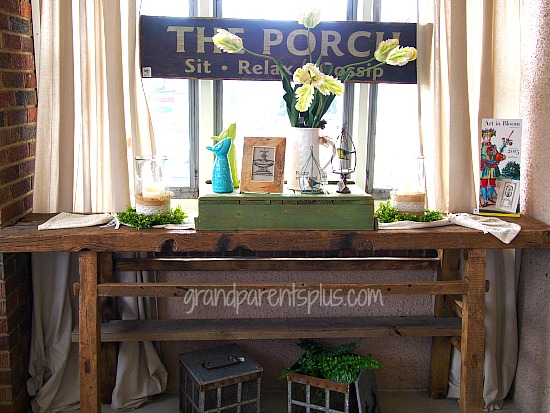 This candle idea would work for Christmas by just adding a red bow or red berries.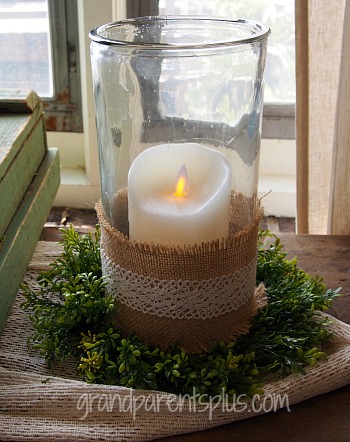 Also on the porch, the hanging wire spheres are accented with moss balls and decorated with spring floral buds. Wouldn't this be pretty for a wedding, too!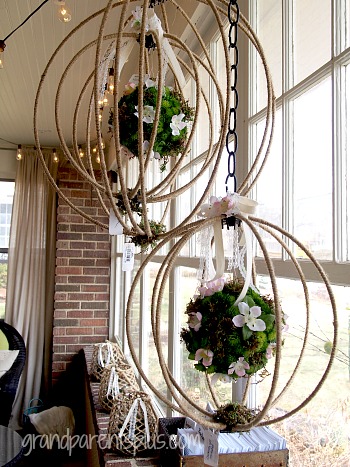 Here's another unique idea……   Use chain entwined with decorative ribbon as curtain tie-backs!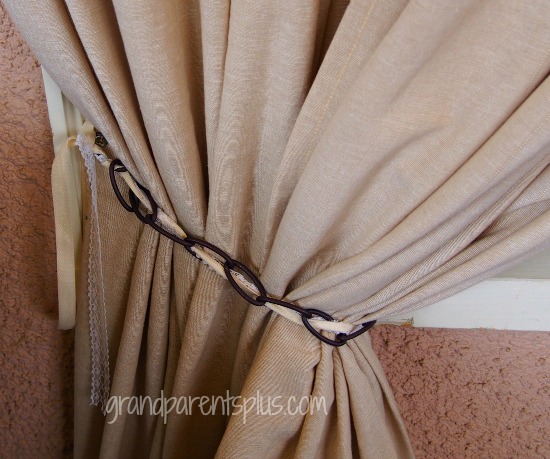 This is a re-purposed antique item. Do you know what it is? It is a laundry drying rack hung in the corner of the porch and used as a plant accent! I actually have one of these in the garage somewhere. Got to find it, now. I think I'll try using it in my laundry room.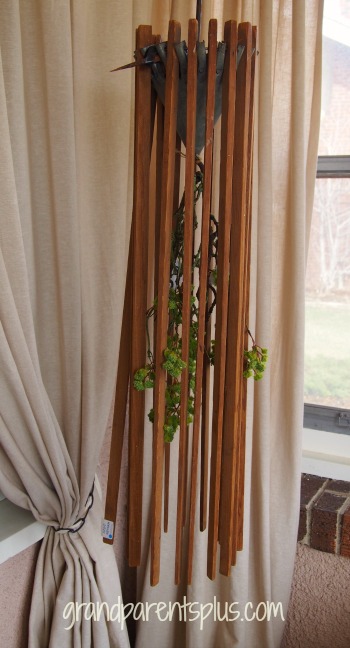 Lights are strung out from this sphere in the center of the ceiling. Artificial greenery sets it off.
A large lantern is hung on the wall and filled with a vintage picture and a bottle used as a candle holder.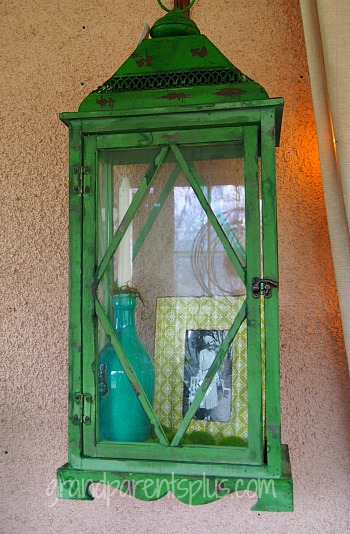 The dining room is next……
Notice the tablecloth is made of burlap. Tiers of ruffles finish off the look.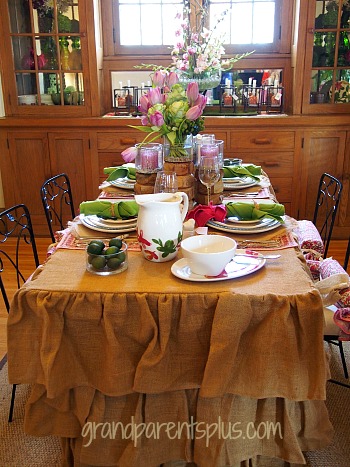 You see lots of textured layers used for this table.  Burlap tablecloth, textured fabric runner, pink floral placemat, and a circle burlap placemat make an interesting tablesetting. The napkins are simply tied with twine.  Look carefully as the napkins actually look like a pink flower! On the stem of the wine glass, decorative colored wire is wrapped around the stem and shaped into a leaf.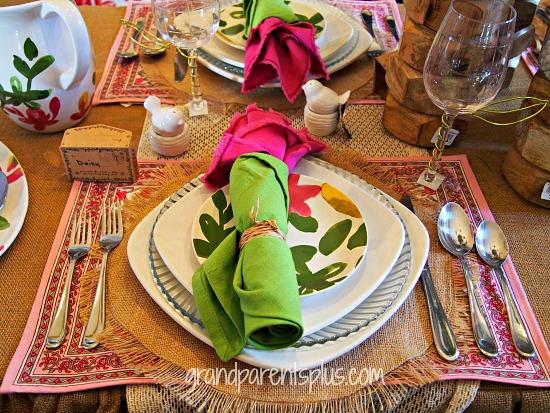 A green napkin ring finishes off the textured runner.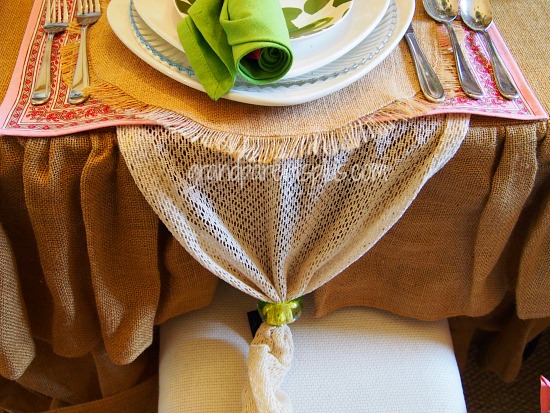 Back pillows for the chairs are made from kitchen towels.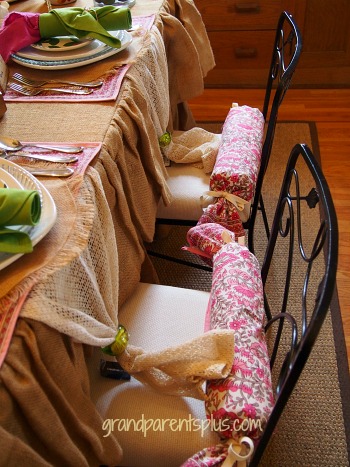 On the center of the table, the flower arrangements and candles are at varied heights. Stacked, finished chunks of wood make it easy to alter the heights.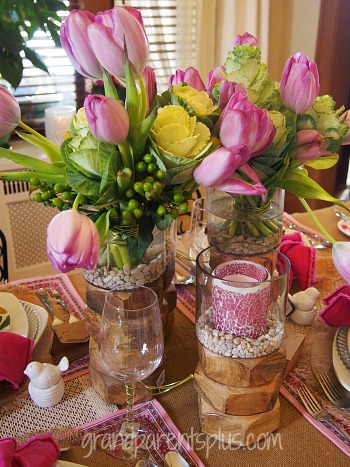 Above the sideboard, metal art is layered with colorful artwork. Moss balls are placed on the candle-holder instead of using candles.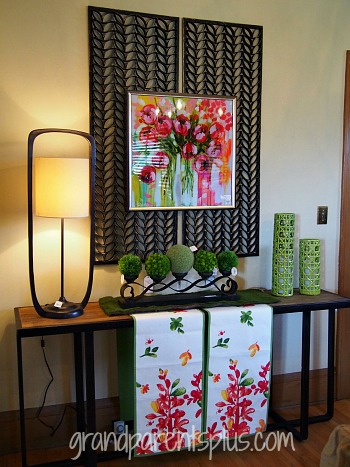 The chandelier is  accented with several green balls.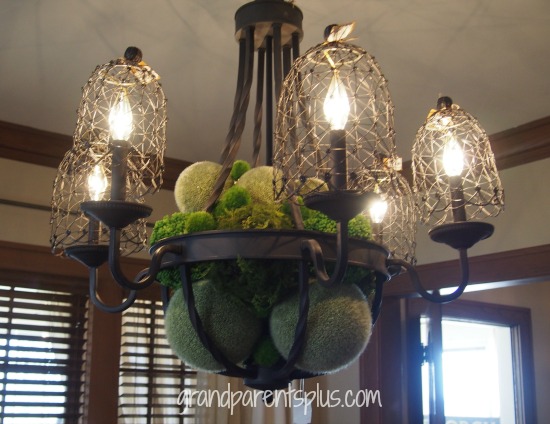 The stained-glass window above the buffet is decorated with vinyl window cling. It sure looks real and gives nice color to that area.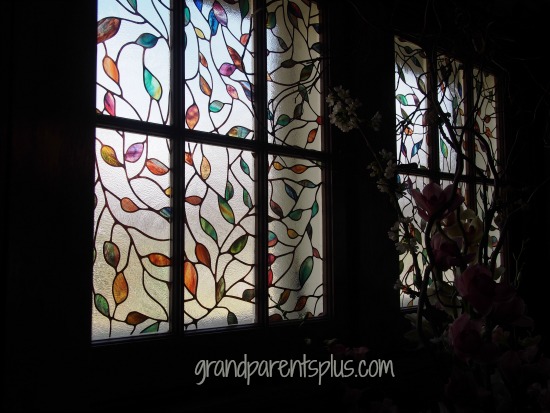 The tour is not done! More coming….   Spring Idea House 2015 (Part 2) and Spring Idea House 2015 (Part 3) posts with more spring decorating ideas.
Did you find some fun ideas to incorporate in your own home?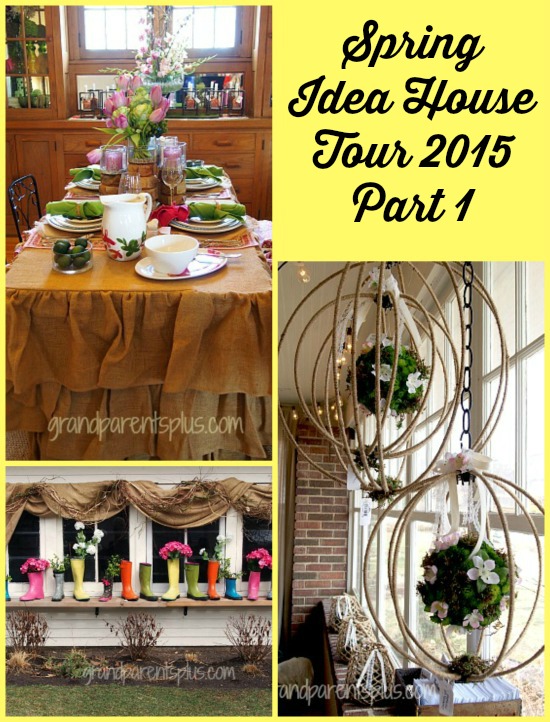 You may want to check out the Spring Idea House 2014 -Part 1
Spring Idea House 2014 – Part 2
Spring Idea House 2014 – Part 3
Spring Idea House 2014 – Part 4
Thanks for stopping by,
Phyllis
Follow this post by subscribing on the sidebar.
This post is linked to many of the following parties…..
Pin It